We have an incredibly small house.  Storage is tight, and the Puj Flyte is a perfect product for us!  I wish I had this when my daughter was just born, because it has been so much easier to give her a bath since I got the Flyte.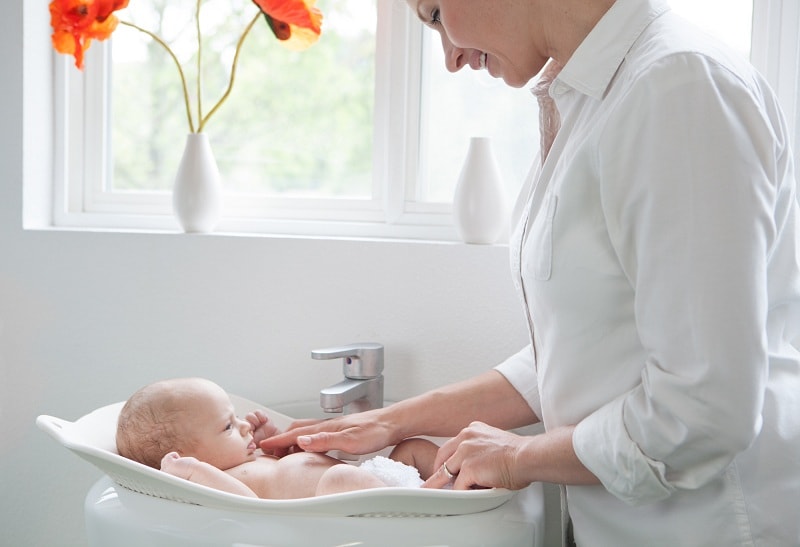 I am a rather tall person, and bending over a tub can really irritate my back.  Putting the Puj in our bathroom sink was wonderful for me.  I must mention that our sink has a faucet that can be moved out of the way so that wasn't an issue for us.  There was just enough water in the sink and tub to make sure my little girl was squeaky clean, and I didn't waste any water (which is great for the drought we have been experiencing).
After we were finished the Puj Flyte could hang on the back of the bathroom door, out of the way.  Our first bath takes up a lot of space, this one fold up into almost nothing and hangs in an area that we don't utilize a whole lot.  I absolutely love it! The material is soft and won't hurt my little girls sensitive skin.
I highly recommend this product for all parents, especially those with a small space or who like to travel! Be sure to check out all the unique and modern products from Puj on their website and be sure to follow them on Facebook for updates on upcoming products!
A huge thank you goes out to Puj for sending us a Flyte  for purposes of this review.  I was not compensated for this article.  All opinions are 100% mine.