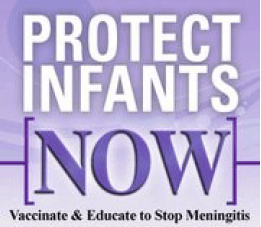 Vaccinations are one of my least favorite parts of being a parent.  I hate watching my son get his shots.  I know that it is in his best interest, but watching him hurting makes me cry… every time.  I am so excited that he is finished with his vaccinations for awhile, but soon I will have to go through it all again with this baby girl arrives in May.  While getting shots can be devastating for both child and parent, it is a much better option than the alternative. 
Right now, the US Centers for Disease Control and Prevention (CDC) is traveling around the country seeking public input on whether infants two years and younger should be immunized against meningitis — a leading cause of preventable infant death in the U.S. One out of 16 infants who contract the disease will not survive.  Among survivors, one in five will suffer seizures, blindness, amputation, paralysis or learning disabilities.
Meningitis Angels is a national non-profit organization founded in memory of Ryan Wayne Milley, the only child of Bob
and Frankie Milley. Ryan's life was taken at age 18, as a result of meningococcal meningitis/meningococcemia. Meningitis Angels educates the public, health professionals, child care facilities, schools and universities on not only meningitis but other vaccine preventable diseases and the preventions including vaccines, though personal stories, educational brochures, posters and videos. Meningitis Angels is dedicated to the support of victims of bacterial meningitis and their families. While helping families cope with the loss or care of a family member they also offer some hands on support for those children affected with bacterial meningitis.
Here is a short video brought to you by Meningitis Angels:


You can help by visiting the Protect Infants Now website and sign the petition asking the CDC to include the Meningitis vaccine on the recommended list of vaccines for infants. It only takes a few seconds and you can help save infant lives. 
I participated in a campaign on behalf of Mom Central and Meningitis Angels. This campaign was made possible in part through support provided by Novartis Vaccines. A small donation to a charity of my choice was made in my name from Mom Central as a thank-you for participating. All opinions in this posting are 100% my own.