This post is sponsored by Playtex.  All opinions are 100% mine. 
Playtex VentAire and Drop-Ins Bottles are convenient for new parents when they choose to bottle feed their child, but how do they stack up? Check out our full review.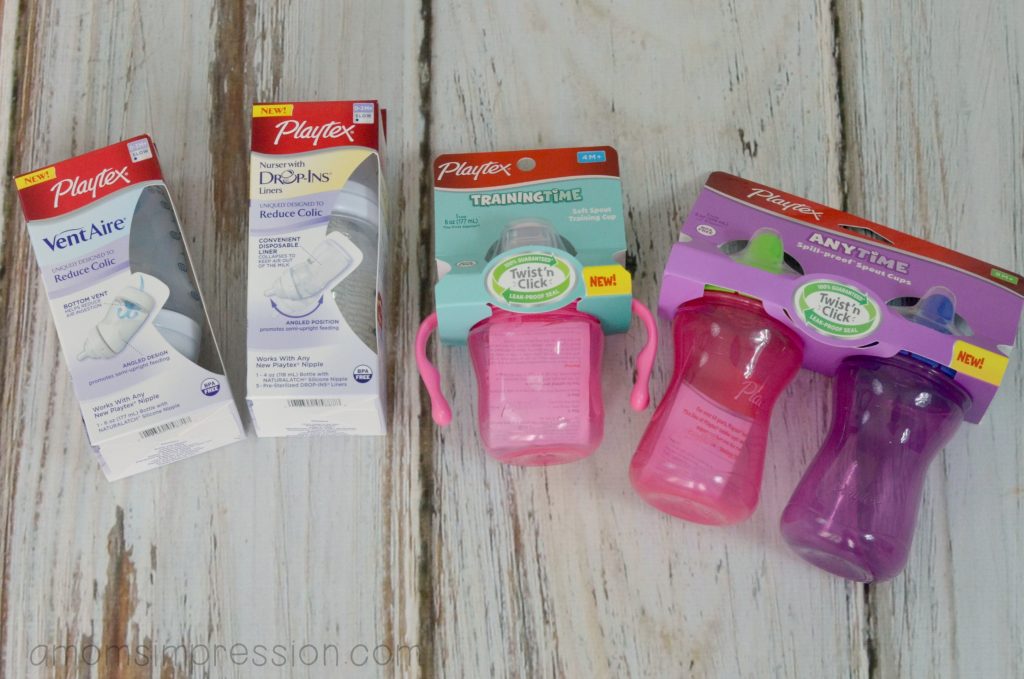 Playtex Ventaire Review
Discovering the Playtex VentAire bottle was really important to me. When I had my first child, I just knew that I was going to breastfeed them.  I was certain of it. That mommy instinct had fully kicked in and I wanted to use my body to provide nourishment to my children.
Unfortunately, it just didn't work out and I had to make the decision to bottle-feed both kids using a pump.  I'm so thankful that they were able to get breast milk, but I learned that sometimes having a bottle feed child can be as frustrating as breast feeding.  Finding the right bottle was more challenging than I thought.  Every child is different and it is important to find the right bottle that will feed them comfortably.  There was just so much I didn't know!
Having the opportunity to try out Playtex VentAire and Drop Ins Bottles was a game changer for me.  It is funny how, as a parent, some of the smallest things can actually make your life so much easier.  Below, I have provided a complete Playtex Ventaire Review in case you were thinking about going this direction for your own child.
Playtex Drop In Bottles and Liners
Perfect for a busy mom on-the-go, the Playtex® Nurser with Drop-Ins® Liners provides benefits that mom and baby will enjoy. Disposable Drop-Ins® Liners make this bottle easy to use and easy to clean, and provide a comfortable feed for baby. As baby feeds, you can see the soft liner gently collapsing to prevent air from mixing with milk and getting into baby's tummy. This means less gas and less discomfort for baby. Adjustable bottle angles for semi-upright feeding position recommended by pediatricians to help prevent ear infections. The Nurser Bottle is compatible with all new Playtex® nipples to match baby's unique preferences.
Playtex VentAire Bottles-Perfect Anti Colic Relief
As parents, there is nothing worse than having your child cry out in pain and not be able to help him.  One of the most common forms of discomfort in small children is gas in their tummies. Thankfully the Playtex VentAire is designed to give our children some tummy comfort when they need it most.
Playtex knows babies and the proof is in our Playtex®VentAire® bottle. The VentAire® is uniquely designed to reduce colic through a bottom venting system that helps reduce air ingestion. The angled bottle design promotes a semi-upright feeding position, recommended by pediatricians to help prevent ear infections.
The VentAire® Bottle is compatible with all new Playtex®nipples to match baby's unique preferences.
As part of the  Playtex Baby Mom Trust,  I was sent some of their best selling bottles to review. While I am no longer bottle feeding my kiddos, I had a dear friend review the bottles for me.  She told me that she absolutely loves these bottles for her infant daughter.  The Drop-In liners are fantastic for easy to clean and the anit colic bottom vent does a great job of keeping air out of the bottle. Keeping the air from mixing with the milk really helps in reducing air ingestion that causes discomfort. She exclusively uses Playtex for her daughter.
While moms love how their babies react to the bottles, the bottle designs are also very practical.  Both bottles will work with any Playtex nipple and both come with Naturalatch Silicone Nipples.  This makes bottle feeding easier and more comfortable for baby.  It mimics the natural latch that they would make on the breast.   Both the Ventaire and Nurser bottles are also dishwasher safe and easy to clean.  
If you are like me and breastfeeding your child isn't in the cards, check out these amazing bottles from Playtex.
Also, if your kiddos are a little older, please read my review of the Playtex TrainingTime and AnyTime cups.
And keep your bottles and cups clean while you stay organized and save space with the Playtex Smartspace Drying Rack.