Are you ready for a family-friendly comedy of epic proportions?  Get ready for John Cena like you have never seen him. The Playing With Fire Trailer hit this week ahead of its release on November 8th, and it looks like it is going to be a lot of fun!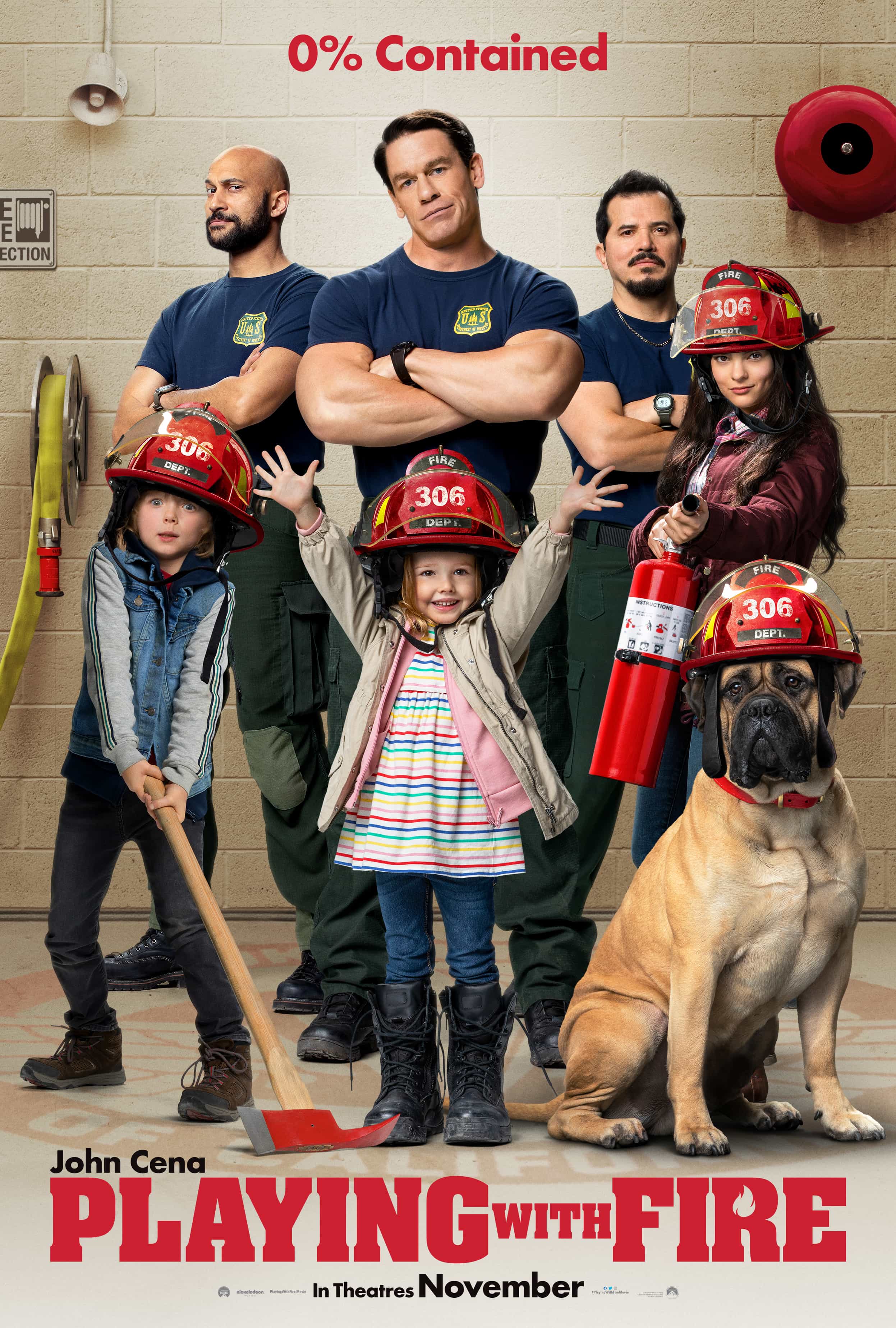 This post is in partnership with Paramount Pictures.
Remember those days of good, family-friendly comedies at the movie theater? I have to say that I am pretty excited for Playing With Fire staring John Cena. This film is about a group of firefighters (smoke jumpers) who rescue three children and have to play care takers for a few days. With hilarious outtakes, this will be a fun movie to watch with your family.
Synopsis  
When straight-laced fire superintendent Jake Carson (John Cena) and his elite team of expert firefighters (Keegan-Michael Key, John Leguizamo and Tyler Mane) come to the rescue of three siblings (Brianna Hildebrand, Christian Convery and Finley Rose Slater) in the path of an encroaching wildfire, they quickly realize that no amount of training could prepare them for their most challenging job yet – babysitters. Unable to locate the children's parents, the firefighters have their lives, jobs and even their fire depot turned upside down and quickly learn that kids – much like fires –are wild and unpredictable.
New Trailer
As I mentioned earlier, the first trailer dropped this week and I am really excited to share with you all.
Playing With Fire Set Visit
Earlier this year I was invited on a super secret trip to Vancouver, Canada where I was able to visit the set of Playing With Fire. While the temperatures were freezing, the experience was amazing. I love being on set of a movie and watching how a film is created. They repeat a scene over and over using different camera angles that will later be edited into what we see on the screen. It makes me look at movie scenes with a whole new appreciation.
It is also pretty fun to see how set designers can transform a warehouse into a fire station, fire house, and forest all in one building. There were several different sets constructed on the site, but my favorite was the fire house.
Interviews with the Cast and Crew of Playing With Fire
While we were visiting the set, we were treated with special visits from the cast and crew of Playing With Fire.  We had round table interviews with John Cena, Keegan-Michael Key, Judy Greer, Brianna Hildebrand, Director Andy Fickman, and Producer Todd Garner.
I love sitting down with the talent and crew of a movie and learning about how the film was created. It all starts with an idea.
Producer Todd Garner told us that he had this project for about 14 years. He made movies like Game Plan and Pacifier and this movie is in that same genre. He loves those movies where you take take a big tough guy and have him completely undone by the energy of the of kids. He told us that it's a pretty straightforward comedy, but that it will make you cry because it has some emotional moments with John and the kids.
Director Andy Fickman explained that he was excited to be apart of this movie because he is a dad and he found it difficult to find things that he and his son could do together and movies became that for him. He wanted to explore movies that dads could watch with their kids and have all of them be entertained. He went on to tell us that he was fascinated with smoke jumpers and loved the idea of working with John Cena so those were also reasons he was excited to direct this film.
It seems like the cast was also excited to be working together. They all complemented each other and told us how much fun they were having on set.
Every day is funny–mostly Keegan and John Leguizamo are like the most hilarious people I've ever met. – Brianna Hildebrand
Brianna also told us that she loved working with John Cena.
John is really sweet and like sort of really like a Type A personality, which is not something that I expected from him.  But, I grew up like watching him wrestle, so it has been weird.  I'm like, "I've seen you free style on the WWE ring." 
Just like Brianna, talking with John Cena was a bit of a surprise for me as well. The way he looks at life and how he decides to choose movie roles really inspired me. He talked with us about why he decided to take this role.
This one hit me especially hard because it's a story about a gentleman who is dedicated to his work and thinks there is nothing else in life except work and then gets a set of circumstances that change his mind.  And that's like exactly where I am in my life right now.  So, when you read something, and you get emotionally charged by the words, when movie magic takes over, it's awesome. – John Cena 
When it all comes down to his decision making he understands what type of movie he is making. Playing With Fire is a movie that is for families. It is a comedy and he understands the audience.
It's just when you commit to doing something like this, you have to know what kind of movie you're making.  You do the best you can and make a movie that makes you guys feel good when you go see it. – John Cena

I really enjoyed my time with John Cena, he told us a lot of inspirational stories from his life that made him who he is that I will be sharing with you in an extended interview in a couple of weeks… stay tuned!
We also had the chance to talk with Keegan-Michael Key and Judy Greer about their roles in the film. Keegan had me a little choked up when he was talking about why he took this role.
I've just reached that age where I'm only willing to do things that are going to give me joy. – Keegan-Michael Key
He also told us that he has a rule he likes to follow when deciding what roles to take on, if he gets a little emotional at the end of the script than it is worth considering. This script gave him joy, made him emotional and he knew he would love working with the cast so that is why he is in the film.
He told us about a magical scene in the movie when John's character is playing the piano. I won't go into the details (no spoilers) but I am excited to see it play out on the big screen. He said it was emotional for him to watch.  When it comes down to it, this movie is all about opening yourself up.
I think part of the message is you can find family anywhere if you open yourself up enough and you're vulnerable enough to just the human experience at large. – Keegan-Michael Key
I think the scene that Judy Greer is most excited about was the scene they were going to film after we left the set, John Cena in the shower!  I have to admit that I was a little disappointed we couldn't stay for that.
Judy told us she was really excited for this film because she has been doing a lot of darker things recently and it was time for something "fun".
I really just want to do something fun, like I want to go somewhere where I can just hang out and like work with really cool, fun people and make people laugh. – Judy Greer
She said that she has been having a blast on the set, laughing with her cast members and having a lot of fun.
One thing is for sure, Playing With Fire is going to have a lot of funny moments, mixed in with a little emotion to make an awesome family-friendly experience. Be sure to make plans now to see it on the big screen when it hits theaters on November 8th!
Follow PLAYING WITH FIRE on Social
Be sure to be the first to learn about updates and connect with the movie using the hashtag #PlayingWithFireMovie and by following their social media channels.
Playing With Fire opens in theaters everywhere on November 8th!