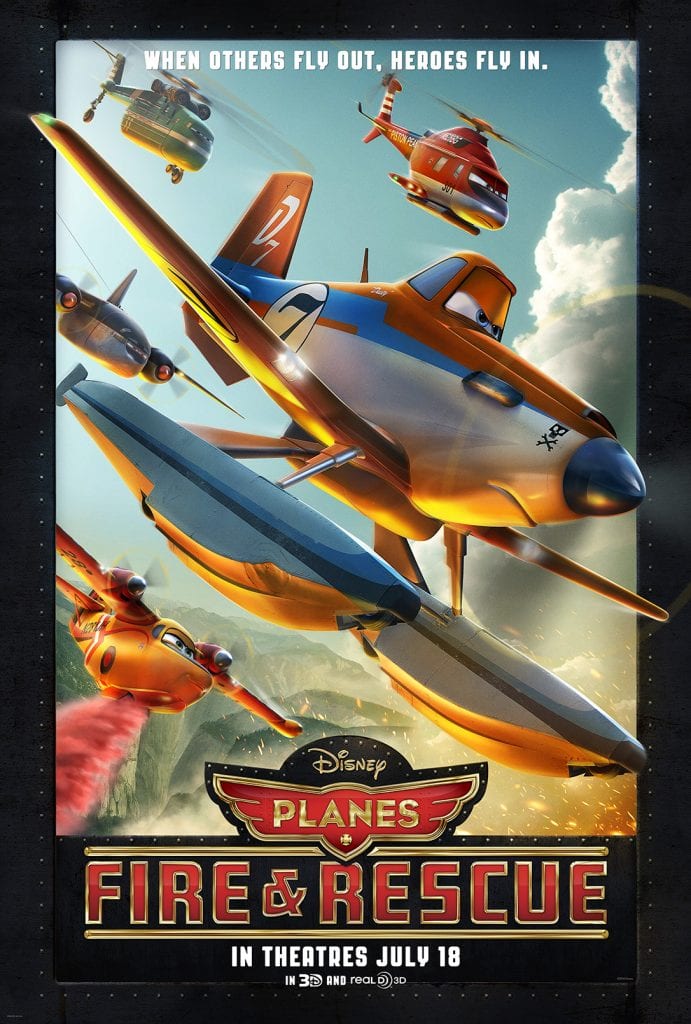 My son was a huge fan of the first Planes movie.  In fact, it was his first movie that he saw in the theater.  When I found out that there was going to be a sequel, I knew that I needed to watch the first one.  I watched it with him and saw his excitement (even after the 30th time watching it) and knew that I had to take him to see the sequel.  I thought the first movie was okay but too much like Cars 2 only with Planes. I was therefore really excited to see that Dusty was going to be in an all new adventure that had nothing to do with racing.  Before I get into my thoughts, here is a synopsis of the movie: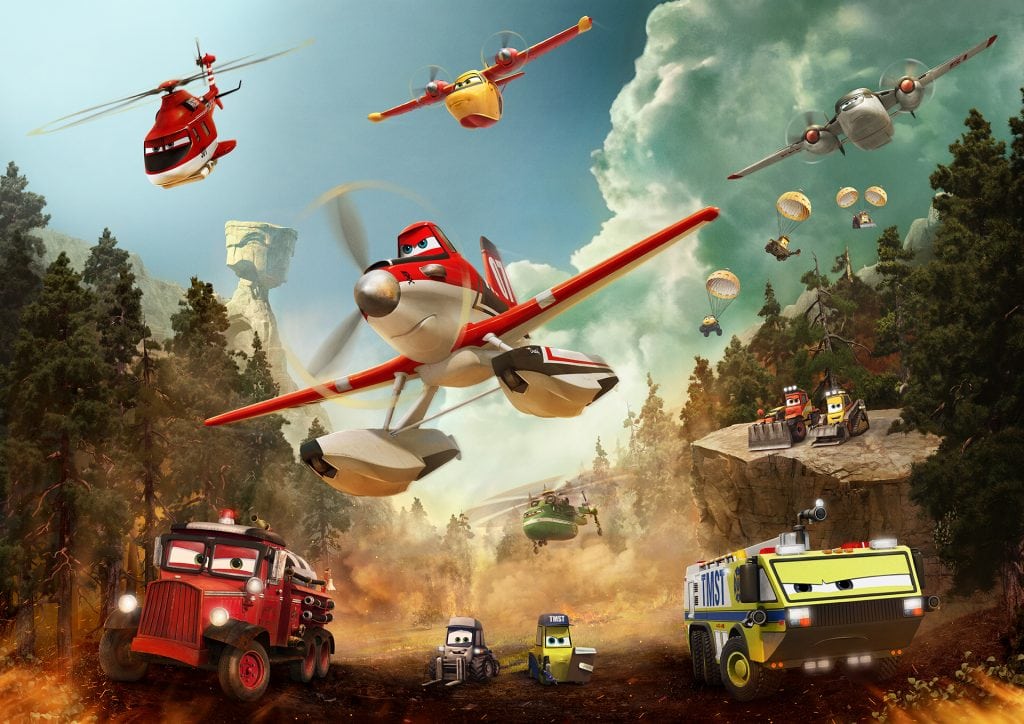 "Planes: Fire & Rescue" is a new comedy-adventure about second chances, featuring a dynamic crew of elite firefighting aircraft devoted to protecting historic Piston Peak National Park from raging wildfire. When world-famous air racer Dusty (voice of Dane Cook) learns that his engine is damaged and he may never race again, he must shift gears and is launched into the world of aerial firefighting. Dusty joins forces with veteran fire-and-rescue helicopter Blade Ranger (voice of Ed Harris) and his courageous team, including spirited air tanker Dipper (voice of Julie Bowen), heavy-lift helicopter Windlifter (voice of Wes Studi), ex-military transport Cabbie (voice of Captain Dale Dye) and a lively bunch of brave all-terrain vehicles known as The Smokejumpers. Together, the fearless team battles a massive wildfire and Dusty learns what it takes to become a true hero.

My Thoughts
I was blown away by this movie.  As I mentioned before, the first Planes movie wasn't one of my favorites so I didn't really have high expectations for this one.  What I experienced was a movie that showcased the unsung heroes of our National Forests.  These heroes protect our homes and land by battling fires that are both numerous and dangerous.  They do this with no thought of what danger they are placing themselves in.  I used to live in Idaho where there were numerous forest fires every year.  I know what kind of damage they can do and I have seen smokejumpers jump out of airplanes to fight these fires.  This movie does an amazing job of honoring these heroes.
The story is a great one, Dusty learns he can't fly in the same capacity as he used to and therefore can not race anymore.  He helps out a buddy by training to be an ariel firefighter.  In the process he meets some hilarious new friends and learns that there is a lot more to fighting fires than just dropping a bucket of water on a tree.  He meets and builds lasting relationships and becomes more selfless in the process.  He learns what it is like to be apart of a team.
This movie is emotional, thoughtful, and funny.  There was some humor in this movie that adults will appreciate, making it more enjoyable for the older viewers than the first one.  Disney did a great job getting the audience to care about the characters in the story bringing these vehicles to life.
I am so excited to bring my son to see it tonight!  He has been asking and asking about when it comes out so he can see it.  Thanks to some fun Disney Planes: Fire & Rescue toys, he is already familiar with the new characters!  He told me this morning how excited he was to finally meet Windlifter and Blades "in person".  I thought that was cute!  Some of our favorite toys in the lineup are these: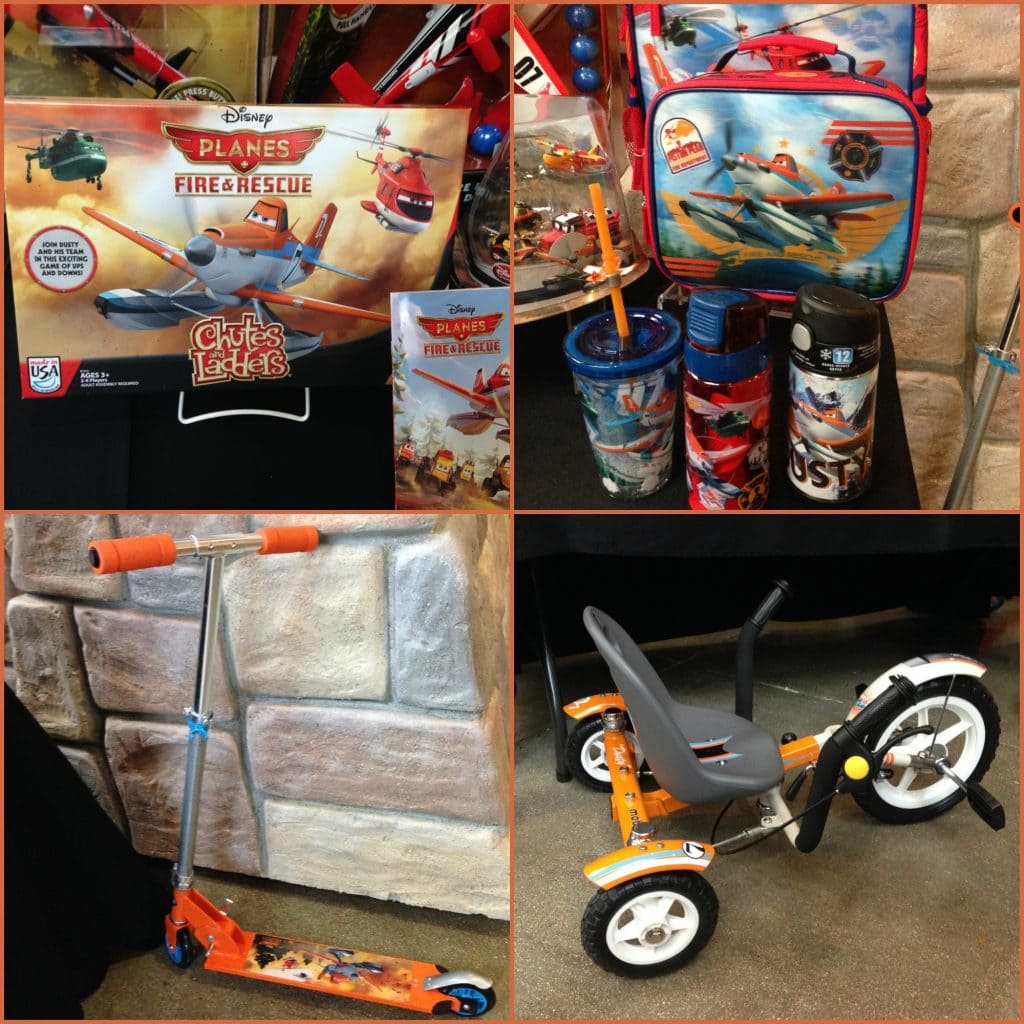 1. Planes Fire & Rescue Games and Puzzles
2. Planes Fire and Rescue Backpack
3. Huffy Folding Scooter Disney Planes Scooter
4. Disney Planes Cruiser
We already have the Disney Planes bike that my son loves as well as several of the puzzles.  He is very excited to grow his Planes toys collection.  I think he is going to fall in love with Blade Ranger and want to get a Blades toy.
Be sure to follow Disney's PLANES FIRE AND RESCUE on Facebook and  Twitter as well as the website: www.disney.com/Planes Disney's PLANES FIRE AND RESCUE flies into theaters everywhere TODAY!
A huge thank you to Disney for  providing my flight and hotel during the #FireAndRescueEvent. All opinions are 100% mine