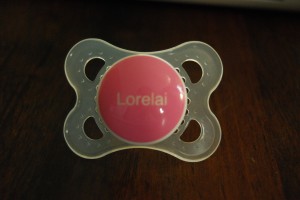 Many of you know how much I loved personalized products.  I love how one really has to think about the person they are giving the present to when it comes personalized.  When receiving these gifts I feel so loved and appreciated because I know that they were made just for me.
Personalized Pacifiers
MAM, a company making BPA Free baby products in the US for over 30 years, has created one of the ultimately personalized products for newborns and infants, the personalized pacifier.  These adorable pacifiers are not only fun to look at, they are functional and practical.  Having your baby's name imprinted on his pacifier will ensure that his pacifier isn't getting switched with another child at daycare!
Mom's also have the added security of knowing that they are giving their baby one of the best pacifiers on the market today!
MAM pacifiers give babies the best start in life because they are designed and developed by pediatric dentists and orthodontists.  MAM's attention to detail and work with developmental psychologists have resulted in a wide variety of pacifier sizes that suits baby's various developmental stages.  The anatomically correct pacifiers allows for healthy jaw and teeth development and ensure a maximum level of comfort for babies of all ages.
I am constantly looking for unique and special gifts to give to expecting moms for their baby showers.  I think I found just the right gift.  If you know what the child's name is going to be, these personalized MAM pacifiers will be sure to make a great impression.  Be sure to check them out at MamBaby.com.  You can purchase them for $19.95 for two.  You can fully customize the pacifier by selecting from two different sizes, three different colors and your child's name or a clever message.
A huge thank you goes out to MAM and Child's Play Communications for sending us a customized pacifier for purposes of this review.  I was not compensated for this article.  All opinions are 100% mine.
P.S.  For those of you trying to figure out if my new baby's name is going to be Lorelai, you would be mistaken.  I got these pacifiers for one of my dear friends.  Lorelai was born in December and is an adorable little girl!  Nice try trying to figure out the surprise!