This post is sponsored by Disney Book Group. All opinions are my own.
My kids only have two more weeks of school before it lets out for the summer! This school year really flew by quickly, but I am ready for the summer. We have two family vacations planned that we are really excited about. In addition, there will be trips to the pool, camps to experience, and a lot of fun playing with neighborhood friends. Summer is a special time for kids.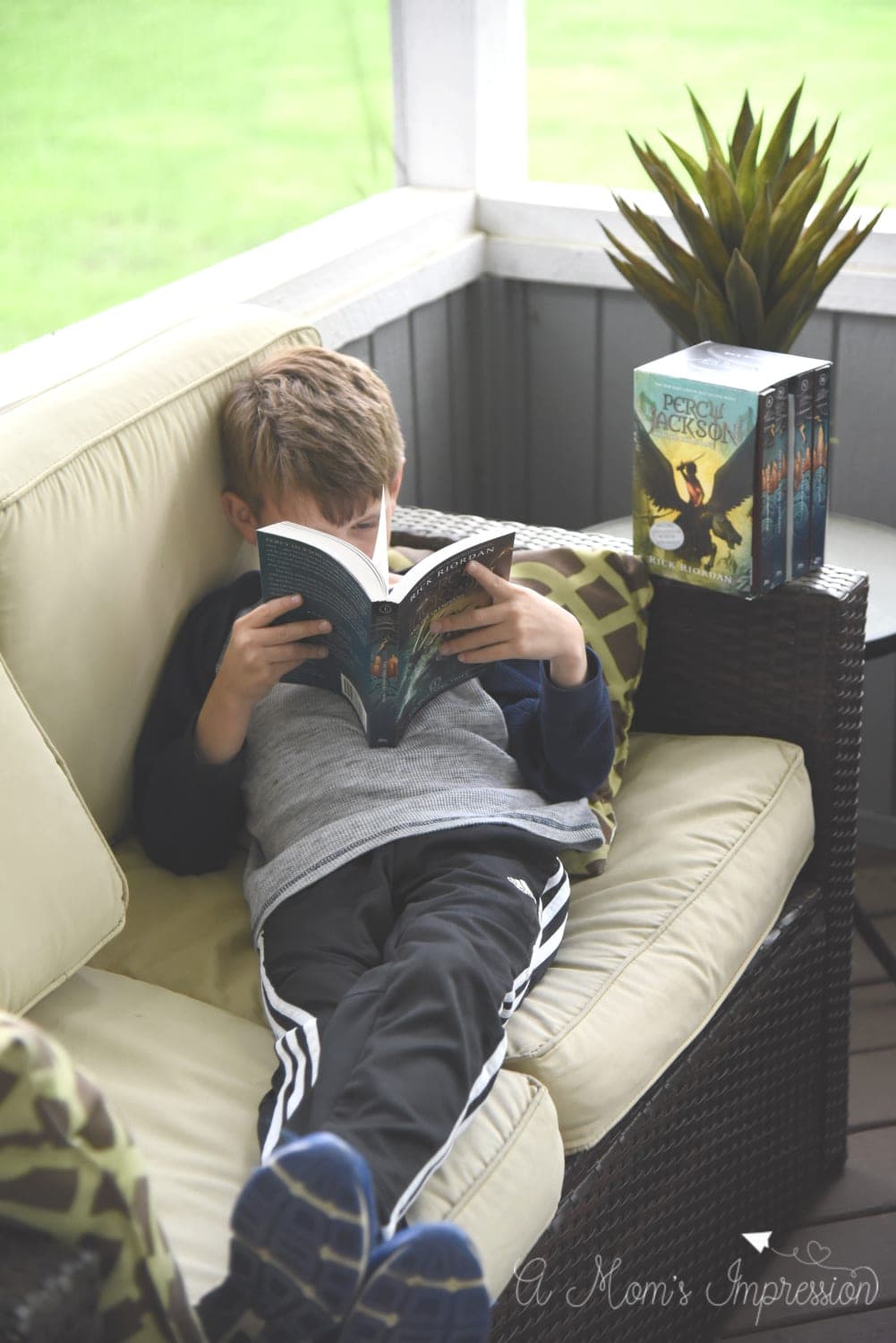 When I was teaching school, I also enjoyed my time off during the summer. It was a time to rejuvenate and to pull out all the books that I had written on my summer reading list. This is a tradition that I have passed down to my own kids. Summer brain drain is a real thing and it is important that kids continue to grow that reading muscle even if they aren't in a classroom. At the start of every summer, the kids and I go to our local library and the local bookstore to stock up on the books we want to read.
This summer my ten-year-old is excited to read the Percy Jackson and the Olympians series!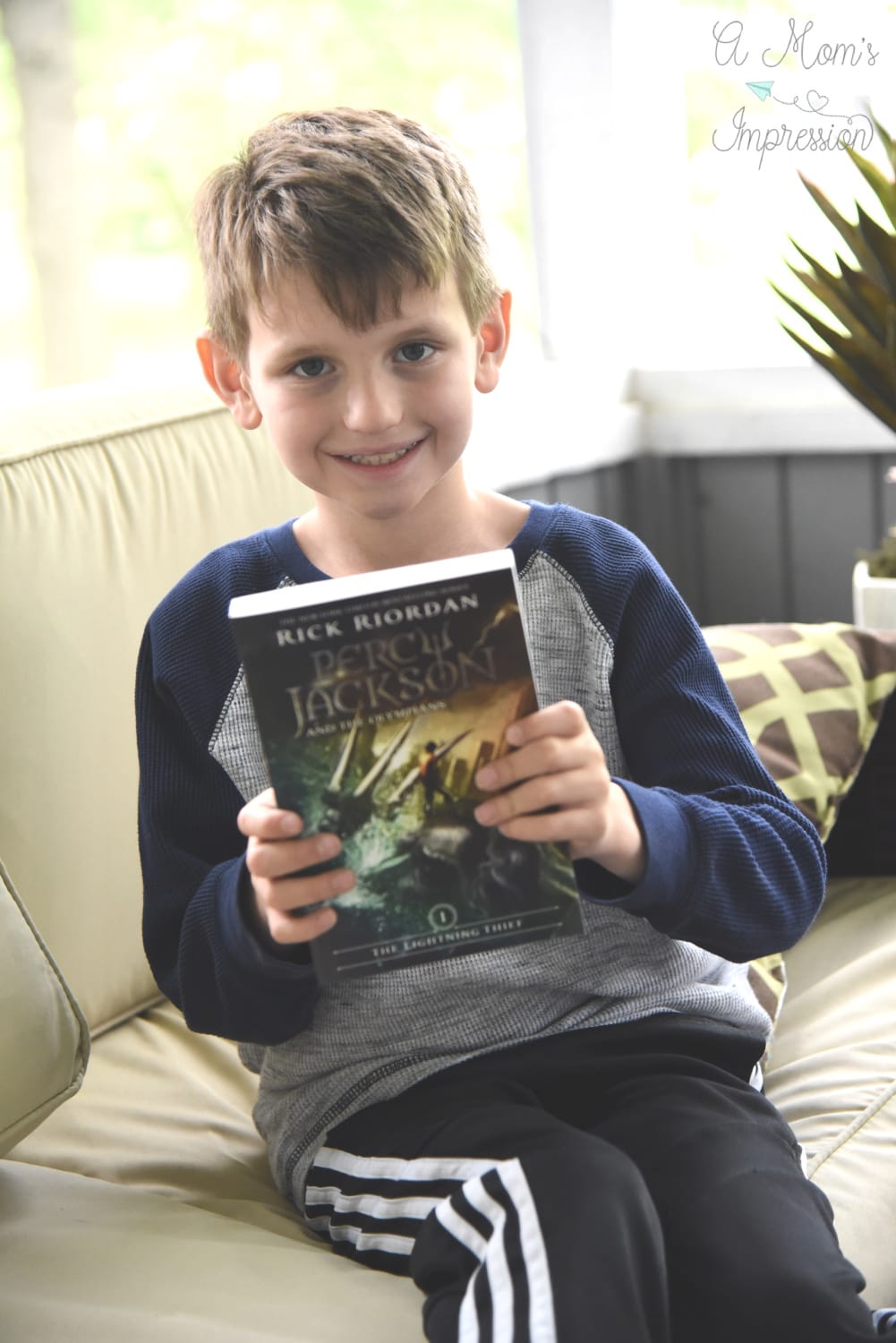 Disney Book Group sent us this series to enjoy and ever since it arrived, he has been asking to get started. The problem is that he takes after his mom and once he starts a book he hardly rests until the entire series has been read, so I told him he had to wait until summer break started.
I relented this past weekend and agreed he could start reading book one: The Lightning Thief as long as he agreed to put it down when we tell him it's time for bed.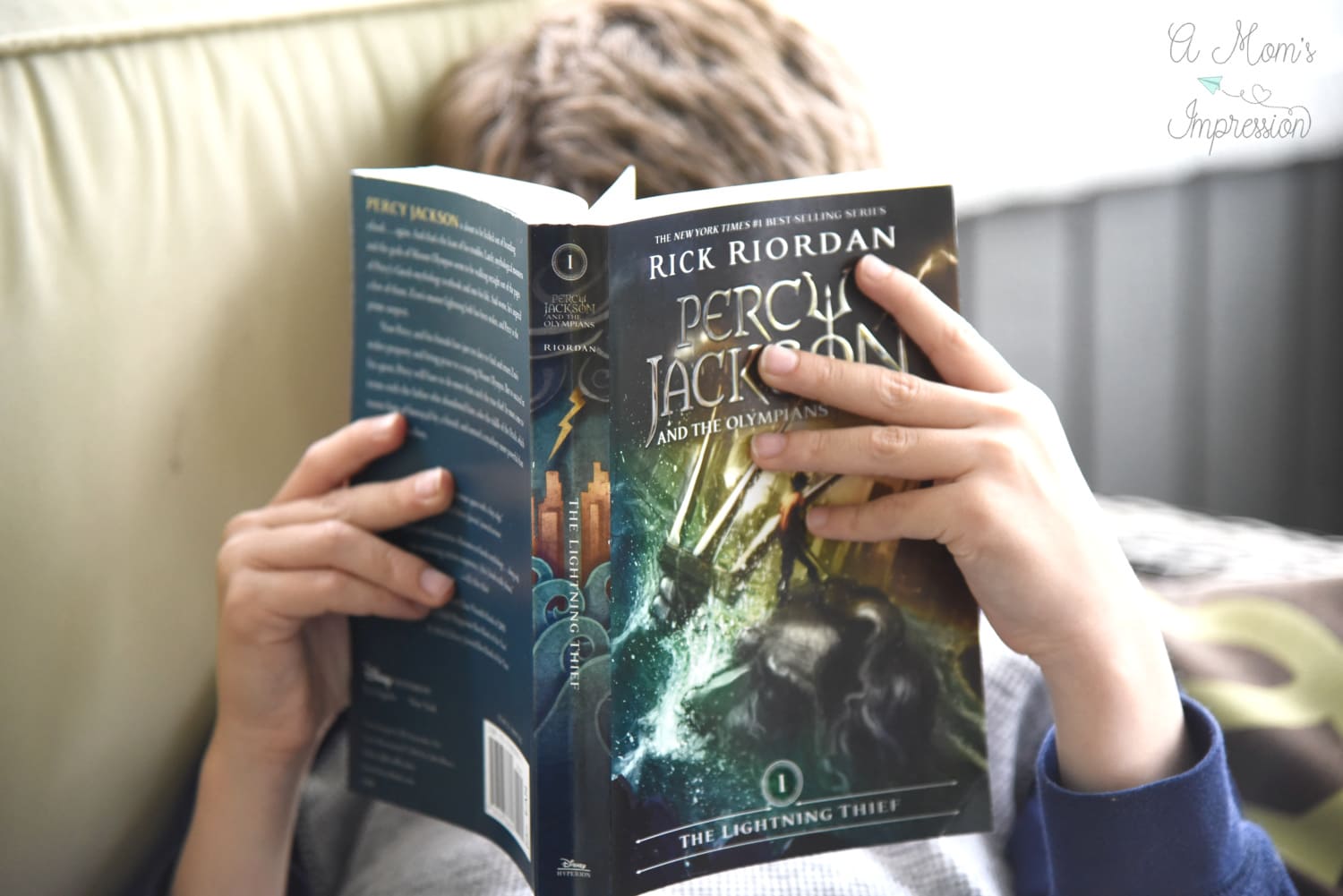 Are you familiar with the Percy Jackson & the Olympians series? This wonderful collection of adventures, written by Rick Riordan, is a 5-book series that has been on the New York Times bestseller list for over 500 weeks! It is a fun way for kids to learn about Greek Mythology as the main character, Percy Jackson, has adventure after adventure and learns he is a demigod (an offspring of a Greek god).
Here is a short synopsis of the first book:
Synopsis of Book 1: The Lightning Thief

Percy Jackson is about to be kicked out of boarding school… again. And that's the least of his troubles. Lately, mythological monsters and the gods of Mount Olympus seem to be walking straight out of the pages of Percy's Greek mythology textbook and into his life. And worse, he's angered a few of them. Zeus's master lightning bolt has been stolen, and Percy is the prime suspect. Now Percy and his friends have just ten days to find and return Zeus's stolen property and bring peace to a warring Mount Olympus. But to succeed on his quest, Percy will have to do more than catch the true thief: he must come to terms with the father who abandoned him; solve the riddle of the Oracle, which warns him of betrayal by a friend; and unravel a treachery more powerful than the gods themselves.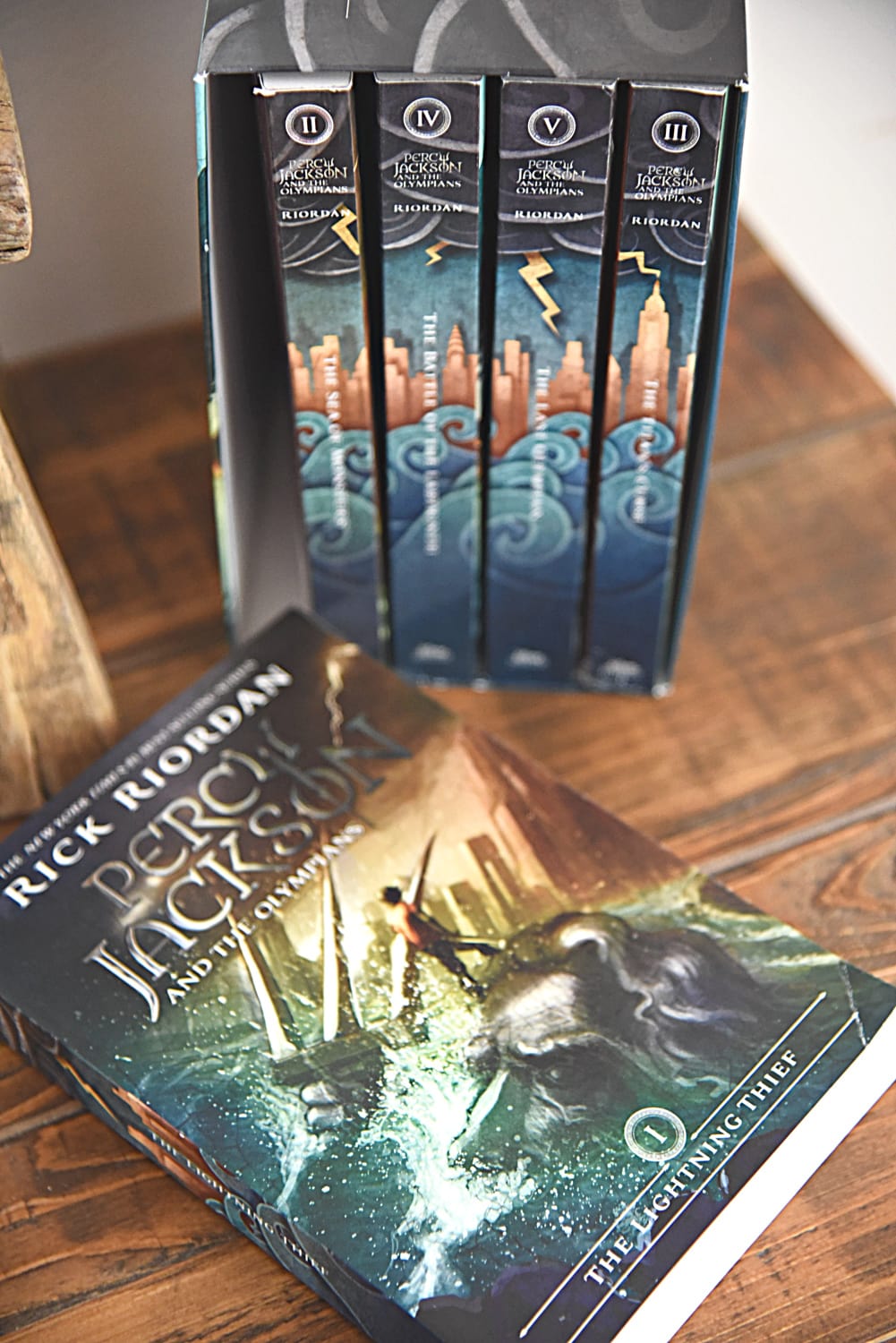 Jonah is entering fifth grade next year but reads at a much higher level. I have been finding it difficult to find age-appropriate books that challenge him to think and learn about new things. The Percy Jackson series is perfect for readers like him and I know he is really going to love learning about Greek mythology. He is at that age where he is really interested in history as well as magical beings.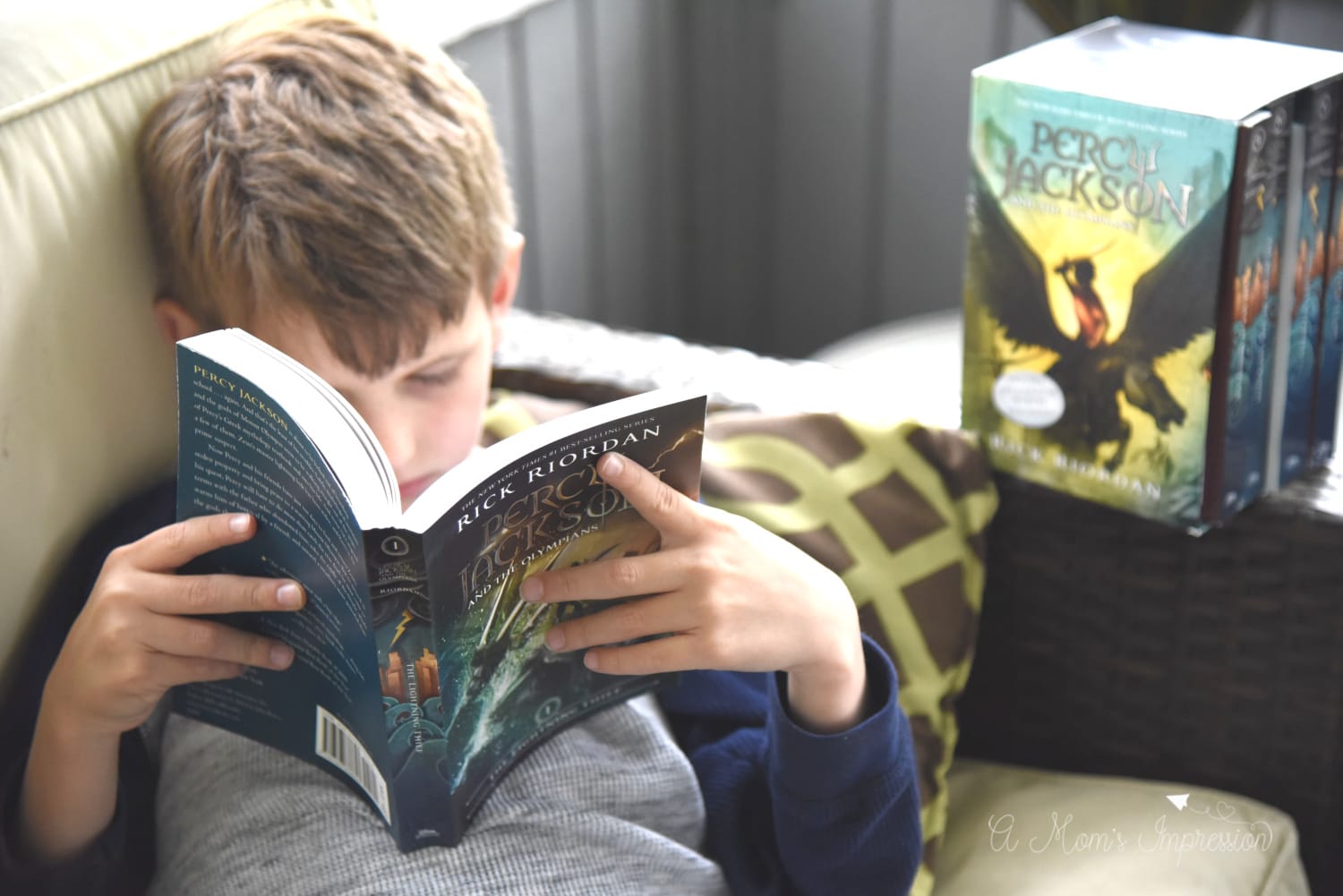 Everyone in the family is excited to make our summer reading lists and get started enjoying good books during our downtime. Jonah is appreciative that he was able to get a head start, but knowing him he is going to love this series and read them all before the summer is over. We will be keeping you updated throughout the next few months on his progress so be sure to check back!
Make sure to check out this fun middle-aged series for your kids and enter to win a fun Percy Jackson giveaway below!
I invite you to visit ReadRiordan.com to learn more about the Percy Jackson series as well as his other books that are perfect for summer reading!
Win It
The good people at Disney Book Group and I want your family to enjoy the Percy Jackson & the Olympians series this summer as well! We are giving away an entire book set to one (1) lucky winner! Please note that this giveaway is open to U.S. addresses only and prizing is being provided by Disney Book Group. You can enter by using the widget below and good luck!