I can't imagine not having a sister or a brother to grow up with.  Most of the fondest memories I have include my siblings.  While we didn't always get along (what siblings do) I know that no matter what I do, they have my back.  Recently I watched the movie People Like Us, a movie based on one man's true life event.  It really made me think about how strange it would be to find out in my 30's that I had a brother or a sister I never met.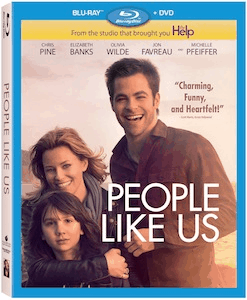 Synopsis:
Inspired by true life events, the "People Like Us" Blu-ray Combo Pack comes complete with bonus material that delves deeper into the story that inspired the making of this great film. These extras include audio commentary with filmmakers and talent, an extended scene of L.A.'s popular Henry Taco Stand featured in the film, deleted scenes and bloopers.

"People Like Us" is directed/produced by Alex Kurtzman (Cowboys & Aliens, The Proposal, Star Trek, TV's "Hawaii Five-O"), written by Alex Kurtzman, Roberto Orci (Transformers, Star Trek, Cowboys & Aliens) and Jody Lambert (her first writing debut) and composed by award-winning composer A.R. Rahman (127 Hours, Slumdog Millionaire). Chris Pine, who plays Sam, is a twenty-something, fast-talking salesman whose latest deal collapses the day he learns his father has suddenly died. Against his wishes, Sam is called home to put his father's estate in order and reconnect with his estranged family. While there, he uncovers a startling secret that turns his entire world upside down — he has a 30-year-old sister (Banks) he never knew existed.
My Thoughts:
I really enjoyed this movie.  It is a sweet story that isn't too predictable.  It isn't wrapped up in a little bow, and therefore it is much more believable.  I loved watching the relationship grow between Sam and his nephew.  Here is a scene with the two of them:
These people are flawed, but who isn't.  I am not going to ruin the ending, but I admit, I cried.  It was unexpected and a very sweet way to end the movie.  I think this is a great movie for a date night.  It would appeal to both men and women!  So, go grab some popcorn, pick up a copy of the movie, and relax as you watch a great story about family and siblinghood.
This product review was made possible by Disney and  Click Communications.  I was not compensated for this review other than a product sample provided by the company or PR firm. All opinions are 100% mine.