Its about time for Thanksgiving and that means a lot of fun movies are going to be releasing next week.  I don't know about you but my kids and I are very excited for the return of the penguins!  We loved Madagascar and now we can enjoy some of our favorite characters who are ready for the feature instead of the back seat.  It is going to be epic!
Penguins of Madagascar are back in their very own feature film – coming to
theaters this Thanksgiving!

Super spy teams aren't born…they're hatched. Discover the secrets of the
greatest and most hilarious covert birds in the global espionage biz:
Skipper, Kowalski, Rico and Private. These elitists of the elite are joining
forces with a chic undercover organization, The North Wind. Led by handsome
and husky Agent Classified (we could tell you his name, but then…you know),
voiced by Benedict Cumberbatch. Together, they must stop the villainous Dr.
Octavius Brine, voiced by John Malkovich, from destroying the world as we
know it.

Starring: Tom McGrath, Chris Miller, Christopher Knights, Benedict
Cumberbatch, Ken Jeong, Annet Mahendru, Peter Stormare and John Malkovich

Directed By: Eric Darnell, Simon J. Smith

Produced By: Executive Producers: Tom McGrath, Mireille Soria, Eric
Darnell; Producers: Lara Breay, Mark Swift
If that doesn't get you excited check out this trailer:

Win It
To celebrate the opening of PENGUINS OF MADAGASCAR I have a wonderful prize package to give to a lucky reader!  One (1) winner will receive a Penguins Prize Package that includes the following: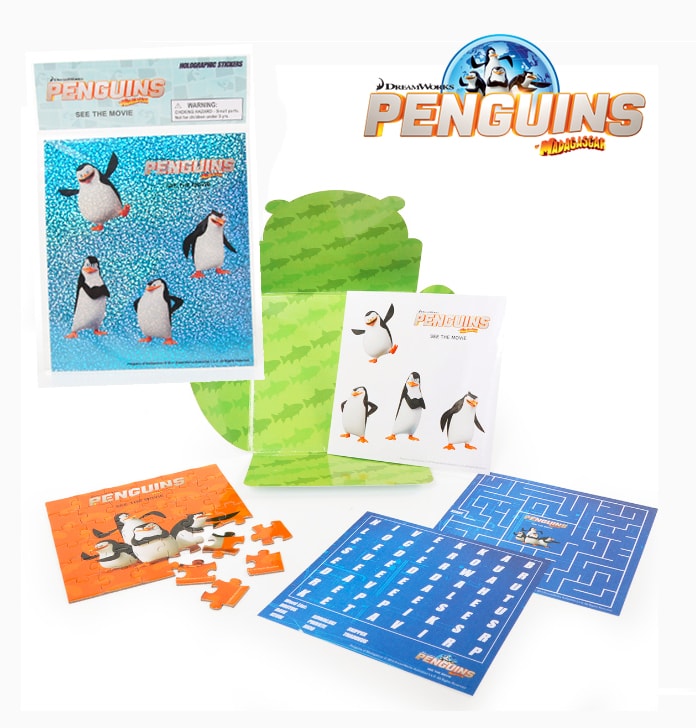 1- $25 Visa gift card to see the film in theaters, PLUS a Penguins activity set & holographic stickers!
Prizing Courtesy of Relativity Media
Open to US mailing addresses only