There is a new sole on the block!  The all new Spring/Summer 2012 line of shoes from pediped features a new improved slip resistant leather sole on its Originals line of shoes.  What does this mean?  Check out my video as I explain the features of the new sole:

pediped is a favorite shoe of celebrity moms for their kids…Heidi Klum, Jen Garner, Halle Berry, Sarah Michelle Gellar, Tiffani Thiessen, Pink, Isla Fisher, Nancy O'Dell and more and I can tell you why!  They are adorable as well as developmentally appropriate for children's growing feet. Here is a little bit more about the company:
pediped® footwear was founded in 2004 by Angela and Brian Edgeworth in their quest for the perfect soft-soled shoe for their first daughter. Exceptional quality, unsurpassed comfort and distinctive styling have made the award winning company the fastest-growing children's footwear brand in the United States. pediped® footwear has been awarded the American Podiatric Medical Association Seal of Acceptance for the promotion of healthy foot development, and preeminent orthopedic medical professionals, Dr. Mininder S. Kocher and Dr. Thomas W. Vorderer, deem pediped shoes an excellent choice for parents/caregivers who want their children's feet to develop naturally and healthily. In 2011 Earnshaw's, the premier media resource serving the children's market recognized pediped® with Earnshaw's Earnie Awards for Company of the Year and Best Footwear.

pediped® footwear is sold in over 3000 stores in the United States and 40 countries worldwide with an offering of more than 120  designs for boys and girls between their three lines, Originals®, Grip 'n' Go™ and Flex®. Originals® (soft-soled shoes for newborns to age 2), Grip 'n' Go™ (thin rubber-soled shoes for children ages 9 months to 3 years) and Flex® (rubber-soled shoes for children 1 to 8 years) are available in EU sizes ranging from 17 to 33.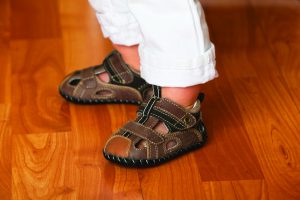 I love this company and  their philanthropic involvement focused on helping children. In 2010, pediped established the pediped Foundation to support children around the globe. The foundation has donated over $1,000,000 in products and monetary support since the launch of the foundation. They not only care about your child's feet, they care about children around the world!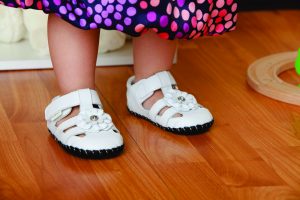 For more information, visit www.pediped.com. You can also sign up to become a pediped Insider on their website to be the first to know about special promotions, new product introductions and more. Also be sure follow pediped on Facebook at facebook.com/pedipedfootwear.
A huge thank you goes out to pediped for being a part of our Virtual Baby Shower and sending us a pair of shoes for my little girl!  I was not compensated for this giveaway other than a product sample. All opinions are 100% mine.