These Oven Baked Eggs with Vegetables are the perfect dish for breakfast, lunch or dinner. They are quick and easy to make. They are a great option to serve a large number of guests or will taste great as leftovers. This is one of my favorite egg bake recipes.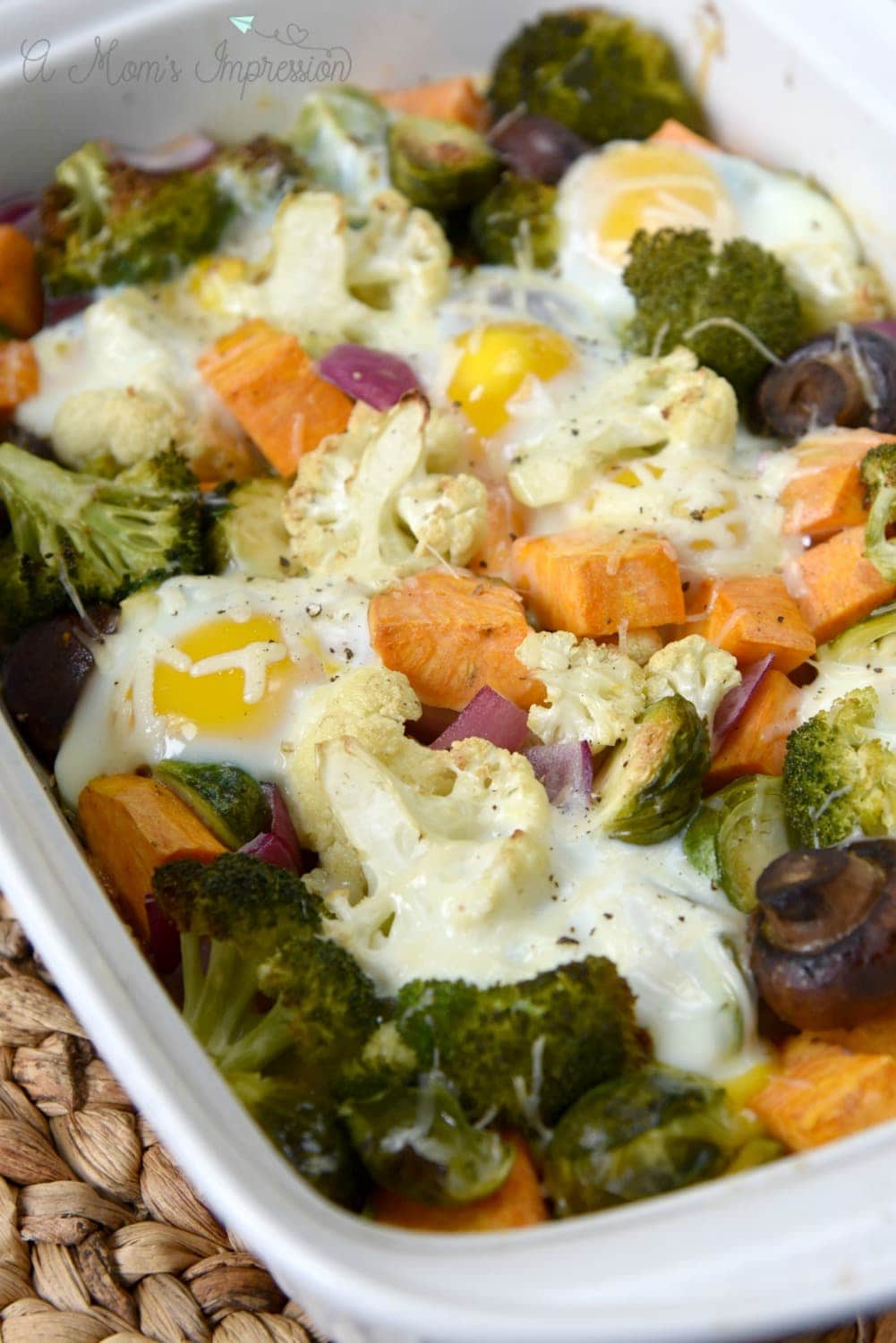 This post is sponsored by the Happy Egg Co, and all opinions are my own.
LOOKING FOR MORE GREAT BREAKFAST RECIPES? CHECK OUT MY EASY BISQUICK BREAKFAST CASSEROLE!
Are Eggs the Perfect Ingredient? Yes!
I am always on the lookout for recipes that can work for all three meals; breakfast, lunch, and dinner. As a busy mother of two and small business owner, finding a meal that is that flexible is incredibly helpful in my meal planning. This is one of the reasons that I have always been a huge fan of eggs.
I believe that eggs are just about the perfect ingredient. You can make breakfast, lunch, dinner, dessert, appetizers and just about anything else with eggs. You can hard boil them. Or you could scramble them. You can coat food with them. They go on salads. They make great sandwiches. The possibilities are endless. So, if you are looking for a flexible recipe, using eggs in it is a good place to start.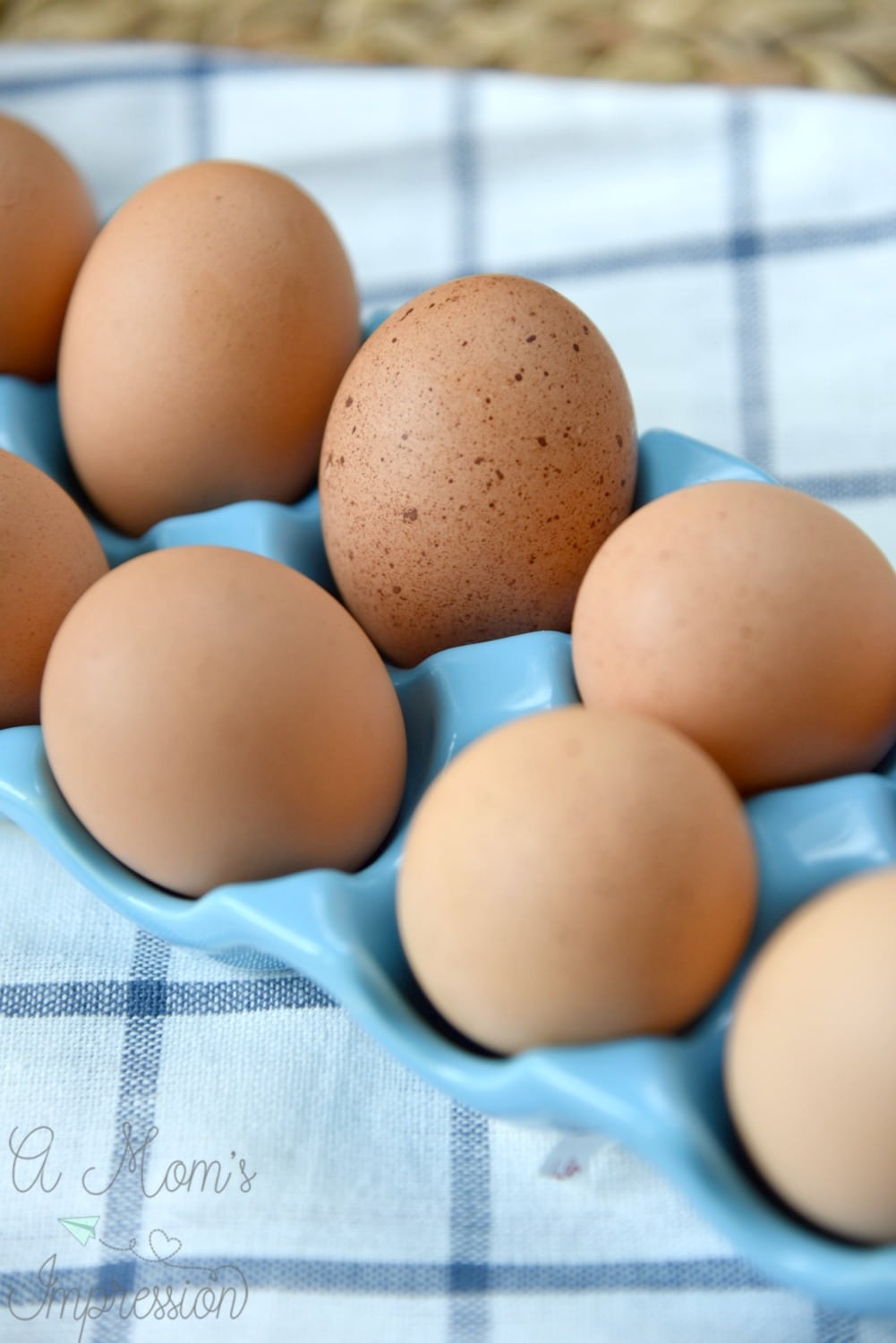 One recipe idea that has been a huge hit in our family are these oven baked eggs with vegetables. It is so cheap, quick, easy and healthy. It fits in perfectly with our busy lifestyle when I need to give my family a balanced and nutritious meal without pulling out all the stops. Eggs to the rescue again!
Where Do Your Eggs Come From?
've established how important eggs are to our family's diet, but for a long time, I didn't think much past that. When I would choose my eggs, two things were considered: what was the expiration date and are any of the eggs broken. Does this sound familiar?
It turns out, there is a lot more to your eggs than just those things. Have you ever thought about where your eggs come from? Did you know, that unless the carton of eggs says otherwise, you are probably purchasing your eggs from caged hens? This means that these animals spend the entirety of their lives in a wire cage without even enough space to stretch their wings?
And even if the packaging says "cage-free", that typically means that, while the hens aren't actually in a cage, they still live all their lives in a barn and have about 1.5 square feet per bird. They never go outside and may still exist in cruel conditions.
What about if you are buying eggs that come from "free range" hens? Well, to meet HFAC standards for "free range", the required minimum outdoor space is only 2 square feet per bird.
Happy Egg Co
None of these options make me feel great when I think about where my eggs come from. This is why I was so "happy" to be introduced to the Happy Egg Co.
Happy Egg Co states that their eggs are the "Free-est of the Free Range". This means that their eggs come from 31 small family farms spread out over Missouri and Arkansas. Each farm has over 8 acres of outdoor pastures for the hens to roam freely and forage every single day.
Remember above when I told you that most "free-range" farms have about 2 square feet of area per hen? Well, the farms for Happy Egg Co have over 10x more square feet per bird!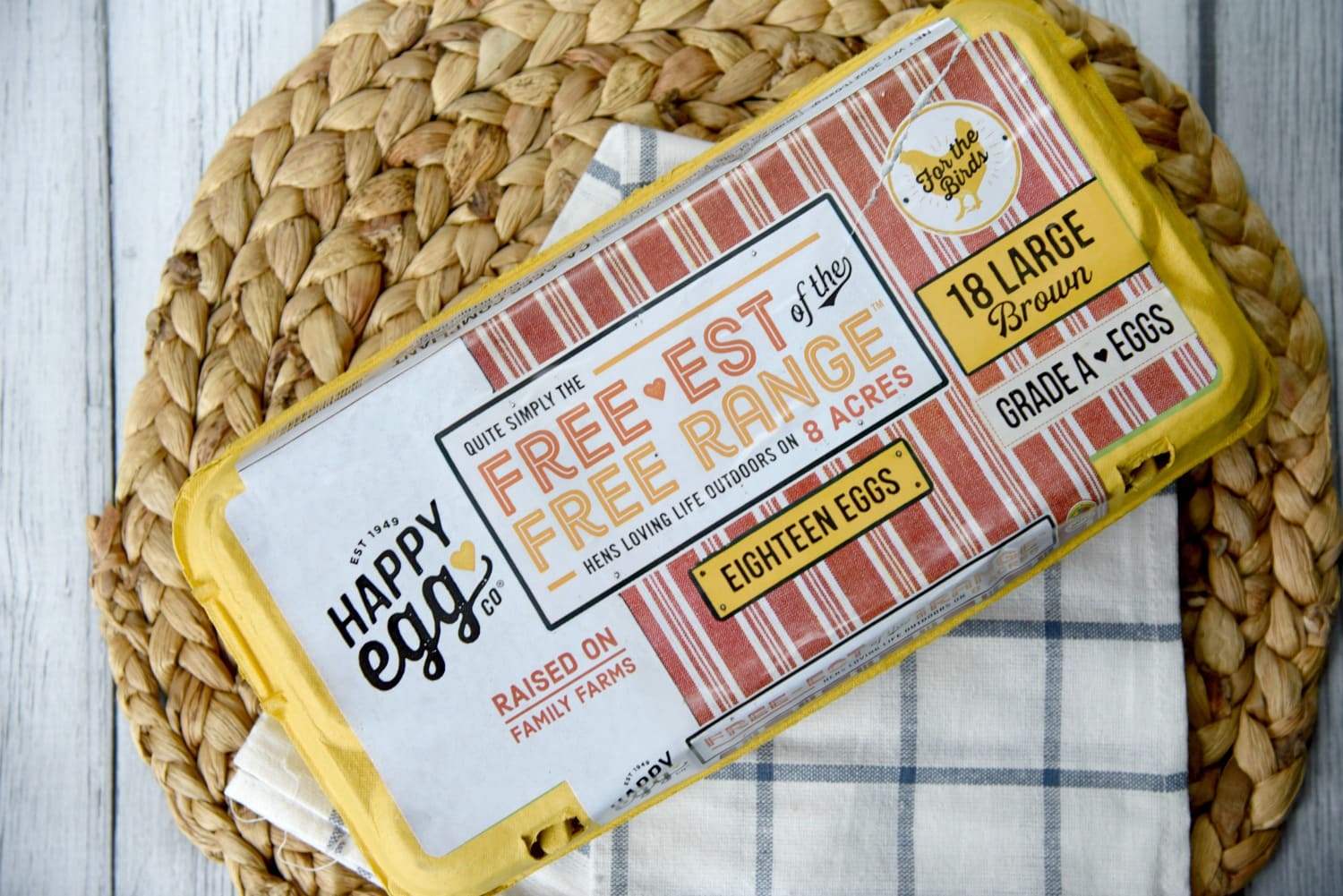 They also have eggs that are truly organic. A lot of times "organic" simply means that there is a small door that the hens rarely have a chance to use to go outside. All of the Happy Egg barns are equipped with 6-foot openings called "pop holes" so the hens can easily come and go as they want to.
At the Happy Egg Co farms, they love their birds so that they can give you a high-quality product you can feel great about buying. Please visit their website for a lot more information about Happy Egg Co.
Where To Buy Happy Egg Co eggs?
We buy our Happy Egg Co eggs at our local Meijer Store. They are easy to spot in the egg aisle. Just look for their staple yellow carton! They also offer Organic Free-est of the Free Range eggs in a green labeled, yellow carton. To find out where Happy Egg Co eggs are near you, just use this convenient store locator.

Oven Baked Eggs With Vegetables Recipe
When I think of a great egg dish, this recipe quickly comes to mind. I love this recipe because it uses up a lot of the vegetables I have left over from meal prepping for the week. You can really use any combination of vegetables that you have on hand.
I gathered about 6 cups of cut vegetables and roasted them in the oven for about 25 minutes. As you can see I used broccoli, cauliflower, mushroom, onion, brussels sprouts, and a sweet potato.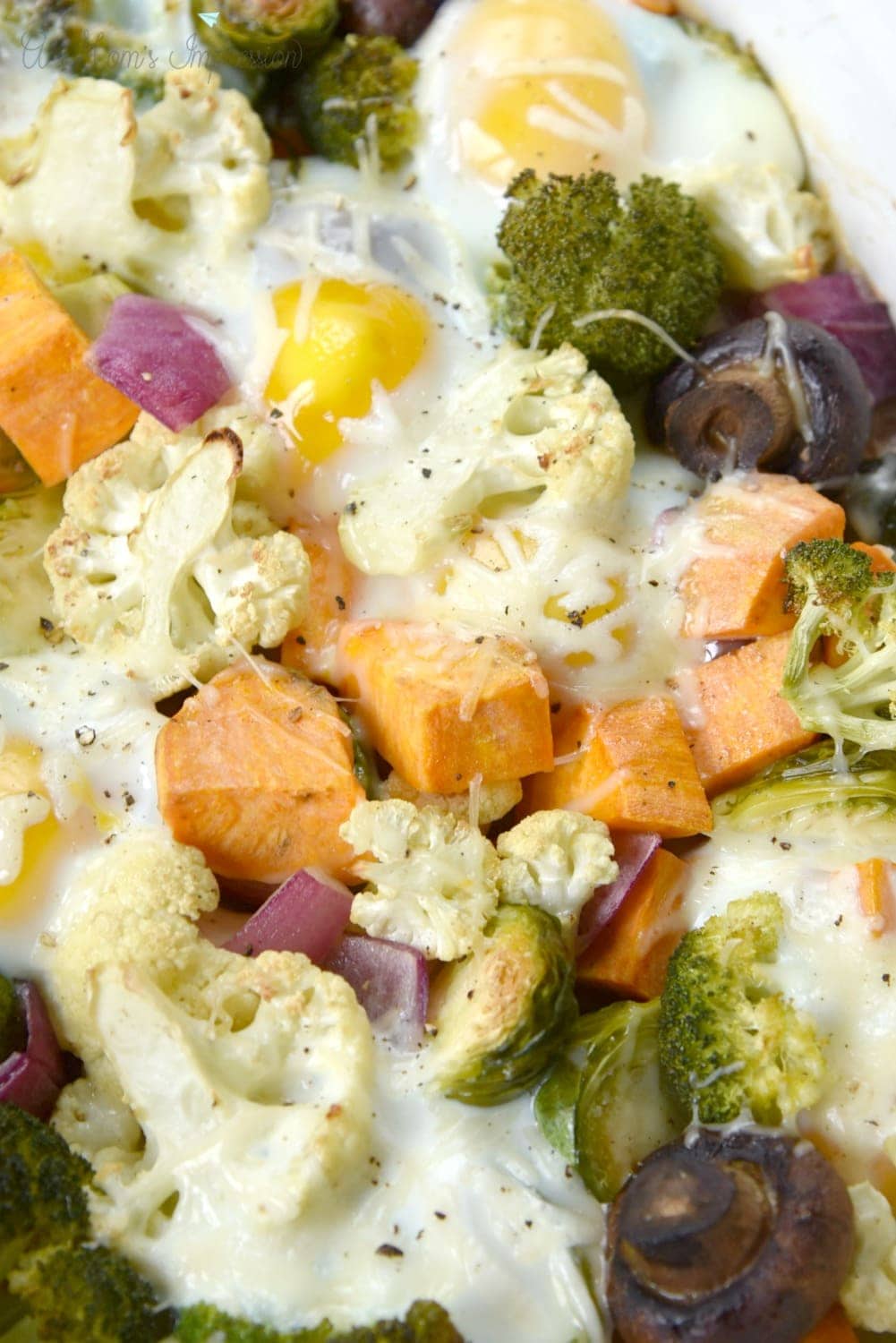 After 25 minutes, I cracked a Happy Egg company egg into a small ramekin and gently poured it on top of the vegetables. I repeated that step 7 more times for a total of 8 eggs.
The dish went back into the oven for 8 minutes and then I sprinkled the top with a handful of Parmesan cheese. I baked it for about 10 more minutes until the eggs were done!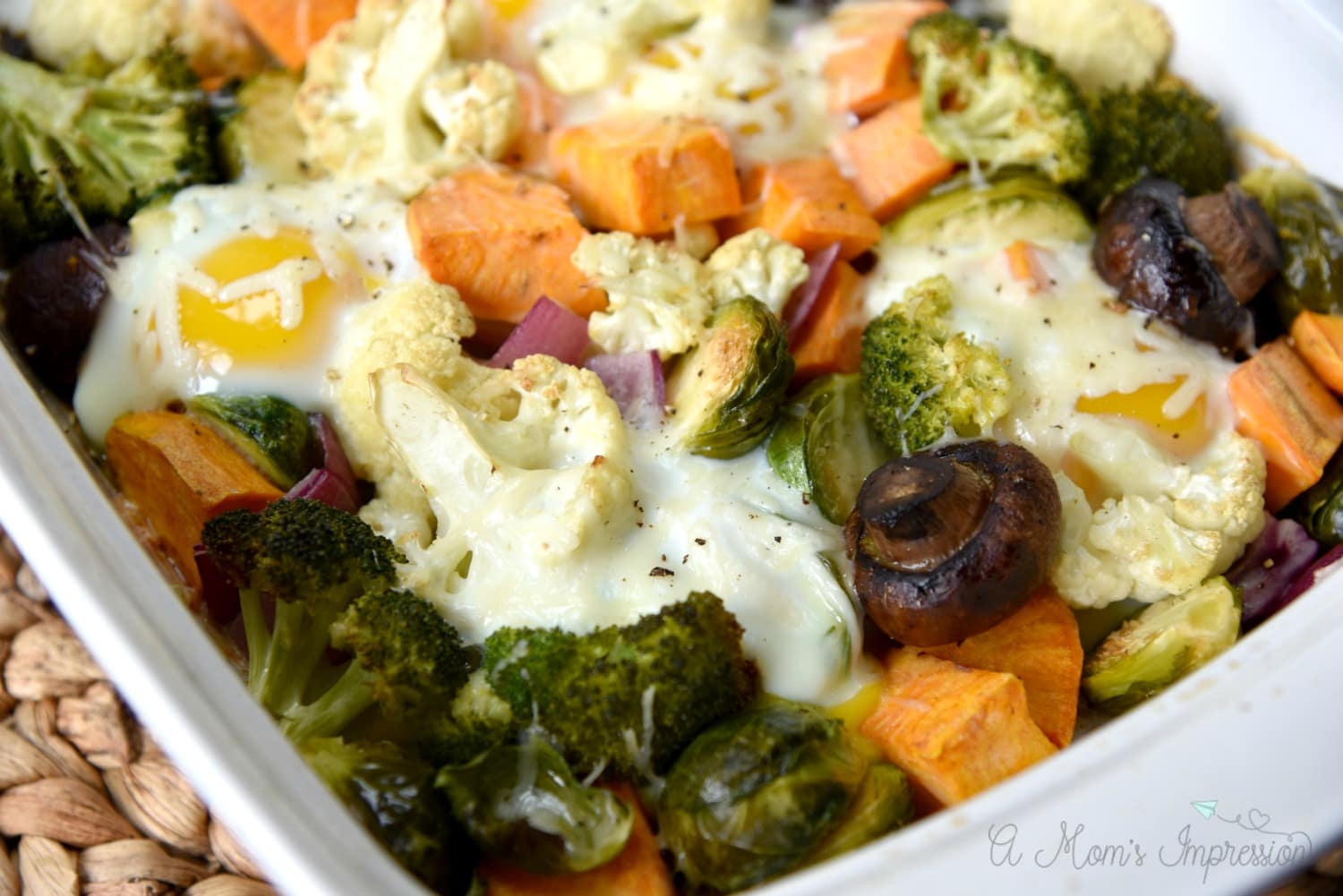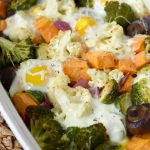 Oven Baked Eggs with Roasted Vegetables
These Oven Baked Eggs with Vegetables are the perfect dish for breakfast, lunch or dinner. They are quick and easy to make. They are a great option to serve a large number of guests or will taste great as leftovers.

Course:
Breakfast, Main Dish
Keyword:
Oven Baked Eggs with Vegetables
Ingredients
8

Happy Egg Co eggs

1 1/2

cups

broccoli florets

1

cup

sweet potato

1/2

red onion, quartered

1 1/2

cup

Brussels Sprouts

1 1/2

cup

cauliflower florets

1

cup

mushrooms

1/2

cup

Parmesan Cheese

1

1bsp

olive oil

salt

to taste

freshly ground pepper

to taste
Instructions
Preheat oven to 425 degrees.


Dice all vegetables into similar sized pieces. Toss all of the vegetables with olive oil in a large mixing bowl. Sprinkle in salt and freshly ground pepper. Pour vegetables into an oven safe casserole dish that has been sprayed with cooking spray. Roast vegetables for about 20-25 minutes tossing them halfway.


After Vegetables have roasted, reduce the heat to 375 degrees and remove the dish from oven.


Using a ramekin, break an egg into the dish and then gently pour over vegetables. Repeat this step 7 more times. Bake for 5-8 minutes. Take the dish out of the oven and sprinkle the top with cheese. Bake until the eggs are done, about 10-12 more minutes.


Add salt and pepper and enjoy!

Pin for Later