In just a couple of days the newest Pixar movie will be releasing into theaters everywhere. Will ONWARD continue the string of Pixar Studios blockbuster animated movies? Check out my thoughts and spoiler free review about this newest film.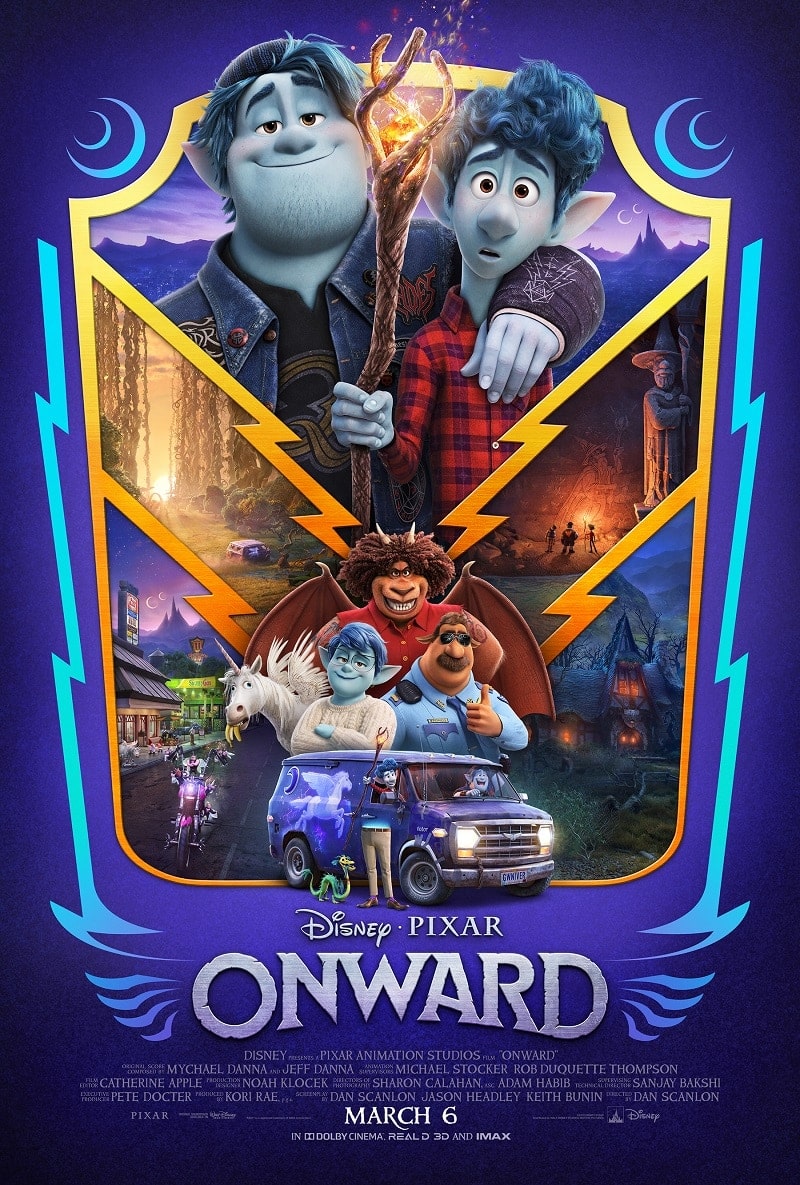 I must admit that I breathed a breath of fresh air when I saw that someone in the Disney franchise was releasing an original movie idea. There has been a long string of remakes, live-action adaptions, and sequels. Don't get me wrong, I enjoy them too but I have been waiting for something new to come along and finally ONWARD gives us new characters and a new story line.
Now with saying all that, is ONWARD a hit, or will it be a fail? I am ready to tell you what I thought of the movie.
ONWARD Synopsis
Lets get into what the movie is all about. Here is the synopsis from Disney:
Set in a suburban fantasy world, Disney and Pixar's "Onward" introduces two teenage elf brothers who embark on an extraordinary quest to discover if there is still a little magic left out there. Pixar Animation Studios' all-new original feature film is directed by Dan Scanlon and produced by Kori Rae—the team behind "Monsters University." "Onward" releases in theaters on March 6, 2020.
Basically we meet two elf brothers, 16 year old Ian and 19 year old Barley. The backstory is that before Ian was born their father fell ill and passed away. Ian never had the chance to meet his dad. On his 16th birthday his mom gives him a present that his dad left for both of his sons. It was a magical staff. Magic is no longer practiced in their world, so the gift seems a little to hard to believe. But their dad leaves them a spell that can bring him back for 24 hours. They need a special stone to make this possible so the brothers go on a quest to find it.
Meeting New Friends
We are introduced to many new characters in this movie. The main two characters are Ian and his brother Barley voiced by Tom Holland and Chris Pratt. We also have their mom, Laurel (Julia Louis-Dreyfus) who is now dating a centaur, Colt Bronco (Mel Rodriguez).
As the adventure begins we are introduced to a new character, The Manticore (Octavia Spencer), who provides a lot of comedic relief. She is someone who has lost her identity a little bit and is reminded of her purpose, I love this character.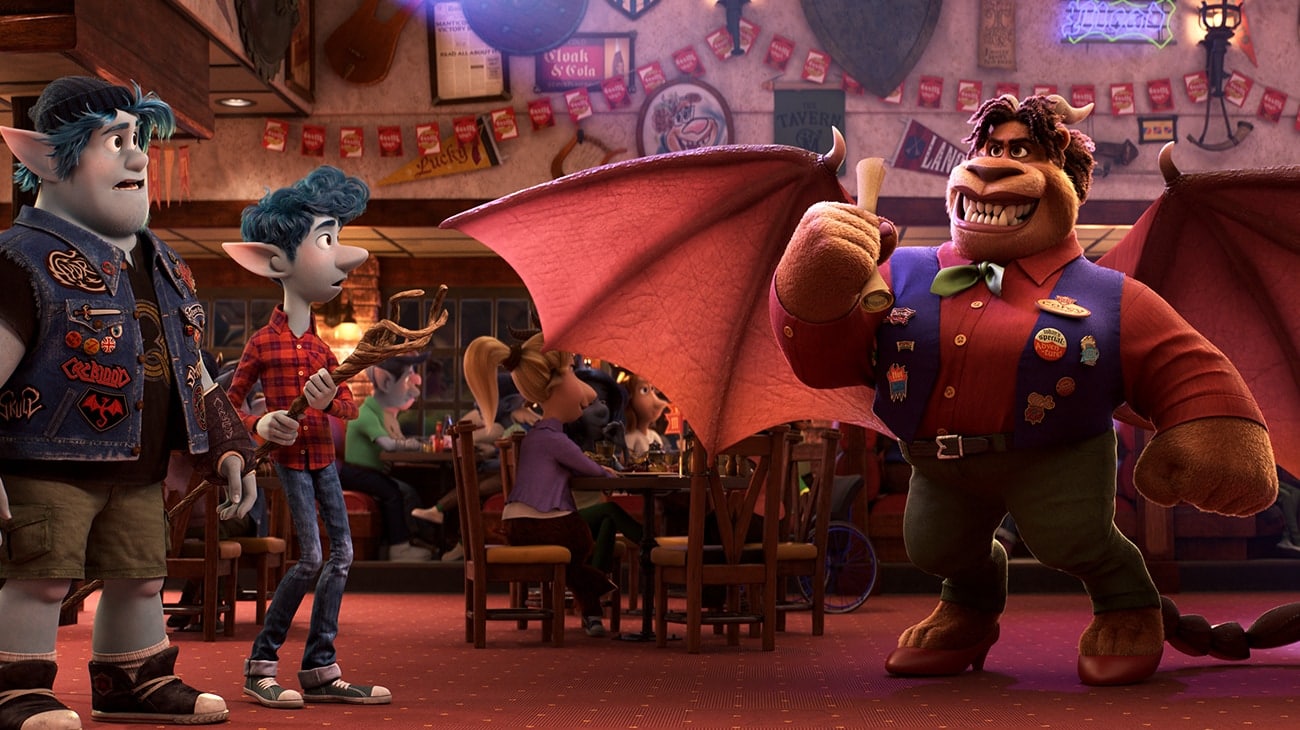 My Thoughts
I thought long and hard about this movie and what I was going to say in this review. The truth is that while I thought the movie was cute and worth seeing, I did feel a little let-down. Pixar has a history of being absolutely brilliant. They take ideas that I would think would fail and make extraordinary movies out of them such as Inside Out and Coco. This one just didn't hit that mark.
Without giving away any spoilers, I was missing some of the humor that I have come to know from Pixar. While there were funny parts to the movie, to me it felt much more serious. I did rather enjoy the ending. I thought I knew what was going to happen and there was a bit of twist that was very touching. My daughter had the opposite reaction to the movie, she thought it was very funny.
I appreciate the creativity and that this film has a whole new set of characters and story line. I felt a lot of emotions in the film and actually cried at the end of it, so when I say it didn't hit the mark I mean that I have set the Pixar mark really high. My all time favorite animated film is Toy Story 3 so that is my expectation from Pixar. It is probably unreasonable, but there it is.
All of this being said, I do think this is a movie that you should bring your kids to. It is a good movie and is much better than some of the recent made-for-kids movies that I have seen recently. It just isn't my favorite Disney-Pixar animated film.
Is ONWARD Kid-Friendly?
Pixar is known for their family-friendly films that also talk about some hard subjects and this film is exactly that. These brothers have lost their dad to illness so if that is a trigger for anyone in your family you might want to take that into consideration before you see it.
There is a lot of adventure and some scary moments. My almost eight year old watched ONWARD with me in the theater and there were a couple of times when she got scared and grabbed my arm. I will say that she is very sensitive so if you have a sensitive kiddo then you might want to keep this in mind. Overall, she very much enjoyed the film. She told me she thought it was great when we were walking to the car.
Overall, this is a film that explores what it is like to lose a family member along with a crazy scavenger-like quest with a lot of adventure. I would recommend it for kids who can handle those topics. In my opinion it lacked some of the fairy tale and comedy that we have come to know from Pixar and it is geared towards an older audience than say Toy Story or A Bugs Life.
I would love to hear your thoughts in the comments after you see it. Please let me know what your family thought about ONWARD!
Thank you to Disney Studios for inviting my family to a screening of the film.
For more movie fun check out the Cinemark Summer Movie Clubhouse!