Now that the weather has finally turned toward spring, we will be spending more time outside.  Its a good thing, because our tiny little cottage is bursting at the seams now that Caroline has joined the family.  What seemed really cozy in October is now a little claustrophobic and we need to utilize all of our space, including our outdoor living area.
As soon as the final snow melted, we took out our umbrella and set it up and realized that our deck really needed a little sprucing up!  It was a little sad looking.  As the deck is an extension of our living area, we decided that we needed to soften it up and add some accessories to really make it feel welcoming.  A patio update on a budget was just what we needed.
My son takes gymnastics every Saturday, we love going as a family to watch him practice.  We decided to take a trip to Meijer right after his gymnastic's lesson last Saturday to find things to make our outdoor living are more inviting.  We love shopping at Meijer because we always find everything on our wish list at great affordable prices.  Another perk of shopping at Meijer is that we can get all of our shopping, including groceries done in one trip, a must for parents with two young children.
Take a look at our outdoor space now:
Creating this new, warm and inviting space didn't take a lot of time, and it was easy on the pocketbook… thanks to Meijer's large stock of outdoor living furnishings.  I have wanted to change out our patio table set for a long time.  Last year I was able to convince my husband to throw away the old chairs and replace them with the black ones.  We didn't have enough money in our budget to replace the old, worn table so we just covered it with a tablecloth.  The table I found at Meijer matched the chairs perfectly and it was under $100, actually well below at $80!  It looks nice and it is easy to clean, again a must for busy parents with small children and large dogs.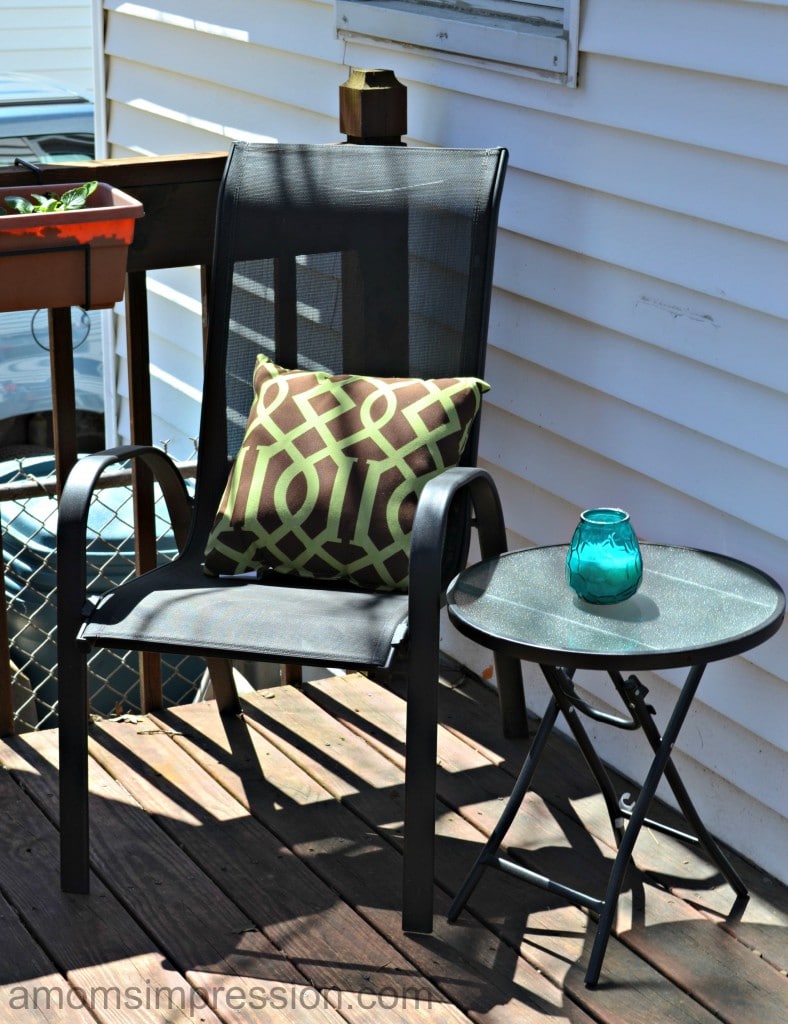 I think my favorite space is the sitting area we creating with a $20 side table and a pretty candle.  The geometric print pillow was only $5 and I absolutely love it.  I have seen a lot of patios where the owner used pillows in their design.  I wanted to find some that we would love and these were perfect.  Not only do the pillows add much needed color to the patio, they make it feel more like a living space instead of just an outdoor space. This sitting area was essential as we often have family come over when it is nice out.  In fact, our son's birthday party is going to be outside here in a few weeks so now we have a little bit more space for people to set their drinks down and sit down at.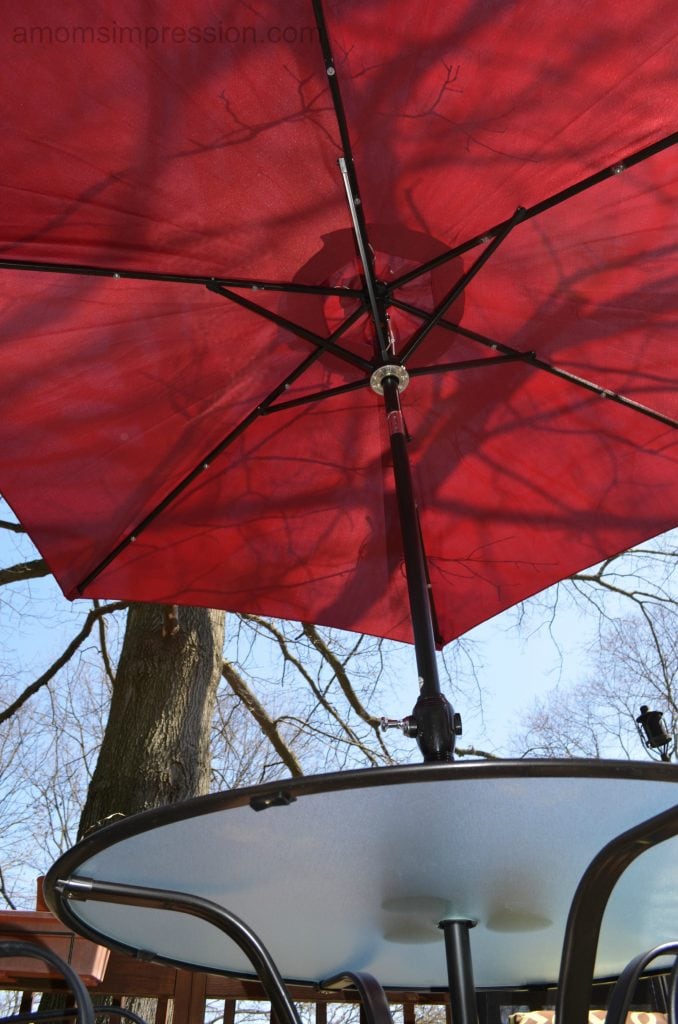 We decided to splurge on a new umbrella.  I say splurge because I have never paid $100 for an umbrella before (I am very frugal).  I know most umbrellas range in that area, but I usually go for the less expensive $40 umbrellas.  I have learned my lesson.  Our last green one was okay, but this new red one is AMAZING!  We don't have a lot of light outside.  In the past we have tried to hang lights around our umbrella top, but we didn't have anywhere for the electrical cord to plug in at.  We ended up taking them down. This red umbrella has built in solar powered lights!  There is a switch where you can turn them off and on.  It adds a decent amount of much needed light, and it looks pretty!  I am also in love with the crank to open and close the umbrella.  This is so much easier than our cheap-o version.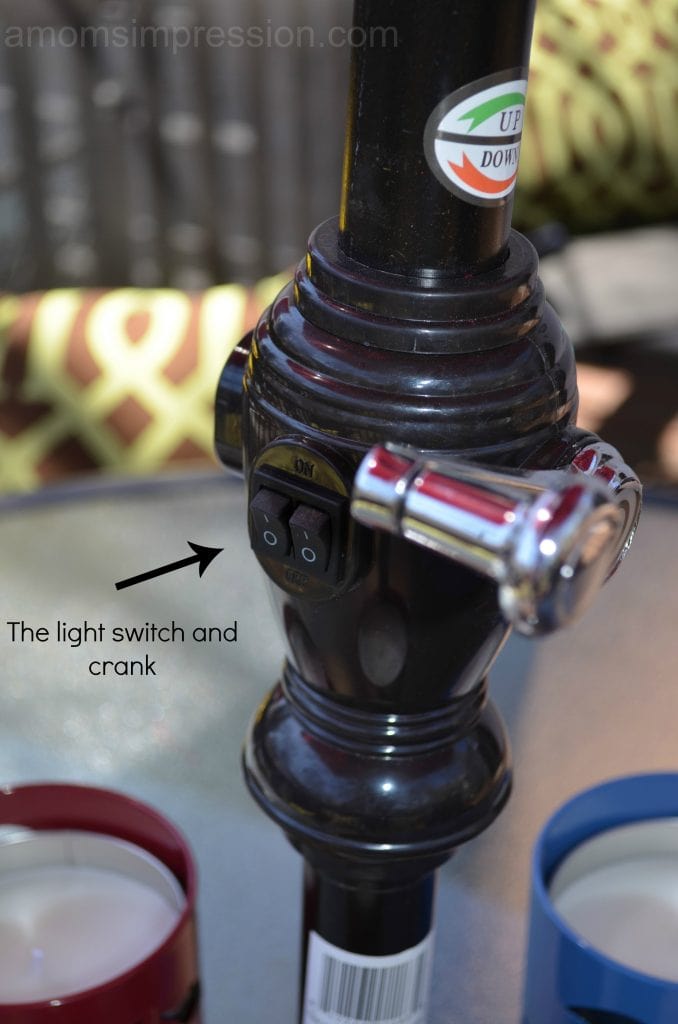 We found an abundance of accessories at Meijer.  You can see our entire shopping trip on our Google + album.  Some of the things we picked up were a bunch of candles, to keep the bugs away, and a beautiful outdoor clock.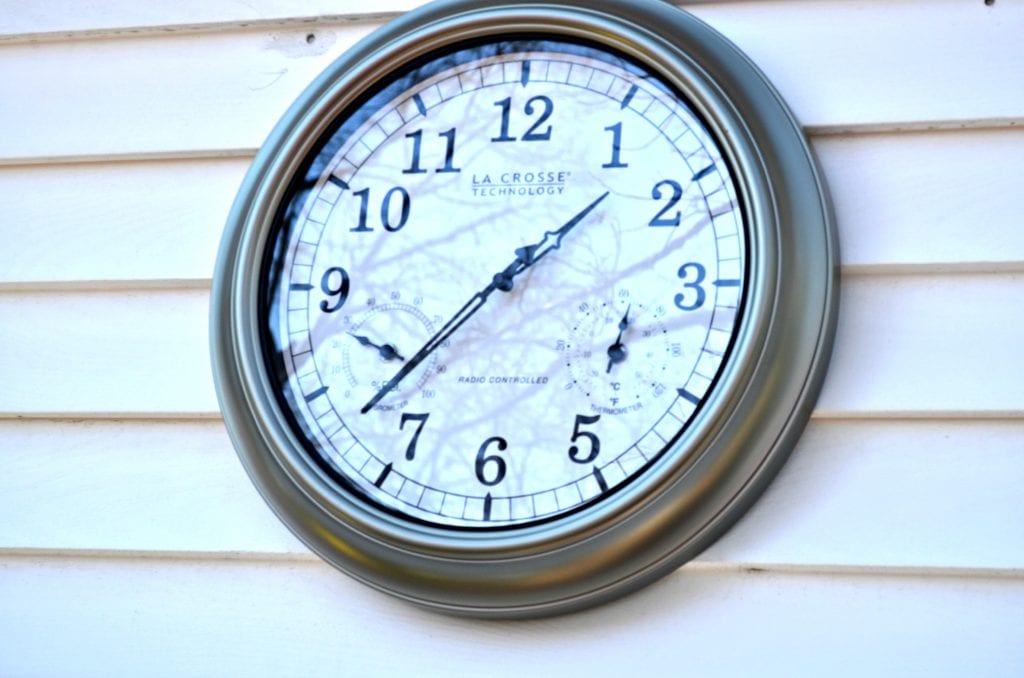 The clock looks amazing and helps us tell the time and temperature.  It also makes the space feel more homey.  I love a great clock and that paired with the IU flag makes this space feel extra special and personal.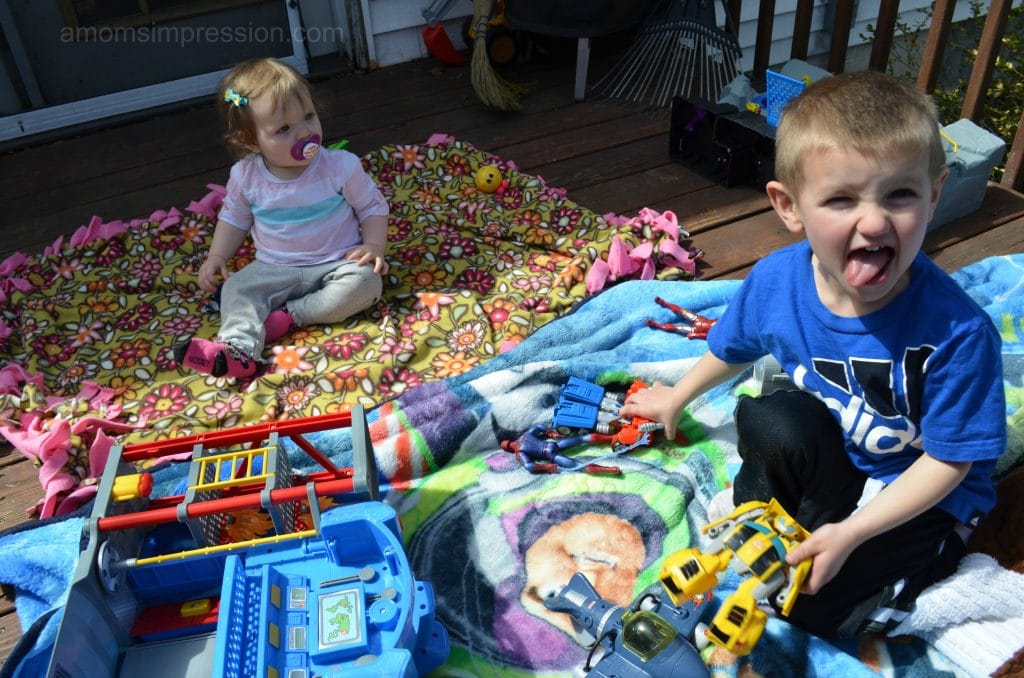 The kids have loved being able to go outside and play on the deck.  They could play anywhere, but mommy loves sitting out and cuddling up with a pillow, sipping a nice drink at her new table. I feel more relaxed when I am surrounded by something pretty, and I love that we didn't have to spend a lot to get exactly what I wanted.  Now everyone in the family is happy outside!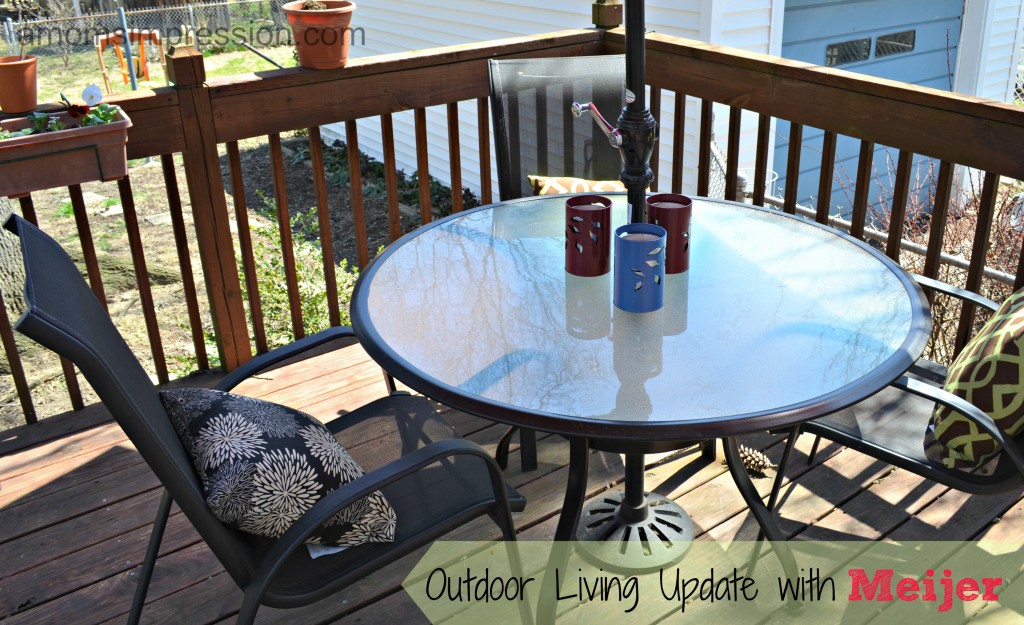 Are you a Meijer addict like we are?  There is such a large selection and great price at Meijer that updating your patio, while still being stylish, doesn't have to break the bank.  Be sure to check them out online or at a store near you!
So, how do you spruce up your outdoor living space?  Do you have any tips on making your outdoor space more inviting?
I am a member of the Collective Bias® Social Fabric® Community.  This shop has been compensated as part of a social shopper insights study for Collective Bias® #cbias #SocialFabric.