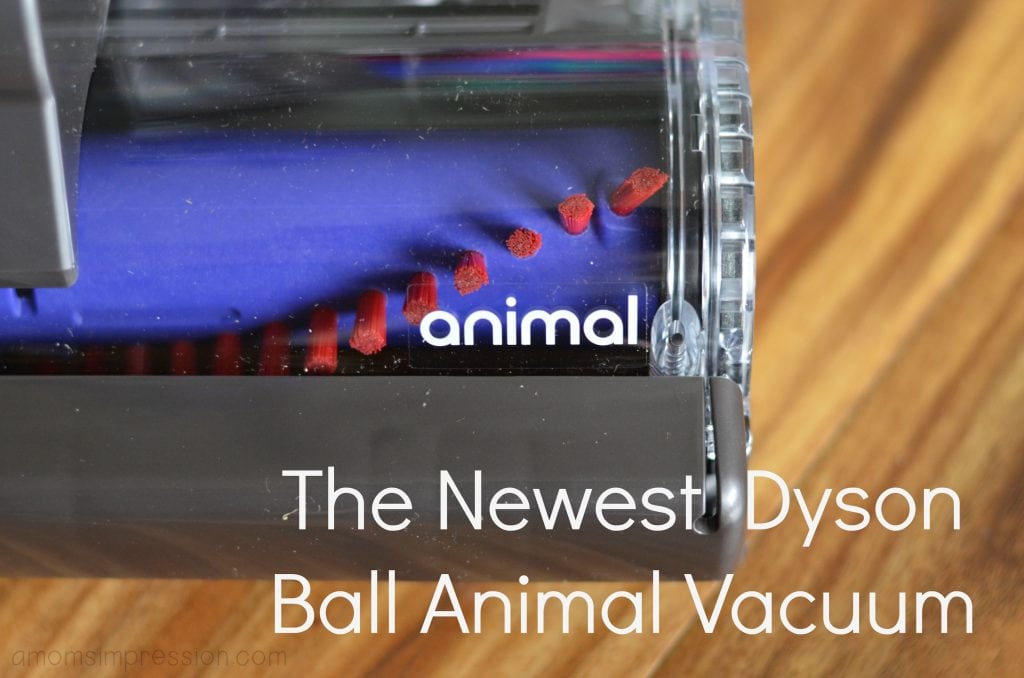 I remember seeing commercials for the new Dyson vacuum cleaners at Target when they first came out and thinking that it was really cool but there was no way I would shell out that kind of money on a vacuum cleaner.  Since then I have adopted a dog and had a couple of kids and I tell you I would gladly pay double that price for a vacuum that will actually clean the carpets with ease.  After our last vacuum bit the dust, I finally decided to take the plunge and purchase a Dyson.  We bought the Dyson Ball Multifloor Upright Vacuum last year and have been kicking ourself for not taking that plunge earlier.  Recently Dyson asked if we would review the Newest Dyson Ball Animal Vacuum and we jumped at the opportunity.
Introducing the Newest Dyson Ball Animal: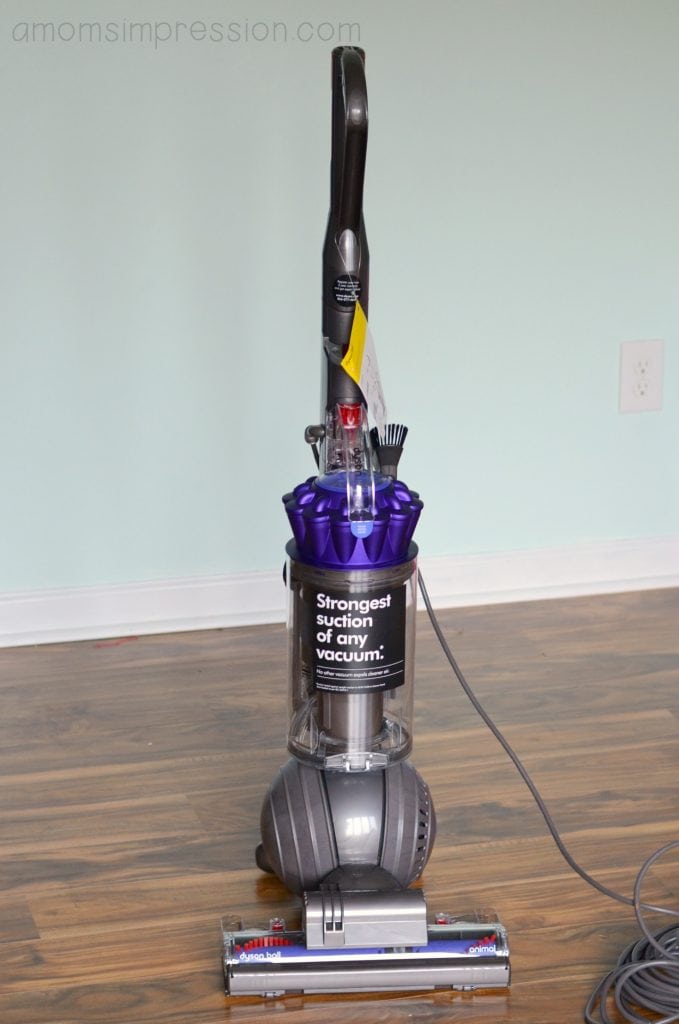 Before we get into our experiences with the Dyson Ball Animal, I wanted to give you a little overview of what features you will find with the new model.
Dyson Ball Animal
Radial Root Cyclone™technology: Designed to maximize power. A mesh shroud helps separate large debris, with inner cyclones generating powerful centrifugal forces.  Every angle of each airway is honed to ensure microscopic particles like pollen and mold are separated from the airflow.

Testing: Dysonupright vacuums are subjected to 550 tests over 50,000 hours. During development a Dyson vacuum will be dropped onto a hard floor 5,318 times. It will run 847 miles on a turntable rig; nearly the equivalent of a trip from Chicago to New York City.

Patents:There are currently 304 patents and 481 pending patent applications worldwide relating to technology used in the Dyson Ball™ range of vacuum cleaners.

Maneuverability: In addition to the motor and filter, ducting, valves and the stand have been engineered into the ball, making it even easier to turn the tightest of corners.

Hygienic bin emptying: Just push the button to release the dirt directly into the bin.

Warranty: The machine comes with a 5 year parts and labor warranty.
Assembly
I was pretty impressed with how quick and easy the assembly was.  It took my daughter and I about 5 minutes to put it together. (It would have taken me 3 by myself)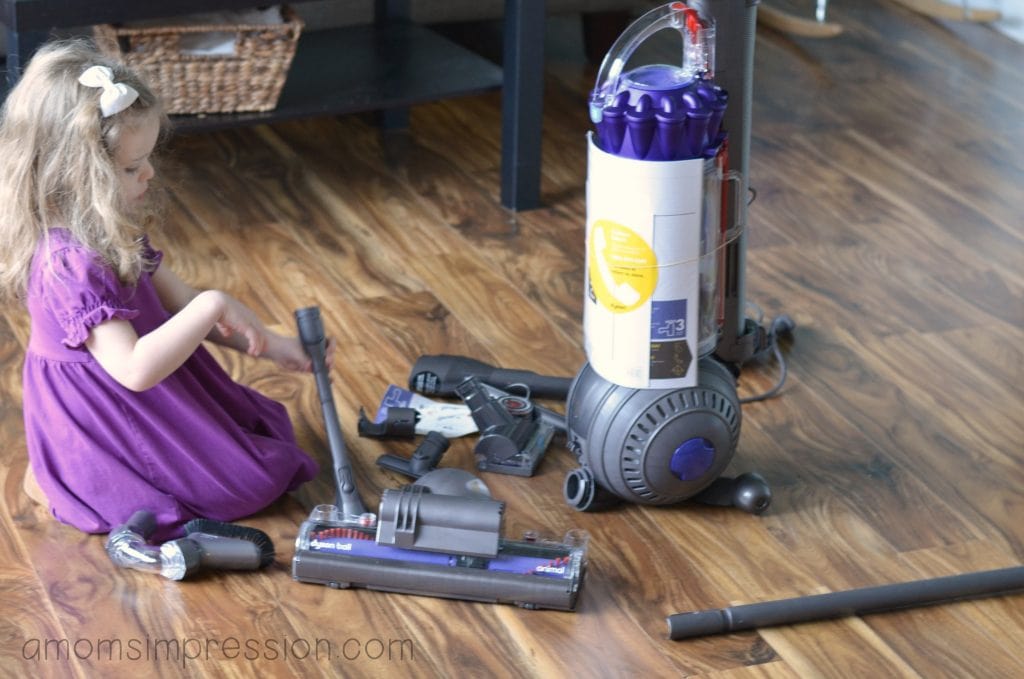 When we were putting the unit together I came across some new attachments that didn't come with our original Dyson.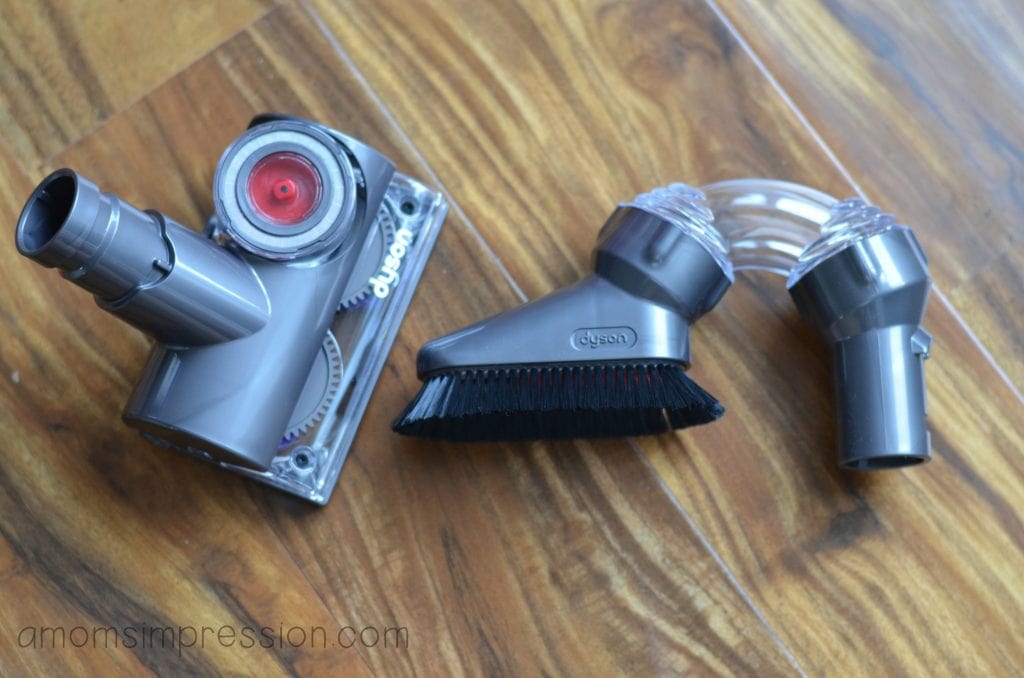 The Ball Animal comes with the Tangle-free Turbine tool, so you can remove human and pet hair alike without tangling. It also comes with a brand new tool—the multi-angle brush, which can twist into different positions for easy high-reach cleaning.  The multi-angle brush is perfect for cleaning the tops of our ceiling fans.  You all know that they need it!  The Ball Animal is going to make my life so much easier, I am actually looking forward to spring cleaning!
Our Thoughts
I am in love with the Tangle-free Turbine tool.  I used it on my stairs and instantly knew my life wouldn't be the same.  It was so easy to get a deep clean without using two different types of brushes like I was before.  This one tool did the job quickly.  This tool is also perfect for any upholstery cleaning as well as cleaning out the car.  If you have a pet bed, this is the tool for you!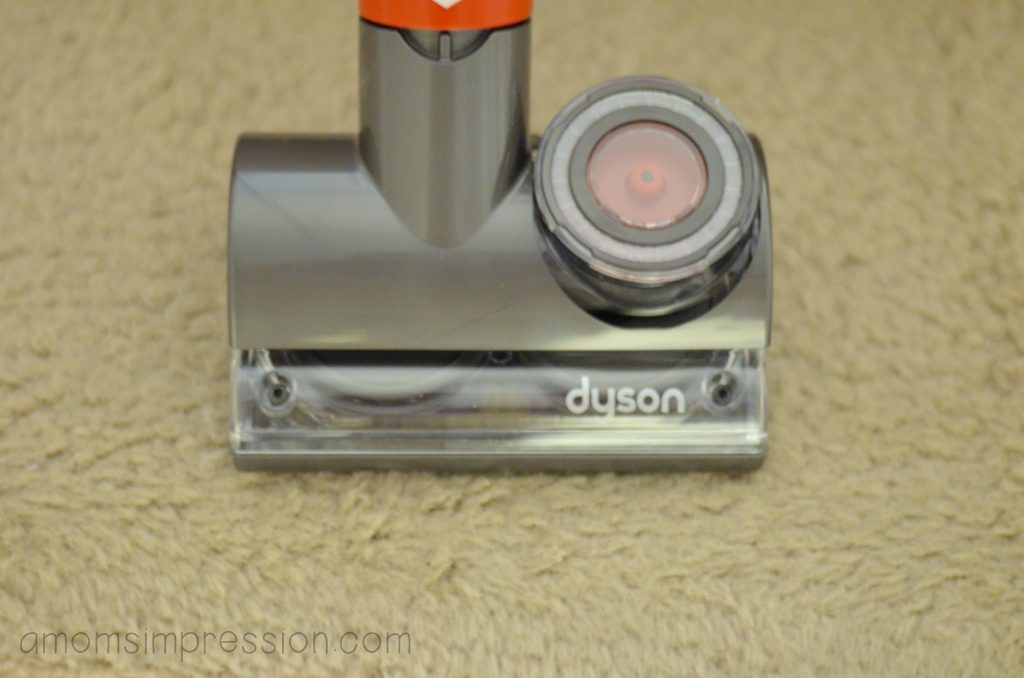 When shopping for a vacuum, suction is probably our number one priority.  We have had some vacuums that seem to work ok and then when I go to empty the canister I found myself thinking that there should be more dirt than what it picked up.  I don't have to worry with the Dyson Ball Animal.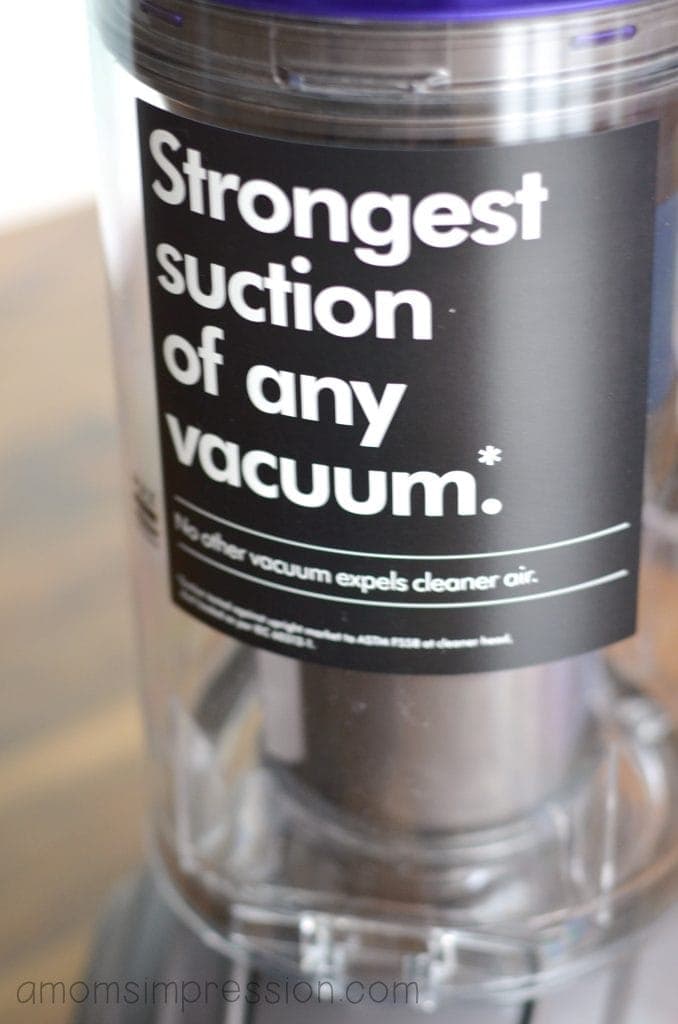 The Ball Animal boasts powerful suction to remove dirt and microscopic dust.  The first time I used it was on my living room and kitchen wood floors.  I thought that they were pretty clean, but after a quick pass with the Ball Animal, I was amazed to see how much dust it picked up.  Now that we have two Dyson Vacuums I plan on keeping one downstairs to use on the wood floor.  The only complaint I might have is that The Ball Animal is kinda heavy. I love that I won't have to lug it up and down the stairs.  If you have both hardwood and carpet on a floor of your house you will love that the Ball Animal self-adjusts to seal in suction across carpets and hard floors.  Now you don't have to adjust the settings yourself.  This is a great feature.
I love the ball feature that has made Dyson vacuums famous. The ball enables the vacuum to turn on a dime, making it easy to steer around furniture and other obstacles.  It has been especially useful in the kids' playroom where there are large toys that I need to vacuum around. The extra long cord makes vacuuming several areas at once easy.  I can get to all of our bedrooms from the upstairs hallway outlet, this is such a time saver.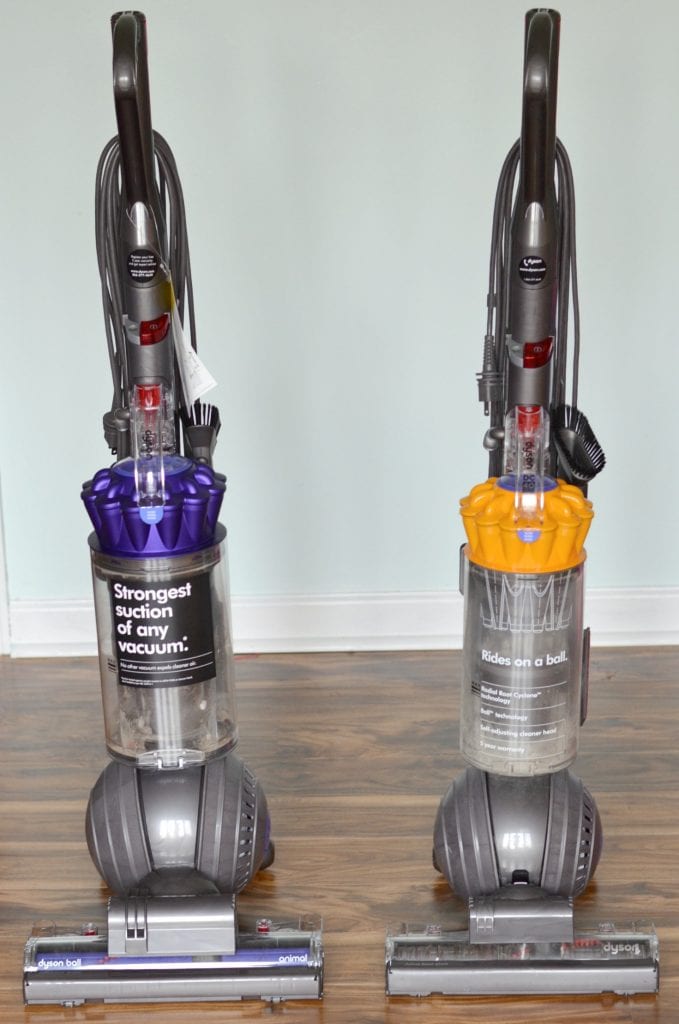 Comparison 
As you can see in the picture the Ball Animal is a bit larger than our Dyson Ball Multifloor Upright.  The head on the Ball Animal is also a bit longer than the Upright.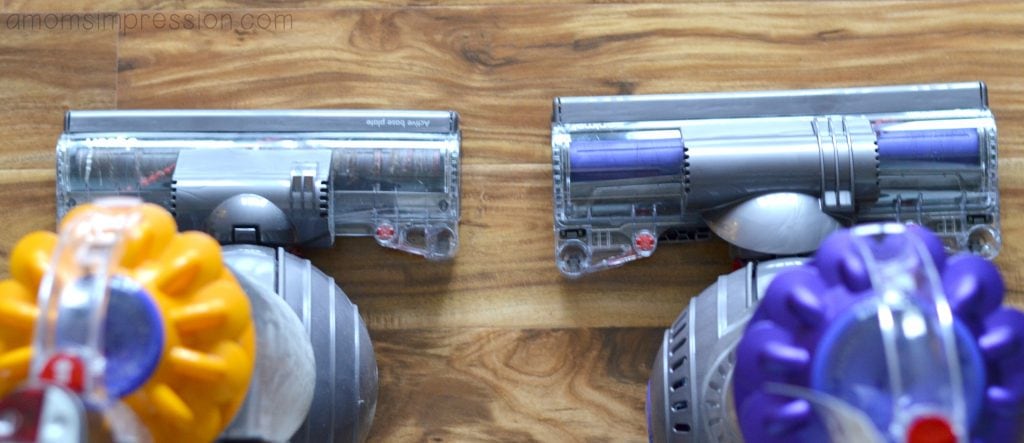 I love both of the vacuums.  I feel like if you have a pet or a couple of kids The Ball Animal is the way to go.  If you live in an apartment by yourself the Ball Multifloor Upright would be sufficient.
Having a clean home is very important to my family.  My husband suffers from allergies that can be pretty severe when it comes to pollen and mold.  The fact that Dyson upright vacuums have whole-machine HEPA filtration, capturing over 99% of pollen, mold, and bacteria gives me the self assurance that we are doing the best we can to make our house as clean as possible.
I really can't say enough wonderful things about our Dyson vacuums.  After trying them both I will never own a different brand.  They are worth their weight in gold, they are that good!
You can purchase the new Dyson Ball Animal at Best Buy (it came out on January 1) for $499.99.
Do you love your Dyson?  Join us on social media using the hashtag #DysonAnimal to spread the love!
A huge thank you to Dyson for sending our family the Dyson Ball Animal Vacuum for our review.