I have been known to be a little of a pack rat.  I am not one of those hoarders that you see on television, but I have a lot of little things that I use for crafts or baking or things that I want to keep in case I need them.  This probably wouldn't be a problem except for that we live in a very small house and storage space is at a premium.  My husband tries really hard to get me to throw away things that I won't ever use, but we have come to an agreement that I can store things in our storage room.
I have been loving my Brother P-Touch system over the past few months (Don't forget to check out my first post about the durability of the labels).  I have taken it to school to label my binders and book baskets.  I have used it in my basement to label my crafts.  And, I have used it to organize our storage room as we changed it from a music room into storage.  We now have space to store some of my stockpile that I have been collecting using my coupons!   We have also been able to take TJ's old clothes and baby items and packed them away in tubs for future use.
Here is what our storage room looks like now after purchasing some shelving and tubs from our local hardware store: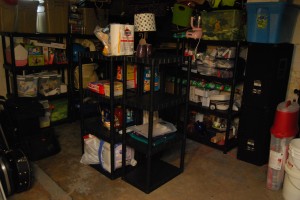 Here are some of the labels up close:
Here are some of my tubs of cake decorating supplies that I need to get organized and labeled, this is my next project.  The Brother P-touch labeling system makes this so easy and a lot of fun!  The label maker has over 15 styles for your labels.  You can purchase different sizes of labels (and in different colors) which will come in handy for larger items that I want to label.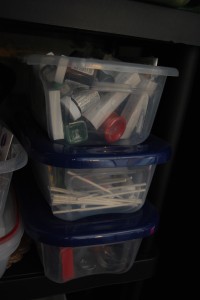 I have already used up this roll of labels after going crazy in the storage room and in my classroom.  Luckily I can find the P-Touch labels at most office supply stores as well as online.  So far they have been extremely durable, but be sure to come back in a few months as I update my post about how well the labels have stood up to the test of time!
I wrote this review while participating in a campaign by Mom Central Consulting on behalf of Brother P-Touch and received a product and gift card to facilitate my review and a promotional item to thank me for taking the time to participate.