Ugh… the sickness. The flu has run rampant through our house twice now.  Being a sick mom is awful, but seeing my kids sick is even worse.  I work as a teacher in a public school, so I am not a stranger to germs.  I do my best to keep things sanitized and clean, but with 25 6-7 year olds in the room, germs are bound to spread.  To help myself from getting sick, I get a yearly flu shot and I try to eat a lot of fresh, healthy foods.  I also take supplements like a multivitamin as well as vitamin c during the cold/flu season.
Despite my efforts, I have still gotten sick.  When I do get sick, I am still a mom and I have to be able to function in some capacity.  The dishes don't clean themselves and the kids are not old enough to make their own dinner.  To help I rely on Vicks DayQuil.
The time-tested formula of Vicks DayQuil Cold & Flu Relief can provide non-drowsy symptom relief for those suffering from a cough, cold or flu. The active ingredients in the formula work to suppress the impulse to cough, help clear nasal congestion for easier breathing, help relieve minor aches and pains, and reduce a fever.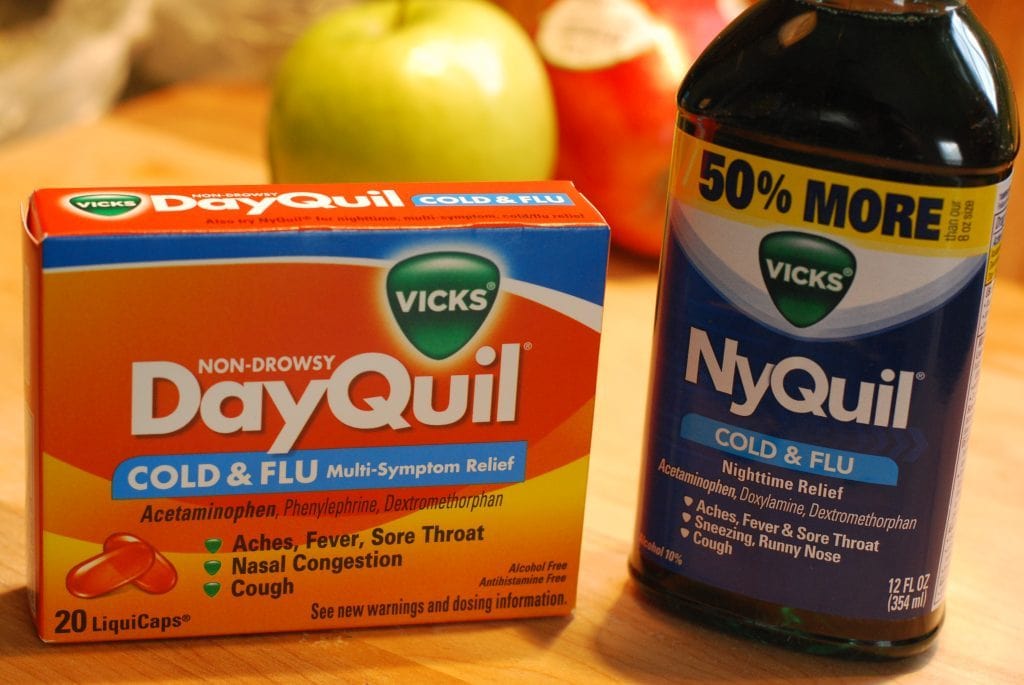 I swear by this stuff.  If I haven't had this I wouldn't be able to take care of my family while I am sick.  As the #1 pharmacist recommended brand for adult cough/cold/flu relief, Vicks DayQuil is there to help you power through the day.  For the night time, Vicks NyQuil is there to ensure you sleep through the night while relieve your cold and flu symptoms.
The relief provided by Vicks NyQuil Cold & Flu Relief is a result of three active ingredients that work to fight symptoms of a cough, cold or flu. Specifically, the ingredients in NyQuil Cold & Flu Relief help relieve symptoms by suppressing the urge to cough, reducing a fever, alleviating minor aches and pains, and relieving sneezing and runny nose
I hadn't used a lot of NyQuil until this second flu came knocking.  I have no idea why after using it just once, I slept like a baby and I wasn't groggy in the morning.  I fully plan on taking some tonight, and relying on DayQuil to get me through the day tomorrow.  I have just about run out of sick days at work between the four of us getting sick this year.
As I have learned from experience. Avoiding the flu or a cold is impossible no matter what precautions you take.  Do yourself a favor and relieve your symptoms by using the #1 pharmacist recommended brand for relief of the everyday cold and the flu.  You can't stop being a parent just because you aren't feeling well.
I participated in a campaign on behalf of Mom Central Consulting for Vicks DayQuil & NyQuil. I received product samples and a promotional item as a thank you for participating. 
Please remember that I am not offering medical advice. Before trying any new medication make sure to check with your doctor & follow the proper recommended course of treatment.