All good things must come to an end and the final How to Train Your Dragon movie is hitting theaters everywhere this Friday. A couple of weeks ago I had the opportunity to go behind the scenes at DreamWorks to get the inside scoop on the newest film. Today I am excited to share with you my interview with two of the main characters of the How to Train Your Dragon franchise Jay Baruchel (Hiccup) and America Ferrera (Astrid).
This post is in partnership with Universal Pictures who provided me with a trip to the DreamWorks Studios for the How to Train Your Dragon: The Hidden World press event.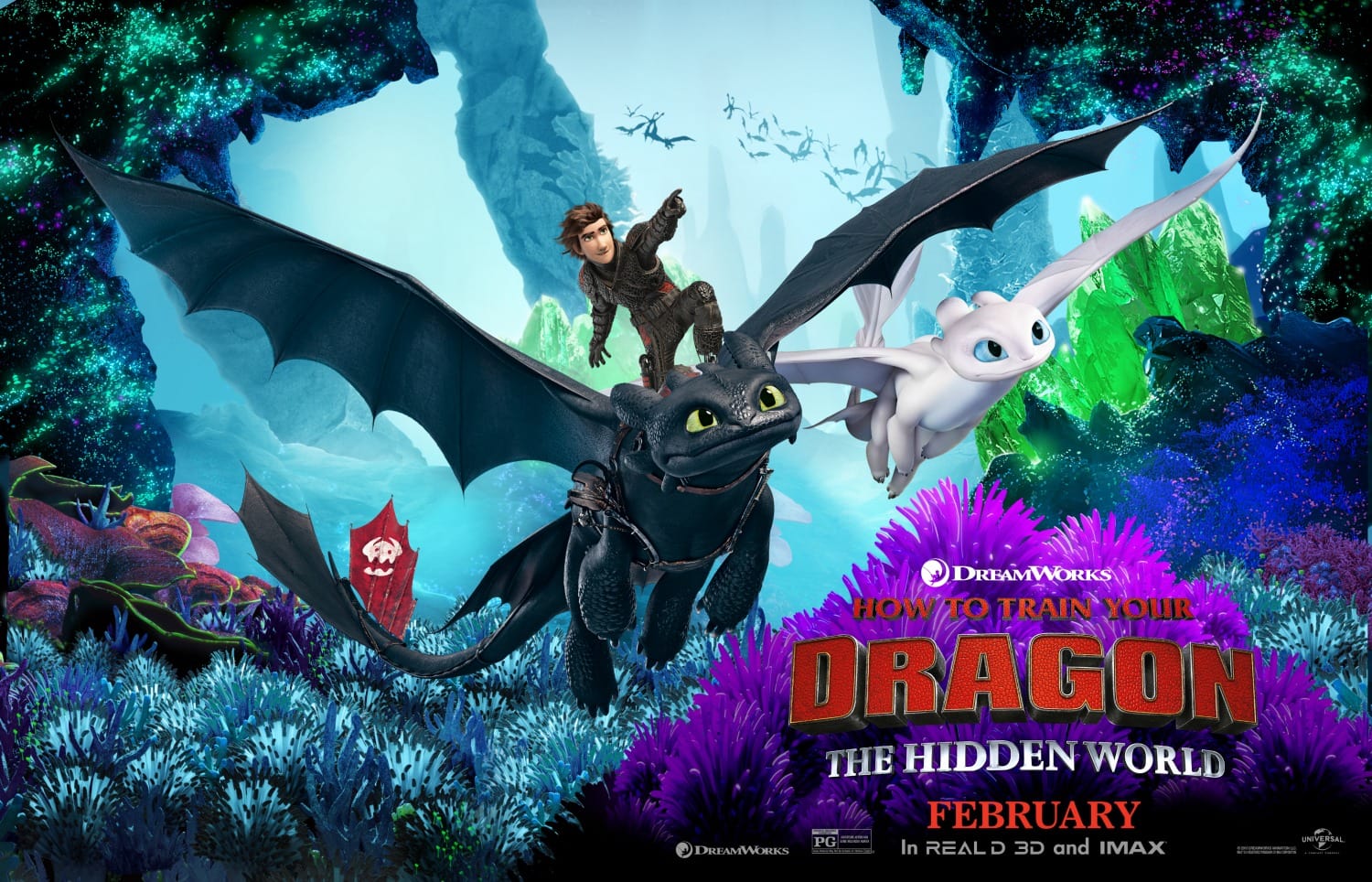 How To Train Your Dragon: The Hidden World
DreamWorks Animation has created a beautiful story of friendship and adventure with the How to Train Your Dragon movies and shows. The unlikely friendship that was created between a young Viking and a dragon has captured our hearts. This chapter of the story shows the meaning of friendship and what it takes to be a leader.
Now chief and ruler of Berk alongside Astrid, Hiccup has created a gloriously chaotic dragon utopia. When the sudden appearance of female Light Fury coincides with the darkest threat their village has ever faced, Hiccup and Toothless must leave the only home they've known and journey to a hidden world thought only to exist in myth. As their true destines are revealed, dragon and rider will fight together—to the very ends of the Earth—to protect everything they've grown to treasure.
I will be bringing you a full review of the movie later this week so be sure to check back!
If you missed it, be sure to check out the trailer for How to Train Your Dragon: The Hidden World

Interview with Jay Baruchel (Hiccup) and America Ferrera (Astrid)
During my time at the DreamWorks How to Train Your Dragon press event, I had the amazing chance to sit down with the voice of Hiccup, Jay Baruchel and the voice of Astrid, America Ferrera to learn about their thoughts about the film and how they feel close the chapter on this franchise.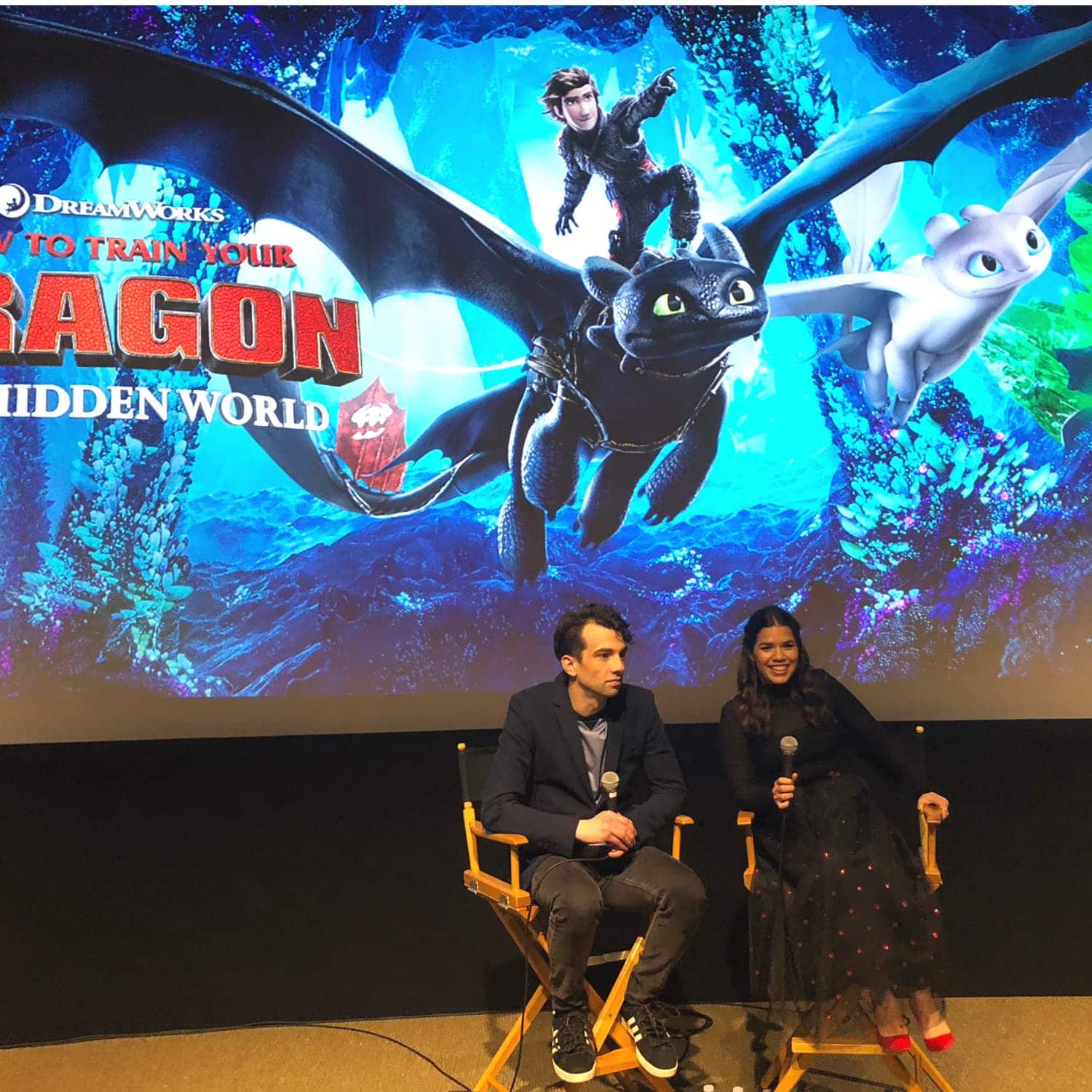 I have to tell you, Jay is hilarious and real and I really enjoyed talking with him.  America is wise and strong and not unlike her character in the movie. The time we had flew by so quickly, but not before they gave us a glimpse into their life as Hiccup and Astrid over the years.

Messages in How to Train Your Dragon 3 
I love that my kids adore these movies. The characters are strong and go through some very real situations, this particular film shows kids what it is like to really love someone.  We asked both Jay and America what they hope that kids will take away after seeing the film.
Jay:  The biggest one is that change is inherently difficult, but just because it's difficult it's not to be avoided, that it's an inherent part of growing up, that everything is kind of bittersweet if it's important, that nothing worth experiencing comes easy. 
He went on to talk about Hiccup and how through the context of all three films he realized that what he viewed as his own failings might actually be virtues. Jay talked about how that is a pretty hopeful outlook for kids.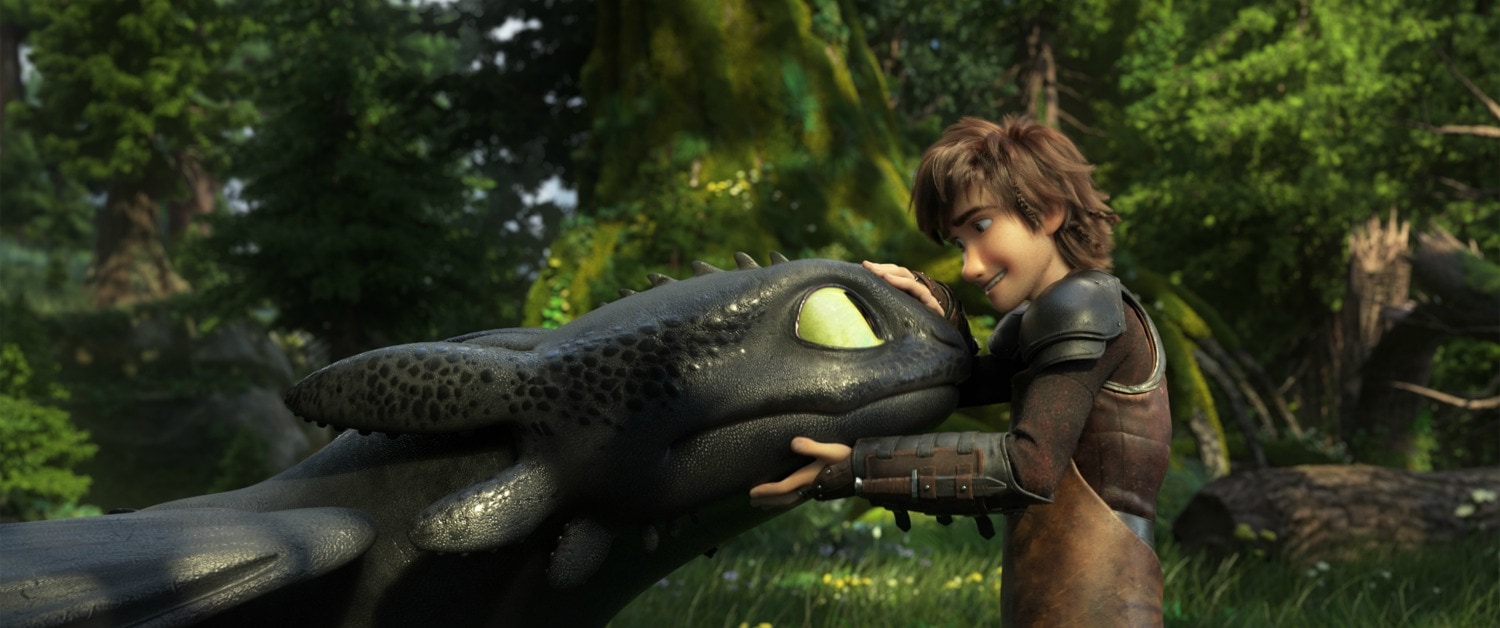 America chimed in to say that Hiccup changes in drastic ways through every one of the films and that he needs to find the courage to be who he needs to be in that moment.
America: And I think whether you're a kid or an adult, that is the ongoing journey, the world continues to change, nothing is certain except birth, things are going to change.  And we have to keep finding the courage to say, "Okay, can I pass this threshold, can I become who I need to be to meet this next challenge, to step into this brave, new opportunity or difficulty?"
It is good for kids to see this.
America went on to talk about her character, Astrid.
I think one of the things I'm most proud of and feel the most privileged about being a part of this is, is Astrid's presence in this film as a young woman who isn't just there to be his cheerleader, his girlfriend, but also stepping into her own leadership and her own bravery and her own courage.  And I think their relationship is such a great model for anyone in any relationship. It's like they are partners, and they lift each other up, and it's never just about one of their needs or the other.  They are in it together.  And what a wonderful model for our boys and girls to grow up seeing.
As a parent, I couldn't agree more. I want my daughter to see herself as Astrid, a strong woman who needs to push those she loves into who they need to be while supporting their decisions.

How are you like the characters that you play?
America: I feel like I'm pretty close to Astrid, aside from, you know, the ax-wielding skills and her fearlessness.  I mean, I love to be physical. I played sports growing up, and I trained for triathlons.  It doesn't come as easy to me as it comes to Astrid.

Jay: Like Hiccup, I won't say at odds with the culture I was born into, but I certainly had some trouble trying to find my place because like, you know, I didn't play hockey, I didn't do all the stuff boys do where I'm from. And so, I identify with that kind of inherent outsider's perspective–but like him, incredibly connected and loyal and patriotic to where I'm from. 
We also talked about being in that awkward stage of life, kinda like Hiccup and what advice they would give to kids who also find themselves dealing with the pains of growing up and being late bloomers.
I love what Jay told us his mom used to say to him.
She used to talk to him about those popular kids who got all the attention and how they are peaking now.  She asked him…
"Would you rather peak in high school, or would you rather have your whole life ahead of you,"
Because his mom said this to him, Jay said he "always had his eye on the prize."  He said he had a great childhood but he knew that his childhood was just the preamble. His parents encouraged his love of movies and that they didn't need him to play hockey but to care about something.
As a parent of a late bloomer child, this really resonated with me. It is true for parents to support what our kids care about and it is also just as important to let our kids know that there is a whole big life after high school and it is this life that matters most!

Saying Goodbye
I can only imagine how hard it can be to say goodbye to a character you have played and known for years. With this final chapter, we asked how they felt about saying goodbye. They both kinda turned and looked at each other and agreed that it hadn't hit them yet.
Jay: I suspect when all is said and done I sort of finish promoting it and getting the word out and all that, and I go home and have a moment's rest, it will all come crashing down, I think.
I know I had tears in my eyes at the end of the movie, I'm pretty sure there are more in store for both Jay and America when they have that time to process their adventure!
Follow How to Train Your Dragon for more fun Coverage
Stay connected about the movie by following the #HowToTrainYourDragon hashtag on all your social channels. You can also keep connected by following Toothless, Hiccup, Astrid and all your friends on their website and socials:
Official Website: howtotrainyourdragon.com
Facebook: facebook.com/HowToTrainYourDragon
Twitter: twitter.com/dwanimation
You will want to grab your tickets now if you don't already have them, this is a movie you won't want to miss seeing on the big screen!
Stay tuned all week for more How to Train Your Dragon coverage leading up to the premiere on Friday!