A couple of weeks ago, I got to spend a fun filled weekend in Beverly Hills.  I was there for one reason.  Ratchet and Clank!  Well, I guess that is technically two reasons!  The new Ratchet and Clank movie is set to be released in a theater near you on April 29, 2019 and I was given the opportunity to screen the film and speak to the cast.  Although I can't wait to tell you all about how our favorite video game characters of the last generation have exploded onto the big screen, I have been told I can't tell you about the movie quite yet.  But I CAN share my experience conversing with cast in the beautiful Four Seasons Hotel in Beverly Hills.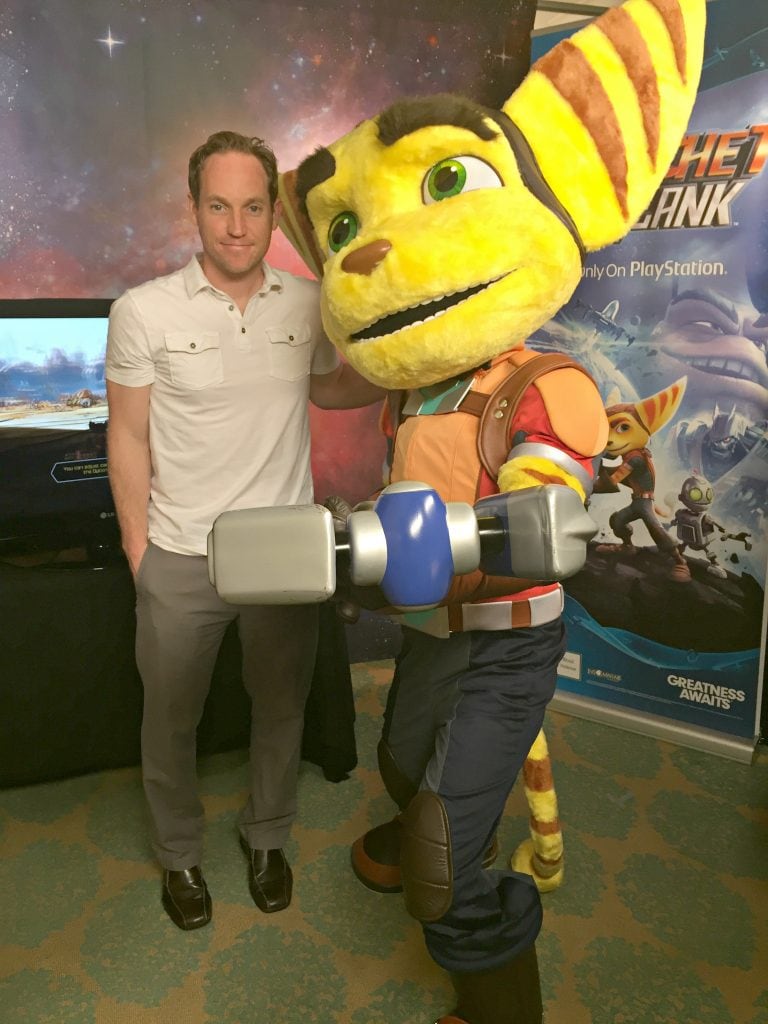 Writer/Director, Kevin Munroe, was the first one to come in and speak to the press.  Kevin Munroe has worked in the animation and video games since he came to California from Canada.  He has worked for Disney, Warner Bros., DreamWorks Animation, The Jim Henson Company and WWE Films.  He has helped to adapt Kingdom Hearts and The Mask into animated films.  He first feature film experience was with the 2007 animated feature TMNT.  This film grossed over 100 Million worldwide.  Since that time, he has continued to hone his craft working with George Lucas at Lucasfilm and other acclaimed projects.
So I want to know – do you feel like they give an advantage in being able to translate this video game into a good movie?
KEVIN MUNROE: Umm – yes, and no. I mean, I think like at the end of the day, it's probably – it's all about just finding a good story, and really trying to find that.
What was your biggest challenge making it?
KEVIN MUNROE: The biggest challenge was, I think, taking – because the game has been around since two thous– – the game's older than you are, right? It's been around since 2002. And so the thing is, whenever you have something that's so big – it's almost like Lord of the Rings, you know, where you've got 10,000 stories that these guys have gone on and done – and adventures, and characters. And so the question really becomes – what's the story you want to tell – which is, we wanted to tell how Ratchet and Clank met, and how they got to become the heroes of the galaxy; and basically making sure that you can just tell the story, just using the elements to make sure you can do that to start. Then hopefully if everything goes well, we get to tell a whole bunch more stories.
After we spoke with Kevin Munroe for about 5 minutes, two of the cast members came into the room.  James Arnold Taylor, who plays Ratchet and Bella Thorne, who plays Cora.
James Arnold Taylor is a well-known voice actor in animation and video games.  He has been the original voice of Ratchet since he was conceived over a decade ago.  So I think it is fair to say that no one know Ratchet better than Mr. Taylor.  He has also lent his vocal talents to such famous animated characters as Fred Flintstone, Huckleberry Hound, Wile E. Coyote, Leonardo the Teenage Mutant Ninja Turtle and Obi-Wan Kenobi.  He has created an acclaimed one-man stage show, Talking to Myself, that has toured worldwide including several USO tours.  In addition to MANY other voice acting credits, he has recently also published his first book, JAT 365.  It is a daily reader of inspirations and motivations for pursuit of dreams.
About the theme of following your dreams…
JAMES ARNOLD TAYLOR: I think it's pretty awesome, you know – it's this wonderful thing of the underdog.  I kind of look at myself like that too, as I've always wanted to do these things. It's been my dream to be a voice actor since I was four years old. And here we are now with this. And I get to have my name on a poster with Bella Thorne. That's pretty darn cool. So – dream achieved.  I think it's a wonderful theme that kids, and families can go together and see this movie. And they can see that sometimes your heroes aren't exactly what they thought, and you can still pursue your dreams, and be the good guy, and save the day.
Bella Thorne had her break out role on the Disney Channel series Shake it Up!  She moved onto the big screen with the hit movie comedy Alexander and the Terrible, Horrible, No Good, Very Bad Day.  Since then, she has continued to wow Hollywood with her appearances in several other films that have shown her versatility and range.  In addition to acting, she has also released her first novel, Autumn Falls in 2014 and the second in this series, Autumn's Kiss, was released last November.  She also is starting to work behind the camera as well and hopes to release works that he has written and directed soon.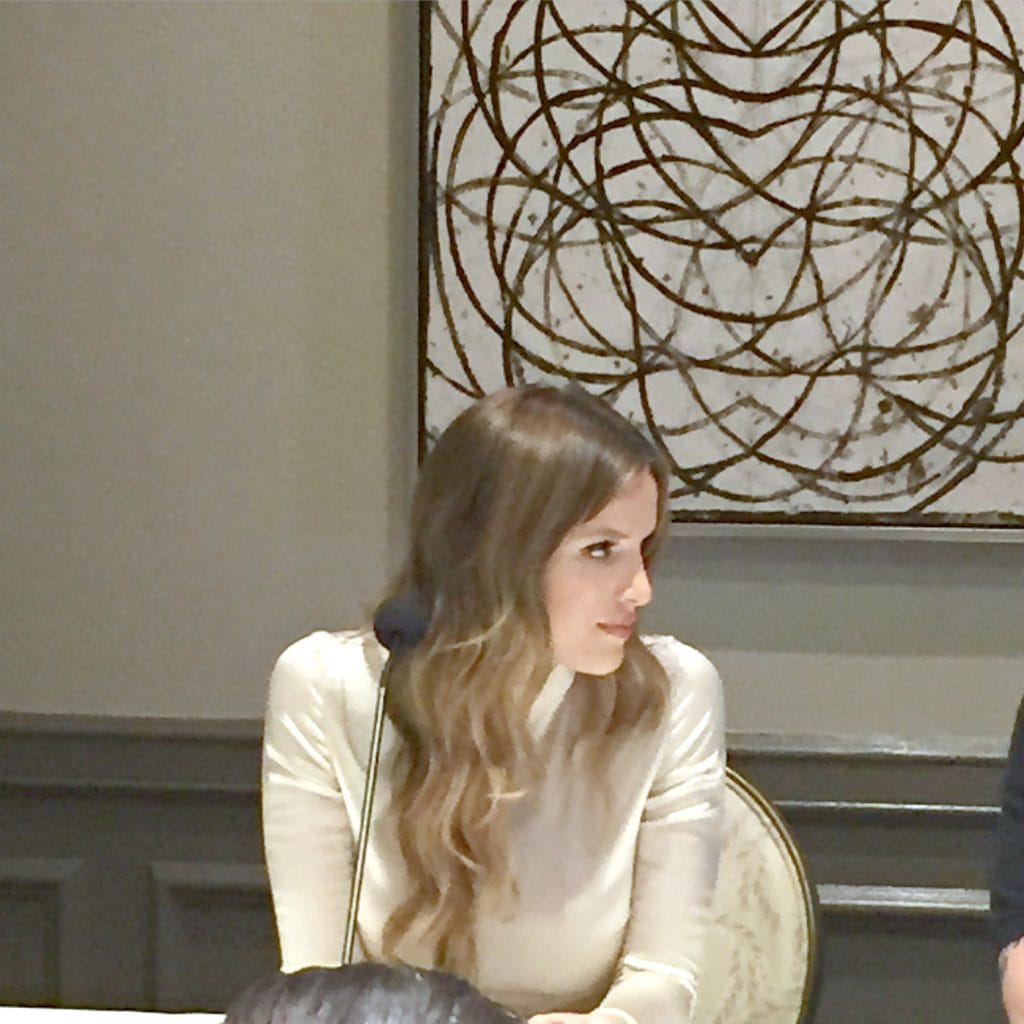 How do you identify with your character?
JAMES ARNOLD TAYLOR: Ladies first.

BELLA THORNE: Thank you. Well, pretty much in almost every aspect – super tomboy; you can't probably tell from the way I'm dressed, but in my personal life I definitely wear what she's wearing in the movie. She's not afraid to boss Ratchet around.
In doing this role, did you find your approach changed, doing it as a voice actress, instead of just as an actress on screen?
BELLA THORNE: There's so many different things that go into it. When you're acting, you're not acting with just – with just your voice; you're acting with every part of you, which is, you know, really small things like, "Wow, would my character grab her hair this way? Maybe she wouldn't because, you know, she's very naïve, and she's this, and this, and this." There's like a lot of things that go into consideration. But really on this one, I'm watching a character and I'm just trying to be as most like her, and you know, make her come alive as I can. It's pretty different, but I still use my body a lot because just in the fluctuations of your voice, you know, they change so abruptly – when you just move your shoulder forward, just like the smallest bit.
It was wonderful to talk to the talented and engaging cast of Ratchet and Clank.  I thought I'd end with a quote from writer/director Kevin Munroe that sums up the movie and the vibe of the afternoon.
What do you want viewers to take away from Ratchet and Clank?
KEVIN MUNROE: Ah, I think that there's the message of – God, there's so many messages in that. I think it's the message of it's not just following your dreams, – it's finding your dream. And I think a lot of time, life will make you think that you're supposed to be dreaming about something else. And really, if you just listen to yourself, and know the things that make you happy, and know that – what you can do to make the world a better place – that's what your dream should be. I think that's totally what Ratchet learns in it. So – yeah. Yeah, not the big things – just the right things.
Ratchet and Clank Hits Theaters April 29th.  I leave you with a clip from the movie.  Make a date with your family to see it this weekend!

Come back later this week for my full review of the movie.
For more up to date clips and inside information about Ratchet and Clank be sure to follow them on their socials channels using the hashtag #RatchetandClank!
Facebook Twitter: @ratchetmovie. Instagram: @ratchetmovie
A huge thank you to Focus Films for flying me out to LA for the press screening.  All opinions are 100% mine.