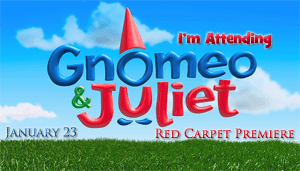 Disney really does make dreams come true… dreams I didn't know I was even allowed to dream.  I have tried to start this post over and over again for the past few days since I have gotten back home from LA.  I keep having to stop to really think through my amazing weekend and pinch myself to be sure it was real.  It was real, and a huge thanks goes out to Marshall and Dustin and the entire staff at Disney.
The journey began on Friday with a long flight out to LA from Indianapolis.  The temperature when I woke up in Indy was 1 degree, when I got off the plane it was 75 degrees.  Needless to say, I enjoyed the weather the entire weekend.  I was picked up by a driver and we drove to the Renaissance Hotel in Hollywood.  I just had enough time to unpack and get ready to leave for the screening of Gnomeo and Juliet. I met the other 19 bloggers in the lobby and we were off to Beverly Hills to watch the movie.  While I can't go into details (embargo) about the film, I can tell you that I thought it was adorable and it kept me entertained the entire time.  It is going to be a hit with every member of the family.  After the screening, our driver took us down Rodeo Drive to see all the amazing shops.  Everywhere you looked was one couture shop after another.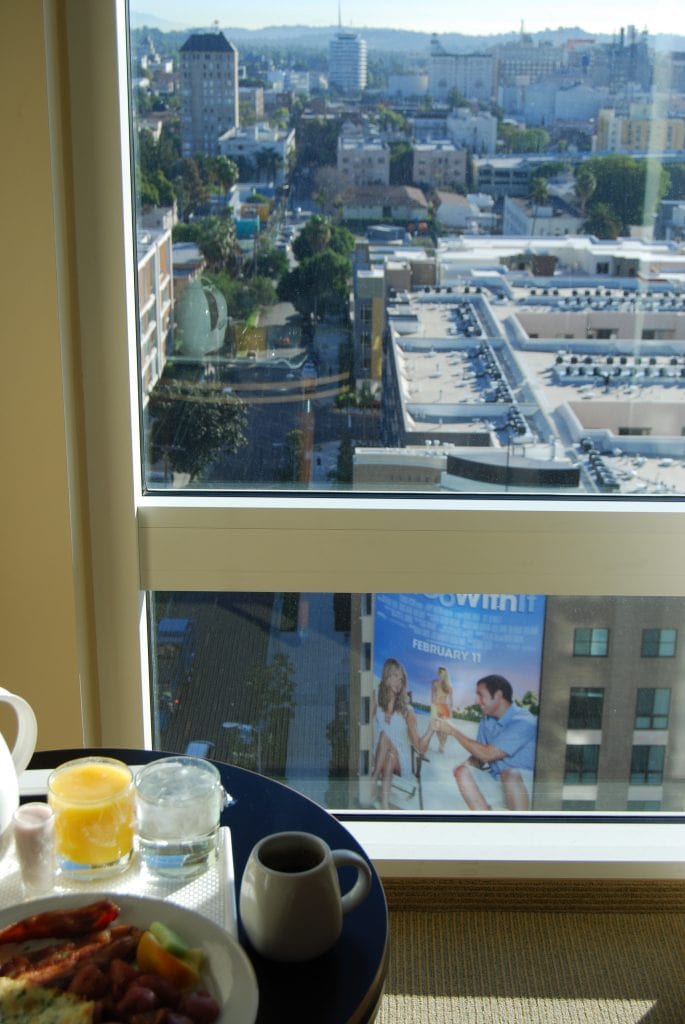 The next morning I woke up early thanks to the three hour time difference and had some room service. The view from my hotel window was breathtaking.  I threw the curtains open to see the Hollywood sign and downtown LA.  It was a very pretty site.
We met early afternoon for a ride to the Four Seasons Hotel for our interviews with the Director, Cast, and Elton John.  I will go into more details about the interviews in a later post, but I will tell you that I was extremely impressed with all of the interviews.  They even took time out of their busy schedules to take a picture with us Mommy Bloggers.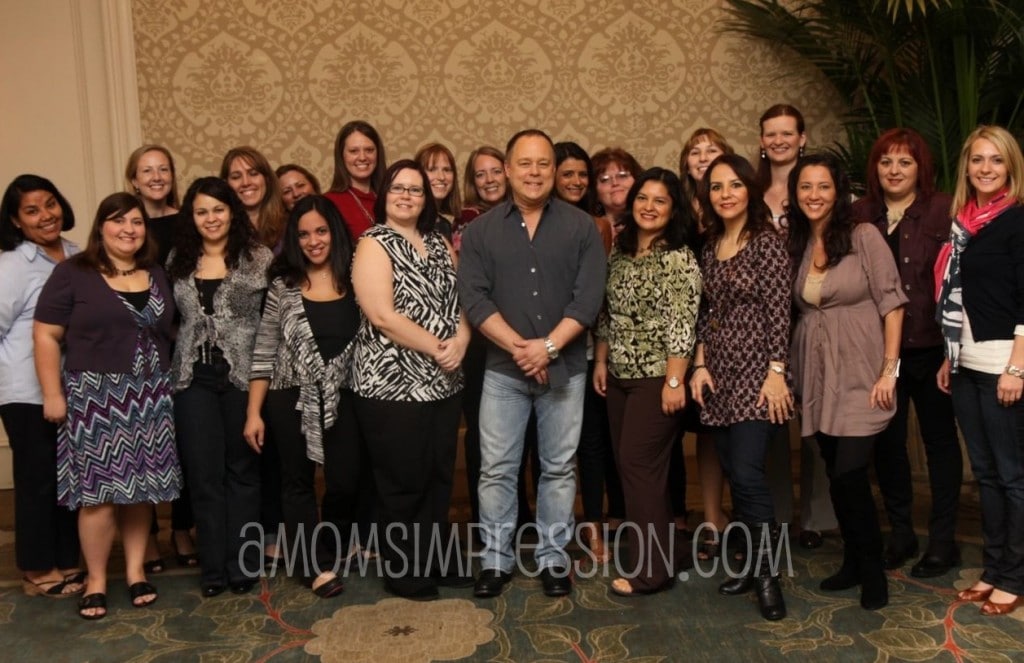 Here we are with the director Kelly Asbury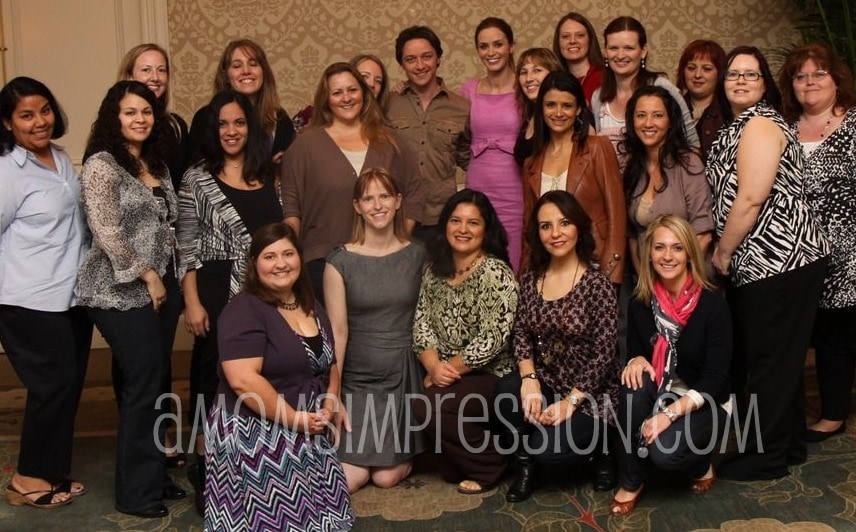 With Emily Blunt and James McAvoy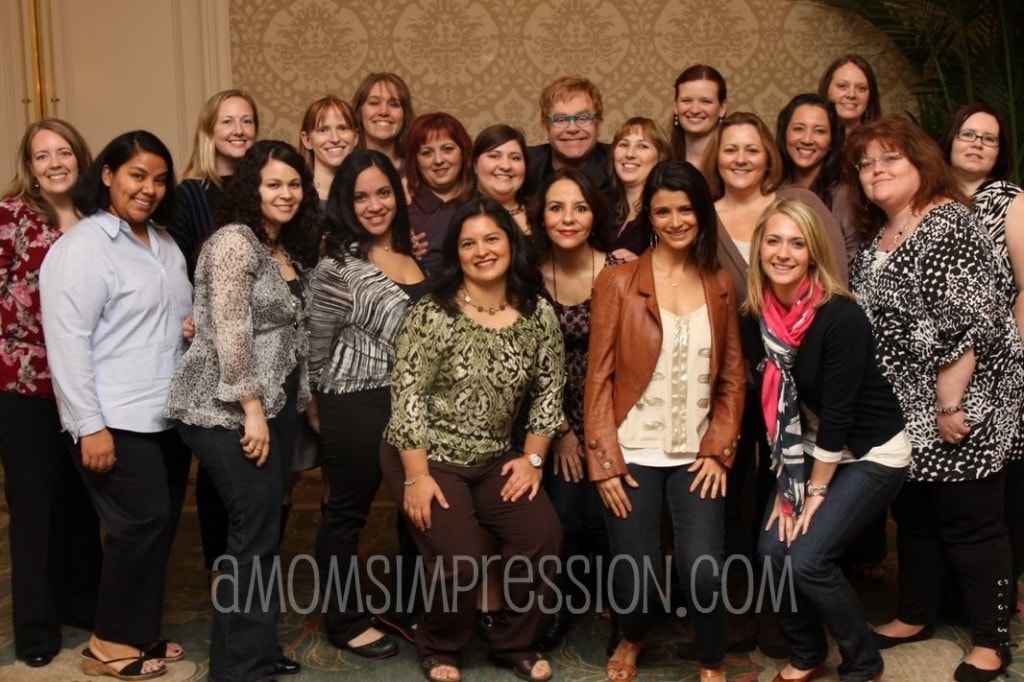 The one and only Elton John, I even got a kiss on my cheek!
After the interviews, we lunched at the Four Seasons and then headed off to the Disney studios.  I wasn't sure what to expect with our tour, but I was completely blown away.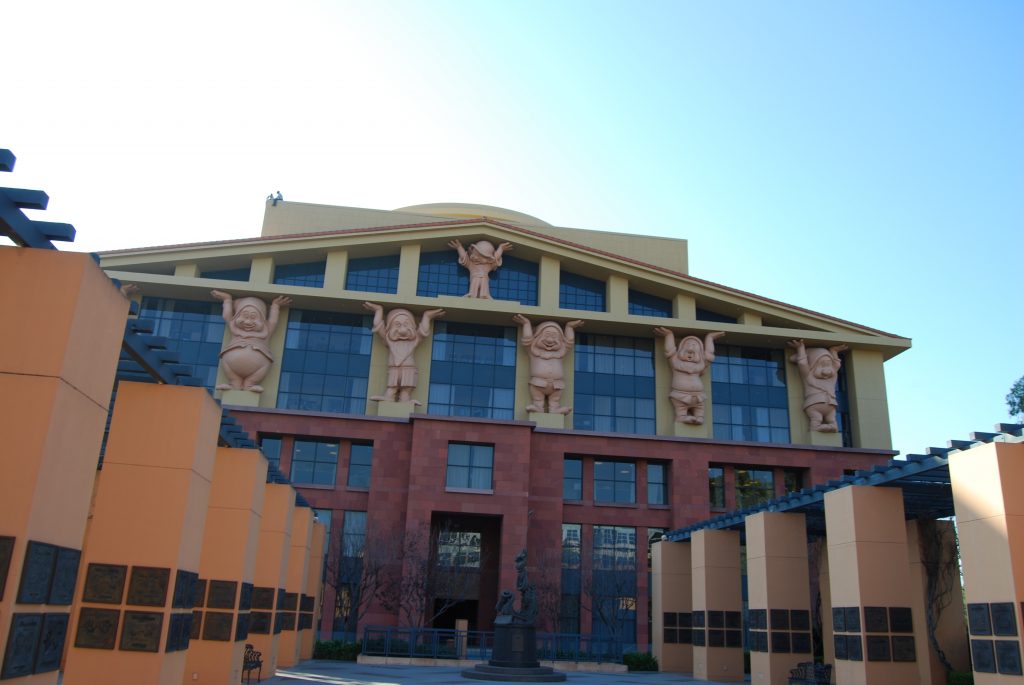 We were taken to the Animation Studios where Walt began it all.  There were cells from all of the animated movies lining the walls.  We walked through the secret tunnel and we found our way to the sound stages.  We got to see what a sound stage looked like without anything in it (the one we saw was about the size of a football field).  After that, they brought us to the sound stage that houses the No Ordinary Family set and we were able to walk around and see all of the different sets they use.  They are actually so much smaller than they look on television.  Here is a picture of the kitchen: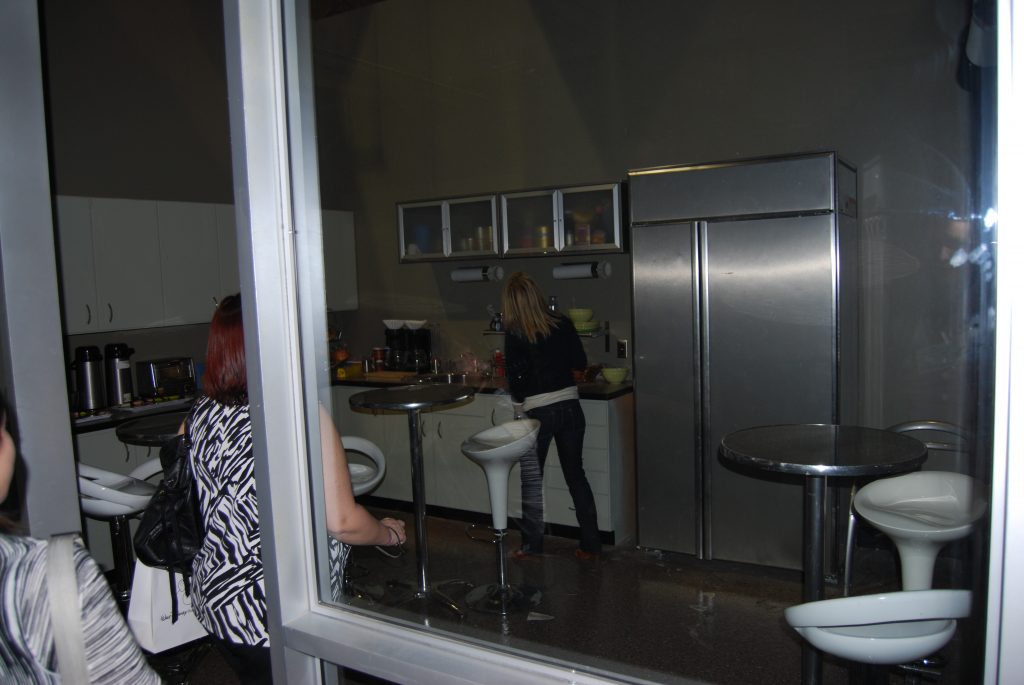 After our tour of the sets, we went behind the scenes with the directors and producer of Winnie The Pooh.  An all new adventure will be hitting theatres around Thanksgiving time.  I can't go into to any details about our visit and what we saw (more secrets) but I can tell you that I was the most excited about this particular movie than any of the others I learned about this past weekend.  I grew up with Winnie the Pooh.  I read the books with my family, we sang the songs.  I watched the cartoons on television.  I am a huge Winnie the Pooh fan.  Every night I sing Return to Pooh Corner (from my favorite artist of all time Kenny Loggins, don't judge me) to my son before he goes to bed.  I rocked him to sleep dozens of times to that song and every time I sing it I think about my mom and dad.  Some of the Pooh movies haven't been so great in the past, but this time Disney gets it right!  That is all I can say about it right now but I will throw in this trailer:
I can't wait to bring my son to this film. I think this might be the first one he sees in the theatre, I actually had a tear in my eye when we left.  After we left the studios we went back to the hotel and headed out to dinner.  At dinner, I was excited to meet some of the people that I work with through Click Communications.  They are in charge of Disney home entertainment and a lot of the reviews I do with any Disney DVD's are with them.  I have one coming shortly,
On Sunday we woke up and met early for a special surprise.  Once again I am not allowed to go into details, but we got to visit the set of a Movie and watch them film a scene.  I will be able to tell you more about this experience in June.  After our special surprise, we went back to the hotel and got ready for the red carpet.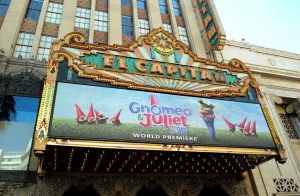 The whole premiere was a little surreal.  I was photographed by the paparazzi behind Elton John and David Furnish.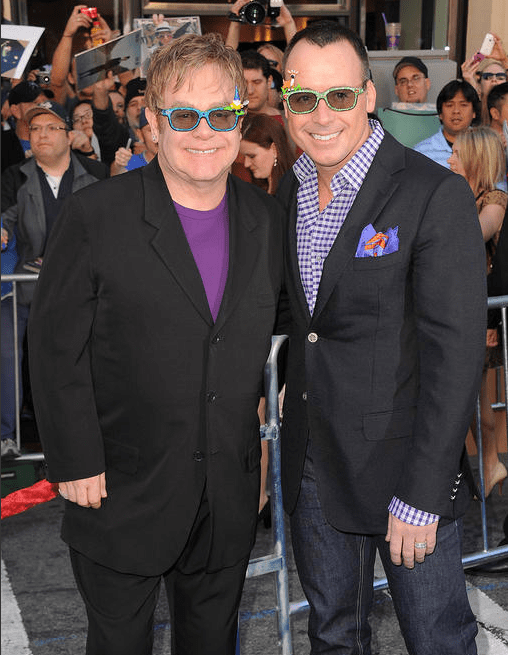 I walked the red/blue carpet.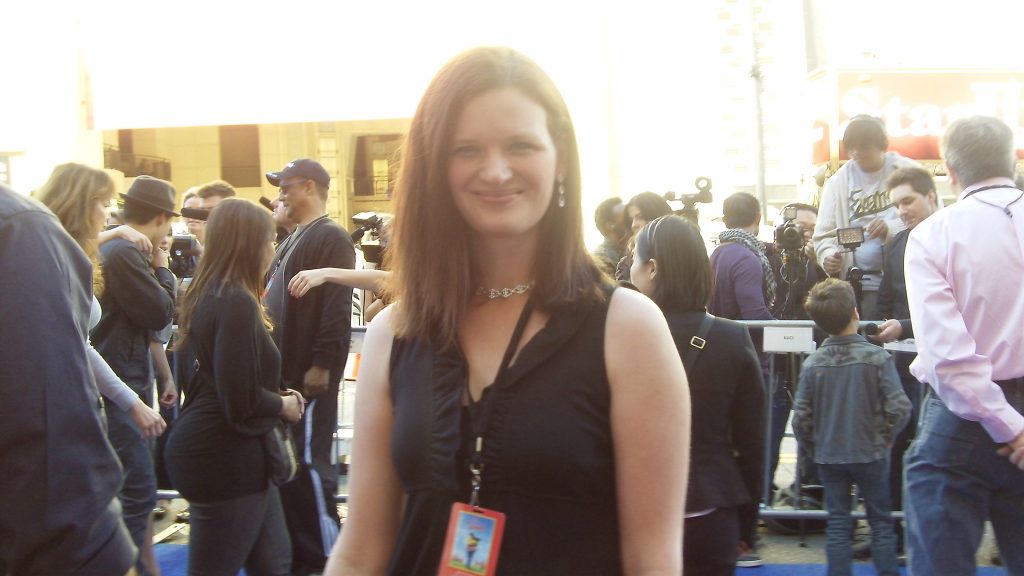 I was able to sit in the first few rows of the theatre and it turned out to be a fabulous spot when after the movie the curtains went up and Elton John played Crocodile Rock for the crowd!  It was amazing. We attended the after party where the likes of Gavin Rossdale, Perez Hilton, James McAvoy and Sharon Osborne (among others) hung out and participated in a lot of fun activities with the kids.  I made TJ a gnome hat and won him an inflatable flamingo!
Needless to say at the end of the day I was exhausted, and my voice was nearly gone.  We ate dinner and headed off to the airport to catch my plane back home to reality.  I can not express my gratitude to Disney for allowing me to have this experience.  I met an amazing group of bloggers who I can now account as friends.  I was able to be a pampered mom for a weekend, and that in itself is priceless.
Stay tuned to A Mom's Impression for more posts about my weekend.  I can't wait to share the amazing interview that we had with Elton John.  I think you might be a little surprised.
A huge thank you goes out to Disney who provided all accommodations and airfare for the weekend.  While this was sponsored by Disney, all opinions are 100% mine!