The D23 Expo was filled with insider information, displays, and interactive experiences.  One of my favorite experiences was seeing Playmation Marvel's Avengers Gamma Gear!  Mark my words, this is going to be the it toy when it hits the market this October.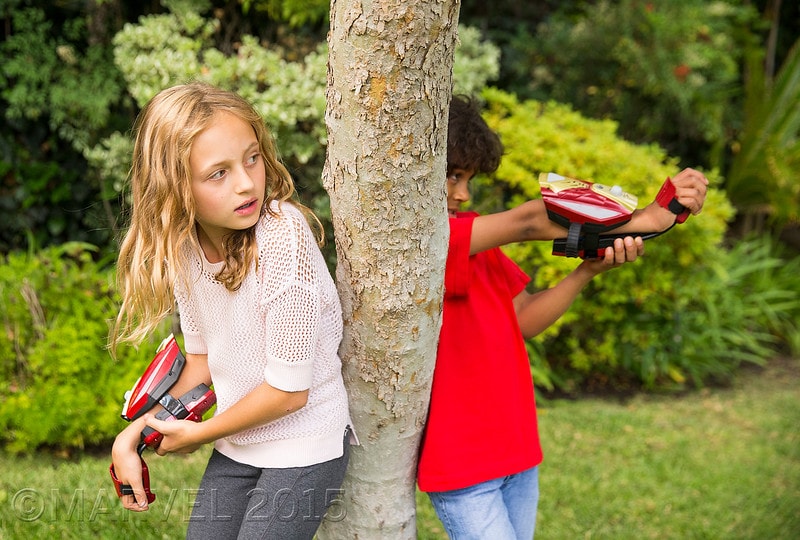 I love technology and for the gamers out there technology has enhanced the gaming experience like no other medium.  I remember the release of the Wii a few years ago and how it allowed the user to move and interact with the console like no other game had done in the past.  Get ready for a new gaming experience that will get your kids moving and problem solving like never before.
Playmation Marvel's Avengers uses familiar technologies including smart toys, wearables, wireless technology, motion sensors and more, but applies them in ways that are completely new to create an experience that's never been possible before. The Repulsor Gear connects with the Power Activators and Smart Figures to take you on a variety of adventures through locations around the Marvel Universe, from the Avengers Lab in New York to the jungles of Wakanda.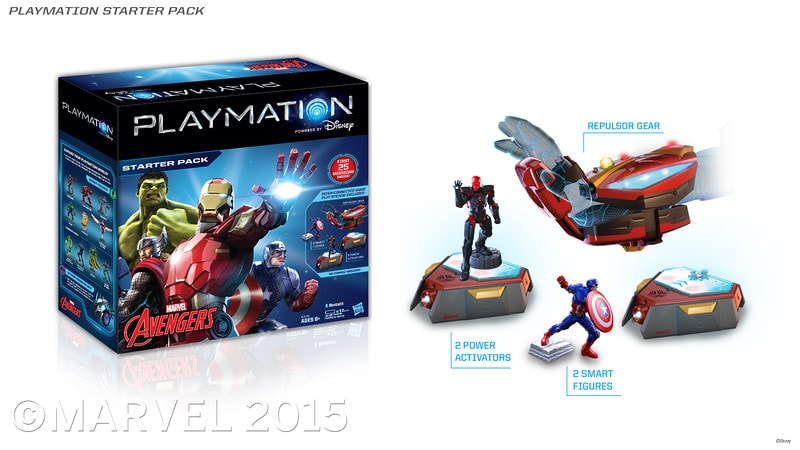 Playmation is starting their franchise with the Marvel characters your kids know and love.  These consoles are set up independently from the Internet, so the gaming experience isn't limited to inside your house.  Your kids can get outdoors and challenge each other, or work together to complete missions using these fully interactive tools.  I mean, who wouldn't want to be Ironman?  The gear allows the user to feel like he/she is actually an Avenger, using their special equipment.
At the D23 Expo we were given a demonstration (I hope you followed on Periscope) by Sydney, an adorable little girl who is a fierce Marvel Avenger!  She showed us how the game works, how interactive it truly is, and how much fun kids can have using the Gama Gear.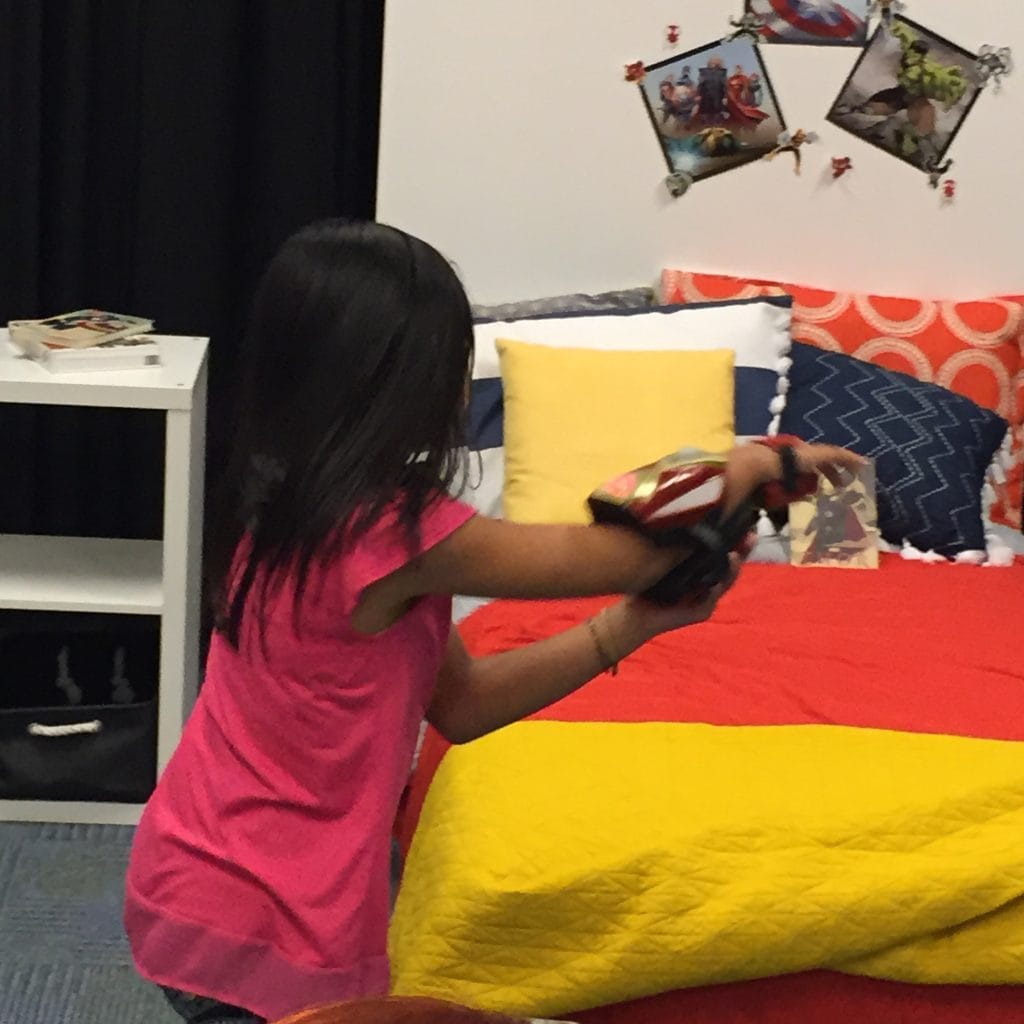 The story line for the Marvel's Avengers game is that Tony Stark and the Hulk get together to try to defeat Ultron and his gang of bad guys.  The Avengers need to recruit anyone willing to help stop these bad guys.  The recruits are outfitted with the Gamma Gear and go on missions to help Iron Man and the Hulk defeat Ulton for good.  Also available is the AvengersNet app where you can register your Avenger Gear to see progress, explore additional locations and characters, and get access to new missions.
When Sydney demonstrated the device she had to run and hide and jump and be physical as she interacted with the game.  I love that this gets kids up and active instead of just sitting and playing a game.  In fact, if you think about it.  This game is really what we used to do as kids in our neighborhoods, role playing games.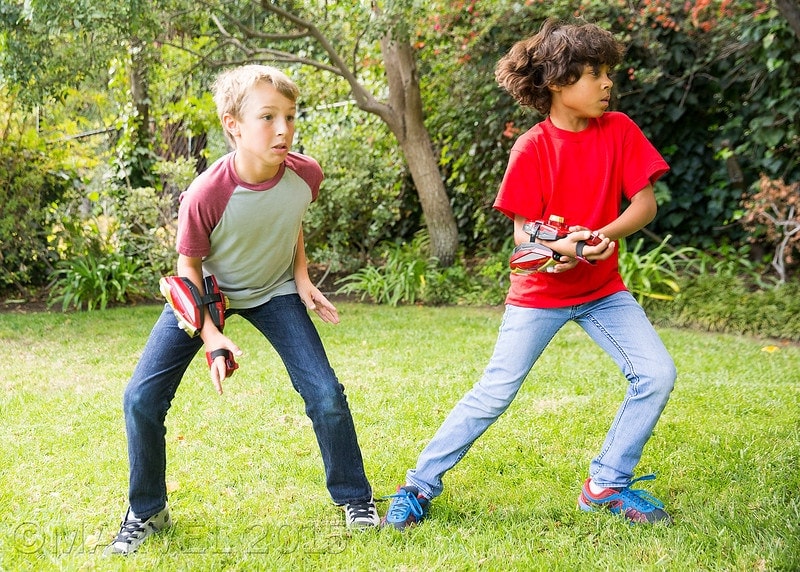 The Playmation Marvel's Avengers Starter Pack will be released on October 4, 2015.   Next year a Star Wars Playmation will be released and in 2017 a  Frozen set will come out.
The Avengers Starter Pack will retail for $119.99 and includes:
One (1) "Repulsor Gear"
Two (2) "Smart Figures" – Super Hero (Captain America) and Villain (Iron Skull)
Two (2) Power Activators
A huge thank you to Disney for flying me out the D23 Expo and covering most of my expenses while I was there!