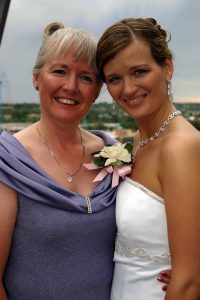 We all know being a mom is hard work!  I am so very thankful that I had such a great role model in my mom growing up.  She became my mommy muse for what type of parent I want to be to my kids.  My mom is so very patient.  She hardly raised her voice to her children, instead opting for a more gentle approach.  I never wanted to disappoint my mom, and any time she said she was disappointed in a decision I had made, it felt a lot worse than any lecture or yelling could have caused.  My mom sacrificed a lot to be at home with us.  She had to work weekend graveyard shifts overnight to pay the bills.  She sacrificed a lot of her personal time to make life better for her kids.
The ultimate sacrifice my mom made happened when I was 21 years old.  I was lost in life and I needed to get out in the world and find myself.  Without telling me what to do or trying to stop me, my mom allowed me to make my own decision to move 2000 miles away to live and finish school here in Indianapolis.  Knowing what I know now about being a mom, I can only imagine what she felt like helping me pack up my car and drive away.  She knew that I had to do it and as much as it hurt her, she let me make my own decision.  I hope that I have enough strength to be able to do that for TJ one day when he has to make a very hard decision on his own.  She supported my choice, no matter what the result.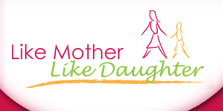 In an effort to help arm Moms with tools and resources for teaching kids important life lessons, the National Milk Mustache got milk? Campaign recently launched a new interactive section on their Facebook page designed to share information on the importance of role models in a child's life. The page features a touching video about Moms and a fun, customizable ePostcard app that allows you to send a personal e-card to someone you love. The page also offers recipes that include milk, and easy ways to add more dairy to your family's daily diet.
I am very lucky, TJ loves milk!  I don't have to do any tricks or sneak it in anywhere because he would drink it all day long if possible.  My husband has recently been drinking more milk as he is trying to be more healthy.  I will put milk on my cereal in the mornings and creamer in my coffee.  We also eat a lot of cheese and yogurt so I am pretty confident that our family's dairy needs are taken care of. Got Milk?
I would love to hear from you and the lessons your mom taught you that have made you a better person!
I wrote this review while participating in a blog tour by Mom Central Consulting on behalf of the National Milk Mustache got milk? Campaign and received a promotional item to thank me for taking the time to participate.