I am beginning to face the truth of it:  the older my kids get, the more time I need to carve out of my day to devote to them.  Sure, when they were babies, I understood how much I would need to be there for them.  I had to change diapers, bathe them, rock them to sleep.  I was ready for all of that.  But now they are 5 and 8 and they are pretty self-sufficient.  So I should have some more time in the day to do chores around the house, focus on my business or (God forbid) have some "me time".  Ummmm… Nope.  Now we have gymnastics, soccer, summer camps, play dates, meetings at school, cub scouts, and on and on and on and on.  Don't get me wrong, I love all of this.  But there are only so many hours in the day.
My favorite unwinding activity is (no surprise) laying down and watching my favorite shows.  Netflix is always there to provide me with whatever entertainment that I am in the mood for.  Whether it is the nail biting suspense of The Walking Dead, the soap opera that is Orange is the New Black or the political intrigue of House of Cards, Netflix has what I need.  Recently, I have started to rewatch every episode of Friends. Why? Because, with Netflix, I can!  That's why!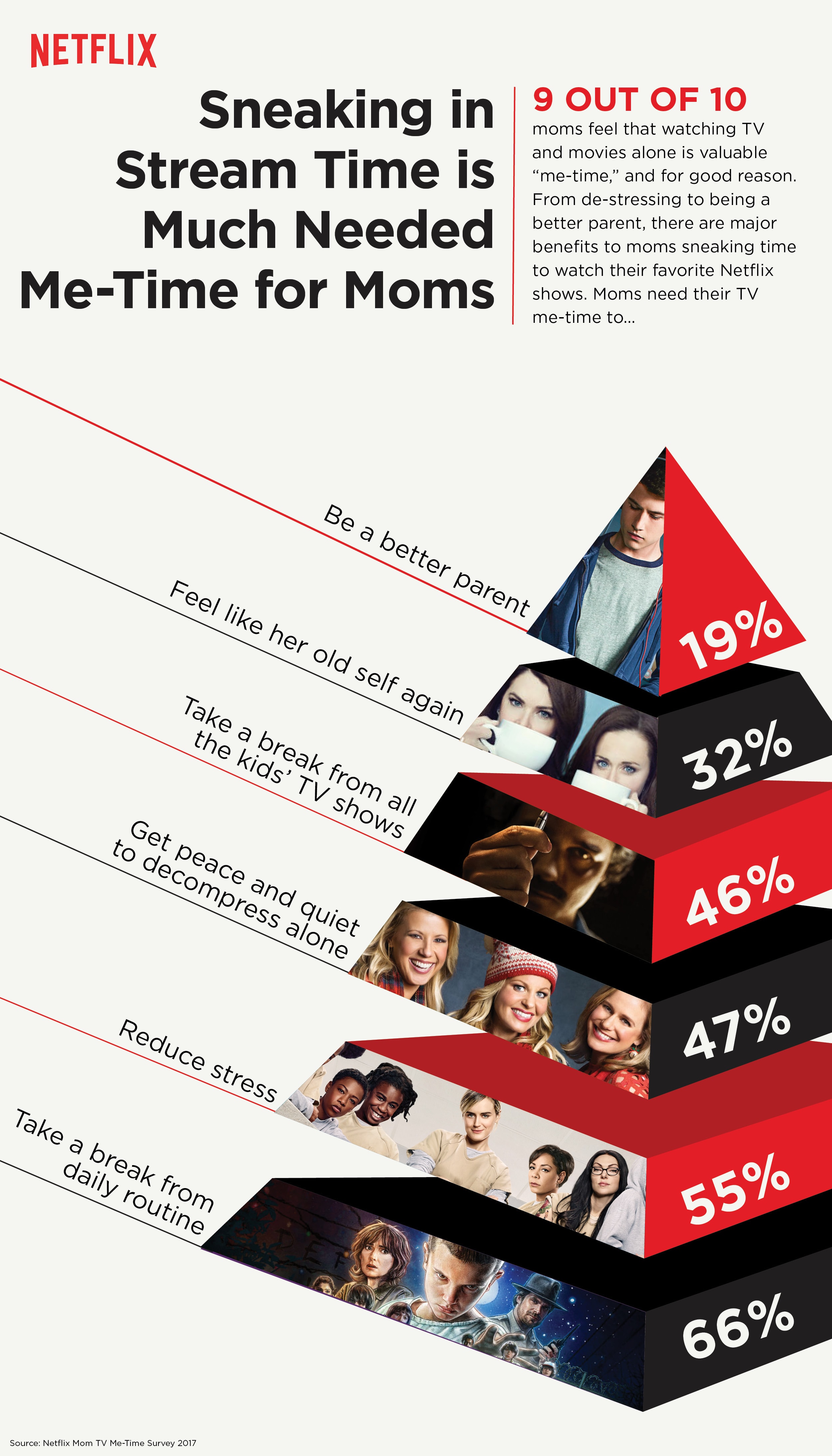 The only problem is finding time to watch my favorite shows.  This brings me to the genius of being able to stream our entertainment.  Netflix content is available to consume on lots of different devices.  Sure, you can watch it on your TV in your living room, but what mom is able to sit in the middle of her house uninterrupted?  The fact that I can sneak in some Netflix time on my tablet and smartphone is certainly a life saver.  I'm just being honest here, but I have been known to take a little extra time in the bathroom with the shower running so I can finish an episode of Gilmore Girls.  I have been known to sit in the parking lot of the grocery store to watch a couple minutes of Grey's Anatomy.  Being able to watch Netflix whenever and wherever I want has made finding that "me time" so much easier.

Win It
I know there are other parents out there that feel the same way.  Don't be ashamed.  Stand up and be counted!  Netflix has even given you a little bit of incentive to do so.  They are sponsoring a #MomSneak 6-month Netflix subscription giveaway! One lucky reader is going to win 6 free months of Netflix!
Where is your favorite place to "mom sneak" some screen time with Netflix?  Enter our giveaway below and share your story.  Please do this not only so you have a chance to win, but so the rest of us don't feel so guilty!
How to enter:
Share a personal story of how you sneak in time with your Netflix show list or a selfie of you sneaking in your TV on a public social media post (Facebook, Twitter, Pinterest or Instagram)
Use the hashtag #MomSneak in your post

Copy the URL of your social share and paste it into the form below!