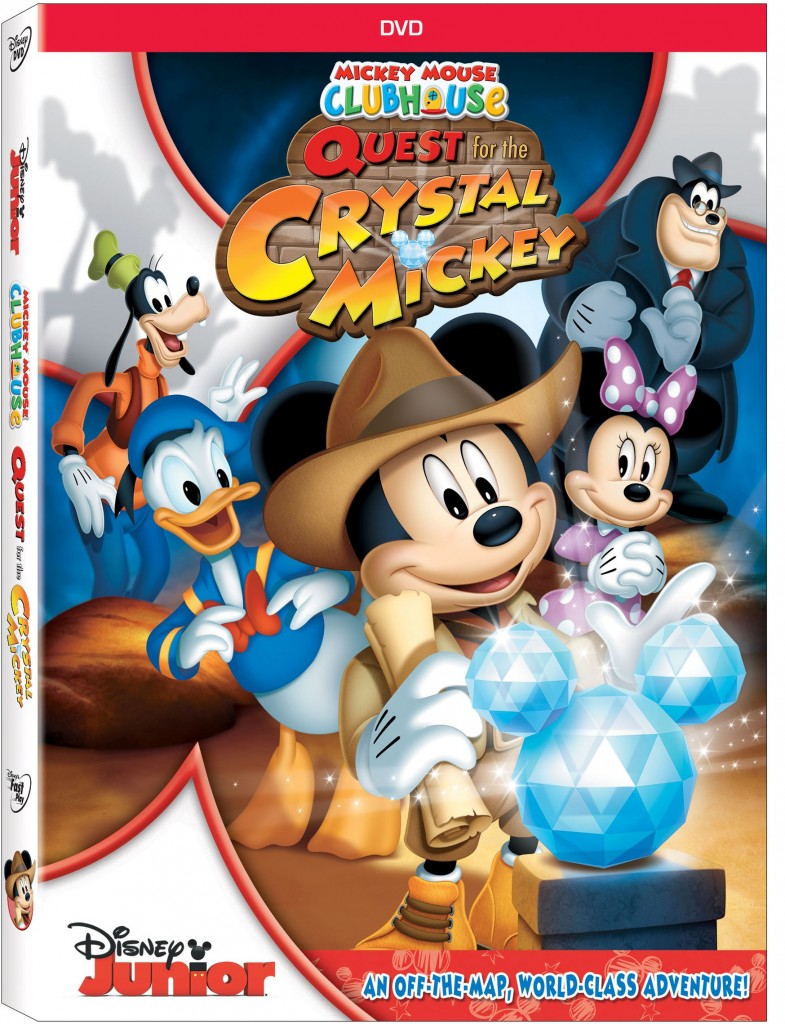 This product review was made possible by Disney and Click Communications. I was not compensated for this review other than a product sample provided by the company or PR firm. All opinions are 100% mine.
The gang is back in an all new adventure. My daughter has now caught the Mickey bug and loves watching MMCH as much as her big brother.  We have been watching the newest MMVH DVD The Quest for Crystal Mickey that came out on DVD on May 31st!  My kids have had some time watching this as we have been unpacking.  I love that they are learning new things as they are watching their friends on an adventure!
Synopsis:

Join Mickey, Minnie, Pluto and all their pals in the newest Clubhouse crusade. When the legendary Crystal Mickey goes missing, Mickey and friends go on an adventure to save the Clubhouse from losing its magic. Grab your hat, buckle your seatbelt, and get ready to embark on a thrilling adventure in "Mickey Mouse Clubhouse: The Quest for the Crystal Mickey!"

There's no time to lose after greedy Plunderin' Pete snatches the legendary Crystal Mickey statue from the Clubhouse. Without this sparkly statue's magic, the Clubhouse will disappear forever! Can the world's most extraordinary hero "Kansas City Mickey," get the magical statue back in time? Only with help from young viewers at home…and the right Mouseketools can Mickey journey across the Sandy Desert, brave the Rushing River and make his way through the Hidden Jungle. But watch out for Pete's trickiest traps!

Full of magic and mystery, the DVD includes four extra episodes of Disney Junior's Emmy®-nominated series "Mickey Mouse Clubhouse" (over 2 hours of content!) and a FREE Adventure Activity Map plus Stickers. Don't miss this latest Clubhouse adventure as it arrives for the first time on Disney DVD on May 21, 2013.
Bret Iwan (as Mickey Mouse); Russi Taylor (as Minnie Mouse); Bill Farmer (as Goofy and Pluto); Tony Anselmo (as
Donald Duck); and Tress MacNeille (as Daisy Duck). 
 Executive Producer: Rob LaDuca
 Producer/Story Editor: Mark Seidenberg
Director: Donovan Cook
Episodes:
1 – Mickey Mouse Clubhouse: Quest for the Crystal Mickey
2 – Donald of the Desert
3 – Donald the Genie
4 – Goofy's Coconutty Monkey
5 – Goofy's Giant Adventure
Check out this fun song from the movie that I have had stuck in my head since we moved in:

Brand New Friend – Quest for the Crystal Mickey on Disney Video
For even more Crystal Mickey fun check out the free activities by clicking below!
Grab your copy of Mickey Mouse Clubhouse: THE QUEST FOR CRYSTAL MICKEY  at retailers nationwide today!