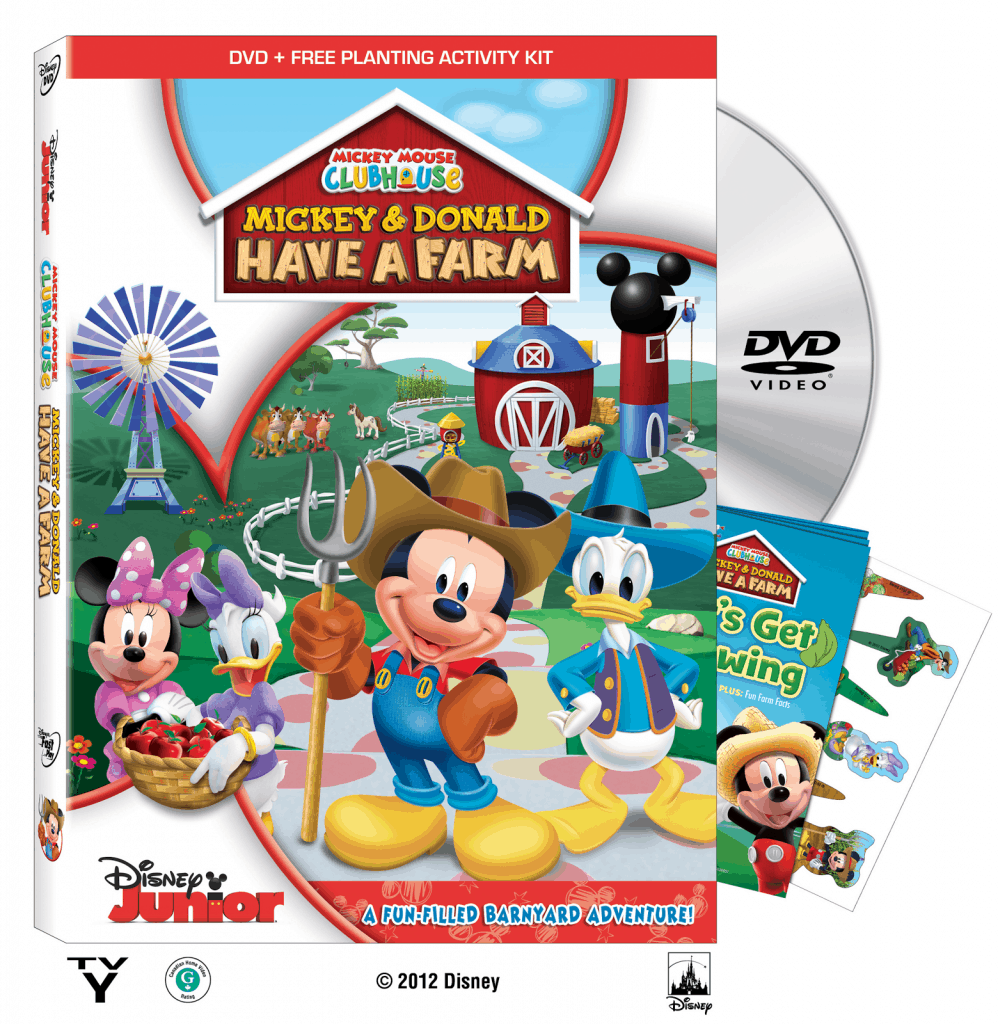 The mouse is back in a new Micky Mouse Clubhouse DVD.  This time he and his pal, Donald, need to find their lost barnyard buddies with the help of their pals and of course Toodles, they gather the animals on a counting adventure.  In addition to this episode there are 4 more classic episodes that make up this new DVD from Disney.  My son and I have had a lot of fun singing along with Clarabelle and laughing with Goofy.
Here is a little bit more about this latests release:
 Get set to roll up your sleeves, ride the Clickety-Clack Tractor and lend a helping hand in this farm-tastic barnyard adventure!With an oink-oink here and a moo-moo there, it's time to sing along, plant the crops and feed the animals on the new Clubhouse Farm. But when Farmer Pete's giant windmill blows all the cows, chickens and piggies out of their pens, it's up to YOU – with the right Mouseketools – to help Mickey and Donald find all the animals and bring them home.Then, harvest extra adventure in four more exciting episodes. Packed with acres of laughter, music and surprises, Mickey & Donald Have A Farm delivers a bumper crop of fun for everyone.
Mickey Mouse Clubhouse: Mickey and Donald Have A Farm  Mickey's surprise for the Clubhouse is a trip to the farm! But where are all the animals? To keep the bugs away from his prize petunias, Farmer Pete has been using his powerful windmill, but the windmill created such a strong wind that it blew all the farm animals away!
Goofy's Petting Zoo  – 19 animals (eight cows, ten pigs, and one elephant) from the petting zoo escape while Zookeeper for the day, Goofy takes a nap.
Clarabelle's Clubhouse Mooo-sical – Clarabelle stages a musical about nursery rhymes starring chickens from the petting zoo.
Goofy The Homemaker – Goofy plans to build a birdhouse for Baby Red Bird and Mommy Red Bird beside the Clubhouse.
Donald Hatches An Egg  – Donald cares for a lost egg while his friends search for its family.
In addition to the DVD there is a cute planting activity kit that I know we are going to enjoy in the spring!
I have some great news!  One lucky visitor is going to win a DVD of their very own!
This product review was made possible by Disney and  Click Communications.  I was not compensated for this review other than a product sample provided by the company or PR firm. All opinions are 100% mine.