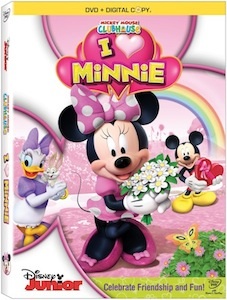 TJ's Mickey Mouse Clubhouse obsession is still going strong.  He wants to watch Mickey Mouse every day.  At night he begs me for "One more Mickey Mouse, mommy!"  I was so excited to learn that a new DVD just became available:  I Heart Minnie!
On February 7th, join Mickey Mouse and the Clubhouse gang for a special celebration of Minnie Mouse's birthday! Disney's Mickey Mouse Clubhouse: I Heart Minnie is packed with five fun-filled episodes as well as an all new bonus feature "You're Invited to Minnie's Birthday Party!"  Two Best Friend necklaces are also included with this DVD, a great gift to give to your BFF this year!
The five classic episodes include:

·       Minnie & Daisy's Flower Shower (All-New, Never-Before-Seen) – The botanical highlight of the year is in trouble, unless Minnie and Daisy can get their flowers to bloom! Together, they board the glove balloon to help coax the clouds to sprinkle much needed rain.

·       Daisy's Dance -Clap your hands and tap your feet! Join Daisy, as she gets ready for one of the most important events of her life––performing in the big talent show!

·       Daisy's Pet Project – The Pet Parade is almost here and Daisy needs to find the perfect animal for which she can love and care. But it's not as easy as she thinks and soon she has three new friends: an elephant named Bubbles, a giraffe called Longfellow and a bunny called Captain Jumps-a-lot!

·       Minnie's Rainbow – After a brightly colored rainbow appears over the clubhouse, Minnie searches for the pot of gold that's supposed to be at its end. Along the way, she meets a leprechaun and discovers that not all treasure turns out to be as she expected!

·       Minnie's Birthday – Today is Minnie's birthday, but the Mickey Mouse Clubhouse friends need to set up her birthday party.
Disney has made having a release party for I Heart Minnie a breeze with recipes and crafts for you to share!  Click the button below for amazing, fun ideas for the whole family:
Here is a short clip from TJ's favorite episode, Minnie & Daisy's Flower Shower!
Your toddler will love the new Mickey Mouse Clubhouse: I Heart Minnie!  Be sure to check for it at stores nationwide.  The suggested retail price is only $19.99 and includes the two necklaces. This is a perfect gift for those Easter Baskets!
This product review was made possible by Disney and  Click Communications.  I was not compensated for this review other than a product sample provided by the company or PR firm. All opinions are 100% mine.