In all of my trips to LA I have never set foot on a television set before.  That all changed last month when I was able to visit the set of ABC Family's "Melissa & Joey".  I wasn't sure what to expect during the "Melissa & Joey" set visit, but I enjoyed every minute of it from stepping foot on the lot to when we left a few hours later.  Melissa & Joey is shot in front of a live studio audience, they were having dress rehearsals when we were visiting so we got a little taste of the episode… sorry no spoilers!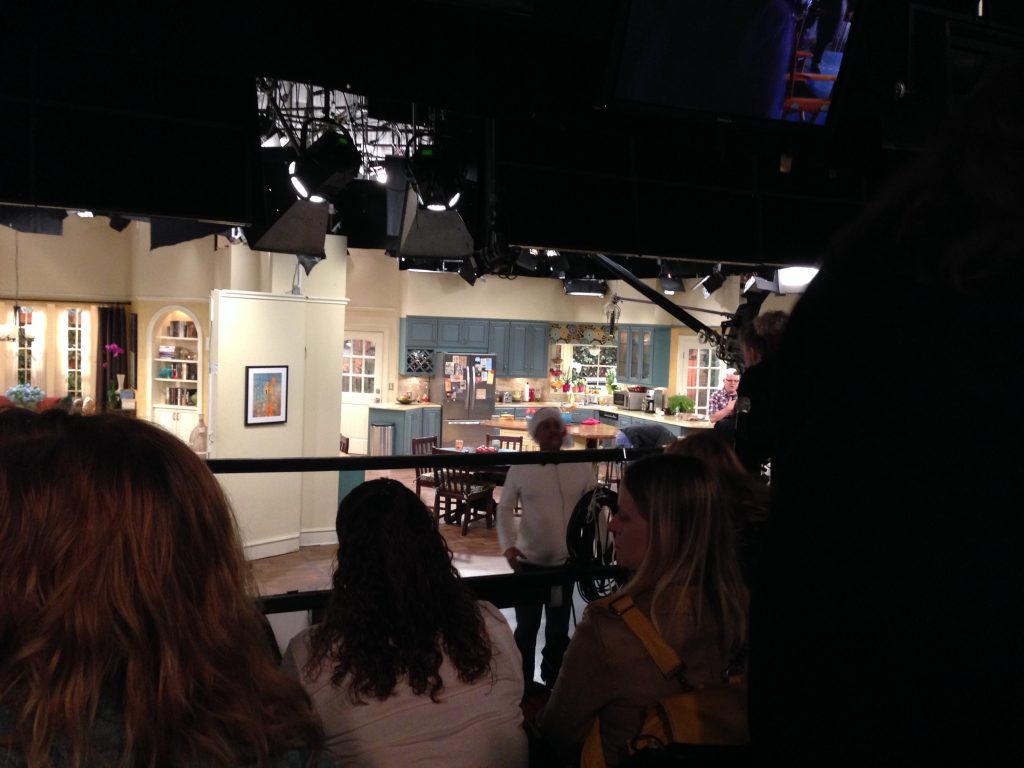 We visited the set right before Christmas time and Joey Lawrence was singing Christmas carols while they were going through their lines.  The atmosphere was light and fun and you could tell that everyone was enjoying themselves.
While we were on the set the stars of the show, Joey Lawrence and Melissa Joan Hart, took time to meet with us to discus the show.  I will be bringing you those interviews next week so be sure to come back and visit!
It is a lot of fun to get a behind the scenes look at a television show set.  I have been on a few movie sets and they don't have as many permanent sets up.  To see Mel and Joey's house as it appears on the show is a lot of fun.    To the left of the living room is the front steps, complete with a porch swing. While many of the plants were not real, I was surprised at the amount of real props they used on the set.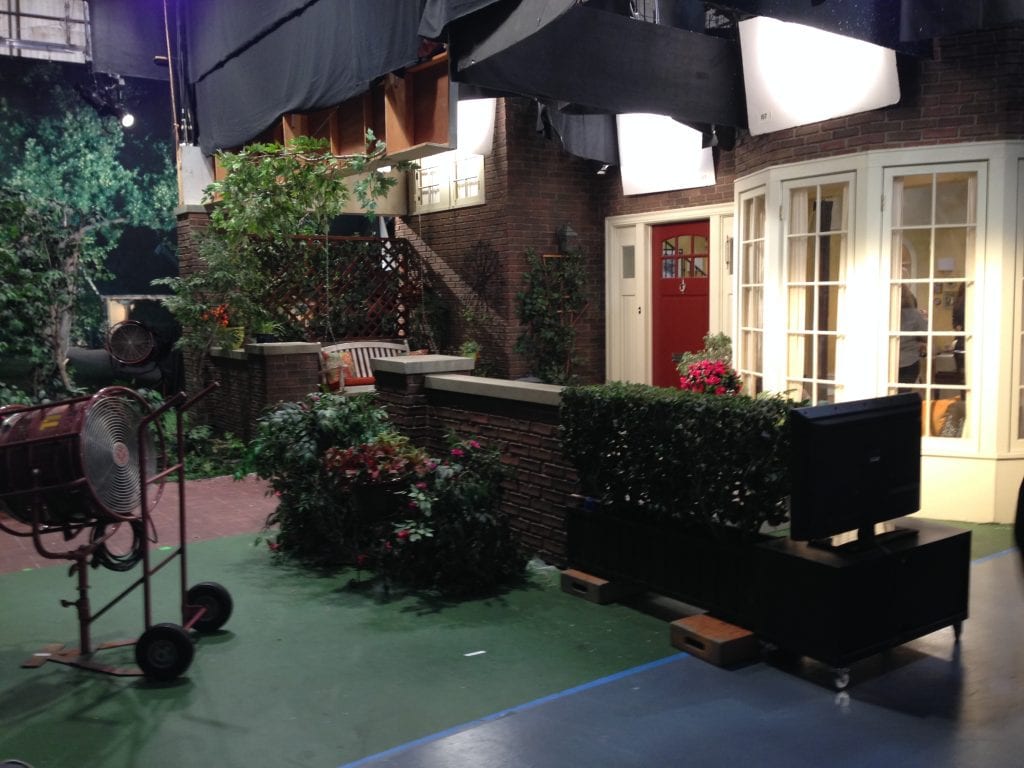 The bookshelf in the living room was filled with books and trinkets and real photographs with cast members.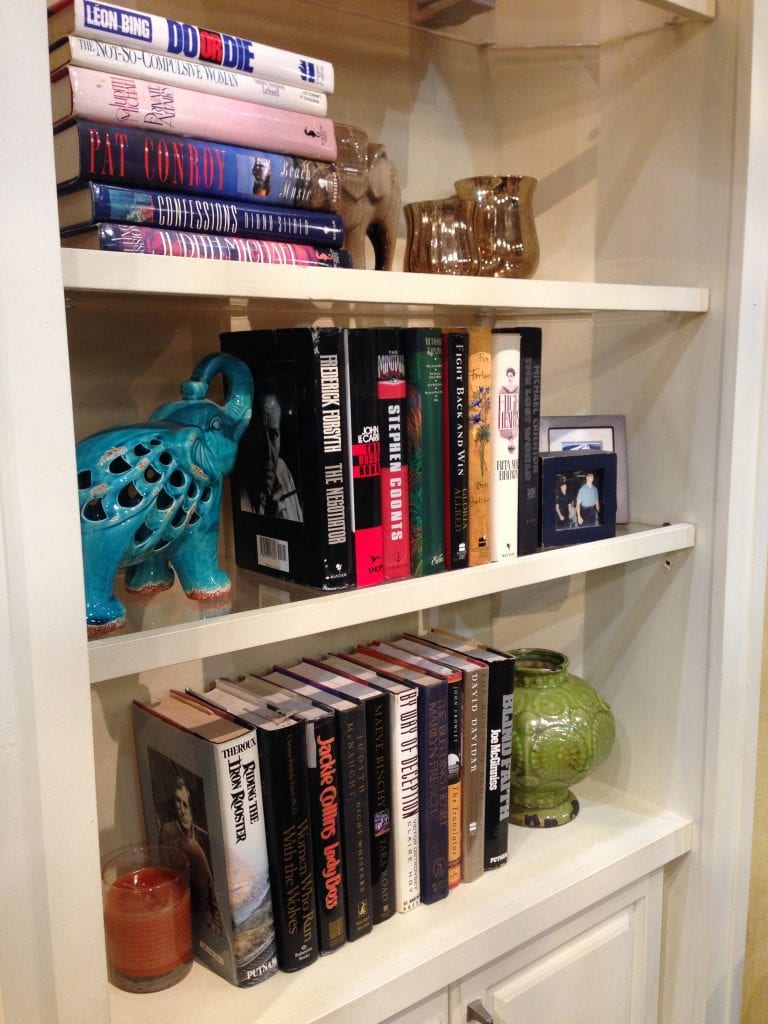 The front console table even had a real photograph of Melissa Joan Hart.  I love all the attention to detail.  This is what makes these sets seem real.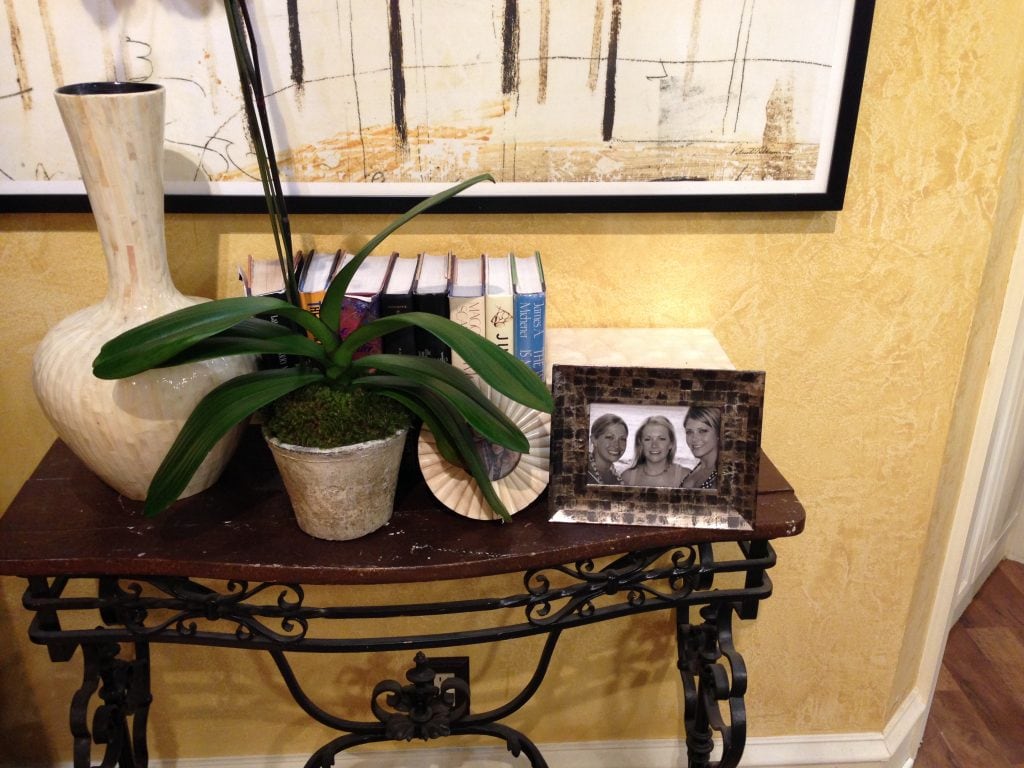 I couldn't wait to check out the kitchen.
Honestly, I would love it if my real kitchen looked like this one!  While the sink and stove really don't work, there are a lot of real appliances and food in the kitchen.
I love all the papers and photographs hanging on the fridge.  Have you ever wondered what is inside a television set fridge?  Well wonder no longer…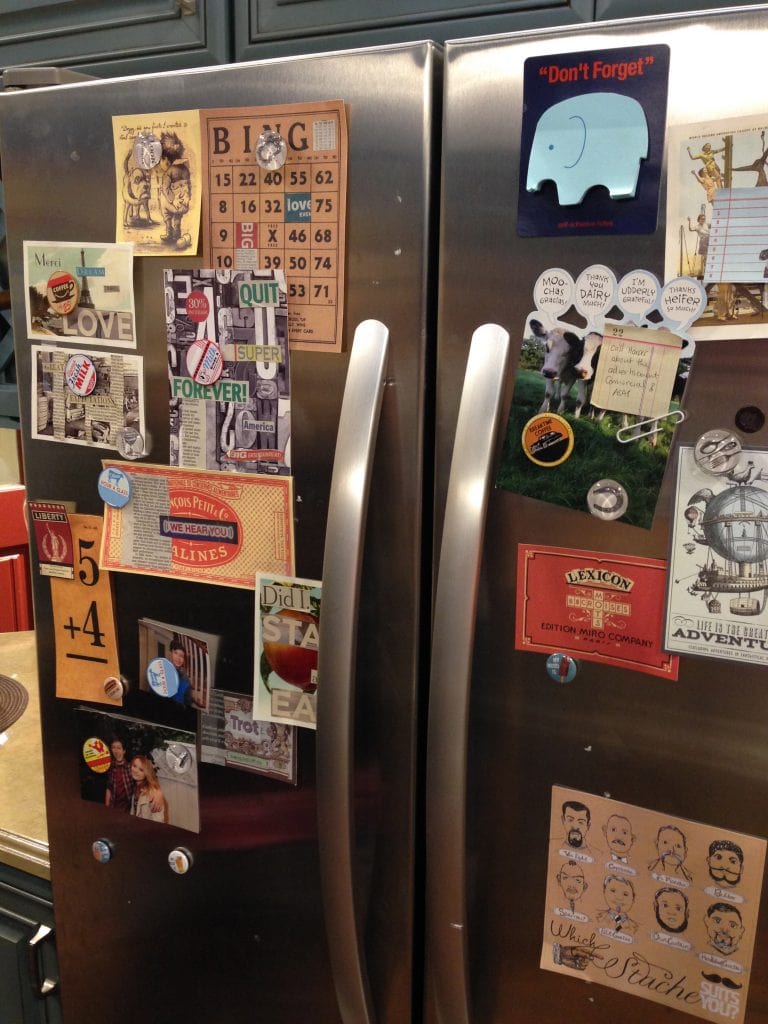 … it is actually filled with both plastic and real food.  Some of the vegetables weren't real, but a lot of the beverages and the bagels were real.  The fridge really is plugged in and it works.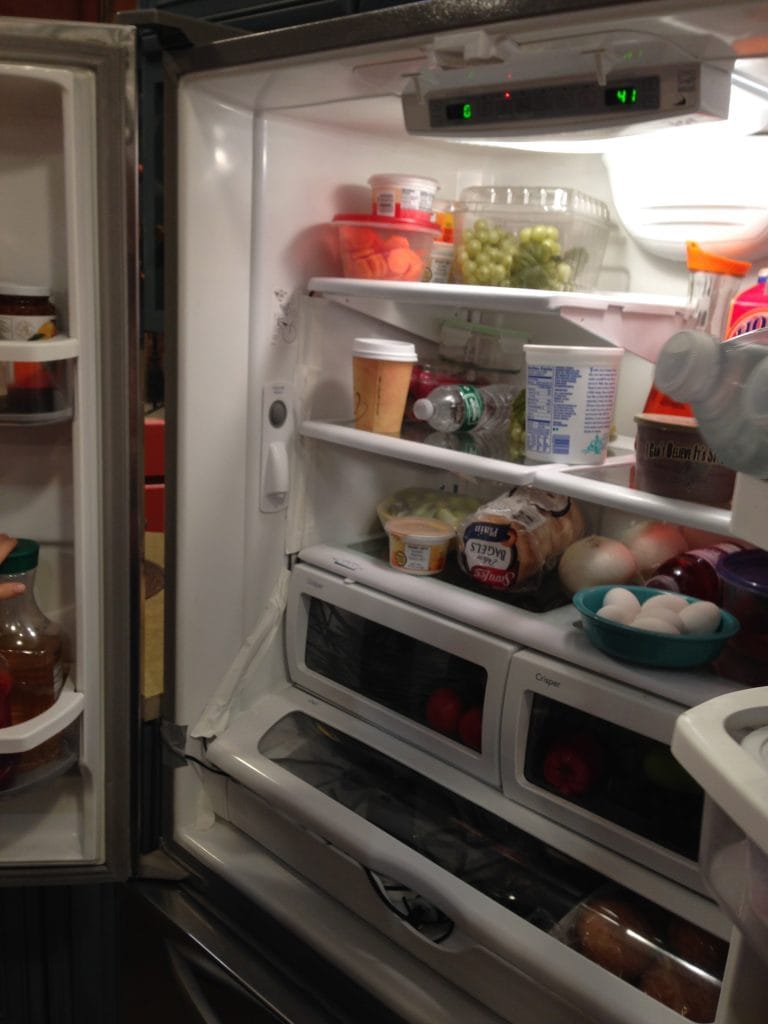 I decided to snoop around a little and found a lot of real food in the kitchen cabinets as well.  I was surprised at all the cans of food.  I had a lot of fun going through them.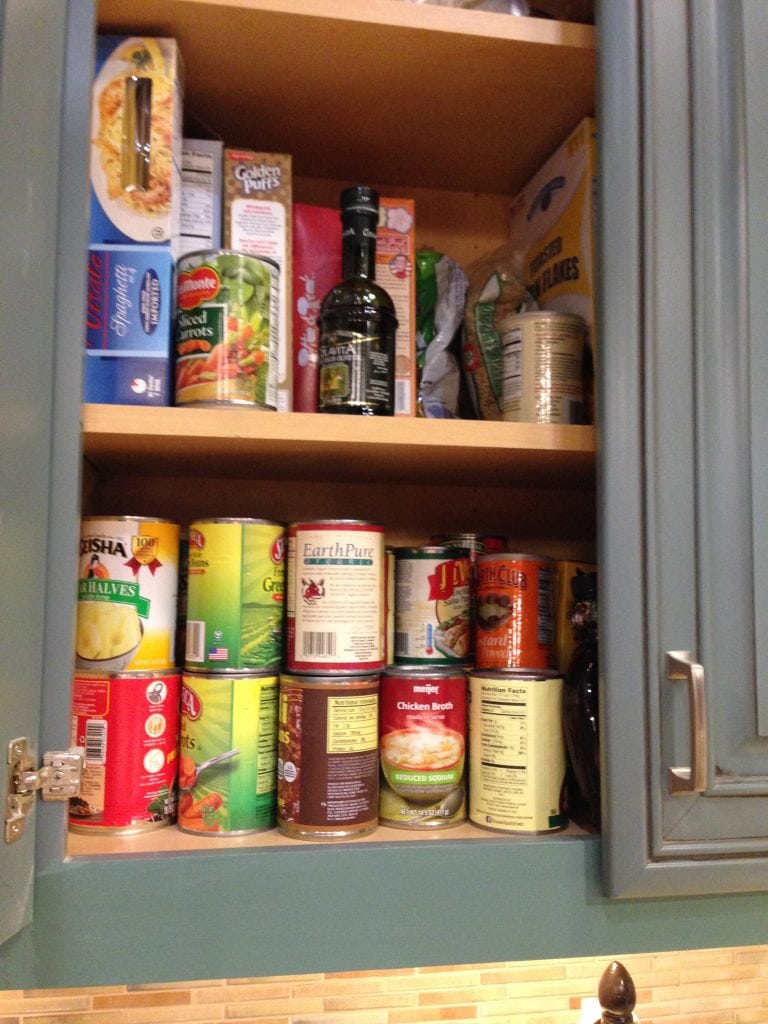 Here we all are with Melissa Joan Hart in the living room.
Both Melissa and Joey were so sweet to meet with us and take selfies with all of us.
Melissa & Joey will have their winter premiere on ABC Family on Wednesday January 14th.  Remember to tune in next week as I bring you my interview with Melissa Joan Hart and Joey Lawrence.
A huge thank you to Disney  for flying me out to LA for the #ABCFamilyEvent.  All opinions are 100% mine.