Thank you to Meijer for sponsoring this post.
What an interesting school year this is turning out to be. I just wrapped up report cards for the first quarter and I'm currently enjoying Fall Break before returning for the second quarter. Upon my return I will be welcoming back several students who started the year virtually but are now returning to school. It has been an adjustment, but we are all managing.
With the start of any new quarter I need to make sure I am stocked up with all the school supplies that we might need to finish out the year. Whenever I have new students returning to the classroom, I find myself back at the stores stocking up on essential items. In addition to the regular crayons, pencils, and erasers, this year I will also be stocking up on extra hand sanitizer, masks, and tissues for the cold/flu season.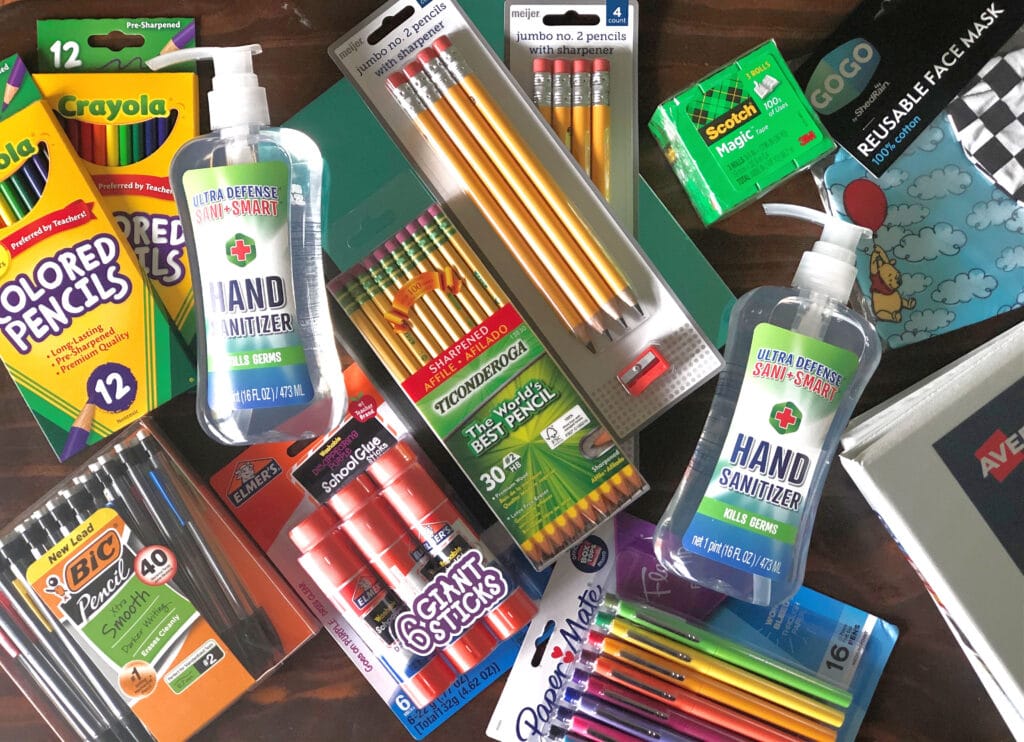 Meijer has recognized the uncertainty this year has placed on teachers and have decided to extend their 15% off Teacher Discount throughout the entire school year!
2020-2021 School Year Teacher Discount
My local Meijer store is my go-to store during the back to school season, so I was delighted that they extended the discount past the beginning of the school year. Because about a third of my classroom started remotely, they haven't stocked up on basic school supplies yet, so the other day I went shopping at Meijer to restock some supplies and purchase additional bottles of hand sanitizer and masks – that are now included in the teacher discount program!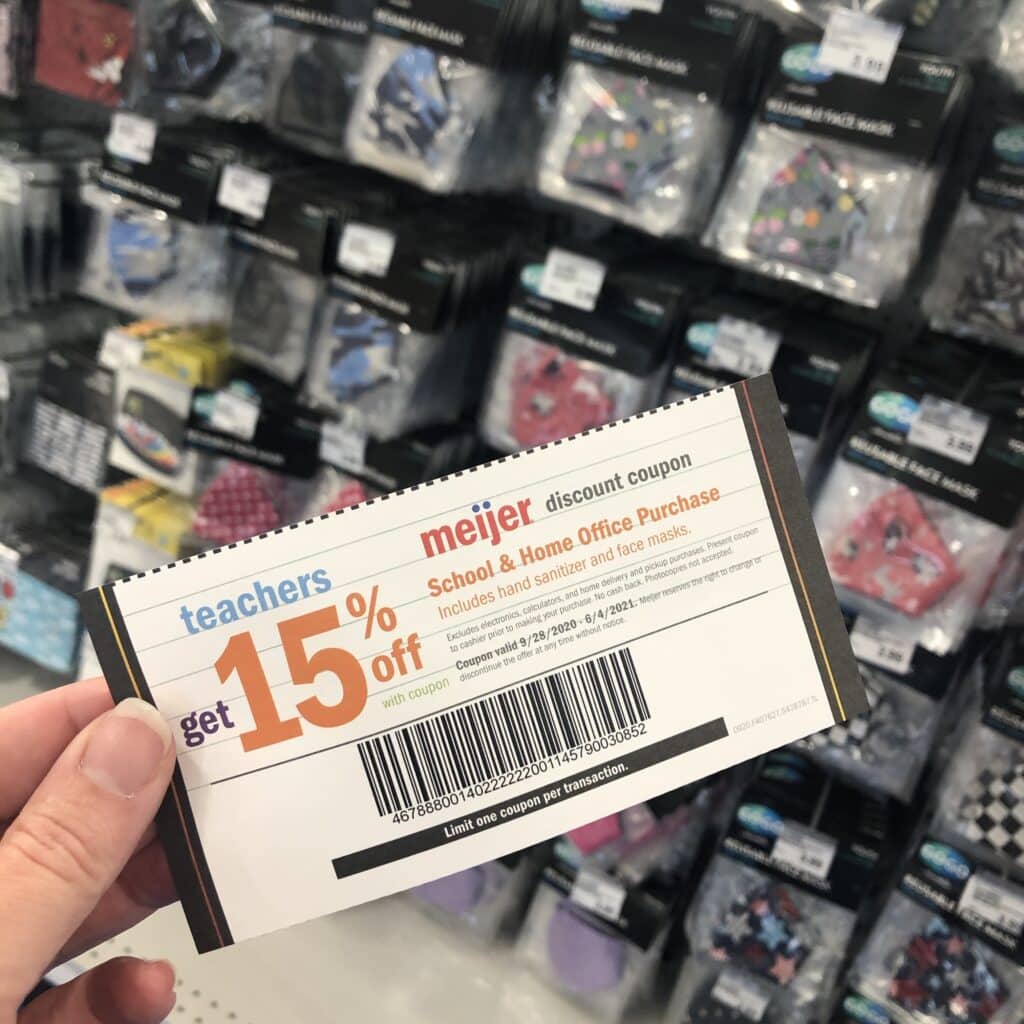 Between myself and my two kids we go through a lot of masks every week for school. I like to make sure we all have a spare or two in our book bags as well as two a day. It seems like we are constantly doing laundry to keep them stocked up and ready to go for school. Having extras will really come in handy both at home and at school. There have been several instances where having extra masks available for my students has kept everyone safe.
Needless to say, we have also gone through a TON of hand sanitizer in the first 10 weeks of school!
While I was at Meijer, I also stocked up on teacher essentials like pens for grading papers, tape, binders, printer paper, and a lot of pencils. I have no idea how we lose so many pencils in first grade but there never seems to be enough.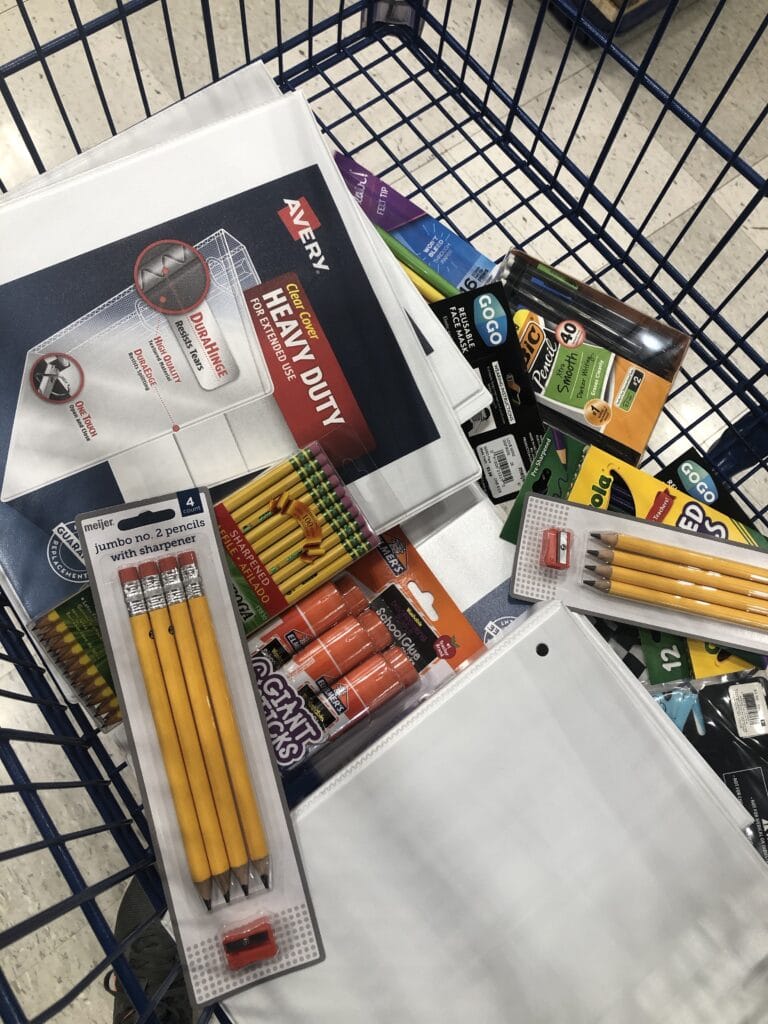 Meijer is a One-Stop-Shop
Another reason I love shopping at Meijer is because I can get everything I need in one place. After I picked up all my school supplies, I headed over and did my grocery shopping for the weekend. As a busy teacher, mom, and wife I like to consolidate trips to the grocery store and Meijer allows me to get everything in one go.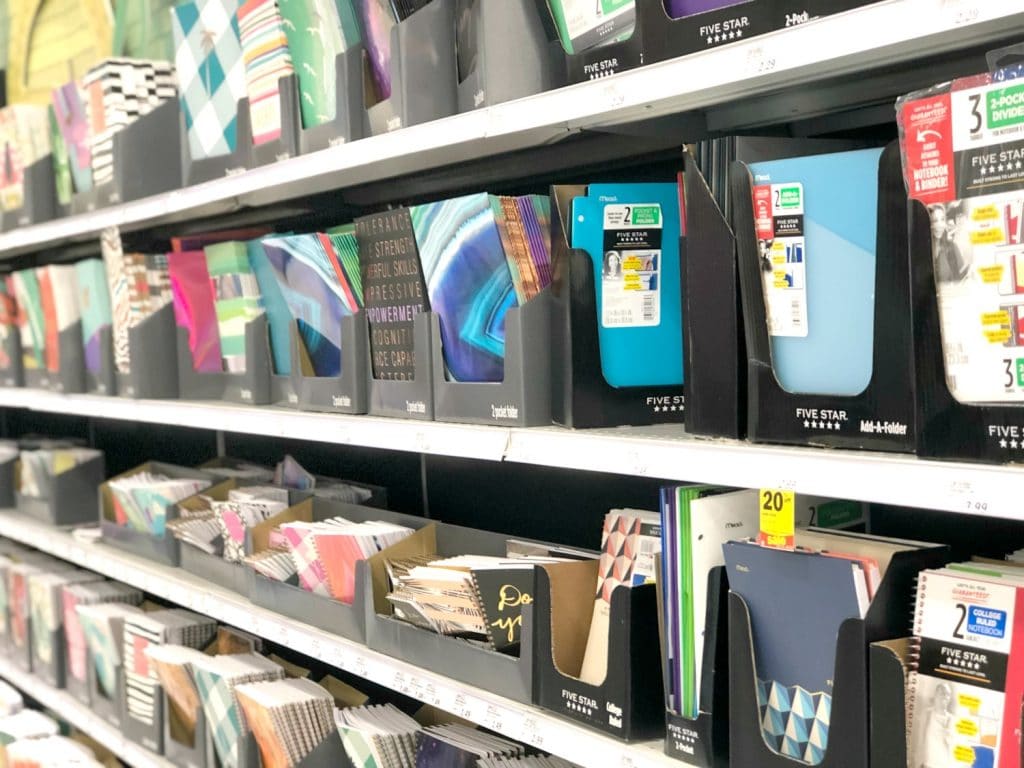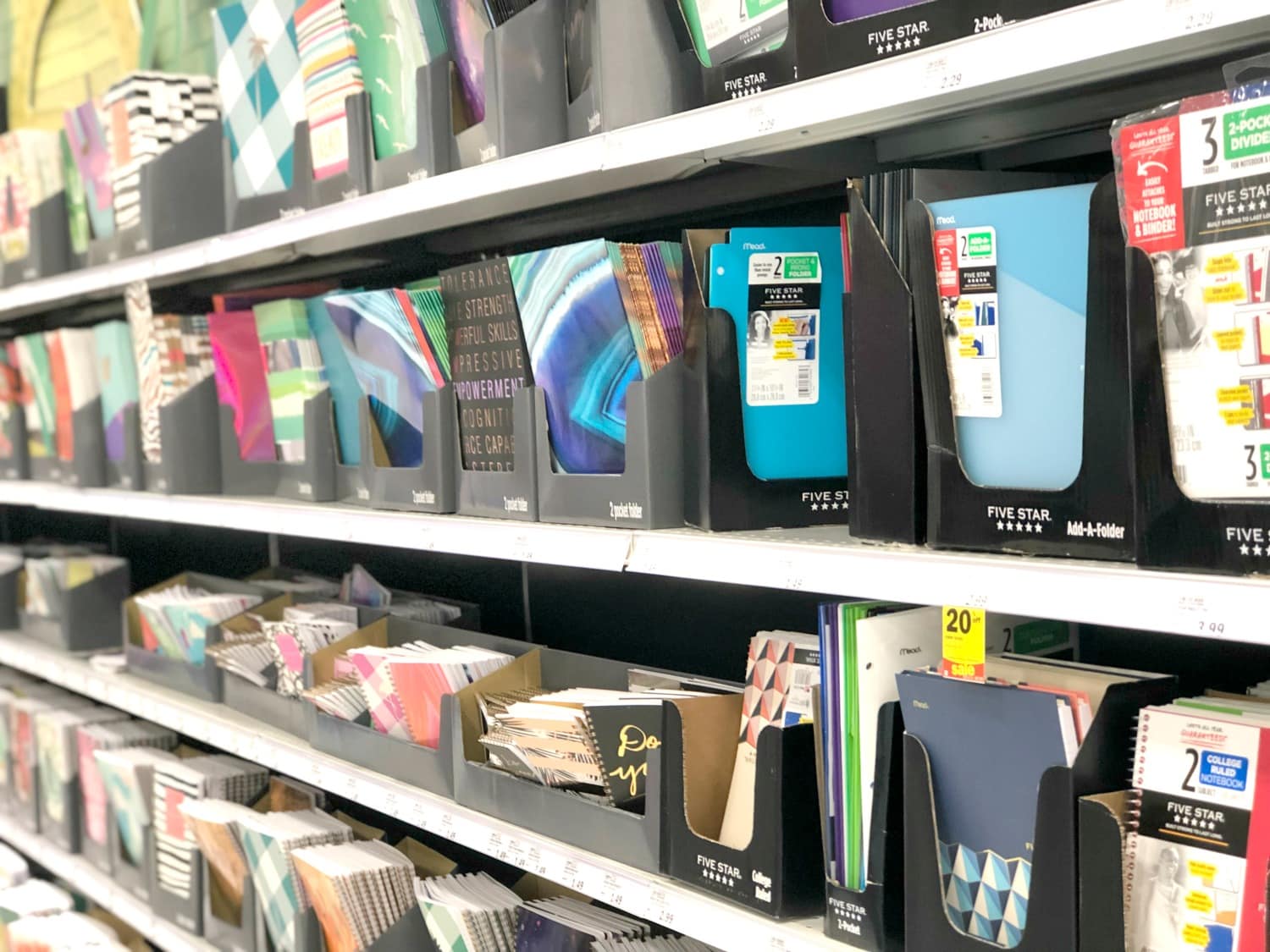 I am also able to pick up clothing and accessories for myself and my family. I have found several comfortable work outfits at Meijer that I constantly get complemented on. If you haven't checked out their fashion department, make sure you do the next time you visit. Right now, they have tons of versatile fall pieces that can turn your wardrobe into a whole new look ready for school or for the workplace.
My personal favorite fall trend is big puffy sleeve sweaters and Meijer has them! In fact, Meijer's new fashion campaign, Beyond Measure, represents inclusivity for all. They are not only showcasing diverse models, they are also ensuring that they have all sizes available from small through 3x on the same rack and for the same price! That is something I can stand behind!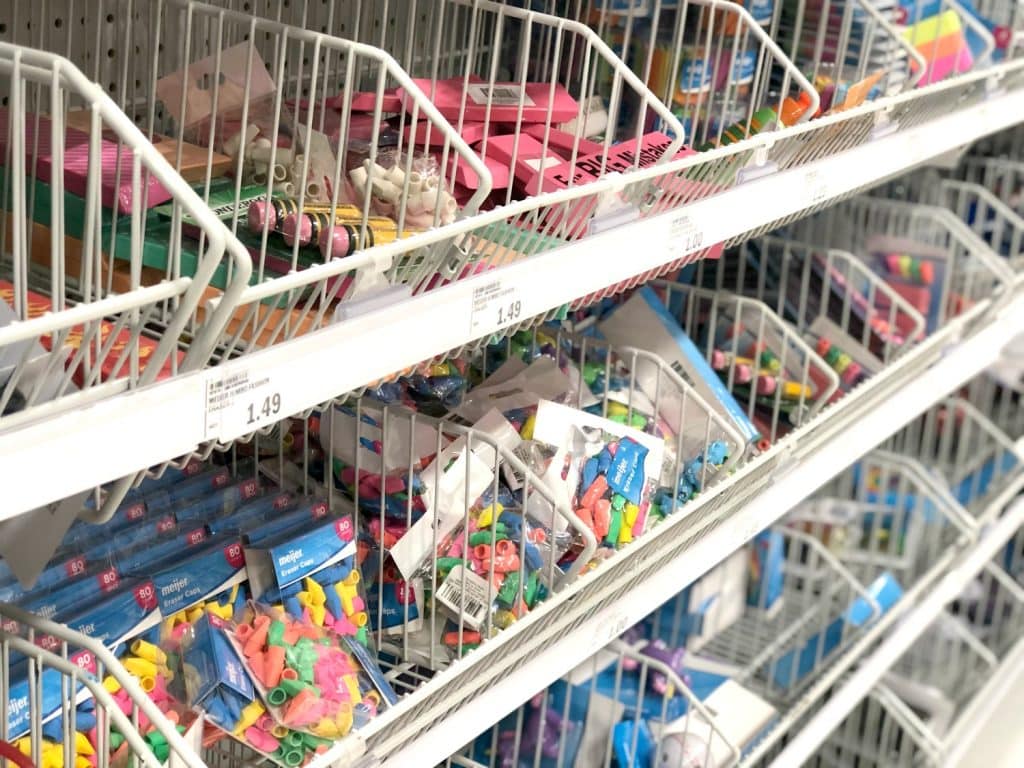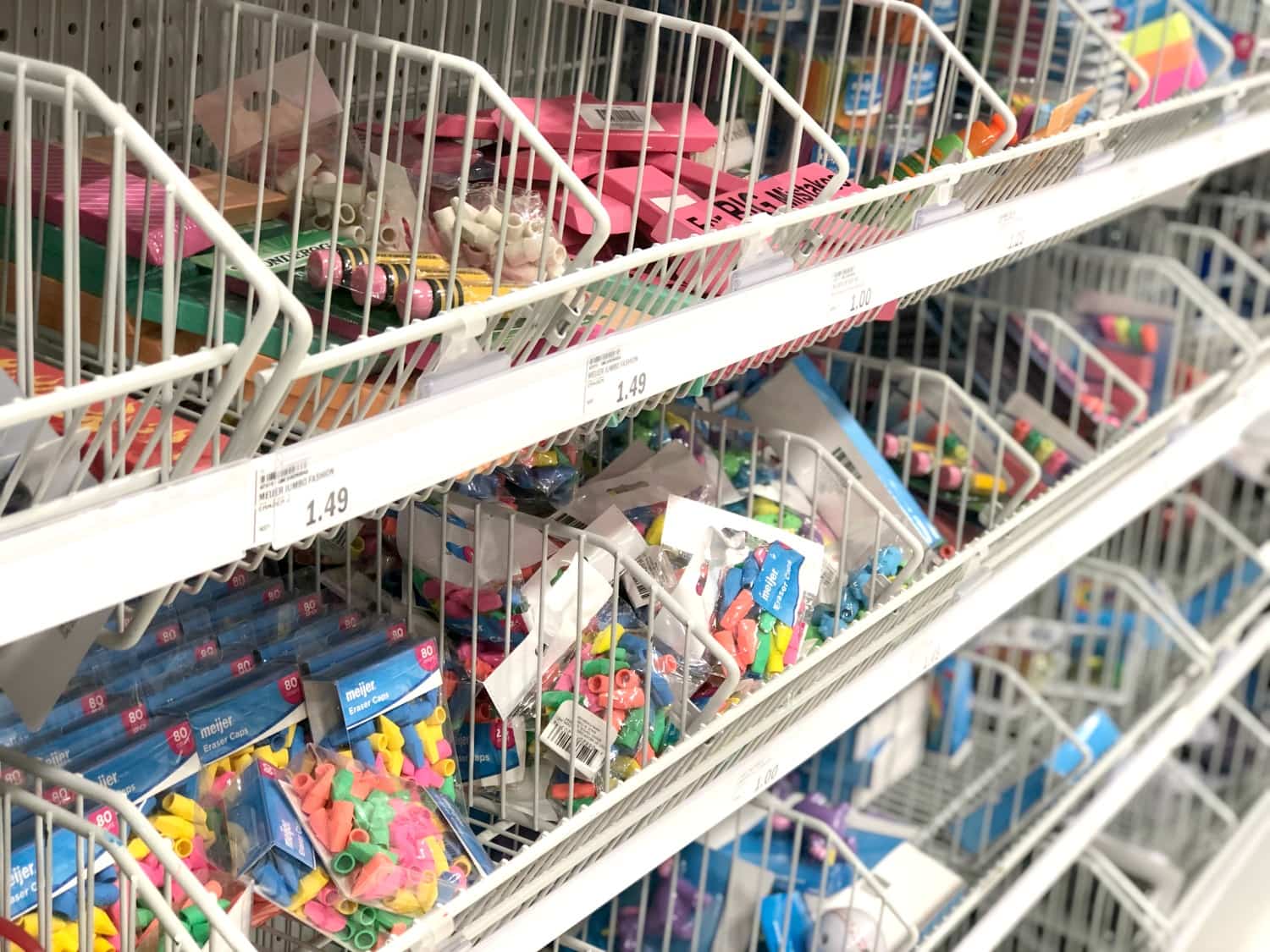 Now is the perfect time for teachers to stock up on everything they need for their home and their classroom at Meijer. All you need to do in order to get your 15% discount is show your school ID at the customer service desk and they will give you a coupon that you can use for your shopping trip. You can get a new coupon each time you shop at Meijer between now and the end of the school year, too! For more information, visit the Meijer Back to School site.
Happy Shopping!