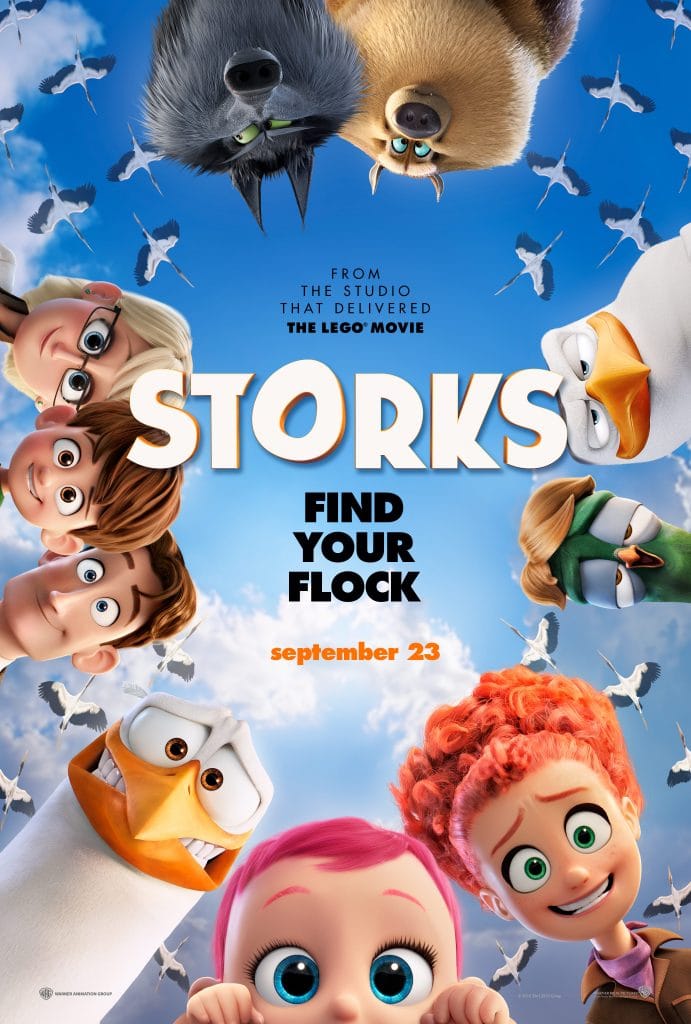 Last month I was hosted by Warner Bros. Pictures during a special screening and press day for their upcoming film, Storks. During the event we had the chance to ask Writer/Director/Producter Nicholas Stoller, Director Doug Sweetland and Producer Brad Lewis all of our burning questions about the making of the movie.

How much of the film was improvisation from the voice actors? 
Nicholas Stoller: Yes. In my live action movies that I've done, I always do improv. I do it to get jokes and stuff like that, but I also do it to kind of create natural performances. It's almost more important in the emotional scenes to do improv because it keeps actors a little bit off their game and it makes those scenes more-kind of awkward and real-which then makes them more emotional. And I really wanted to bring that into animation, and Brad and Doug were game for that. And so, very early on we cast scratch actors that were comedic talent, you know, improv people and improv'ed the scenes. And actually, Katie Crown [the voice to Tulip] was originally a scratch actor for the movie. She was so good we ended up casting her in the film.

Brad Lewis: I mean, one of the hardest things about animation is to get a spontaneous vocal performance, because everything's done in isolation because everybody wants perfect sound every step along the way. So, Nick worked in this way. It's jazz for Nick. He comes in and he knows what the scene's about. And the actors are great and they know their characters, and then they build it. And like one scene that might be two minutes is, like, three or four hours of material that gets sifted through.
What was the learning curve for Nick moving from live action films to animation? 
Nicholas Stoller: I went to an animation school for the last four years with Brad and Doug and John Venzon, our editor. And the story guys, Craig [Berry] and Matt [Flynn] all taught me all about animation. And one of the great things about working in the entertainment industry is constantly getting to learn new things, and this was just an awesome learning experience. And I was able to stretch myself visually. I don't normally think visually. It was great to learn about that. And they all were really patient with me and explained to me a lot, basically taught me how to do it.

Doug Sweetland: Yes, and we had the same experience, actually, I'd say, on the animation side. I mean, you get into a pattern of making a movie the same way every time. And it was an incredible opportunity to see how Nick works and that he brings a completely different discipline to it. And then that just sort of trickles down through everything else that follows in the process. And it feels great to feel like, oh, we've worked on a movie that's different.

Brad Lewis: Yes, if there's something different about Storks, it's this combination, right, where there's great animation pedigree on the movie in Doug and working at DreamWorks, Pixar on some great movies, and there's great live action comedy pedigree from Nick. And the sole reason I did this project was because of these guys hoping to do something different. The animation industry has been big. It's been globalized. Everybody loves it, right? But what keeps it fresh? What keeps it fresh is something like this. It's like how can we put a new combination together that can be a new chemistry for animation?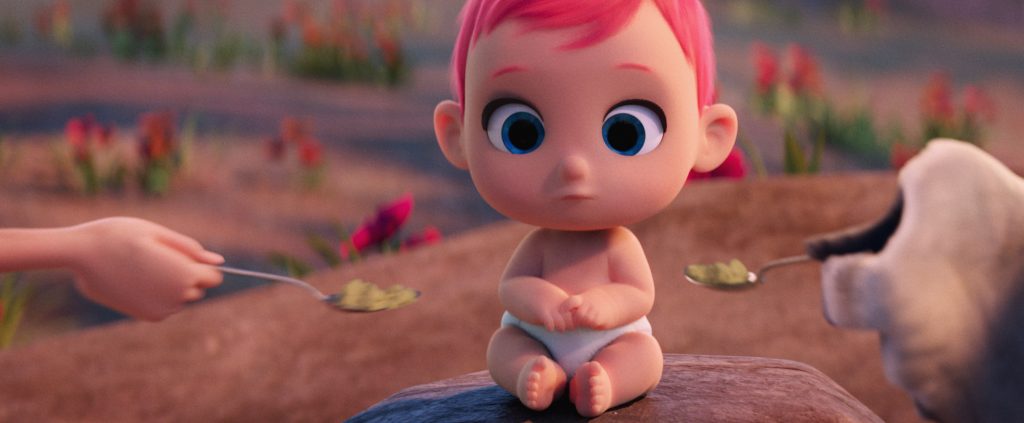 Did they take inspiration from their own families for the film?
Nicholas Stoller: It was really important to me from the beginning that the baby be–this sounds so silly, but just be a baby, like never react to the scene and what's happening. No matter how dangerous the situation is, the baby's constantly just looking around, has no idea. There's a part where they're hiding the baby. Doug, who did the animation, added this thing where she's just trying to play peek-a-boo with Junior andthey're in a really dangerous situation. If you just watch the movie and watch the baby, I mean, I'm sure you guys have fed many babies. Feeding the baby, that all came from the experience of trying to feed a baby and the baby hitting the food out and, you know, throwing it on the floor and, you know…

Doug Sweetland:  I have two kids myself. So, yes, there's no way to not draw on your own personal experience when you're making a movie. One of our heads of story, Matt Flynn, had a baby right when he came on–or I guess found out he was going to have a baby right when he came on the show. And over the course of three years had the baby and basically he had just like this case study at home that he could always draw from.
How did they find the amazing voice cast for the film?
Nicholas Stoller: Andy Samberg's name came up pretty early on for Junior, just because, there are very few people who can play likeable but cocky. You know, those two things, they're very hard. That target is, like, tiny, and he's really good at it. I come at casting from a live action standpoint. And to cast a voice, I learned you have close my eyes and not look at the actor because the voice sounds totally different. Someone who's super funny or really charismatic or dynamic on camera [might have] nothing when it comes to just their voice.

Brad Lewis: Katie Crown did such a great job as our initial professional actress that we brought in to just do temporary voicing. We call that scratch performances. When you try to think of an actress that could pull off that part, we couldn't think of anybody. I mean, Katie had to be that part. She nailed it. So, in a weird way, that was great. And of course, I mean, Kelsey Grammer, amazing voice. The minute we hear him, it's like, "He's got that authoritative comedic combo," which is crazy cool, right? And Key and Peele, I mean, the minute Nick wrote this and he knows Key and Peele, we all know them, obviously, and we were just like, "They're it." They'd by far bring the wolves to crazy levels.

Nicholas Stoller: Both Katie and Steve Glickman, who does Pigeon Toady, we both cast them as scratch actors who were supposed to be temporary voice actors, basically, at the beginning, but they were so good we ended up casting them. Listening to Danny Trejo's voice, we were like, "He has such"–it's like funny to imagine that character having kind of a gravely, scary voice and it just being this very sweet character.

Doug Sweetland: The studio, Warner Bros., was really open to casting ideas and Katie is really new, this is her first big movie, taking essentially an unknown who so is the character and letting her just be that character. So, you know, Warner Bros. gave us a really wide berth.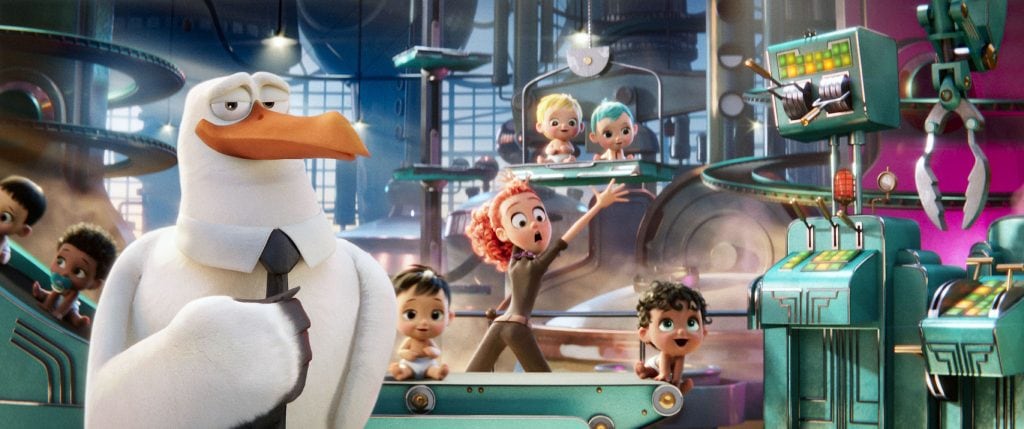 Was it important for them to represent diversity within the film?
Brad Lewis: Absolutely. It's important. The great thing about families, family comes in all shapes, sizes, every sort of orientation, every sort of racial–every culture, right? So, it was super intentional for us to be universal and make sure that everybody sees this movie as it's an inclusive, family oriented movie. So, without a doubt, yes.

Doug Sweetland: And the tagline says, find your flock, because it is one of the themes of the movie too. So, the idea that, you know, a bird and a girl and the baby end up becoming sort of like a makeshift surrogate family as they undergo this journey is similar. It would be an injustice to that theme to not represent the world sort of receiving babies at the end.
How did they decide the ages of the babies in the movie?
Nicholas Stoller: Yes, they're [newborns] not cute. I mean, my wife and I always say like six to nine months. Hire the photographer in that window. Yes, six to nine months, then it's over. I'm joking. I'm joking. No, it just seemed like a six month old was the bull's eye, because they can do stuff but they can't really walk around. They're not so young that they look like creatures from another planet.
What message would they like the viewer to take away from the film? 
Nicholas Stoller: I've always said, I think for parents, because that's obviously the perspective I was coming at it from, is this movie is a love letter to parenting and it's a celebration of family. I always say that the first Neighbors was all about when I had my first kid. And just like that my older daughter destroyed my life and I can't party anymore. And it's like the realization that well, now you're like an adult. It's just changed. It's not destroyed. With this movie, my first daughter, it was really easy to have her. And our second was really hard to have and we had to use a lot of science. We went to IVF clinics. It was the whole thing. And it made me really appreciate having a baby and it made me wish I could go back in time and really experience my first kid differently. And even now, with my second–we were lucky enough to have a second. Like, when she's throwing a tantrum or being difficult, I'm like, "But, oh, she exists," which is like totally different. Like, my first one, who is essentially a perfect kid, she would be, like, quietly drawing and I'd be like, "Can you believe it? We can't go out tonight," you know? It's like, "What the hell?" Or, you know, "Oh, I need Vegas."

Brad Lewis: The thing about this movie is we're all busy. Everybody in this room is busy, right? And so, for me, one of the messages, you know, it's that it used to be stop and smell the roses, but this is like let a baby affect your life. And even if it's not a baby, if it's some little moment of innocence or beauty, stop, take it in, enjoy it, and then get back on the train. That's what you're going to do, right? So, the movie is about allow yourself to get connected.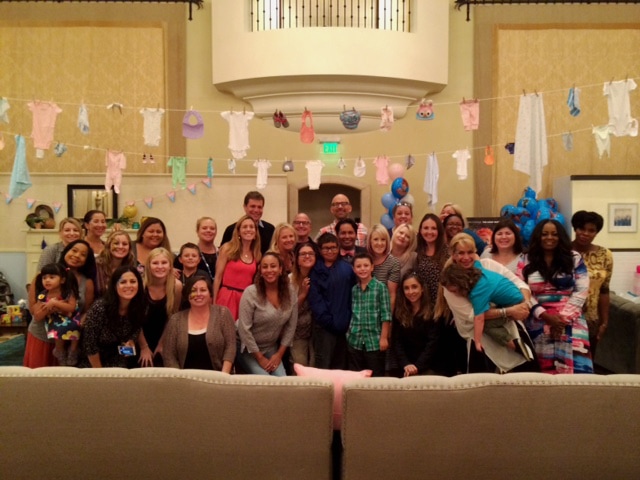 Learn more about Storks on their official site, Facebook, Twitter and Instagram!
From the studio that delivered The LEGO Movie. STORKS, in theaters September 23!

Storks deliver babies…or at least they used to. Now they deliver packages for global internet giant Cornerstore. Junior, the company's top delivery stork, is about to be promoted when he accidentally activates the Baby Making Machine, producing an adorable and wholly unauthorized baby girl. Desperate to deliver this bundle of trouble before the boss gets wise, Junior and his friend Tulip, the only human on Stork Mountain, race to make their first-ever baby drop – in a wild and revealing journey that could make more than one family whole and restore the storks' true mission in the world.

Directors: Nicholas Stoller, Doug Sweetland
Writer: Nicholas Stoller
Producers: Nicholas Stoller, Brad Lewis
Executive Producers: Phil Lord, Christopher Miller, Glenn Ficarra, John Requa, Jared Stern
Cast: Andy Samberg, Jennifer Aniston, Ty Burrell, Kelsey Grammer, Keegan-Michael Key, Jordan Peele, Stephen Kramer Glickman, Katie Crown, Danny Trejo
Rated PG