Last month I was hosted by Warner Bros. Pictures during a special screening and press day for their upcoming film, Storks. During the event we had the opportunity to sit down with the Storks Cast including voice actors Andy Samberg, Kelsey Grammer, Katie Crown and Stephen Kramer Glickman for a really fun Q&A!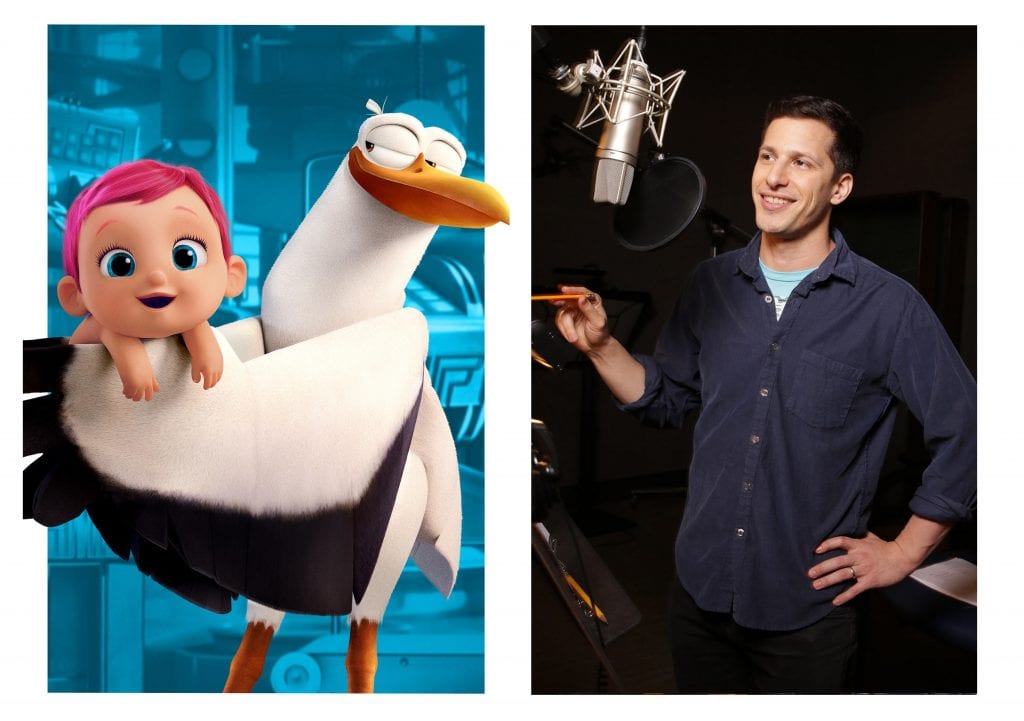 Storks Cast Interviews
Andy Samberg as Junior
How did the recording process for Storks compare to his past voice work?
It was a little different just in the process that Nick [Stoller, writer/director] had us working in. He was in the recording booth with us and he was very insistent that we be there at the same time, which I think really showed. The rhythm of the animation is often the actual found audio that we were doing in real time.  Obviously they'll tighten it and trim stuff, but there's a lot of overlapping and there's such a specific dynamic between Junior and Tulip.  And it is a lot like how it is hanging out with Katie and I.
What are some of his favorite moments in the movie?
I like the ones where Tulip is ribbing Junior. I mean, if you guys have seen any of the stuff I've worked on, my favorite joke is sort of making fun of macho stuff. So, the character of Junior was right in my wheelhouse in that way where he has sort of blind ambition and doesn't really know why. And I love the dynamic of her sort of questioning that and him coming unfurled, because he actually doesn't know.
One of the sessions we did was with Key and Peele, like for the whole scene in the cave. And that was super fun. And those guys are so good at improv and they're so fast. And we were laughing at first, being like, "Oh, that's like what it felt like to be in a Key and Peele sketch."
What did he think of the diversity shown in the film? 
I found it emotionally powerful, at the end especially, when it showed all the babies being delivered to all different types of families. I grew up in Berkeley, California. That's been how I thought of the world and was raised since I was young. And only until I left there did I realize that it was a problem and that people didn't think of everything that way. I think it's especially important for a movie that a lot of kids are going to be watching, to see that represented. I think that's happening more and more, which is incredible. And you're seeing new generations of kids growing up where that's the norm. And it's beautiful. It's utopia. It's what I've always thought was the dream.
When did he find his flock?
I have siblings. I have two older sisters, and a lot of the reason that I do comedy and the comedy I do comes from that dynamic of family goofing around in the house, like trying to make each other pee your pants kind of laughing. And I just chase that feeling in my life. When you get to high school and it's the people who are into the same stuff as you, but it's really the people that you end up in some house just giggling your a** off, you know? And it went all the way for me to the point where when I first got hired at SNL. I always describe getting hired at SNL kind of like as comedy Hogwarts. You're like, "Oh, I finally am in the place where I belong. I don't have to pretend to be a Muggle. I can just say jokes all the time and no one thinks I'm weird."
What does he want you to take away from the film? 
I think that there's no one definition of family. It's whatever feels right to you and whatever your reality is. Also, maybe don't just focus on your work. Make sure that you spend time with your kid. I love all the jokes about the son where he's talking, like "You'll blink and I'll be at college."
And just for fun, if The Lonely Island made a song for the soundtrack, what would it have been?
One of our earliest songs was called Stork Patrol, actually. It was kind of like Wu-Tang's Ice Cream song but about storks. So, we joked that maybe that could be on this soundtrack, but it obviously couldn't.
What attracted him to the role of Hunter?
Well, I am attracted to animated films basically because I have children and because I am grateful to all the actors that voiced the movies that were important to me when I was a child. I still think that animated films are probably the best movies being made today, and I think that may have been true for a long time. 101 Dalmatians is still one of my favorite movies, and I watch that all the time with my daughter. So, every time somebody calls me to do one of these, it's a presumptive joy.
Was it hard to play a villain? 
Nah, it's like water off a duck's back. I'm good at playing bad guys because I'm also good at playing good guys. I understand the human experience, and that's been my devotion for a long time now. So, that's why it's water off a duck's back.
How did he prepare for the role? 
I never prepare for those. You just make up something. When you walk in the door, you make up something. For this guy, I thought it was a Rip Torn, who you may or may not know. But I did a movie with him years and years ago called Down Periscope. He played an admiral in it. He's one of the most wonderful actors I've ever worked with. He has a very unique style, a unique delivery that I basically ripped off completely.
He plays a difficult boss. Has he ever had any difficult bosses of his own? 
I've had some very unpleasant bosses in my life, but not so sure they were intimidating. They were just sort of more buffoonish. And I think my character is a little bit of a buffoon.
But I was a busboy at a restaurant called Magic Pan. And I got a job on a soap opera, like a four day run, what they call an under five. And so, I walked up to the boss and I said, "Listen, I've been given this job on One Life to Live. Can I go," you know? And he said, "Well, you have to cover your shifts." What do you mean, cover my shifts? It's like he said, "Well, if you can't cover your shifts, you have to come in."
"Well, listen, I need to do you a favor. I'm going to tell you now I won't be coming in. Can you help me cover my shifts? Because I will still want the job next week." So I tried, and nobody could cover them. And I called that morning and I just–"Listen, I'm really, really sorry about this. Someone's going to have to do it." And he had to do it and somebody else split the work, whatever, so they put me on report to the Magic Pan Corporation. And they brought me in and called me on the carpet and said, "We are concerned that you may not be Magic Pan family material."
How does he balance work and family? 
Less work, more family. That's what my life is now. When I was 28 and I had my first child, it was a little more work, a little less family, and I actually still kind of regret it. But there's almost nothing else you can do at that time in your life. That's when you're carving out your identity as what you're going to do for the rest of your life. And showing up for things is important, and you want to be there for your kids. So, honestly, with my first child, I took her to rehearsals with me a lot of the time. And she would sit in her little–it was called then a Maxi Taxi. This was 35 years ago. The Maxi Taxi was, like, the first sort of like semi portable baby seat. It was pretty cute. But because I was on a theater schedule, I also took her with me to the bar after the show, you know? And she'd sit on the bar and sleep there while I'd have my chicken wings. This is in Buffalo, New York, so I was eating buffalo wings. I'd have my chicken wings and shoot a game of pool, and then I'd take her home and we'd go to sleep. She'd wake up around 10:00 a.m. in the morning. So, she was on my schedule.
When did he find his flock? 
I found my professional family a lot sooner than I did find my personal close family. That's really the last six years since I met my wife Kayte, but that's been fantastic. And it just proves that when it comes you should enjoy it, because it may take a while.  The professional one came a lot sooner.
Does he have a favorite scene?  
My favorite part in the movie is from my own character in the moment when I say, "They're penguins.  They're very nurturing.  You know, they did a whole documentary about it."  That's one of my favorite ones.   My favorite scene, though, is actually the one where the penguins and the hero and heroine show up to steal the baby back, and the baby's asleep. And everybody goes, "Shhhh!" So they act out all those things. I love–it was so creative, so like life itself, That was one of my favorite moments. It's really good. You really start to think, "Did they really turn off the sound completely?"
What does she think about her character, Tulip? 
I think she's a really cool character.  It's nice playing someone who's really fun, affable, but also super smart.  She's an inventor.  She builds this great plane.  You know, she's got a lot of good ideas.  It's really fun being able to play someone like that.
Does she have any experience with babies herself?
Totally, yes! Our friends had a baby, and they wanted to go on a date so they dropped him off at me and my boyfriend's place.  We're like, "Yes, we'll take him for a night, whatever, man."  And it's like, "He's just going to sleep."   And we were excited.  We had all this stuff planned.  We're like, "Oh, man, we're going to surprise them.  We're going to take all these pictures and make a crazy calendar and put in all these funny poses and stuff."…Right when they left, we're like, "Bye."  And then I'm like, "Oh.  Oh, I guess we have to change this.  Okay." We're on the ground, and we ruined the first diaper, didn't know what we were doing.  And then we got another one and we're just both like, "I don't know.  I don't know."  And so the calendar idea did not happen.
What did she think of the diversity shown in the film? 
I like seeing that coming out more and more too. I work on another cartoon where the families are very diverse, and it's really exciting to see that kind of stuff coming out more and more. It's really important.

When did she find her flock?
I'm from Toronto originally.  And there's a really great comedy scene there and I was part of the alt-comedy scene in Toronto.  And it was just a group of people that all kind of gravitated towards the same shows and the same places.  And then we started to put on our own shows, started to do, like, this weekly thing.  And it's just folks that I've known since I was just in the middle of finishing university and that I still know today, that we still collaborate and make things.
What does she want you to take away from the film? 
Don't judge someone. Just because they wreck stuff all the time doesn't mean they're going to wreck stuff all the time. And also, don't underestimate folks. I mean, I don't think Junior really thought much of Tulip, but she really saved his butt many times.
What does he think about his character, Pigeon Today?
Well, you know, playing a character like this, who just wants to become powerful and is looking up to his character the whole movie, so trying to achieve that greatness and will do absolutely anything to get it, those are really fun characters to play, because you're not just playing like, "I'm an evil villain."  Like, you're playing a character that has goals and wants. And he knows why he wants to be boss, you know?  Like, there's no doubt of why he wants the power.  Power hungry characters are always really, really fun to play.  And so, I had a great time playing him, especially with a voice that's kind of like not typical for a character like that.  He comes off so, you know, like lax and easy, but it's just a form of distraction.
What did he think of the diversity shown in the film?
Well, honestly, one of the pieces in the movie that touched me a lot, and I thought it was really, really well done, and it came as a surprise to me because I hadn't seen this in any versions of it at this point, was at the end when all the babies are being given to all the different families.And you're like these different families that are receiving these babies, it's like, there are gay couples receiving babies, and there's all different sorts of couples with wonderful experiences and just great diversity in that scene. And it really touched my heart and made me feel so happy that I was part of it. And I think that's lovely. I think it's really great.
How did he create the voice for Pigeon Toady? 
I really, from day one, first drawing that I ever saw of the character, I looked in his eyes and saw his weird half open, half closed, you know, he's kind of a weird guy. And kind of right away, I was like, "Oh, this reminds me of my old roommate from Long Beach." And then you kind of bring that in. I brought in a little Walter Cronkite and a couple other little pieces to this voice to kind of fill him out and there was a kid that I knew when I was growing up. And he would end every sentence with a–he would say like, "These are some nice flowers," at the end of–it was "wah" at the end of every sentence. We were working on this for so long, you're like, "I'm going to throw that in every once in a while" and you hear it now and then. It's fun. It fills out a character and makes them more well-rounded.
Does he have a favorite scene in the film?
My favorite moment in the movie has got to be, well there's a part with me–with Pigeon Toady and Andy Samberg [voice of Junior] and Katie [Crown, voice of Tulip] when they're in the elevator. And it's all about, like, "Oh, did you see the game last night?" It's just the most ridiculous–and, you know, we did that to the point of, like, exhaustion. It was just me and Nick Stoller [writer/director]. He would just kind of say like, "No, no, say, you know, and then we won it," you know? And I would say it and he would go, "Now, make it sound less intelligible. Like, make it so that we can barely understand what you're saying." So, we would just make it more and more ridiculous. We did that scene for, like, an hour. I love that scene.
When did he find his flock? 
I mean, for me, I grew up doing theater.  And I always loved theater, but the one thing that always kind of hurt me about theater is that you'd finish doing a show, you'd finish doing a musical and even with television, that you finish and everyone kind of goes away and you don't get to–Yes, see everybody for a long time sometimes. And so, when I started doing stand-up about, like, 15 years ago and started getting to hang out with comedians, it's like a show that never ends, because you see them every week. You see them all the time. And I feel like about 10, 15 years ago is when I started finding my little group of folks. And I met my girlfriend that way, at a comedy club. And we're together five years and have our dogs and stuff. And I've got two of my best friends are comedians that I've been friends with for about 15 years. And then my family. And we all just kind of work together and get to be together. And I bring the comedians in constantly to come mess around me. And I brought one of them to Warner Brothers a couple weeks ago and he just walked around. And he'd walk around and be like, "I wonder if that movie's going to be any good," and he would just point at our poster. And I'd be like, "Oh, come on."
What would he like for people to take away from the film?
I really feel like there's a real strong sense of your family is what you make it. And I know the tagline for the movie is find your flock, but that really is what the movie feels like. It's like your family is kind of what you make of it. And whether it's having a stork in your family or it's having relatives that you've never met before, that's all part of what we make it in life.
Learn more about Storks on their official site, Facebook, Twitter and Instagram!
From the studio that delivered The LEGO Movie. STORKS, in theaters September 23!

Storks deliver babies…or at least they used to. Now they deliver packages for global internet giant Cornerstore. Junior, the company's top delivery stork, is about to be promoted when he accidentally activates the Baby Making Machine, producing an adorable and wholly unauthorized baby girl. Desperate to deliver this bundle of trouble before the boss gets wise, Junior and his friend Tulip, the only human on Stork Mountain, race to make their first-ever baby drop – in a wild and revealing journey that could make more than one family whole and restore the storks' true mission in the world.

Directors: Nicholas Stoller, Doug Sweetland
Writer: Nicholas Stoller
Producers: Nicholas Stoller, Brad Lewis
Executive Producers: Phil Lord, Christopher Miller, Glenn Ficarra, John Requa, Jared Stern
Cast: Andy Samberg, Jennifer Aniston, Ty Burrell, Kelsey Grammer, Keegan-Michael Key, Jordan Peele, Stephen Kramer Glickman, Katie Crown, Danny Trejo
Rated PG