I have to imagine that if being asked to play a villain in both a Marvel movie and a Star Wars movie, you have to have some amazing acting chops.  Mads Mikkelsen has just that in his role as Kaecilius in Doctor Strange.  His character is a complicated one and when I sat down with him last month as part of a group of bloggers I was excited to hear about what it was like playing a character who isn't so black and white.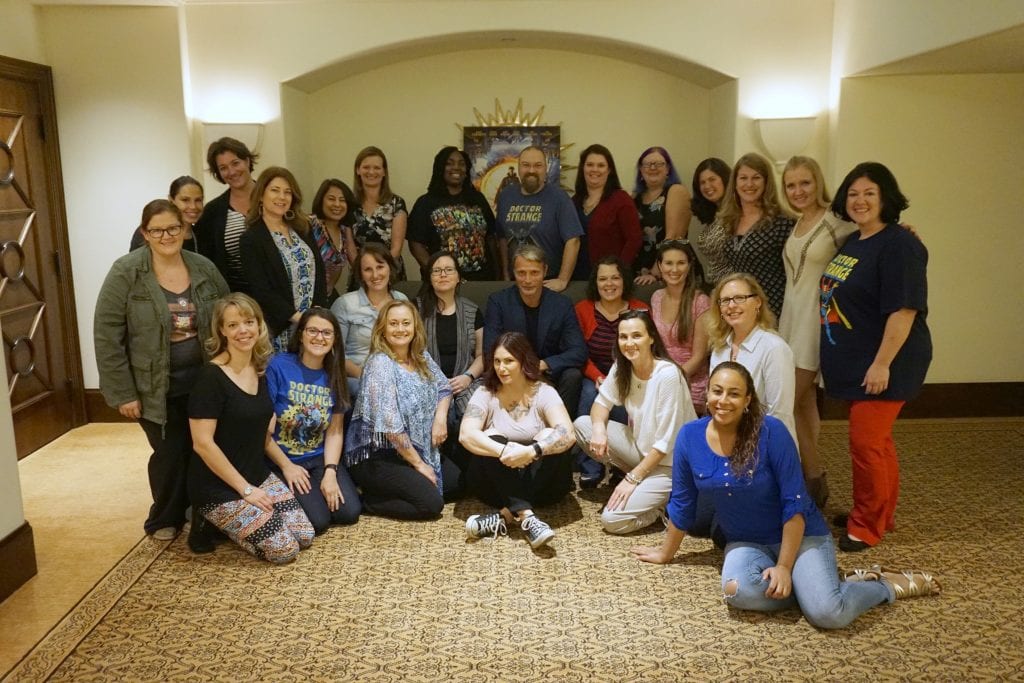 The character Kaecilius was an apprentice of The Ancient One until he felt she wasn't showing him everything he could.  What makes him a little different is that his motivation isn't a bad motivation.  He longs to be reunited with his wife and son who were killed in another world.  He isn't the typical Marvel bad guy.  His role is very interesting and Mads does an exceptional job.  We got a little insight into what its like to play a Marvel villain in our interview!
Why did you wanna take on this role?
It's Marvel. You know, I mean he was pitching on the phone the story, and then I remember Scott said, "And then, it's a lot of, you know, a lot of Kung Fu stuff, flying, but don't worry, we got stunt guys for that." I was like, "Wow, hold, wow, wow, hold on, what'd you say?" "We've got st-." "No, no, rewind back, Kung Fu?, I'm on!" So, it's like Marvel and flying Kung Fu, I was like, I think that could be a yes.  I've always wanted to be Bruce Lee when I was a kid.  And I had to wait until I was 51 years old to be a slightly older version of him, just less good of course. It was, it was something I've always wanted to do when I was a kid.
When researching the character and creating the character, what were your motivations, what were your influences there?
The script is the bible. This is where the character, he is in there somewhere together with the director. We can approach it different ways. I think inspiration wise, I mean, like all good leaders in the world, like all good religious leaders, all political leaders, they have an ability to speak to the people in the way that they understand.

Let's say Jonestown, right? But if you look at Jones today you go, "Wow, that's bad karma. That's just terrible. How could people buy into that?" Right. If you look at this character with his mask on, you would also say that. But he (Kaecilius) has a point. He has a point. He's saying stuff that makes sense to a degree. He wants to make the world a better place, uh different means to get there. But he still have the goal of making the world a better place.

So, I think that was the approach,to have a certain kind of religious leader figuring into it when we did it. Obviously he's not only talking, he's also being quite physical. But, as all good dictators, it takes some sacrifices, right?
Did you find anything extremely challenging when you were on set, just the logistics of everything?
Yeah, logistic is obviously, you've seen the film, you know that it's upside-down mirrored. We try to kind of cope with all that, we might be hanging upside down on the ceiling, and it's like, "Wow, where's Strange now? Is he on the left side or the right side? Am I hiding that way or that way?" And we constantly had to go see the previous little videos they have of what we're doing with animated characters and try to stand and go, "Okay, so he's there, and he's, okay, so that means he's up there." So, it was very tricky to get that right.
Your costume itself seemed like it was pretty heavy with a lot layers, did that cause any difficulties?
It was quite heavy. Not crazy heavy, but it was, it was not light. Obviously, we just got in shape. Every day, the more you were wearing it, the stronger you got. It didn't feel featherlight in the end of it, but in the beginning it was like, serious? Am I gonna jump up there now in this? Like, wow! But the more we worked out with it, the, the more it makes sense.
What was the most challenging scene emotionally and physically?
Well, that would be the scene where we (Kaecilius and Doctor Strange) did that fight sequence for three weeks. Yeah, it's not two hours, it's probably eight or 10 hours, you know, fighting each other every day. And you do hurt the next day.
Do all the scenes take that long generally?
No. I mean, this is a big sequence, one thing is to do stunts. We can do that in a certain amount of time. But if you have things crashing, it takes time to set it up, and make sure that there's no risk, and everybody's fine. So it takes time. And if you [email protected]*% it up once, it takes three hours to rebuild it, right?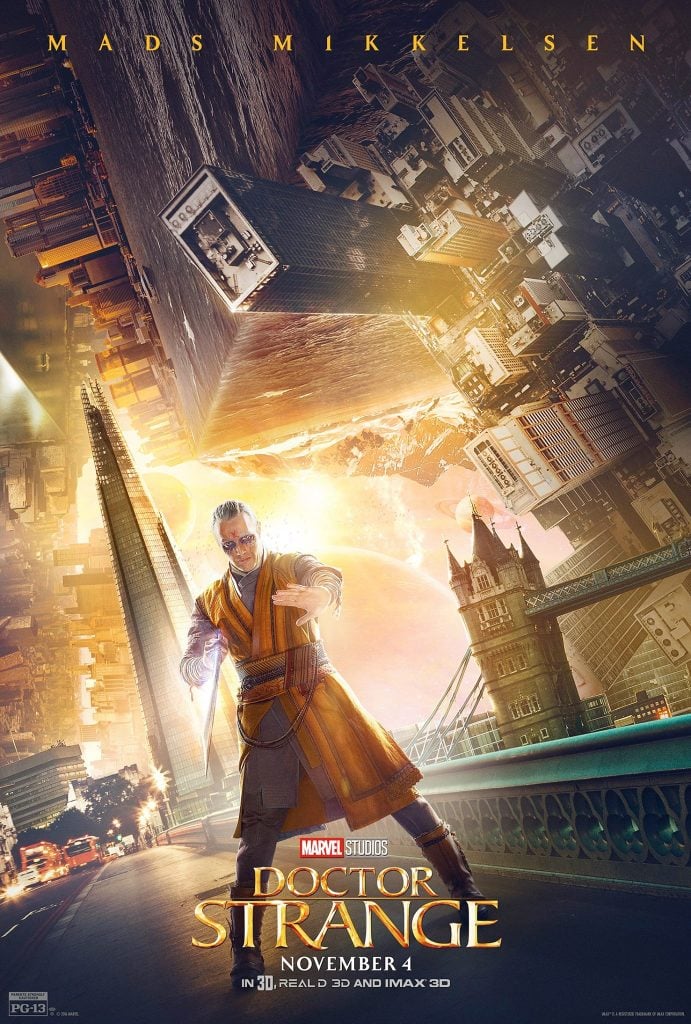 Is there anything you kept from the set?
I did. I always keep something, right? Yes there is, but I can't tell you because they'd want it back, so yeah.
Will you be collecting yourself as a toy figure?
I've been waiting 51 years for that. So I think yes!
You have to see Mads in action on Friday when the movie releases. You can purchase your Doctor Strange tickets now at many box offices nationwide, get yours now!
For up to date news and sneak peeks be sure to visit the official DOCTOR STRANGE website.
Stay tuned this week and next for more exclusive interviews from the cast and crew of Doctor Strange. If you missed them be sure to check out my interviews with Benedict Cumberbatch, Rachel McAdams,  Tilda Swinton, and Director Scott Derrikson.
A huge thank you to Marvel/Disney for flying me out to the Doctor Strange press event and putting me up in a hotel. All opinions are 100% mine.