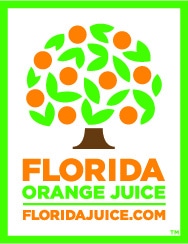 Our morning routine can make your head spin.  My husband and I get up at about the same time every morning.  We take showers and make our lunches for the day and then one of us will get TJ ready for school.  As we are finishing up TJ will usually eat a banana and drink some milk or juice for breakfast.  My husband and I love grabbing some coffee and/or juice and sitting with TJ as he eats his banana.  TJ really isn't a morning person and sometimes he will let you cuddle with him as he eats, and sometimes he just wants to be left alone.  I get it, he is two after all and very moody!
Setting up good routines and eating breakfast together as a family is important to me.  Now that TJ and I are out of school for the summer I can't wait to sit at the table and spend our morning together getting ready for the day.  Having these meaniful family moments in the morning can have a lasting affect on families and children.
To help families get the emotional and physical fuel needed to start their day off right, the Florida Department of Citrus recently partnered with parenting expert and author, Dr. Michele Borba and nutritionist and author, Elizabeth Ward, to offer simple and healthy morning solutions. To help ensure a few moments of quality time together, designate time in your family's normal morning routine as "unplugged time" – time without turning on the television, computer or video games.
Mornings are one of the busiest times for families, but a happy, healthy start can set the tone for the day ahead. Parenting expert and author of The Big Book of Parenting Solutions, Dr. Michele Borba and nutritionist and author of Expect the Best, Your Guide to Healthy Eating Before, During & After Pregnancy, Elizabeth Ward, M.S., R.D. have partnered with the Florida Department of Citrus to offer simple solutions to help families start the day on the right foot.
Information about 100 Percent Orange Juice:
Drinking a refreshing glass of naturally, nutrient-rich 100 percent orange juice together each morning as part of a healthy breakfast is one way for you and your family to connect and help you prepare for a great day, every day.
One 8-ounce glass of 100 percent Florida orange juice counts as almost 25 percent of your USDA-recommended daily fruit and vegetable servings, based on a 2,000-calorie diet.
Compared to many other beverages, 100 percent orange juice is a clear nutritional standout. In fact, orange juice is more nutrient dense, or nutrient rich, than many commonly consumed 100 percent fruit juices, such as apple, grape, pineapple and prune.
Nutrition Tips from Elizabeth Ward, M.S., R.D.:
Eating a nutritious breakfast can greatly impact your day and has even been associated with weight loss and weight maintenance, as well as improved nutrient intake. Breakfast eaters tend to have more energy throughout the day and, because they are not as likely to be hungry, they often have an easier time managing their weight than those who skip breakfast. So sit down with your family around the breakfast table or grab something on the go – you'll help each person get a good start to the day.
Look for juices that specifically say "100% Juice" on the information panel and avoid beverages with names such as "cocktail," "beverage," "drink" or "-ade." Such juice concoctions often have added sugars and typically do not provide the natural variety and amount of nutrients found in 100 percent fruit juices such as 100 percent orange juice.
Parenting Tips from Dr. Michele Borba:
A simple way to connect is by designating time in your family's normal morning routine as "unplugged time" – without turning on the television, computer or video games. Start with just 10 minutes and gradually work your way up to more unplugged mornings.
Instead of rushing out the door, talk to your kids as you pour a glass of nutrient-rich 100 percent orange juice together while you pack a healthy breakfast to go.
* Want more? Visit the Florida Orange Juice Facebook Page to download a free "Meaningful Morning Checklist" with tips for making the most of your family's morning
I wrote this review while participating in a blog tour campaign by Mom Central Consulting on behalf of the Florida Department of Citrus and received an OJ Gift Pack and a promotional item as a thank you for my participation.