I'm not exactly sure of the precise moment that I fell in love with musicals.  For as long as I can remember I loved to sing.  I would watch musical numbers in movies and then sing them for days afterwards.  I used to drive my sister crazy.   I also can't remember exactly when I first saw Mary Poppins.  It seems as if this movie has been with me ever since I can remember.  I do remember singing, "A Spoon Full of Sugar" for about a week after I watched the movie, it was my favorite song from the movie.  To celebrate the 50th Anniversary of Mary Poppins, Disney is releasing the movie onto Blu-ray for the very first time, just in time for the holidays and the new movie Saving Mr.Banks out in theaters this month!
Synopsis:

Releasing from the Disney Vault in celebration of its 50th Anniversary, creative visionary Walt Disney's classic shines for the first time on Blu-ray. Starring Dick Van Dyke and Julie Andrews in her Academy-Award winning role, and featuring iconic toe-tapping songs including "A Spoonful of Sugar" and "Supercalifragilisticexpialidocious," Mary Poppins is a movie experience your family will enjoy again and again. An all-new digital restoration adds even more magic – helping bring the award-winning songs and amazing picture to life like never before. Share the music; share the magic; share the joy of Mary Poppins this holiday on Blu-ray Combo Pack & HD Digital December 10.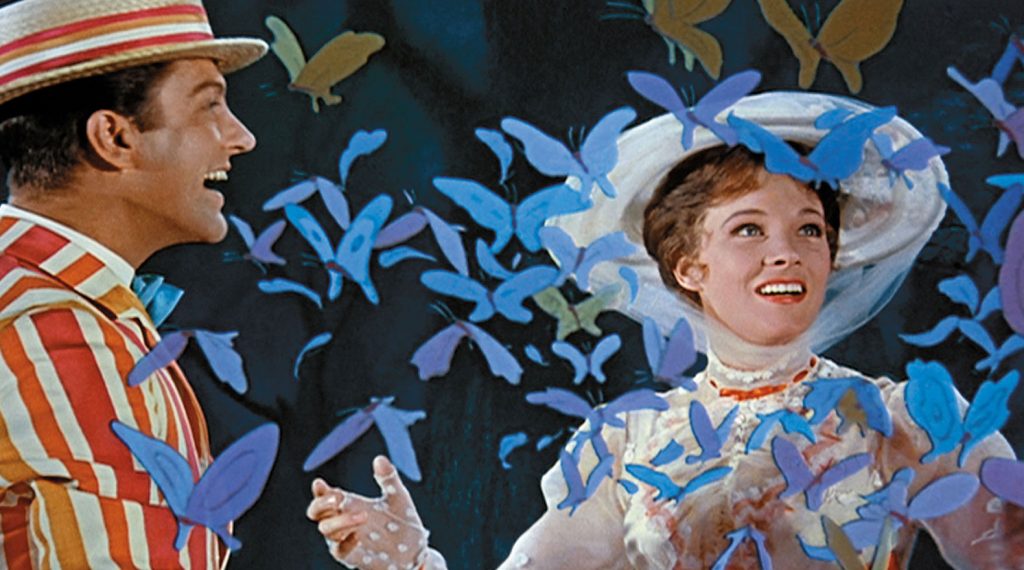 The 50th Anniversary of Mary Poppins includes several new bonus features including Becoming Mr. Sherman which is a delightful conversation between legendary composer Richard Sherman and the actor that portrays him in Saving Mr. Banks, Jason Schwartzman.  I enjoyed hearing Richard Sherman talk about his feelings as he watched Schwartzman play him in the movie.  It brought back a lot of memories about creating the songs and trying to get P.L. Travers to sign off on making the film.  I was very happy to know that one of my favorite scenes in the movies was 100% accurate (without giving anything away, it was the Let's Go Fly a Kite scene).
If you are like me and love to sing along to the music of Mary Poppins, be sure to check out the Mary-OKE's – A new Bonus Features that highlights popular music from the film, specifically "Spoon Full of Sugar," "Supercalifragilisticexpialidocious," Step In Time," "Chim Chim Cher-ee" and allows you to  to sing-along to animated words that display onscreen in unique ways.
Mary Poppins 50th Anniversary Edition is flying off shelves beginning tomorrow. You can order Mary Poppins: 50th Anniversary Edition (Blu-ray + DVD + Digital Copy)
 on Amazon for shipment on December 10th for $32.96 and free shipping!
Be sure to read my Interview with Pete Menefree for a look behind the scenes of Mary Poppins and come back next week when I give my full review of Saving Mr.Banks!