Mary Poppins Returns is now playing across the country and everyone is raving about the music in the film. As you can imagine that living up to the music in the first film is an almost impossible task. But as we learn from our favorite nanny, anything is possible. Last month, I had an amazing time sitting down with the songwriters and composers Marc Shaiman & Scott Wittman to talk about the music in Mary Poppins Returns.
Thank you to Disney for flying me to LA to attend the Mary Poppins Returns press event.
When creating the music for this film, Marc and Scott met and consulted with legendary composer Richard Sherman, one of the geniuses behind the music of the original Mary Poppins. We asked them what it was like meeting him.
Scott Wittman – Oh, that was heaven. I mean, that was really heaven.

Marc Shaiman – I became four years old.  I mean, there he was in front of me and I got to ask him, why'd you write this song and why was it in this key? And what was that chord? And the choices of words. And what was Walt Disney like – I don't remember his answers.  But the glorious part of it was that, he loved our movies so much. And that he really felt like it was in good hands. And that in some way, he said to us that, the baton had been passed.

Finding Inspiration
When creating the music for the film we asked Marc and Scott where their inspiration came from.
Scott Wittman – Well, I think that we went back to the books. And there were so many more adventures in all the stories. And so some of them just cried out to be sung. Lin said it great. He said, "You know what's great about it, is our movie rhymes with the first movie." And that's a huge compliment…. But we knew we had it right so it sounded like it was in the same neighborhood of the first movie. And also the first movie was like our teacher. Was our parents. You can't try to copy. Or even write something that's so close, that it will only make us pale in comparison. And yet we couldn't help but find ourselves in the Mary Poppins vernacular.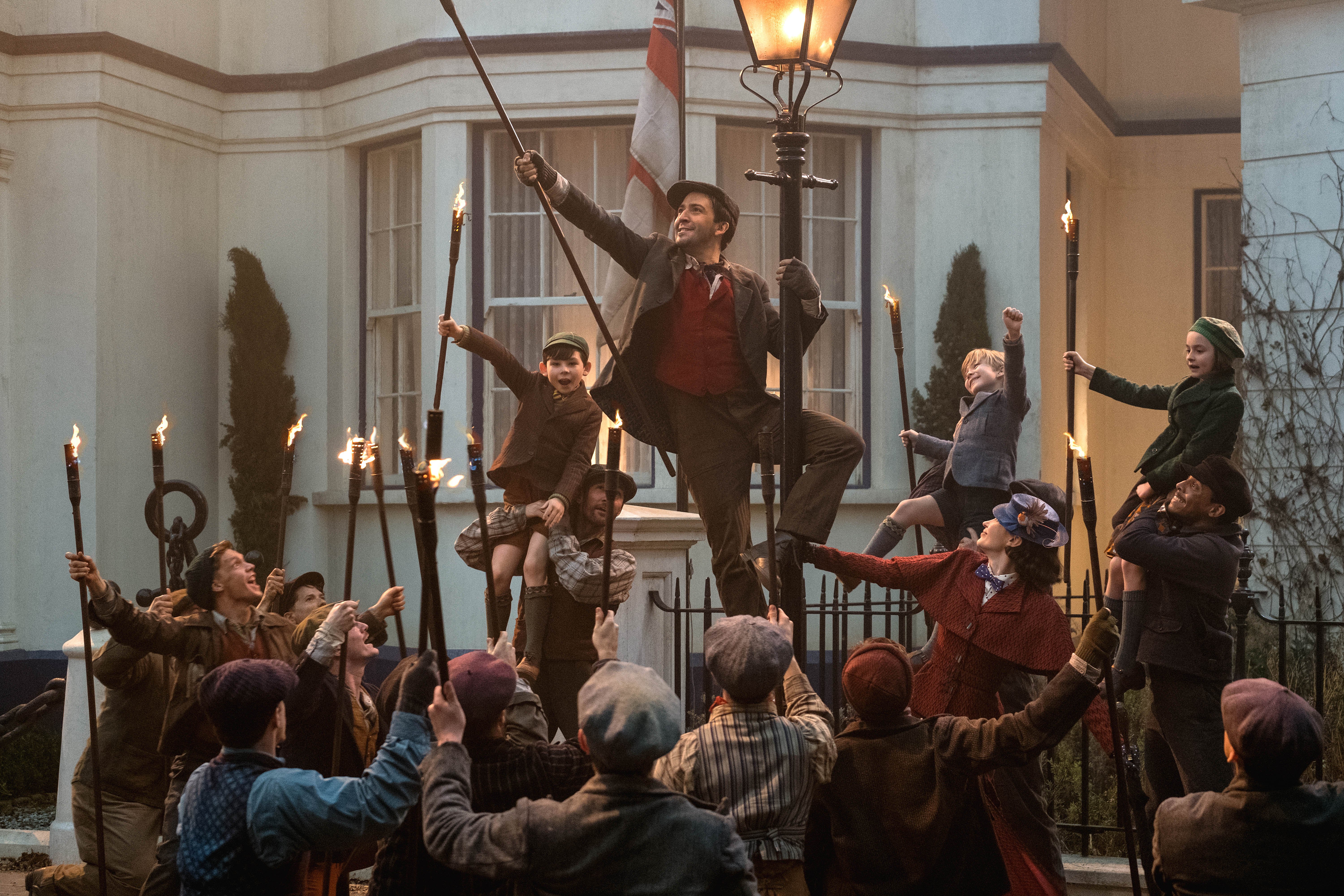 On Including Original Music from The First Film
Marc and Scott were very aware that Emily Blunt would be compared to Julie Andrews and Lin-Manual Miranda to Dick Van Dyke so asking them to sing original songs from the first film would be extremely unfair. They did include some of the melody and some nods to the original songs within the film, but they were very strategic about it. They talked about a time when they wanted to do it but were talked out of it by Producer Marc Platt.
Marc Shaiman – Rob and Marc Platt were very confident that we should not do that. And even my use of melodies in the score. Me and Rob were loving it. When she first comes in and meets, and she's going around the living room talking to them… It was almost magical, the second she walked in the archway. All the ways until the end of the scene, she goes, "All right, I'll take the job, I'll stay." That whole song, I could play it in a way that was matching what as going on in the scene. And it ended with, "Jane and Michael Banks." Just as Jane looked at Michael. And nodded her head like, we're doing this. But then Marc Platt said, "Have trust in your own songs, and stuff. And Let's not do that this early in the movie." And I'm glad now that he did do that.
The Song that Got Cut
Sometimes composers create songs that they fall in love with but they end up getting cut out of their film. It happened with Richard Sherman in the first movie, and it happened to Marc and Scott in this film. They talked to us about the song that wouldn't be.
Scott Wittman – It was interesting, with Richard Sherman, because in the first movie, they had musicalized a sequence that got cut. And we tried to musicalize the same sequence. And it got cut.

Marc Shaiman – It was about, when Mary Poppins' birthday falls on a full moon, the animals in the zoo become the spectators and the humans are in the cages. So we wrote a song called, The Anthropomorphic Zoo,  And the Sherman brothers wrote a song called The Chimpanzoo.
Later in the interview, they told us that they could have seen this song in a Disney Parade, but alas, it wasn't meant to be.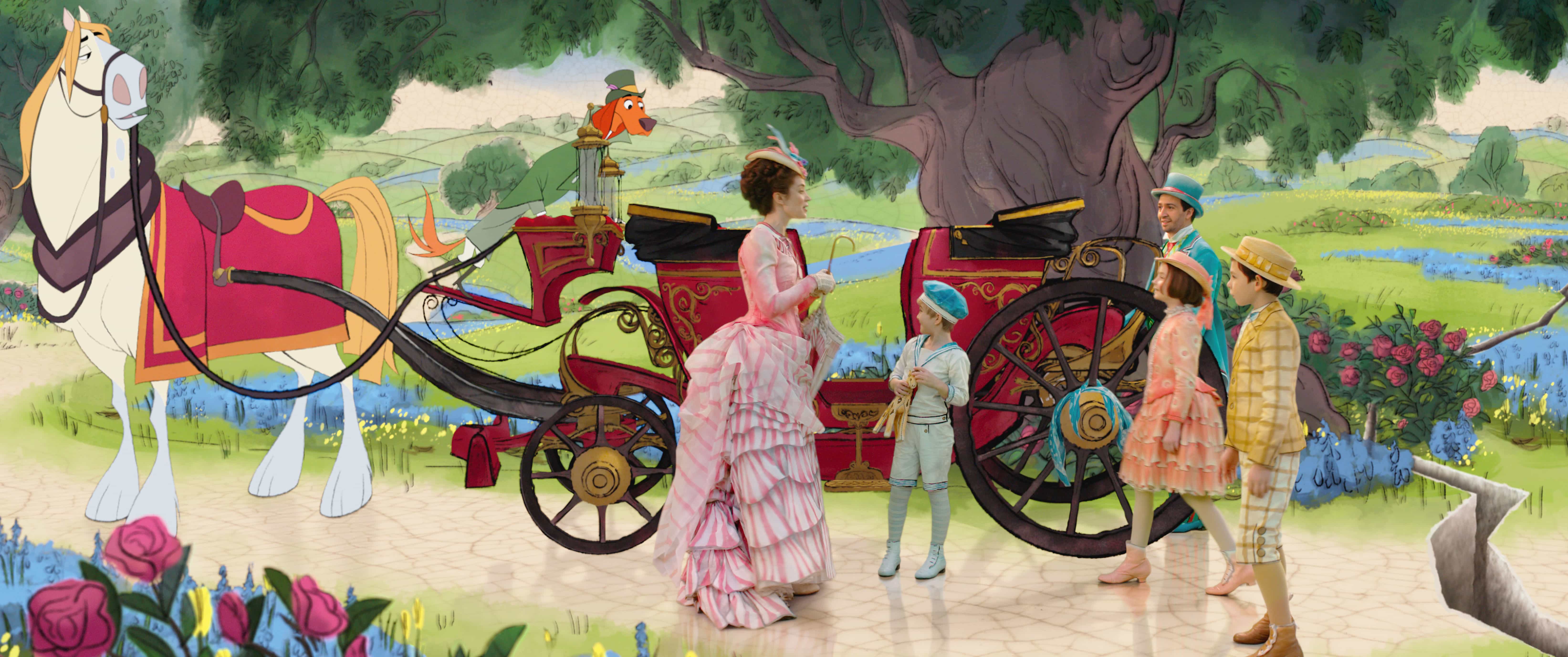 The Creative Process
Marc and Scott have worked on many different projects. They likened Mary Poppins Returns to working on a Broadway musical. They talked a little bit about the process they went through to create the songs in the film.
Marc Shaiman – We would write songs and then we'd demo them. I'd sing them after we write them. We write the lyrics together, where we just phrase-associate with each other, for days until we have it all written down. And then I scotch tape all those phrases to the piano. And just …

Scott Wittman –  … Just pray that something goes right.
Marc Shaiman –   Line, on this movie was a whole other experience, though. Because Rob specifically hired us also because he knew I also score films. It's a whole different kind of beast. Or muscle, to exercise.

So we go back and we write another song. And after we wrote that one, Scott said, "Now remember, play it like score, also." So besides singing it, a la Mary Poppins,  I sat down and played it. And that's what you hear as the main theme of the movie almost throughout. That more melancholy – if you slow it down and put slightly different chords to it, it creates a whole other atmosphere.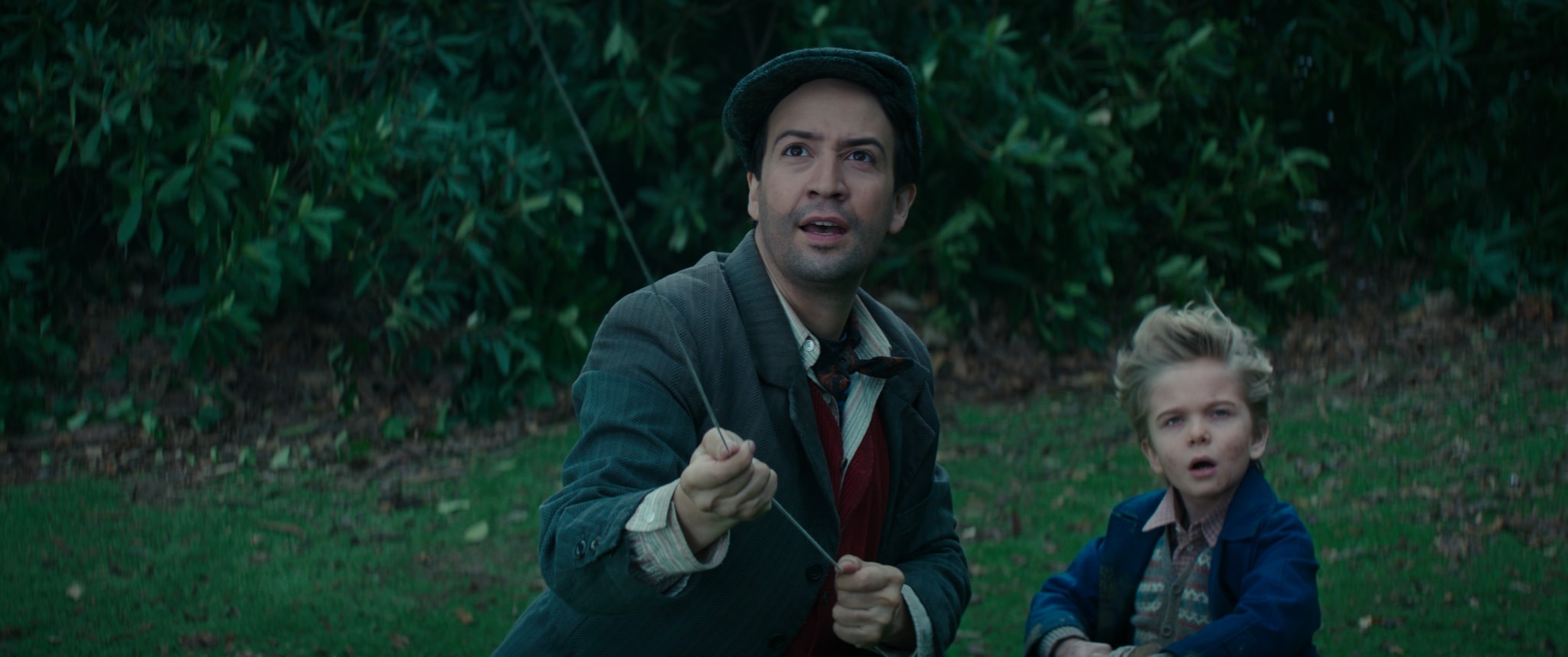 That Opening Song
Someone asked me right after I saw the first screening of the film what my favorite song was. I had to really think about it because there are so many amazing songs in the movie. I kept going back to the very first song of the film, (Underneath the) Lovely London Sky performed by Lin Manuel Miranda. Marc and Scott talked a little bit about that particular song in the interview.
Marc Shaiman –   So the first song we wrote, is the one that's in the movie. But it's very gentle. At one point Rob thought there should be no music until Mary Poppins arrives. No songs. But we felt that Lin's character, although he's not magical, he can't create the magic, he believes it. He's a believer. So we thought he would sing.
The thing was that the time period of the movie is during the Depression, so the song wasn't overly upbeat and people were worried about it being Lin-Manuel's first song in the film so they wrote a second song with a bit more energy, and then a third song. They were still trying to get it right when they started rehearsals.
Finally, it was Emily Blunt who kinda sorted it all out.
Marc Shaiman- Emily Blunt was coming down the hallway. And she said, "What is that, what's going on?" We said, Come in, we'll sing you this latest song. And she like, "Hmmmmm." And she ran down the hall to where Rob  was and said, "You put that first song back,  that's the first song I heard. It was the song that charmed me into wanting to be part of the movie. It's about London, it's – just put that first song in."

She's the one who just said,  "That's the one".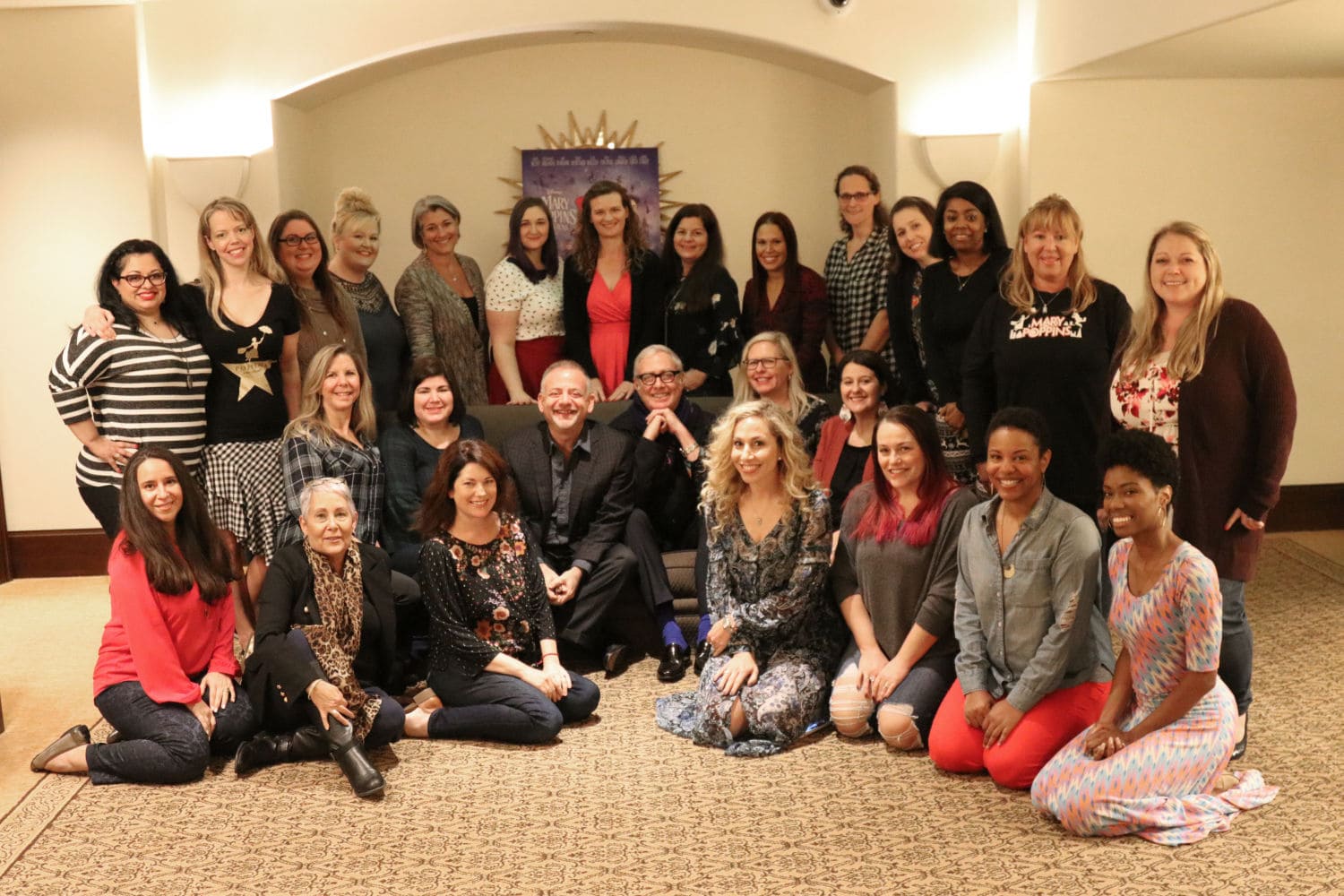 You can hear (Underneath the) Lovely London Sky and all the other amazing songs in Mary Poppins Returns on the soundtrack now available (great stocking stuffer gift) as well as in the film that released in theaters nationwide TODAY!
Mary Poppins Returns is in theaters now!

Follow along on Social Media: Twitter | Instagram |YouTube #MaryPoppinsReturns
For more fun, Mary Poppins Returns coverage be sure to check out my interview with Emily Blunt, my Interview with Lin-Manuel Miranda, my interview with Ben Whishaw and Emily Mortimer, my delightful interview with Rob Marshall, my interview with Pixie Davies and Joel Dawson, and my spoiler-free movie review, also read what it was like to walk the red carpet at the world premiere.