Well, well… it looks like Maleficent is doing well at the box office!  Whenever a movie does well you know that their products will soon be flying off the shelves.  A few weeks ago at the #MaleficentEvent I visited the Disney Glendale Creative Campus where we got a behind the scenes look at how Disney merchandise is created.  The campus is an extremely creative place, just look at this fountain!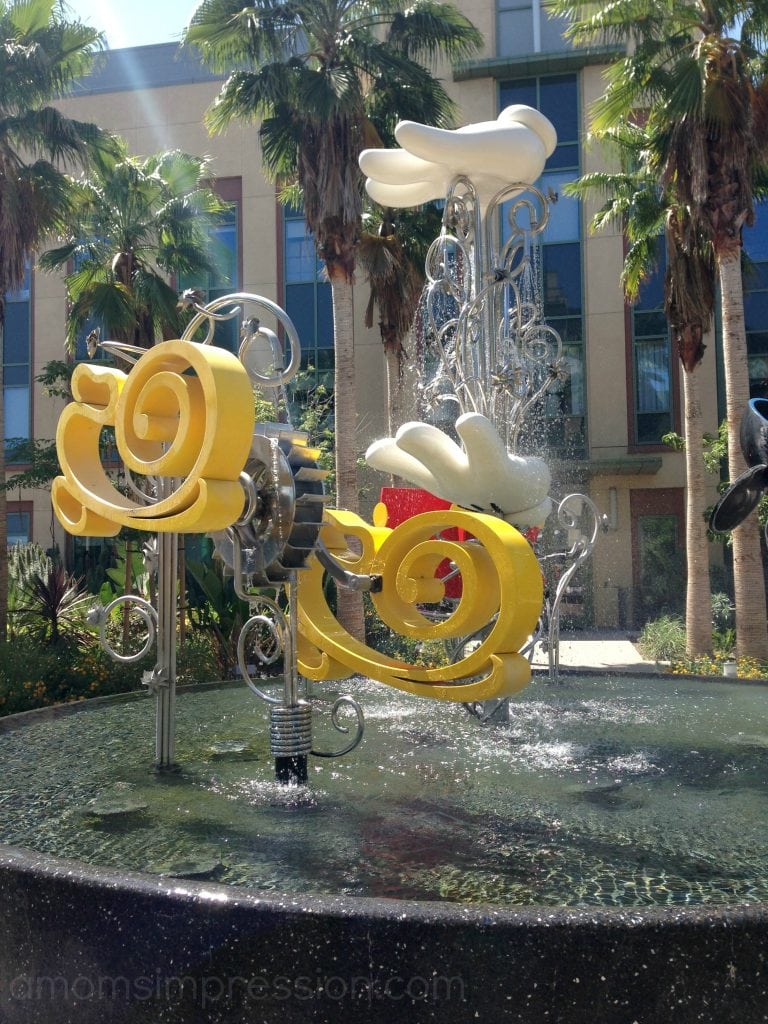 Its a deconstructed Mickey Mouse fountain!
While we were on our tour we were invited into a very secretive spot where employees unveiled some of the Disney Maleficent Merchandise that is available  on the market currently.  I love the spin they went with to promote this film.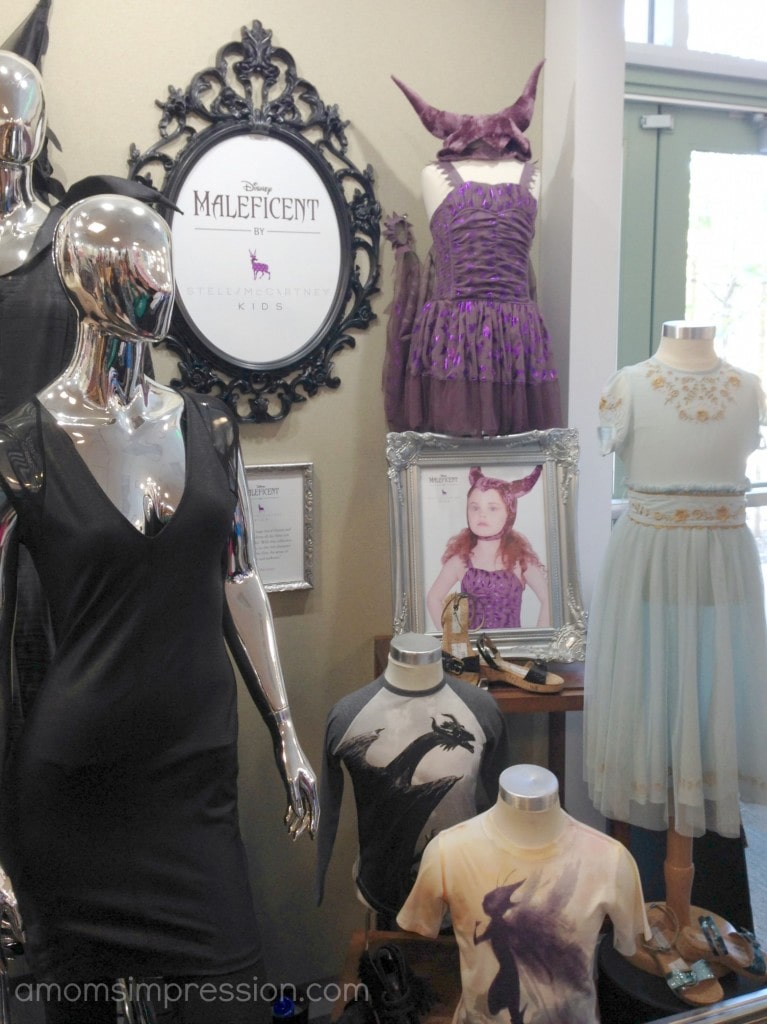 Stella McCartney created a Children's line of clothing inspired by the film for the Disney Store.  I absolutely love some of her creations.  The boys t-shirts are my favorite, but the Maleficent Costume is going to be a huge hit!  I can see many little girls wanting that after they watch the film.

We also got a behind the scene interview with the designer of the Aurora Deluxe Costume for Girls as she talked about the process she went through to create the look.  You can see the final version in the photo below.  I can't wait until my daughter is old enough to want this.  You can be assured I will get it for her!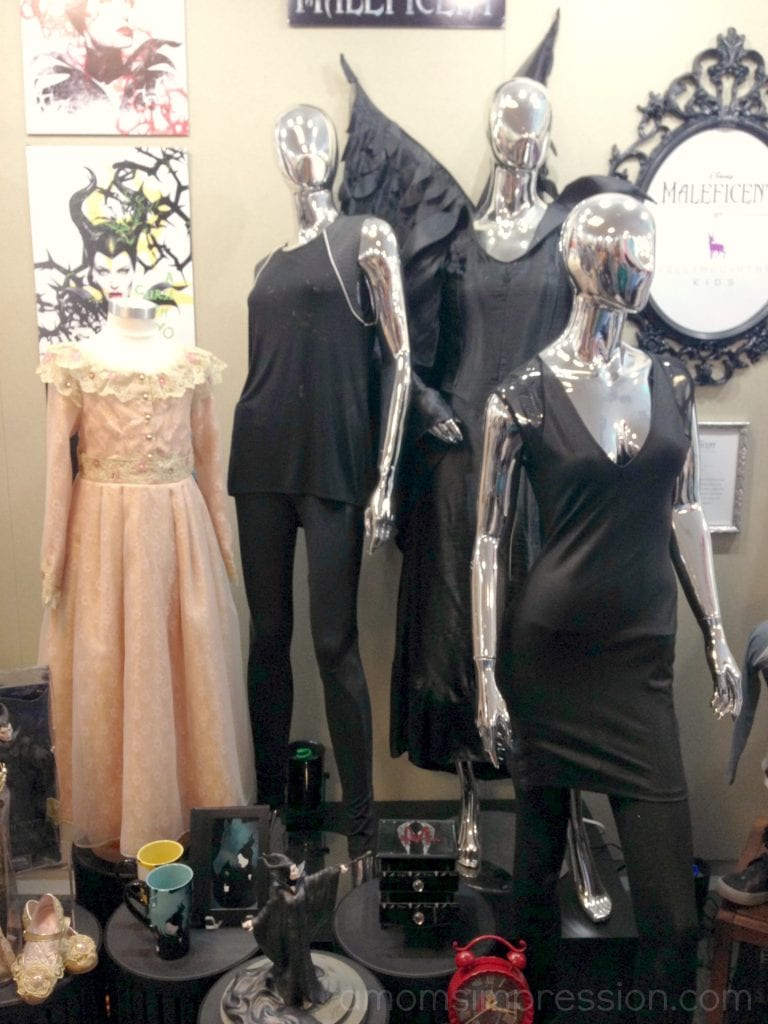 Not to be outdone, Disney has some things for the adults as well!  M.A.C. has created a Maleficent collection inspired by Maleficent 's look in the film.  I am dying to get my hands on the collection and try it for myself.  The turquoise latte mug at the bottom of the picture is in my cupboard right now.  I LOVE it!  You can find it at the Disney Store.
Here are my top 3 Maleficent toys for the summer that I think are going to sell out quickly.  Be sure to check them out now before they are out of stock!
Top 3 Maleficent Toys of Summer
Maleficent's Horns
 are going to be huge this summer and especially during Halloween.  My daughter loves these and they light up when you press the button.  My son even loves them!
My favorite item (besides my coffee mug) is this Maleficent Vinyl Figure
.  We just started collecting them and this one is adorable!  You can also get the Aurora Vinyl Figure
 as well!

For all you collectors out there, you must add Disney's Maleficent Film Collection Doll 12″
 to your collection.  My daughter has this one that she loves to play with but now I am thinking that I need to get another one to leave in the box.  After the success of this movie I know it will be worth a lot in the future.
I hope you have the chance to see these products in person.  Disney did a great job with merchandise with the film.  For more Maleficent coverage be sure to check out my  review of Maleficent here.  For Maleficent Interviews read my Angelina Jolie feature , as well as my interviews with Elle Fanning, Sharlto Copley,  Sam Riley and director Robert Stromberg!
A huge thank you to Disney for  providing my flight and hotel during the #MaleficentEvent. All opinions are 100% mine.