I have always admired charitable organizations like Make-A-Wish, but it was three years ago when I really was able to realize the importance and magic of it all.  Four years ago, while I was teaching kindergarten, one of my students was diagnosed with diffuse intrinsic pontine glioma, or DIPG.  This rare, fatal brain tumor strikes children when they are between the ages of 4-8.  I was able to be with her after schools tutoring her.  During that time I grew very close to her and her family.  That summer she was granted her wish, to visit Disney World.  She was so excited about it.  Every time I came over we would talk about what she would be doing and what she was looking forward to the most.  She had a countdown calendar that she would mark the days until she left.  The excitement that her wish gave her during that time put aside any of the treatments or pain that she was going through.  The memories that were made couldn't have a price tag on them.  It was then that I realized that Make-A-Wish is much more than just a charitable organization.
Right now Make-A-Wish® Ohio, Kentucky and Indiana needs our help.  We can help raise funds for Make-A-Wish by voting for them in the "Tip the Hat Award" campaign hosted by the LIDS Foundation.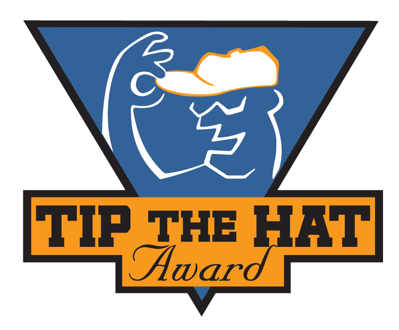 The LIDS Foundation, a charitable 501(c)(3) organization with the philanthropic support of LIDS Sports Group, is kicking off their 3rd annual nationwide "Tip the Hat Award" campaign. The LIDS Foundation will be awarding funds to the top 5 charities based on the number of votes they receive.  This year, the LIDS Foundation will be awarding $300,000 to 5 organizations in celebration of this 3rd annual event.
The LIDS Foundation will be awarding the following amounts to the top 5 grant winners:
First place: $125,000
Second place: $75,000
Third place: $50,000
Fourth place: $25,000
Fifth place: $25,000
Can you imagine all the wishes that could be granted with $125,000?  It would make a huge difference in the life of a child and his/her family.  It only takes a few seconds to vote.  Just Click here to cast your vote!
About Make-A-Wish® Ohio, Kentucky and Indiana

Make-A-Wish® Ohio, Kentucky and Indiana grants the wishes of children with life-threatening medical conditions to enrich the human experience with hope, strength and joy. Currently, there are 140 children in central Ohio waiting for their wish to come true. You can help share the power of a wish® by making a donation, volunteering, or referring achild. Make-A-Wish® is in need of volunteers in the Dayton and Hocking Hills areas. For more information, visit our website at ohio.wish.org or call 1-877-206-9474.