A huge thank you to Little Tikes for sending us these fun toys to review.  All opinions are mine.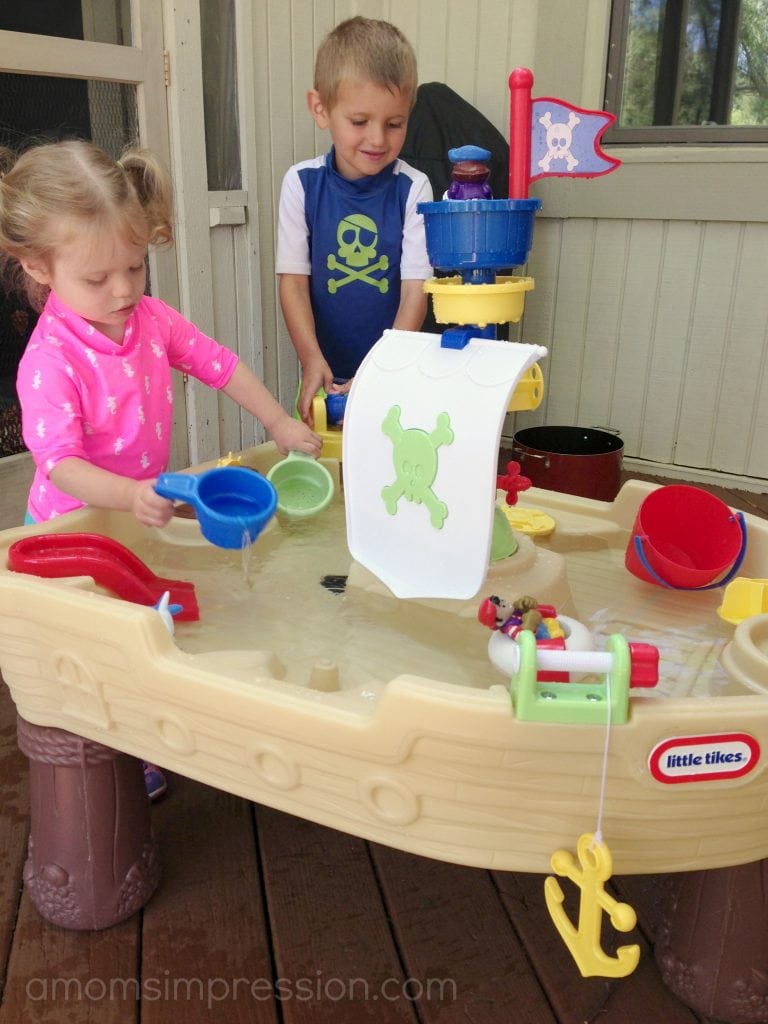 This summer has been a lot of fun and I am in denial that I have to go back to work in a week and a half.  I want to stay home and play with my babies but school is starting again and this time Jonah will be going with me!  I can't believe it.  I wanted this summer to be a summer never to forget.  With the help of Little Tikes, we have been having a lot of fun both inside and out with some new toys.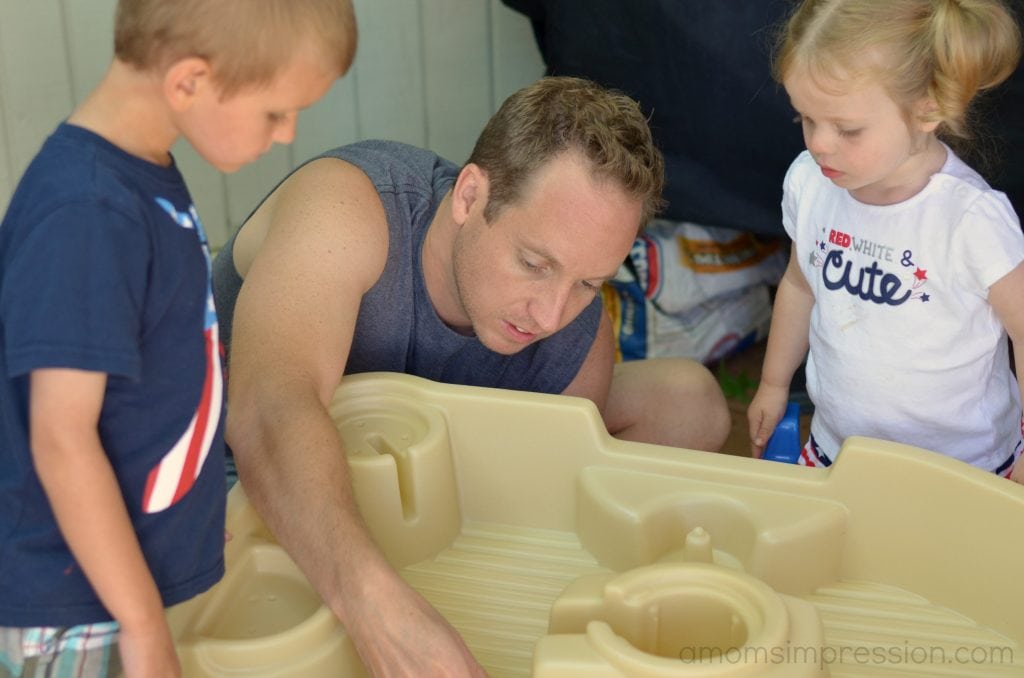 The first toy we fell in love with is the Little Tikes Anchors Away Pirate Ship.  My two little ones are huge fans of Disney's Jake and the Neverland Pirates so they were so excited when this arrived at our doorstep.  As you can see, they couldn't wait to help daddy put it together.  The pirate ship wasn't too difficult to put together. It took my husband about 20 minutes after finally finding the large screws that were a little hidden in cardboard. (I think it would have taken a little shorter if his two little helpers didn't insist on doing the work with him.)
It was all worth it, just look at this face…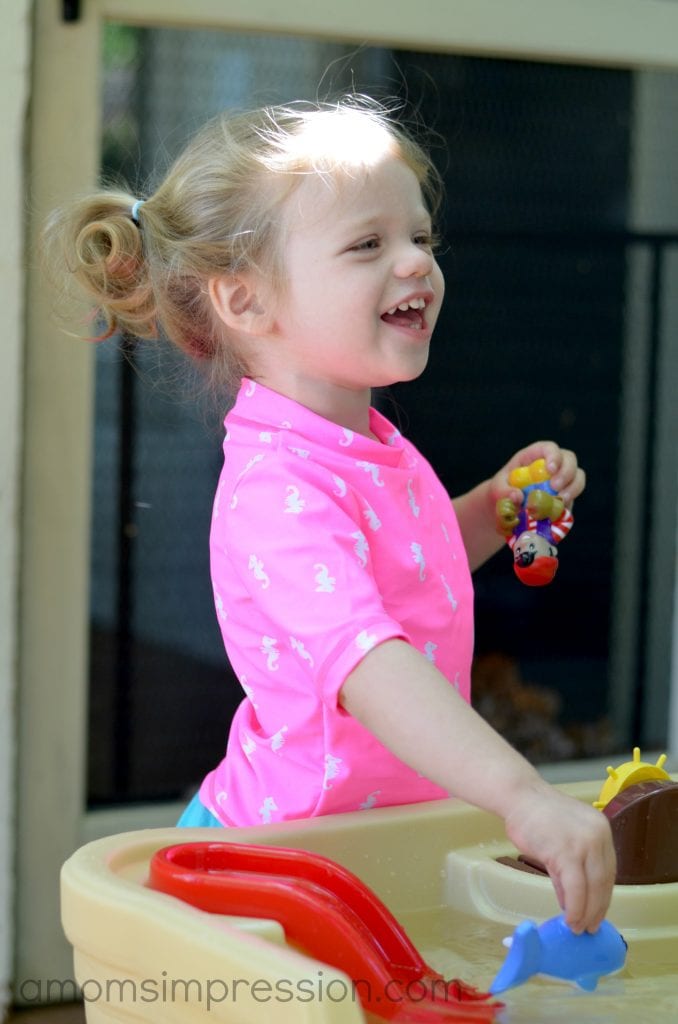 … its pure bliss.  That is what summer is all about!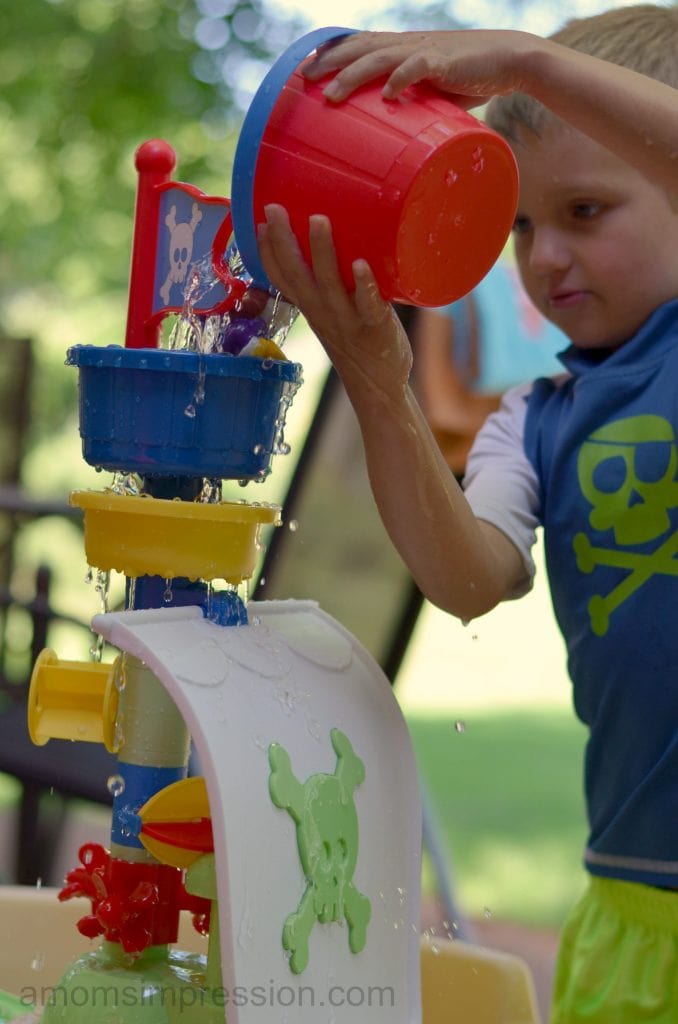 The pirate ship is the perfect activity for a hot summer day.  My kiddos played for over an hour with it the first time we put it out, as well as the second and third.  There are numerous activities that keep them engaged, especially Caroline.  It is perfect for her as she can access everything even at 2 years old.  My son was also engaged at 5 years old making this a win, win situation!  Its kinda hard to find a toy that they both enjoy playing with.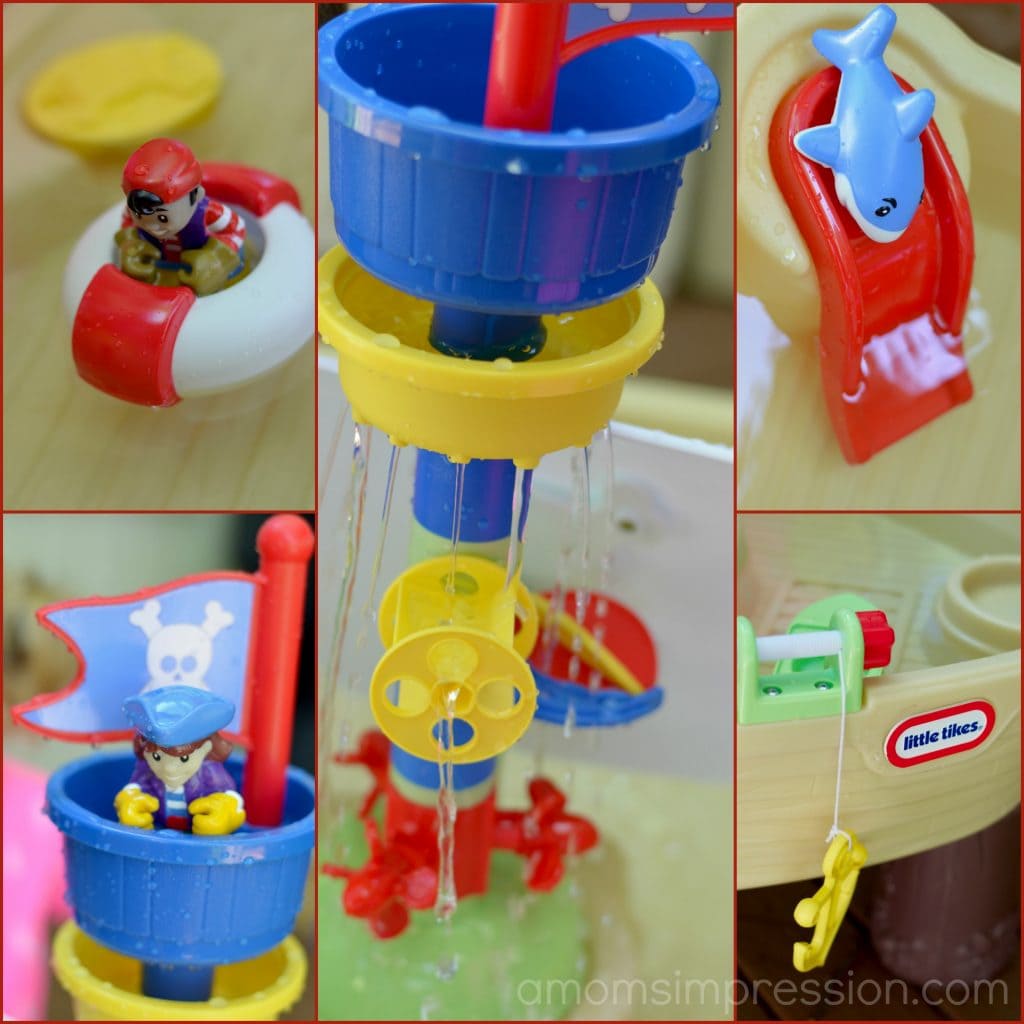 The pirate table comes with several toys to make the table fun for all ages.  There are two little characters, a slide, a shark, and  bucket for to pour water in the middle of the mast where there are a bunch of fun water toys.  There is even an anchor that you can roll up and down!  So many activities make this a toy that will keep them active for a long time.  Draining and cleaning the table is simple as there is a plug on the bottom that will drain all the water.  I unplug it and wipe it down and store it until we get it out again. Everyone loves this!
We also received the Cook 'n Play Outdoor BBQ.  Caroline is really into pretending to play house and kitchen.  I thought she would enjoy this BBQ set.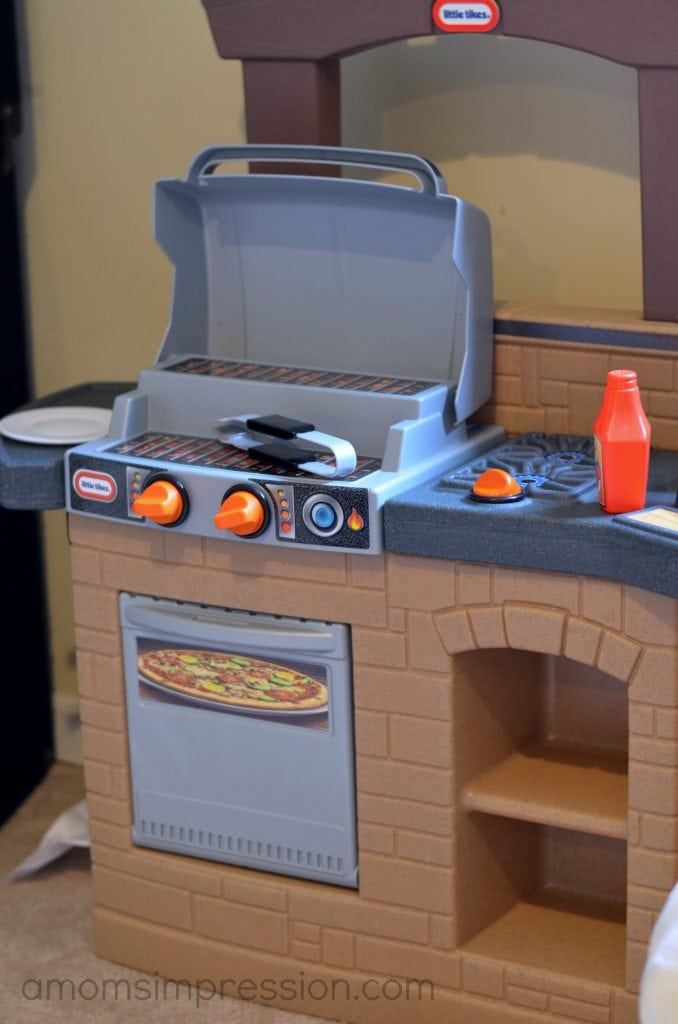 I put this together in about 20 minutes without any problem.  It was very easy.  The set comes with a few tools, dishes, and a few play food items.  The set consists of an oven, a grill, a cooktop and a sink to wash the dishes. I was very surprised to see how much my son enjoyed the BBQ.  He loved grilling the hamburgers and offering his daddy a hotdog.  Caroline loved offering the food along with ketchup to us after Jonah cooked it.  Then she would "wash" the dishes.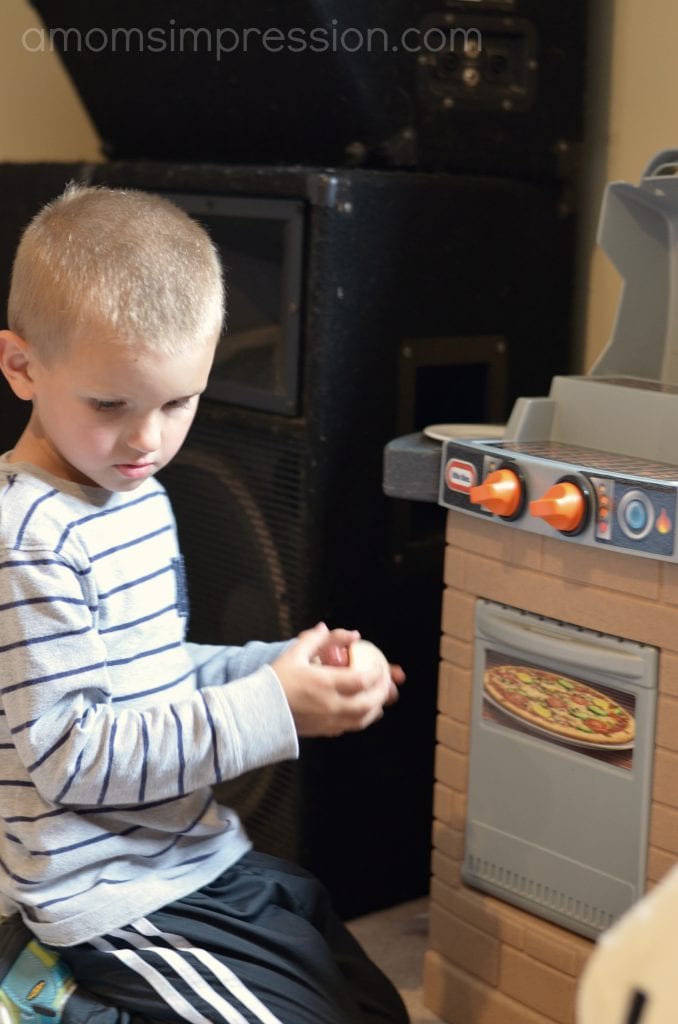 We love this set because while we wanted a play kitchen for Caroline, this one is more suitable for our needs.  Because of the BBQ element my son also loves playing with it.  It is also smaller than most of the play kitchens we were looking at.  Its seems like the kids' toys are taking over the house so space is in high demand.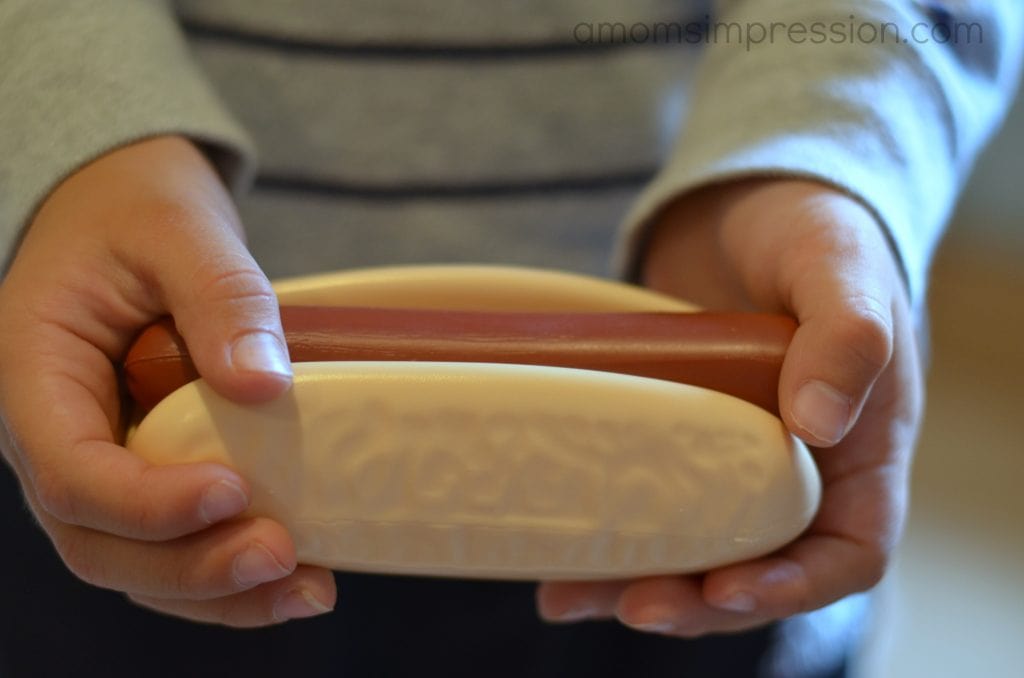 My only complaint about the Cook 'n Play Outdoor BBQ is that I wish they included more hotdogs and hamburgers to grill with.  We only got one of each with the set and really there is room on the grill for more.  I foresee a trip to the store to buy some more play food in our future.  I love how this toy encourages make-believe play.  So much emphasis has been placed on academics that I think the value of learning to play has been a little forgotten.  Not in this house.
So what will you take, a hamburger or a hotdog?
Both of these products are available from Little Tikes and are perfect for your little ones!
How do you encourage play at home?