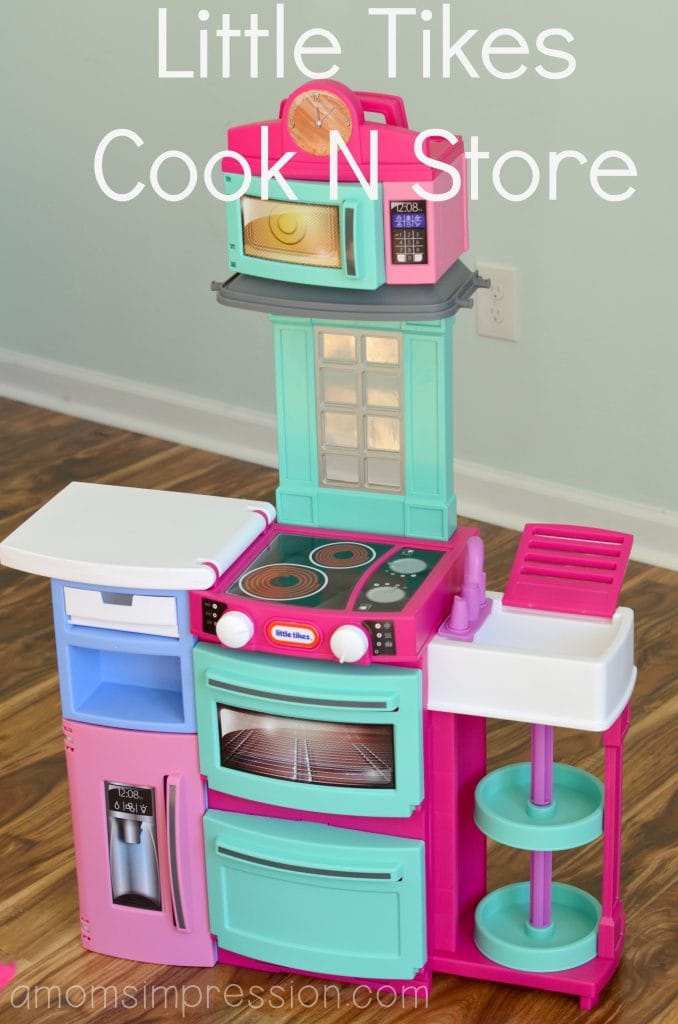 I am so excited to bring you yet another wonderful giveaway this week.  I have been a fan of Little Tikes ever since my son was born.  We have had numerous products from them and have loved every single one.  This adorable, girly, Little Tikes Cook N Store kitchen is no exception and it is probably the easiest assembly of them all!  If you are looking for the perfect play kitchen for a small space, you have to check this one out.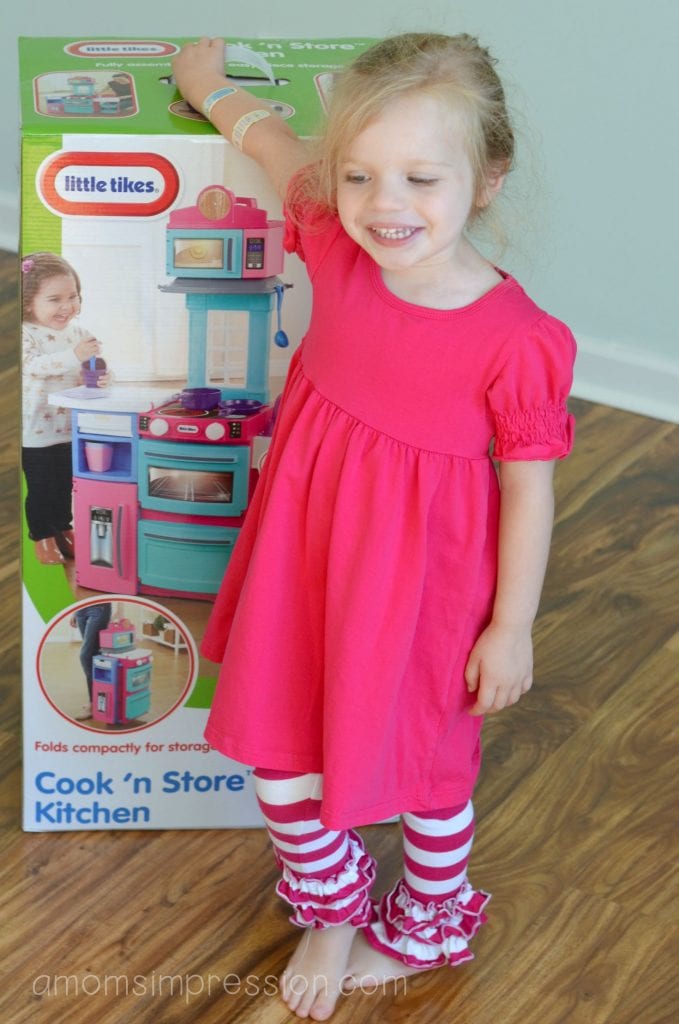 Caroline loves to help her mommy in the kitchen.  She has a vivid imagination and likes to use it to create make believe pastries and tea parties for her family and friends.  I knew she would love having her own little kitchen to play with.  When the kitchen arrived I was not disappointed with her reaction.  This adorable pink kitchen was a hit even before I could get it out of the box.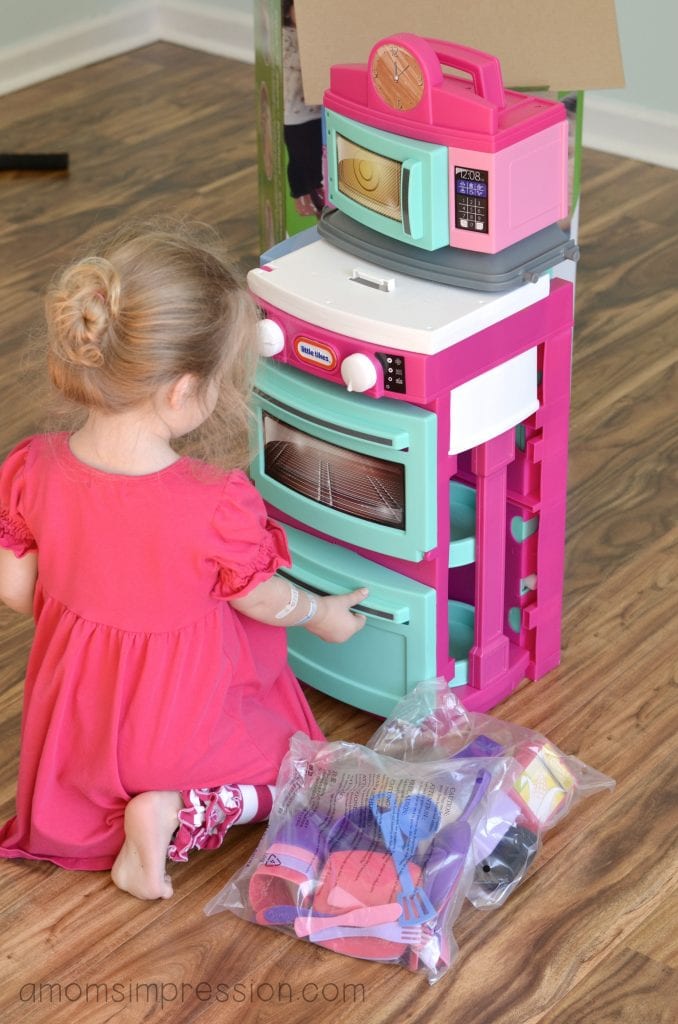 When I did get it out of the box, I was amazed by the fact that I didn't have to get any tools out to put it together.  In fact, my husband was away at his men's weekend and I was left to do all the assembly myself so I was prepared for a meltdown.  One never came.  This kitchen comes assembled and folds back up if you need to save on space.  I absolutely love this feature. Its perfect for kids who live in small apartments. All I had to do was to raise the microwave up and put out the two wings on either side and it was fully assembled!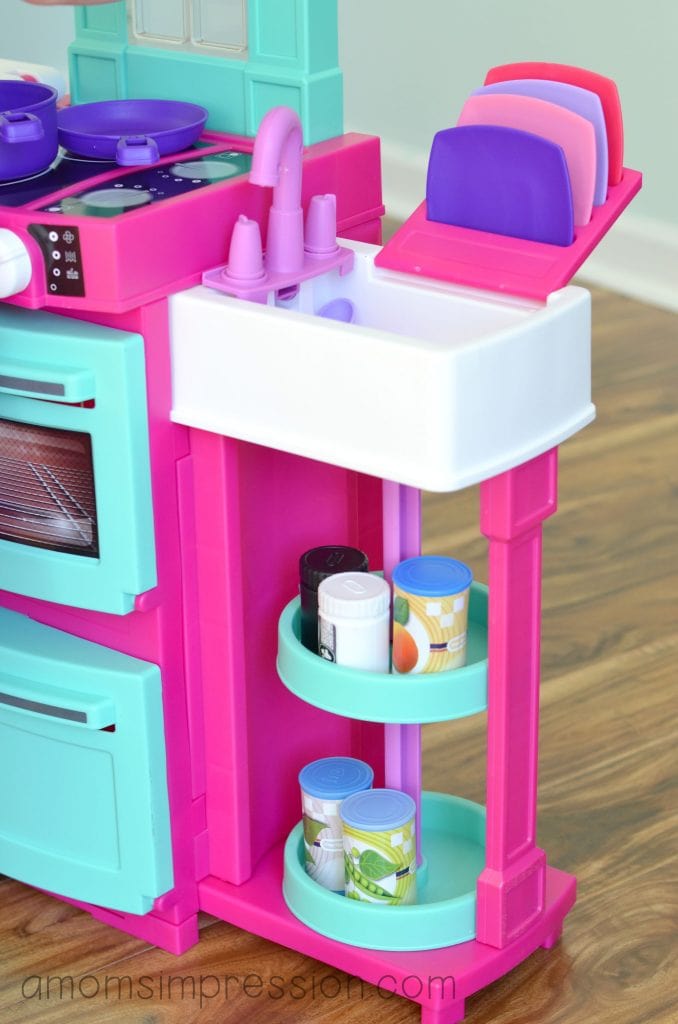 While being small, Little Tikes didn't skimp on the features of this beauty.  There is a working lazysusan that holds spices and pantry items.  It is located below the sink that has places to hold the plates that come with the kitchen.  There is even a place to hang your spatula and mixing spoon.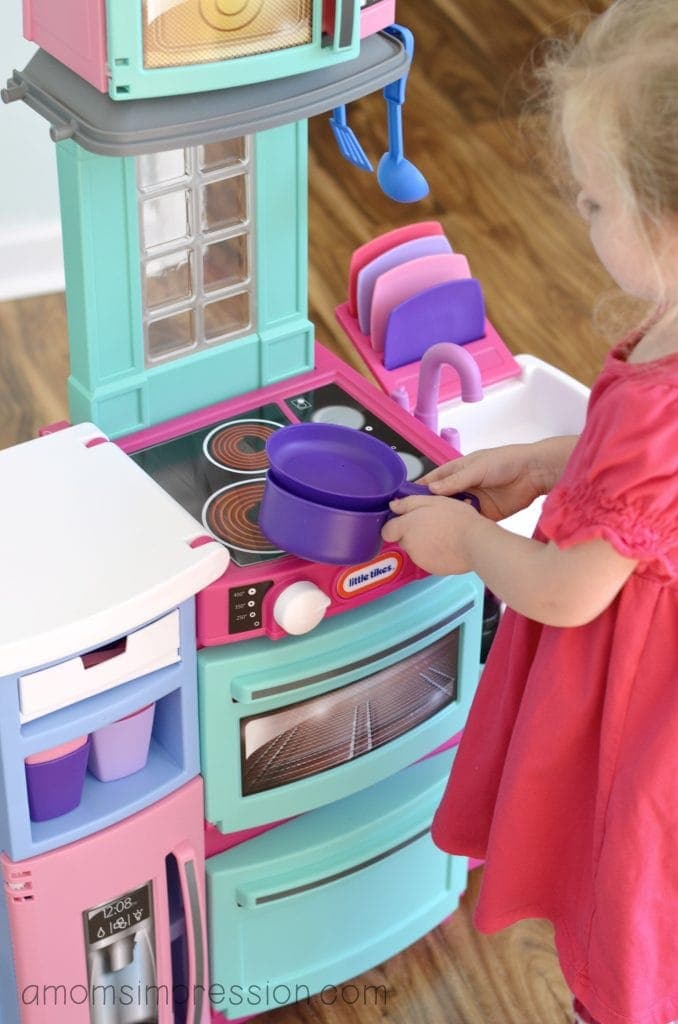 The set comes with place settings for 4, silverware for 4, a pot and pan set, salt and pepper shakers, and several boxes and cans of play food.  It features a microwave, double ovens, refrigerator, sink and cook top.  It is a great value at under $70 and also comes in a red/white/tan version.  We have loved it and really the only thing I would fix on it is that it can be a little hard to close/open the oven doors and it can frustrate Caroline at times.  Its really not that big of a deal and with everything this little guy has to offer, we would purchase it again in a heartbeat!
You can purchase the Little Tikes Cook N Store on Little Tikes website or Amazon for $69.99.
Win It
One lucky reader is going to win a Little Tikes Cook N Store for themselves!
a Rafflecopter giveaway
A huge thank you to Little Tikes for providing the giveaway prize and for sending our family a Cook N Store for purposes of this review.