Lin-Manuel Miranda plays the part of "Jack" the lovable lamplighter in the new Disney film Mary Poppins Returns. As part of the press event last month 24 other bloggers and I had the chance to sit down with him and talk about his role in the film.
A huge thank you to Disney Studios for flying me out to LA for the press event.
I can't imagine anyone other than Lin-Manuel Miranda could play the part of  "Jack "in Mary Poppins Returns.  I think the everyone else who has seen the film agrees because he has earned himself a nomination for Best Actor in a Motion Picture – Musical or Comedy from the Golden Globes.
Fun Fact: Lin-Manuel Miranda never watched the entire original Mary Poppins movie until he was in high school because the "Feed the Birds" scene scared him as a child.
Lin-Manuel Miranda realized early on in his career that he needed to take control of his own destiny.
I started writing In The Heights because I very quickly realized at age eighteen that no one was gonna write my dream musical. That I did not have the ballet training to play Bernardo in West Side Story. Or Paul in A Chorus Line. And if you're a Puerto Rican dude that's all you get. In the cannon. In The Heights really was the beginning of creating my own opportunities. Hamilton is an extension of that.
Because of this, he said that playing Jack in Mary Poppins Returns is the fruit of the harvest!
To have Rob Marshall call you and tell you, it's Emily Blunt as Mary Poppins and you're the only other person we have in mind and we're gonna build from there, it felt like the fruit of the harvest. The harvest I began when I was eighteen years old.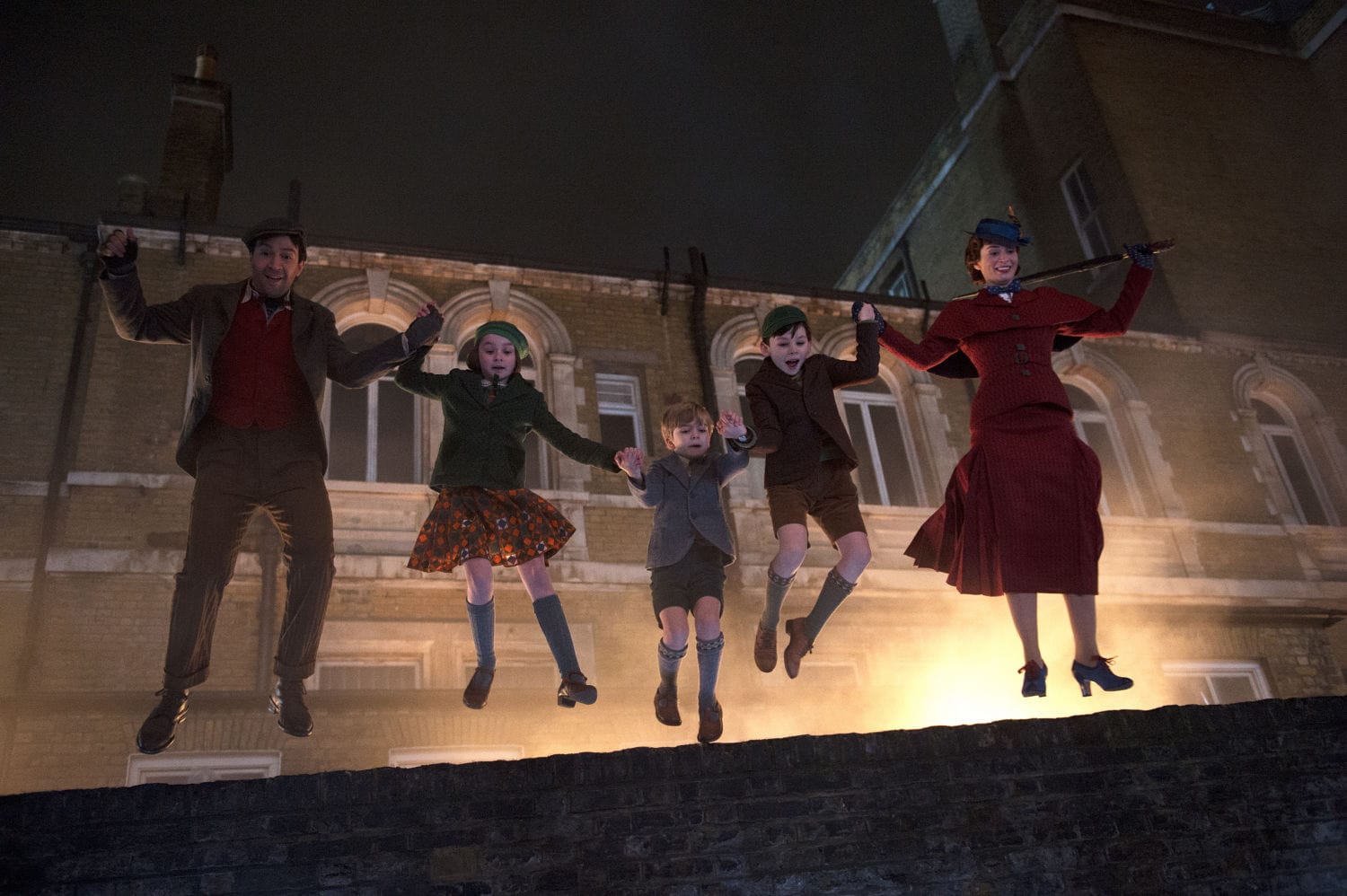 Lin talked about how different it was to star in a movie musical versus doing a live musical theater performance.
You finish the eight minute dance number and you wait a year and a half for applause.
He talked about how when you do theater you are basically doing the same movements each night.  When you are filming you are dancing with penguins one night and then the next night you are doing a number with Meryl Streep.  He talked about the energy source of filming being once-in-a-lifetime moment verses getting energy from the audience.

His Favorite Moments from the Film
We asked Lin-Manuel about what parts of the movie he was most proud of.
There's scenes I'm proud of because they're my own fault. And there's scenes I'm proud of because they took so much practice and mastery.
He went on to give us an example that he got a chuckle out of.
Tommy Kail, who directed Hamilton, said the he was most moved [LAUGHS]. Sorry, it makes me laugh. He was most moved when he saw me slide down the bannister in Trip A Little Light Fantastic because I'd been doing, that's like the one thing I actually know how to do really well. And as Tommy Kail put it, "You don't know how to land a joke or sing a note or grow a beard without practice. But man you were born to slide down banisters."
He continued talking about a really difficult dance/song in the film that he was proud of.
Then there are moments that represent hours and hours of hard work from the eight minute, continuous dance sequence in Trip A Little Light Fantastic, and Rob ran it as an eight minute dance sequence. There were sort of the three minutes of the song that are getting to that abandoned playground,  that was on location throughout London.

And now we're here, and now we're in the sewer, and now we're here.

That sequence was run as if it was a Broadway musical number. From jumping on the lamppost to the flaming sticks balancing on my foot, that was all run of a piece with hundreds of cameras around. And I'm very proud of that. I've never danced like that in my life.
Developing Jack's Accent
Lin-Manuel knew that he was going to be scrutinized for his accent no matter what, Dick Van Dyke was and so would he. In spite of that, he dove right in with the support of his dialect coach Sandra Butterworth.  He said that "music is my catalyst for everything" and that certainly helped him develop Jack's accent. Sandra realized this and had him listen to music from the '60s to help.
She realized that music was my way in. So it was not just listening to music sung in the east end Cockney accent, it was music in the 1930s. Because it's not just about the part of the world, it's about the time of the world. It's about the when as well.

So I listened to a lot of Anthony Newley, who was a big sort of music hall star who then also wrote a Broadway musical called Stop the World, I Want To Get Off in the 1960s. I listened to a lot of his early stuff and that was my sort of north star for the accent.
Lin Manuel Miranda's Inspiration
Mary Poppins Returns started filming when Lin-Manuel Miranda's son was just two years old. He told us that he was inspired by him!
The biggest note Rob Marshall gave me is that all the other grownups forget what it's like to be a child except for Jack. So my biggest research was watching my son play in Princess Di park in Kensington Park in London, watching his boundless imagination.

We are all born with that. I think we're all, that's inherent in us until life does what it does. That was my secret weapon in finding Jack was I had a two-year-old research assistant who kept me childlike and kept me in that mode.
On Acting with Meryl Streep
There is a scene in Mary Poppins Returns that features none other than Meryl Streep.  I think that this scene is going to be one of my kids' favorite scenes because it is wacky and fun!  We talked to Lin-Manuel about acting with Meryl in the "Upside Down scene."
Every day with Meryl Streep feels like you're in the upside down. It's like, how is this my life? How are we on the ceiling? It was a joy. That's the sequence that I think that I watched the movie I watch it more closely every time because it's a triumph of production design, the way every ceiling element becomes a floor element. And then Meryl…
He went on to tell us that Emily Blunt told him that Meryl likes to stay in character when she is on set.  But there was this moment that she showed off for the young actors.
I've told this story before but there's one moment between setups where she just looked at the kids and went, "Hey kids, you wanna know how to do a pratfall?" And she went… like from standing to face down. Everyone runs in like, Meryl Streep has died. And she gets up and she goes, "I learned that at Yale School of Drama." And it was just to show off for the kids.  I was very grateful that, you know, I got to play with that version of Meryl Streep.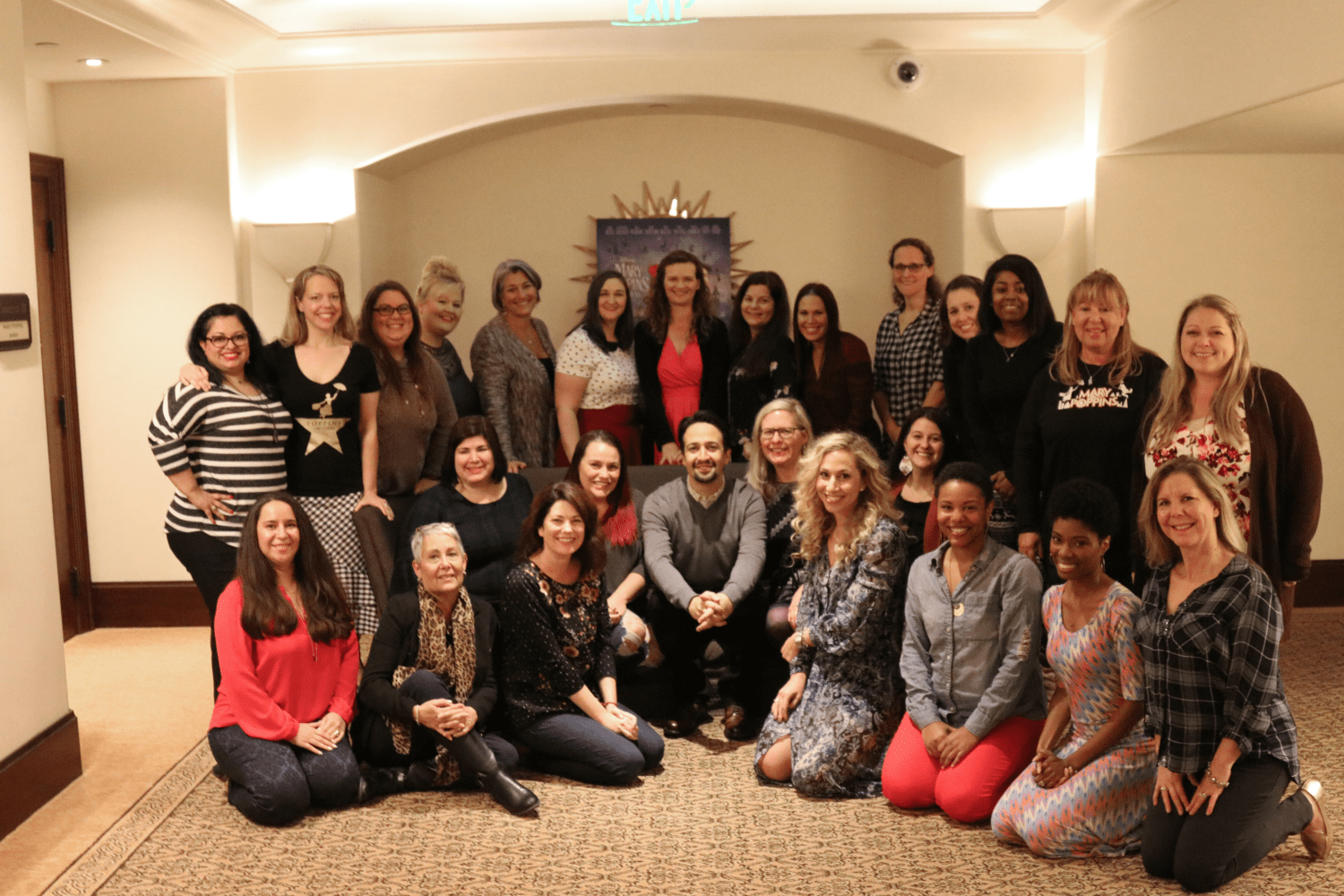 For more fun, Mary Poppins Returns coverage be sure to check out my interview with Emily Blunt and read what it was like to walk the red carpet at the world premiere.
Mary Poppins Returns releases into theaters everywhere December 19th.
Follow along on Social Media: Twitter | Instagram |YouTube #MaryPoppinsReturns