Post sponsored by Liberty Mutual. Opinions are 100% my own.
I'm excited to be hosting the #LetsMasterThis Twitter Party on May 1st and I hope you'll join us!
Join the #LetsMasterThis Twitter Party
This Wednesday I will be joined by Liberty Mutual and DIY Expert and Liberty Mutual Consultant Chip Wade, as well as our co-hosts Mariah at The Simple Parent, Kristin at It's Free at Last, and Barb at Rural Moms for a fun Twitter party where we will be talking about tips to spruce up our homes in anticipation of the warmer weather as well as tips on how to de-winterize our  vehicles to get ready for those summer road trips!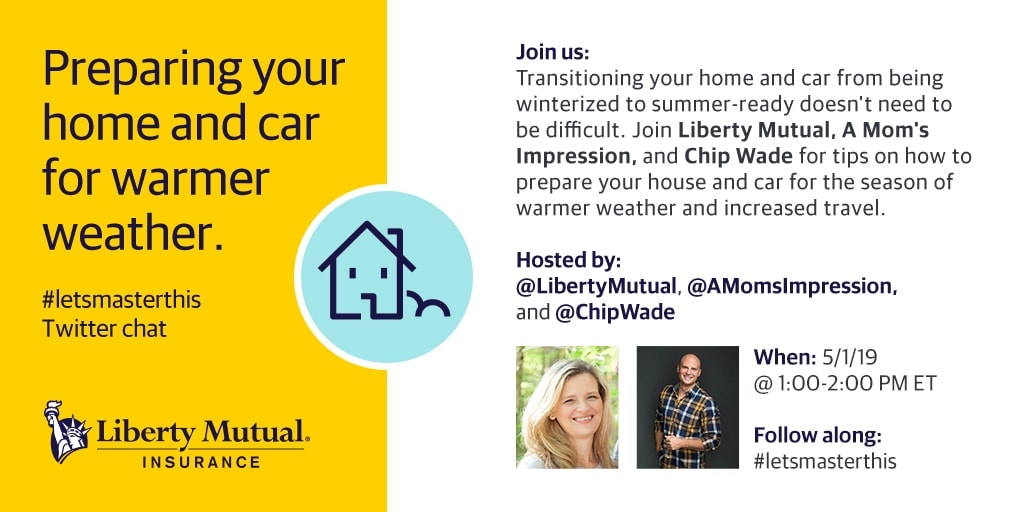 Its time for backyard BBQs and family road trips! As the weather finally starts warming up, we need to evaluate the needs of our homes and vehicles to ensure that they are ready for spring and summer. Bring your questions and get useful tips and tricks from experts as we chat about ways we can get our homes and autos summer ready!
We'll also be giving away $500 in Visa Gift Cards, so make sure to register early! Check out all the details below and make plans now to join us!
#LetsMasterThis Twitter Party Details
DATE: Wednesday, May 1st
TIME: 1:00pm – 2:00pm ET
HASHTAG: #LetsMasterThis
PRIZES: $500 in Visa Gift Cards! 4 (four) $50 Visa gift cards,  1 (one) $100 Visa Gift Card and 1 (one)  $200 Visa Gift Card!
HOSTS: @amomsimpression, @ChipWade, and @LibertyMutual
RSVP Below!
Leave your Twitter handle below to RSVP for your chance to win one of the 6 gift card giveaways during the Twitter Party! Good luck and see you Wednesday!