A film, even an animated one, has to have a transformation in order for it to go from script to screen.  During my visit to Pixar's animated studios last month, I got an inside glimpse of what it takes to achieve an amazing animated feature film as I was allowed to go behind the scenes of Pixar's Inside Out.  Today we are going to get a glimpse into what it is light to light an animated film as well the role of staging and layout.
Lighting Artist Angelique Reisch took time to show us the ins and outs of being a lighter on the film Inside OUT.  Lighting a character is the same as lighting a real life actor.  I know that before my trip I hadn't even thought about it. I was really surprised at how much of a difference an animated film looks like before lighting.  To me it the before looked like animation from when I was a young kid and afterwards it looks richer and more like a HD animated film would look like.  It really is amazing!  One of the specific reasons for the dramatic change is that lighters specifically are responsible for lighting.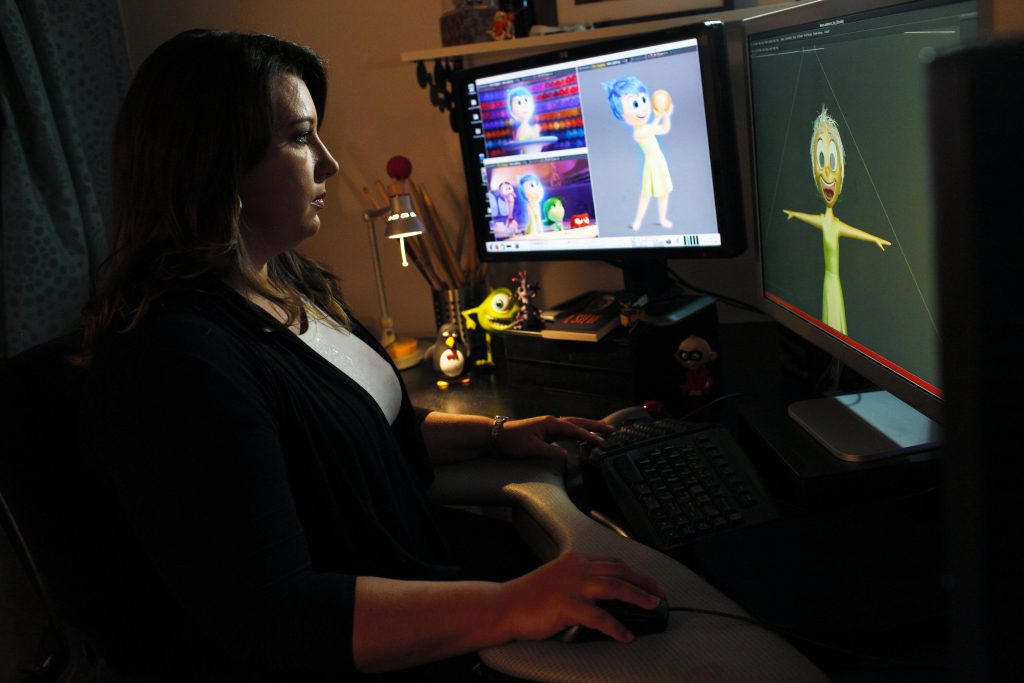 Lighters sit in a dark room all day.  Angelique joked around that they are the ones who sit around at lunch taking vitamin D supplements. They sit in the dark to help them concentrate on the lighting that they are adding to their shots.  Speaking of shots, wach lighter has about 2 shots approved each week.  That is 2 short shots of the movie… its not a fast process.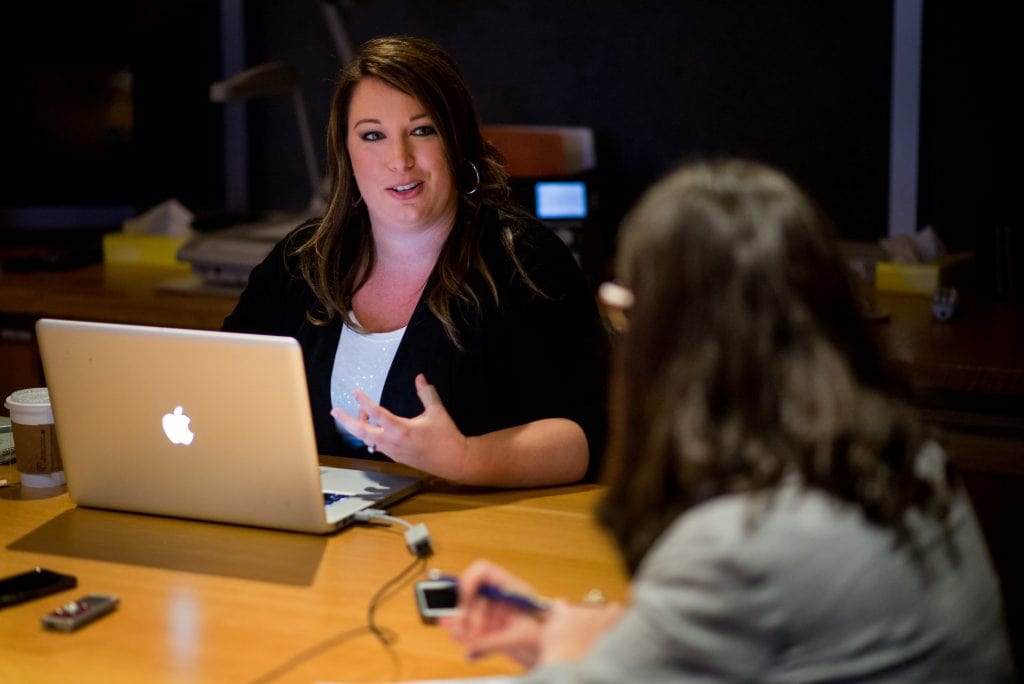 Lighting is essential in any movie.  In an animated movie lighting helps the story by creating emotion.  You will see different tones in different settings during the course of the movie.  In San Fransisco there is a lot of low lighting.  In contrast, inside the mind there are bright lights. Saturation is correlated by how Riley feels.  When she is upset and depressed the lighting changes to darker tones.  When she is hopeful and happy the tones are brighter.
Lighting creates depth, enhances mood and drama, helps convey time of day, it even reveals characters personalities.  It was especially apparent when lighting the main character,  Joy.  Joy has a special light rig because she is a light!  She has inner glow lights that have never been done in animation before.  Be sure to pay close attention to her when you are watching the movie!
Next, Director of Photography Patrick Lin showed us about his department, photography. The photographers are in charge of the virtual cameras.  It starts with layout.  Layout takes the story boards from the producers and determines where the camera and staging should be in the virtual sets.  The photographers job is to shoot the scenes with their virtual cameras and then send them over to editorial for changes before they give them to the animators.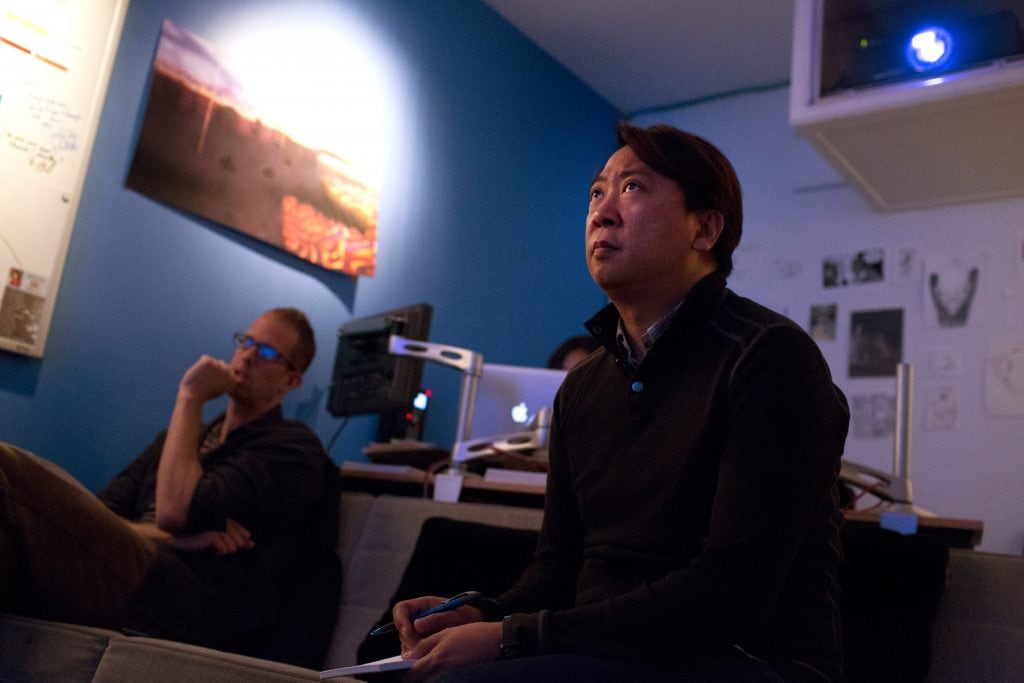 In an animate film there is a virtual camera that mimics a real camera.  It is basically a camera lens that would be used on a live action set only this time it is a virtual camera.  Inside Out is the first time Pixar modeled virtual lenses off real lenses.  This allows the photography department to film the virtual sets much like they would a non-animated movie set.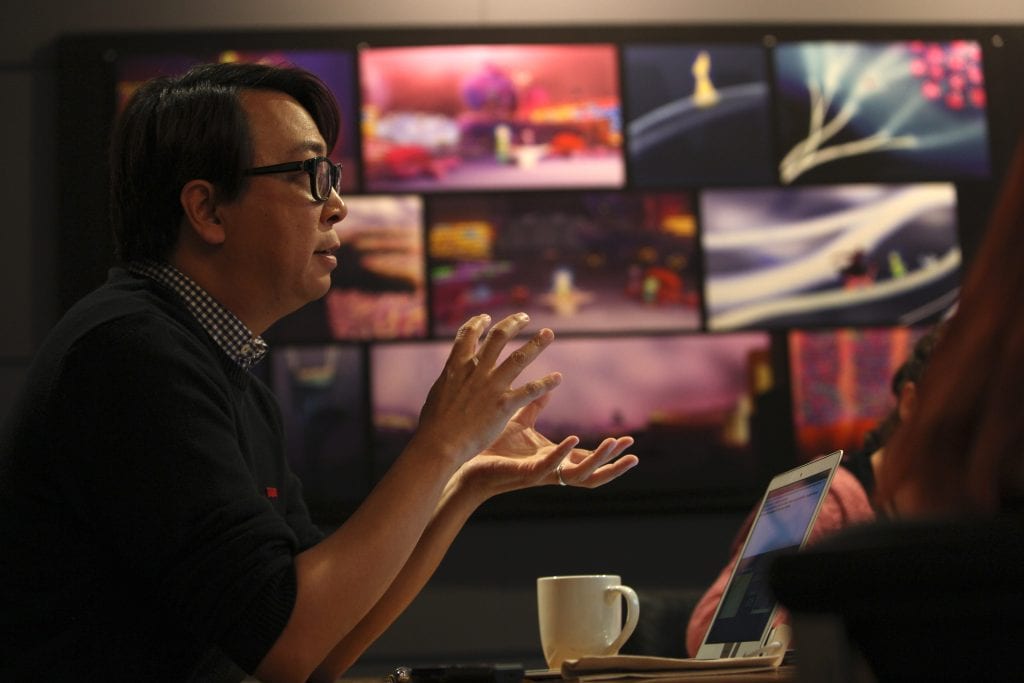 Patrick gave us a lot of inside tips about the photography in the movie.  For instance, the outside world is controlled while the inside world is not as structured.  What this means is that you will notice organic camera movements in the real world, like handheld camera.  The camera angles help to tell the story. Riley is the center of her parents universe and is in the middle of all the scenes at the beginning of the movie.  Inside the mind is more imaginative so many of the scenes are filmed using a fixed camera or a more controlled movement.
There is so much more to an animated film that I had originally thought. I get more and more excited to see the entire film as the release date is closer and closer. Stay tuned this month and next as I share more amazing interviews and behind the scenes coverage. Also if you missed it be sure to check out my Pixar press day post as well as my interview with Production Designer Ralph Eggleston.
Mark your calendars for June 19 when Inside Out hits theaters everywhere!
A huge thank you to Disney for flying me out to SF and covering my hotel during the #InsideOutEvent!