WARNING: THIS POST CONTAINS SPOILERS, proceed with caution if you have not seen the movie yet. There is talk about a major plot twist in this interview!
It's not every day you get the chance to meet a legend.  When Disney invited me to the Guardians of the Galaxy Vol.2 event last month, I was ecstatic to learn that we would be interviewing Kurt Russell. One of my earliest memories of watching movies was seeing Overboard with my parents. My mother adores Goldie Hawn so naturally, I have been following both of their careers my entire life.
I was mesmerized as soon as Kurt walked into the room.  He has the ability to fill a room just with his presence.  It was a pleasure to talk about his role as Ego, Peter Quill's father in the latest Marvel blockbuster.  During our Interview with Kurt Russell, he talked about not getting pigeonholed as an actor, what is was like playing a god with a big EGO, and how the writer's got it right when they wrote the GOTG VOL.2 script!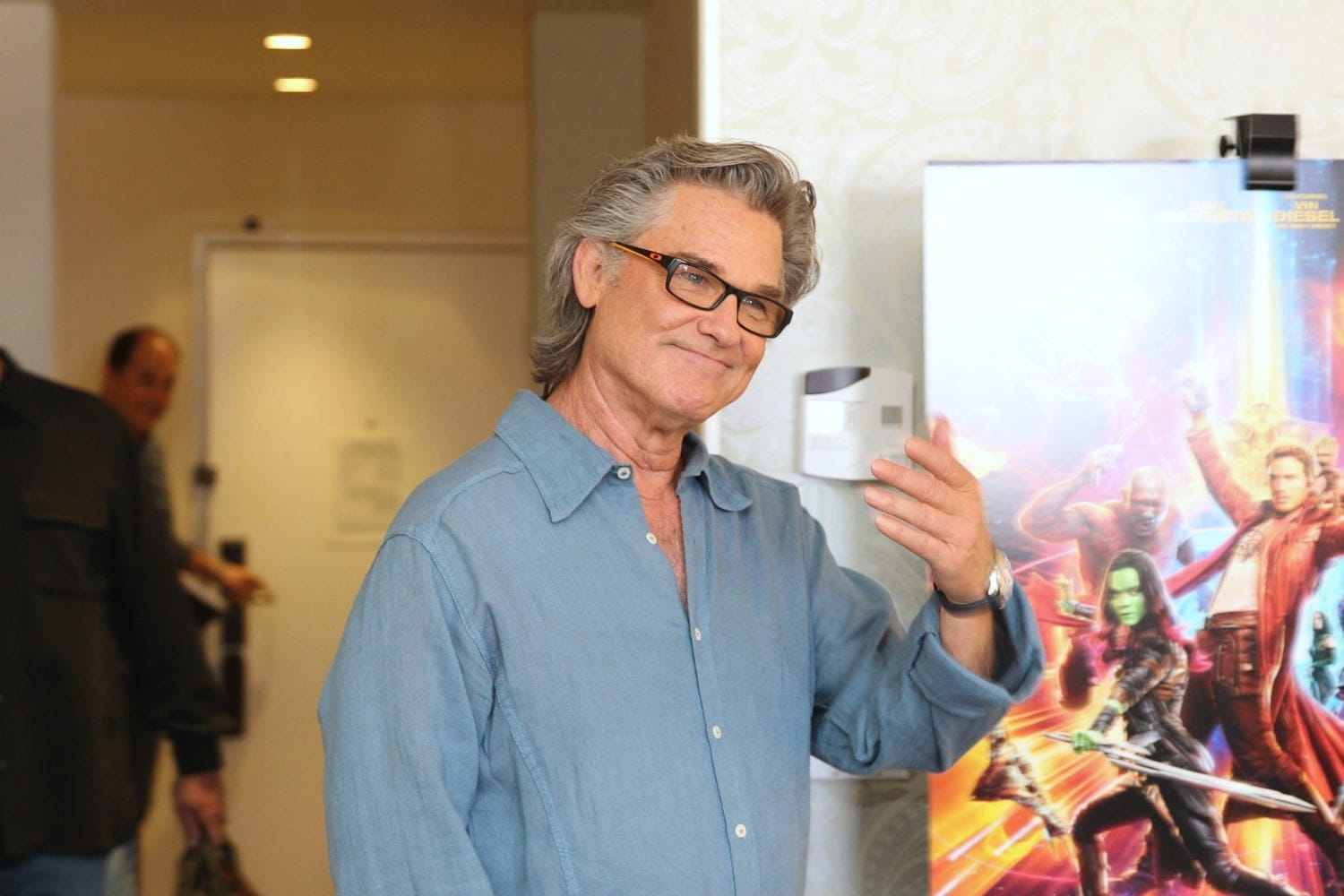 Playing the Father
Kurt was excited to play the part of Ego.  He connected with Chris Pratt right away.
As soon as Chris and I saw each other we just kinda smiled, gave each other a hug and said this is- this is clearly right.
(I think Chris felt the same way.  You can read more about that here!)
When we asked if the movie turned out the way he wanted it to, with enough comedy to offset the relationship between Ego and Peter, Kurt thought that they did it in a very smart way.
Kurt: Yeah, it was important…  For instance, the one thing that I would like to have seen is about fifteen seconds more of playing catch.

Bloggers:    AWWWW.  Yeah.

Kurt:    However, your reaction is proof that you shouldn't do that.  Because if you go to far with that relationship there's gonna be something very wrong with this.  You know, it is a son, killing his father.  So you gotta be very careful with that.  I mean when you watch the movie that doesn't look like a problem.  It's perfect.  You hate him, you wanted to get him-  it's like put him out.  Put him out. But when you're doing it, you don't know these things, you know.  You can only assume them and try to play the scenes that are there correctly to make that final moment what it should be.  You have to go all the way from being kinda cool and loving and fun to just, you know, who the f*ck do you think you are?  You know, I think we've all said that to our kids.  Who the hell do you think you are?  I was like, I could hear myself, you know.  I was literally, you go to your room!
I was an actor that didn't want to do the same thing.
Kurt has a wide range of roles that he has played over the years, but this was the first time he was in a Marvel role and the first time he has played a living planet. He talked about not getting pigeonholed into a certain type of role in Hollywood.
Kurt: I think the trick is, and what I've tried to do all my life is, I was just an actor who didn't wanna do the same thing.  For some reason that just repulsed me.  It made me not wanna do it.  And then in Hollywood a lot of times if you have something that's successful, the next thirty scripts you read are gonna be in that zone.  So I disappointed a lot of people by saying, I get it.  I get why you want me to do it.  But, if you'll notice, I just did that.  I don't wanna do that now.  I passed that math test.  I wanna go on to this English test now. And in saying that, and in doing that you create a confusion, and a whiplash sort of career where they can't pigeonhole you, but they're not necessarily happy about that.  Even critics and reviewers are not necessarily happy about that.  I guess a tendency is, human beings, too, if you see something, like it and then wanna see more of it.  That also applies to whole movies where you see a movie you like so let's do it again…

So my job was to skip around genres.  Skip around characters.  Find stories that I liked, that I wanted see, characters that I wanted to play. And try to challenge myself with giving the director as many options as possible with takes so that he could, or she could, put the movie together and have a lot of options to choose from.
Is Kurt anything like his character Ego?
Well, we know that Ego is a living planet and not human, but we wondered if Kurt was anything like Ego.
Kurt: I got a healthy ego. I do.  I think that's important in our industry and our business and as a human being to have control of your ego.  But I think you should have a healthy one.  If you don't have a healthy one you're gonna have other problems.  Ego is…I love names and characters.  You can go back through my litany of characters and you're gonna find at least twelve great names.  I think that's important.  And if they don't have a great name, I give 'em a great name.

I was very disappointed with when I read this, the character's name was J'son.  Jay-son.  And I said, yeah, well fifteen Marvel people will know who this is.  That's a weak-ass name.  And then later on being to find out that well actually his name is Ego the Living Planet.  And I went that's more like it.

So how much of myself is there?  I don't know.  Listen, if you're gonna play God let's go big.  You know, so I think this movie has a lot to say about that.
On his younger self in the Movie.
In the beginning of the movie, we see Ego as a younger person in his twenties. It was remarkable how they were able to subtract years off the appearance of Kurt for those scenes. We had to ask him about the CGI they used and how they got him to look that young, the answer might just surprise you!
Kurt: That guy right there, his name is Dennis Liddiard.  He's been my makeup man for twenty-eight years.  We've done a lot of movies together where our goal was to, without the audience knowing it, help me arrive at what I need to do to set the tone for the character, the look for the character, the feel for the character.  And I think we've achieved it many times.  Very subtly.  So much so that nobody knows what he did….

He knows my face, so they did some CGI and stuff there, but mostly that's that guy right there.
Most of that was done with makeup!  Isn't that amazing?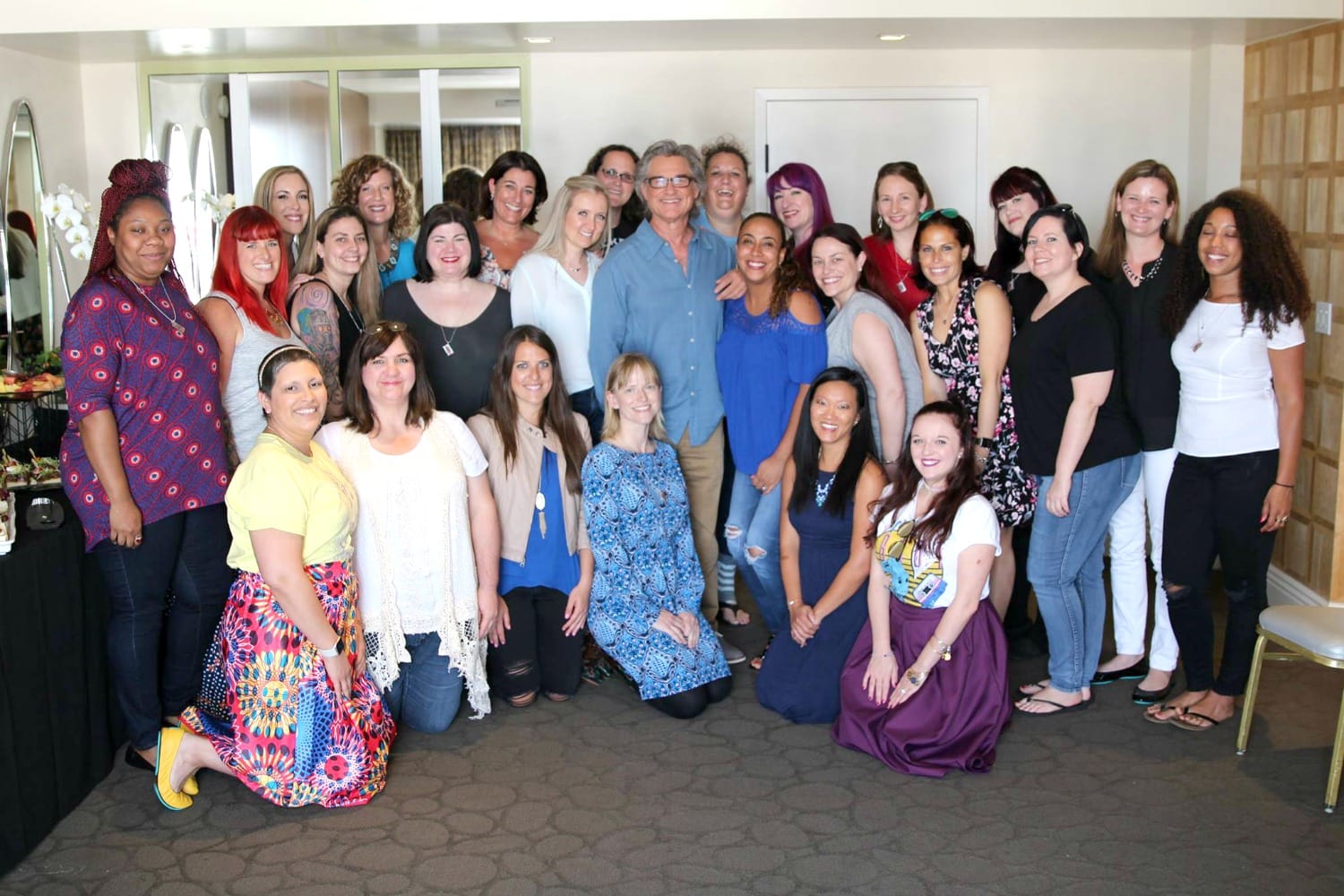 You can see Kurt Russell as the role of Ego in the new Guardians of the Galaxy movie that released in theaters last Friday!
Guardians of the Galaxy Vol.2 is in theaters now, buy your tickets today!
For up to date information about the newest Marvel blockbuster be sure to follow the Guardians of the Galaxy Vol. 2 on their social channels and use the hashtag #GotGVol2.
Facebook | Twitter | Pinterest | YouTube |Website
I will be back the rest of this week with exclusive interviews and behind the scene coverage from the cast and crew of Guardians of the Galaxy Vol.2. Be sure to check back all week long.
Be sure to check out my other posts from the #GotGVol2Event

Exclusive Interview with Chris Pratt
Exclusive Interview with Zoe Saldana
Exclusive Interview with Dave Bautista
Interview with Karen Gillan, Pom Klementieff & Elizabeth Debicki
Guardians of the Galaxy Vol.2 Review and Purple Carpet Experience
I'm Walking the Red Carpet at the Guardians of the Galaxy Vol.2 Premiere
My Dancing with the Stars Dance Lesson
Descendants 2 New Trailer and Music Video
Radio Disney Music Awards Viewing Party Ideas
Photo Credit for Interview pictures: Louise Bishop / MomStart.com
A huge thank you to Disney and ABC Studios for flying me out to LA for the #GotGVol2Event. All opinions are 100% mine.