I think that this is the year for smart, animated films.  There have been some fantastic films come out this year for kids and Kubo and the Two Strings is one of them.
LAIKA is known for taking some strong subject matter and portraying it in a kid-friendly way, this film is no exception.  I love that LAIKA doesn't shy away from harder subject matter when it comes to its films. Kids are going to be able to relate to Kubo and the fact that his life isn't candy and roses is going to make him more loved that if it had been. It teaches a great moral that sometimes you have to fight for the life that you want.  I want my child to learn that.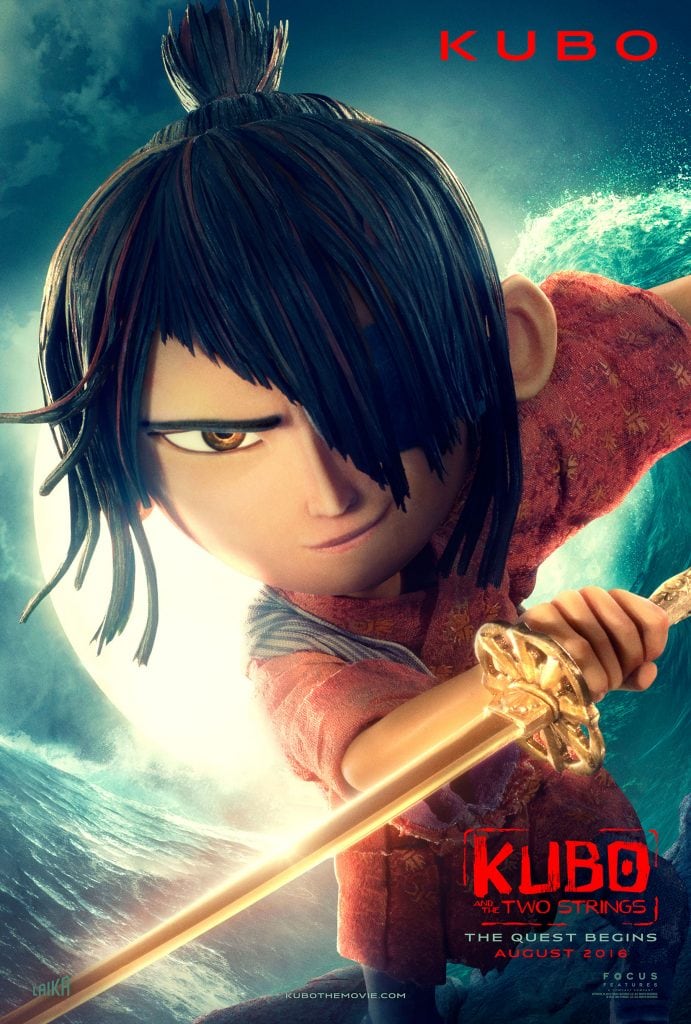 In the beginning of the film we are introduced to Kubo's story as seen through the eyes of his mother.  She is frantically trying to get him someplace safe and get hurt battling the elements to get him there.  Fast forward 12 years later and we find Kubo and his mother still in hiding, but the roles have changed somewhat.  Kubo is now taking care of his ill mother.  To make money Kubo is a storyteller in the village square.  He has a magical ability to fold paper (origami) into amazing pieces of art to aid in his story telling.  It is captivating to watch.
Meanwhile, his past comes back to haunt him and he must go on a quest to save his village and the people he loves.  Along the way he meets up with Monkey, who becomes a motherly figure to Kubo, and Beetle who vows to protect him.  As his powers grow strong, Kubo must learn how to control them.  Monkey and Beetle help him along the way and help him realize what really matters in life.
I won't ruin the ending for you, but I will say that it was surprising and heartfelt.  I needed tissues. Director/Producer Travis Knight has hit this one out of the ballpark!
While the subject matter is kid-friendly the movie is geared towards kids ages 8 and up and I would have to agree with that.  There are some scary parts to the movie which potentially could frighten younger children.  Your older children will absolutely love it.  Adults are going to be able to relate to the movie and get a few laughs along the way.  Overall, its a great family film and you should take time to see it this weekend!
Kubo and the Two Strings hits theaters nationwide on August 19, 2016. Please follow them on their social channels for updates and more special clips from the movie: FACEBOOK , TWITTER  and INSTAGRAM.
A huge thank you to Focus Features and LAIKA for flying me to LA for the press event. All opinions are 100% mine!