We live in an age of documentation. With computers and social networking, it has never been easy to capture, catalogue and keep almost any event in our lives that we want to.  Most of this documentation is happening in the hands of adults. The equipment we use; tablets, smart phones and cameras, are tough expensive and fragile to be put in the hands of our children. This is a shame though, because most of the memorable stuff that we would love to file away and look back upon years later happens when we are young and maybe there wasn't an adult around ready with a smart phone to capture it.  What you need is a Kid-Friendly Action Camera.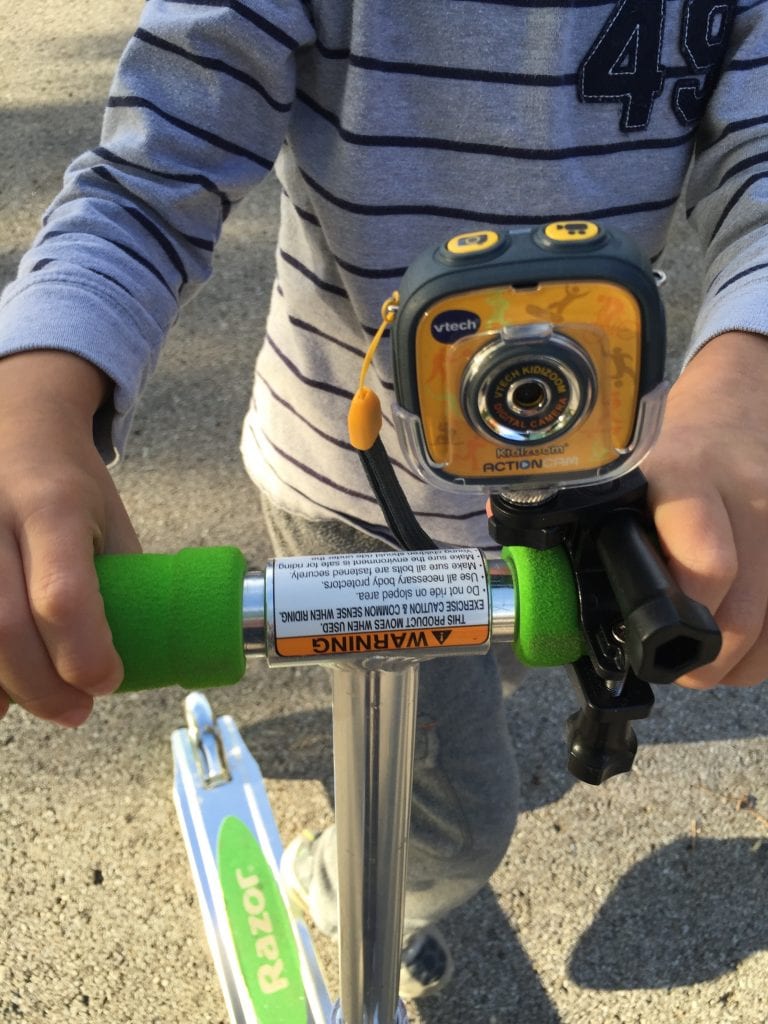 Think back to your childhood, how many great memories do you have with your friends in the backyard or down at the neighborhood pond that you would love to be able to go back and relive? But no one was there with a camera.
This is where the VTech® Kidizoom® Action Cam comes in. Vtech has created a small, durable, portable recording device that is perfect for children.   When I say that it is perfect for children, I really mean it. The folks at Vtech have really designed this thing for small hands. It is the perfect size. I just gave it to my 3-year-old daughter to hold to see what she would do with it. She easily held it with one hand and it was light enough for her to do whatever she wants with it. Which brings me to: they can do whatever they want with it! It is almost impossible to hurt this thing. Short of running over it with a car, I don't there is much that can hurt this camera. It also comes with a waterproof case that you can put it in. So all those summer adventures in the pool (they already seem so long ago, don't they?) can easily and safely captured. I wish we had this for our neighborhood pool a couple months ago!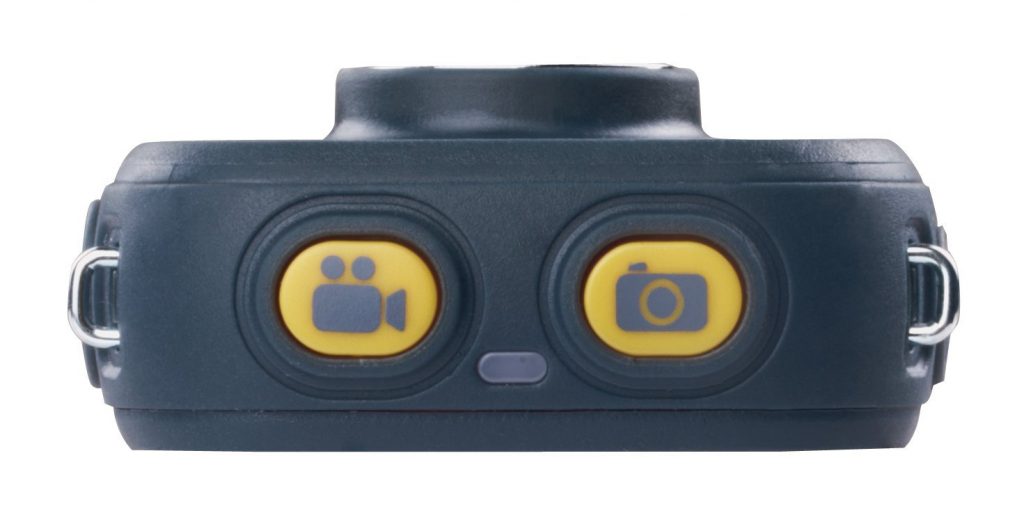 The buttons are easy to use and easy to understand for small children. On the top of the camera are two buttons, one with a picture of a camera and one with the picture of a video camera. Pretty easy to understand which does which. On the back of the camera is the viewfinder screen with four more buttons. There is a left arrow and right arrow to navigate on the screen, a home button and an "ok" button to confirm choices. I let my six-year-old play around with the buttons and he had no trouble figuring out how to use it.
So, what do you use it for? Everything! The camera comes with a mounting bracket that can be used to put the camera safely and securely on your bike, scooter, skateboard, helmet or anything else you can think of.   There is also a mount with an adhesive pad if you need to stick the camera to a smooth surface.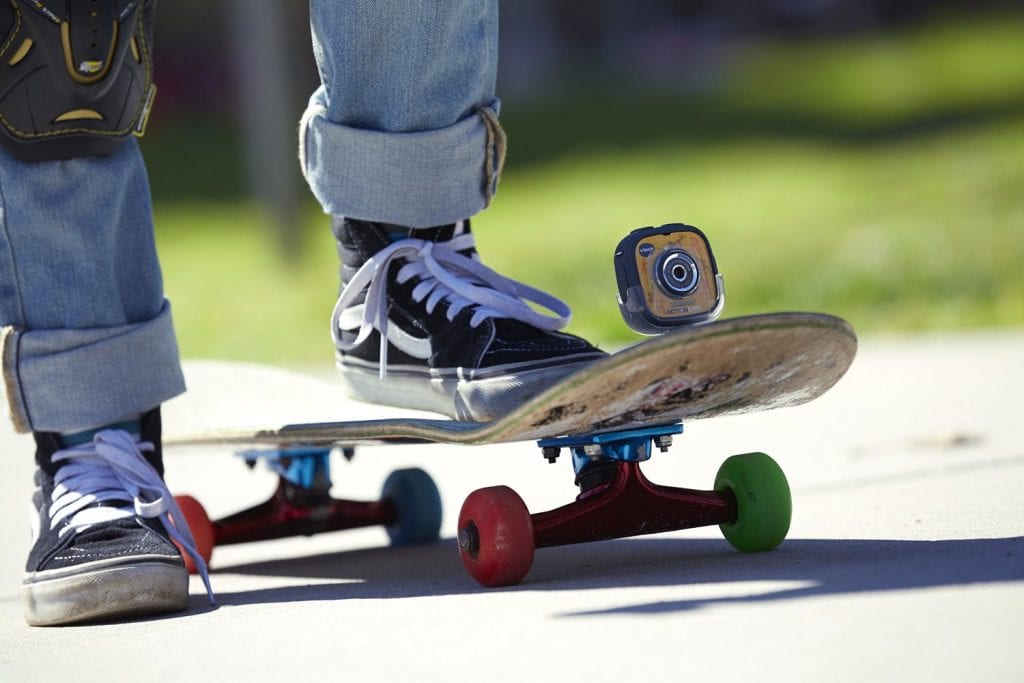 Also included with the camera is a USB cable to charge the camera and download your videos and pictures to your computer. There is also a wrist strap to help prevent your little guy or girl from dropping the camera in the middle of all of the action.
I cannot stress enough how well all of the Kidizoom Action Cam is put together. Even the mounts seem very durable yet have adjustment knobs that are easy enough to your children to easily manipulate. Now your children can really capture what it looks like to be a child and they can capture it through their own eyes, not the eyes of an adult. These are the moments of true, pure childhood that are priceless and should be kept safe for forever.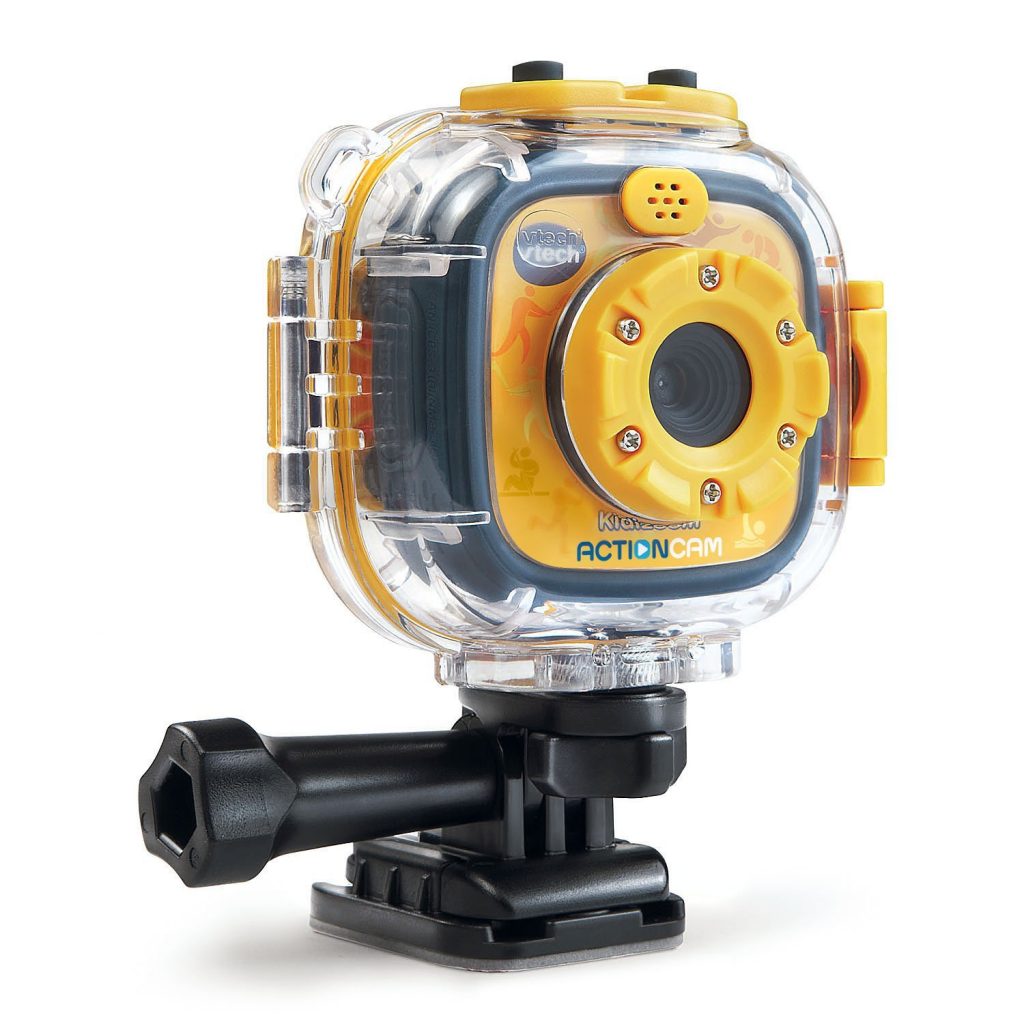 You can purchase the Kidizoom Action Cam on Amazon for 49.99.
Win It
One lucky winner will win a Kidizoom Action Cam of their very own!
VTech® Kidizoom® Action Cam

A huge thank you to Vtech for sending us a Kidizoom Kid-Friendly Action Camera for our family to review. All opinions are 100% mine.