TJ has been more and more interested in learning through cartoons and games.  He loves watching Disney Jr. on television and he is picking up things from the shows that he watches.  In fact the other day he had this dialog with his uncle:
TJ and Cousin L:  "Crackers" (to uncle)
Uncle: "Okay, you both want some crackers.  What is the magic word?"
Cousin L: "Please"
TJ (simultaneously): "Meeska, Mooska, Mickey Mouse!"
I tell you this story, not only because it cracked me up, but because our children do learn from the cartoons and videos that they watch.  That being said, finding good quality cartoons and games is a must during this technological day and age.  Recently we were asked to review the new K-Magic Interactive Movie and Game Console that will be released in September.
Here is a little bit more about the console:
This is basically a game system/cartoon watcher/music player all in one!  The Combo Set includes 12 Educational Game Cards, 3 Baby's First Word Cards, 1 Baby's First Music Card, and 20 built in cartoons.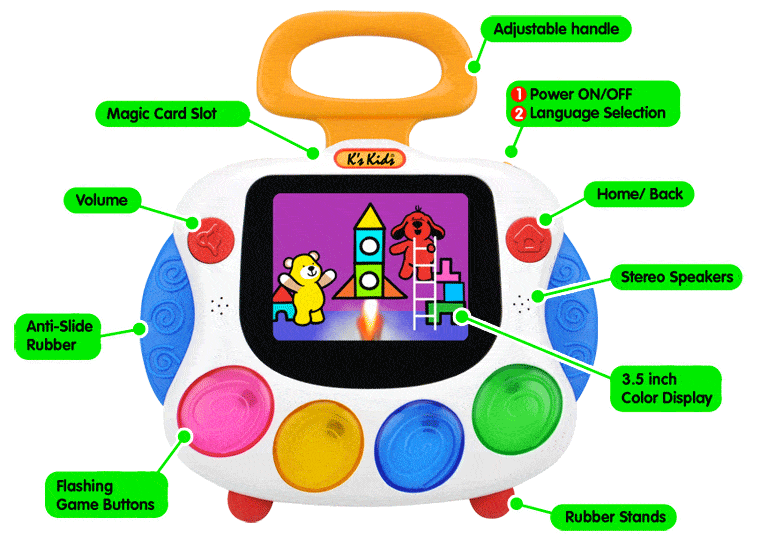 Here is a short video explaining all the features and benefits of the K-Magic Interactive Movie and Game Console:
Our Thoughts:
TJ was so very excited to get this toy out of the box.  As soon as he saw it he wanted it.  I pulled it out and got the batteries in the console and tried to turn it on.  Here is where reading the directions would have been helpful.  To turn on the machine, you have to press and HOLD the on/off switch for several seconds.  We tried pushing the button several times and thought we had a defective unit until I contacted someone and they told me that I needed to hold down the button for a few seconds.  After we did that we haven't had any problems with the console.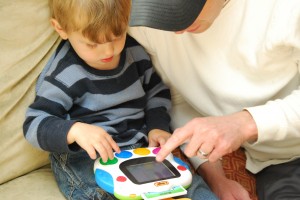 TJ immediately loved playing with the console.  There was a learning curve, and because TJ is only 25 months old, there is a lot that he still doesn't understand about the gaming system.  He is quickly learning, and I am happy to report that I believe he has learned a lot of his colors because of the system.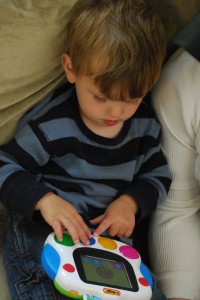 I absolutely love that this system is portable.  Having this on a road trip or in the car when mommy is running errands is a lifesaver.  The cartoons alone make the system worth it.  We are planing a trip to Idaho in the summer and having this available on the airplane is going to make the trip a little less painful.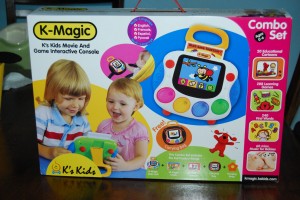 The cartoons feature Patrick (a little red dog) and his friends.  They are about 3 minutes long and teach children about shapes, colors, manners, feelings, numbers and much more!  I have been working hard with TJ on saying "Please" and "Thank you".  I love that these little cartoons reinforce what we are teaching him at home. We are currently working on colors and numbers, so having these little games and cartoons are a wonderful addition in our home.

The K-Magic Interactive Movie and Game Console is created for babies all the way to age 6!  I know as a mother and a consumer I love products that will work with my kid for a long period of time. I am constantly buying something that I think TJ will love and then he will play with it for a few weeks and then he doesn't touch it again.  Having a gaming system that will work as a music player when he is a baby, a cartoon viewer when he is 2-6, a gaming system when he is 2-5 is an amazing product to have. I don't mind spending more money on a product like this than for a Leapster that kids will only use for a couple of years.
Buy It
You can purchase a K-Magic Interactive Moive and Game Console in September from K's Kids!
This product review was made possible by K-Kids.  I was not compensated for this review other than a product sample. All opinions are 100% mine.