My daughter has been trying to ride a trike since she noticed her big brother doing it. The problem was she just wasn't big enough to reach the pedals.  She tried a foot powered ride on toy, but her little feet just kept getting stuck as I would help push her.  Not only was she unhappy, my back hurt and I was unhappy.  I was desperate for a solution.
We found one with the Joovy Tricycoo!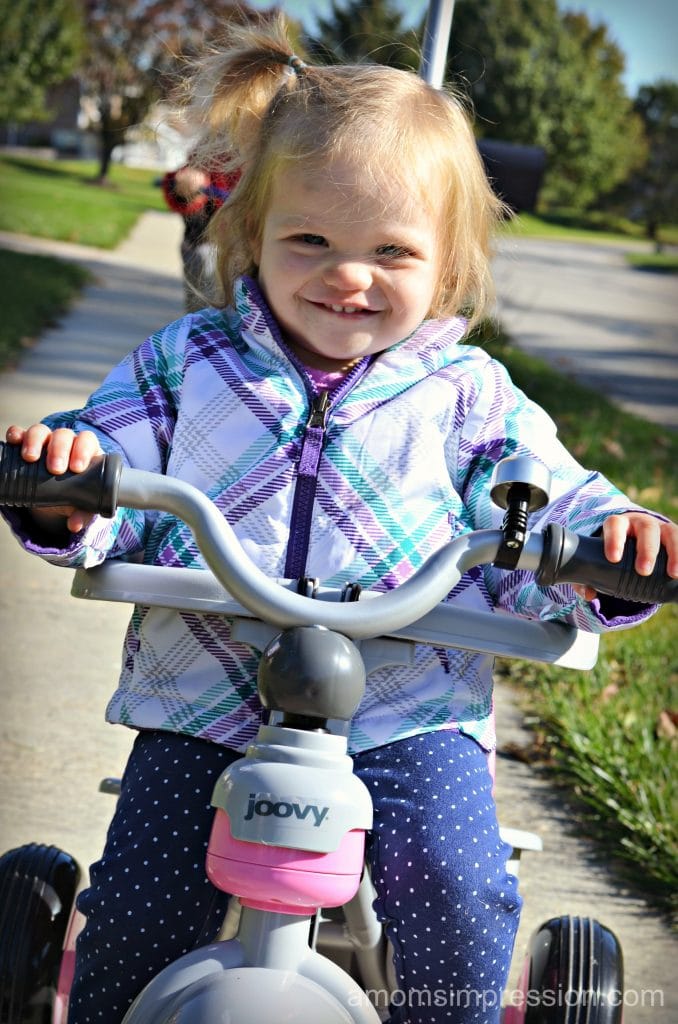 With the Joovy Tricycoo, your young child doesn't need to steer, pedal, or even balance on their own.  You have the controls in your hands with the removable parent push handle.  Children as young as 18 months (like my daughter) can ride this amazing tricycle.  The " baby surround arms" surround your child while they are sitting on the trike allowing them to feel secure (and giving mom the peace of mind she needs that her child won't fall off).  When your child is more secure with her balance, the arms can be removed.
There are stationary pedals that will fold down during this first phase to allow your child's feet to rest so she/he feels more secure on the bike (see picture below).  The front pedals can unlock so that they are free to spin without having to be peddled by force allowing the parent to push and steer without the child's feet being in the way.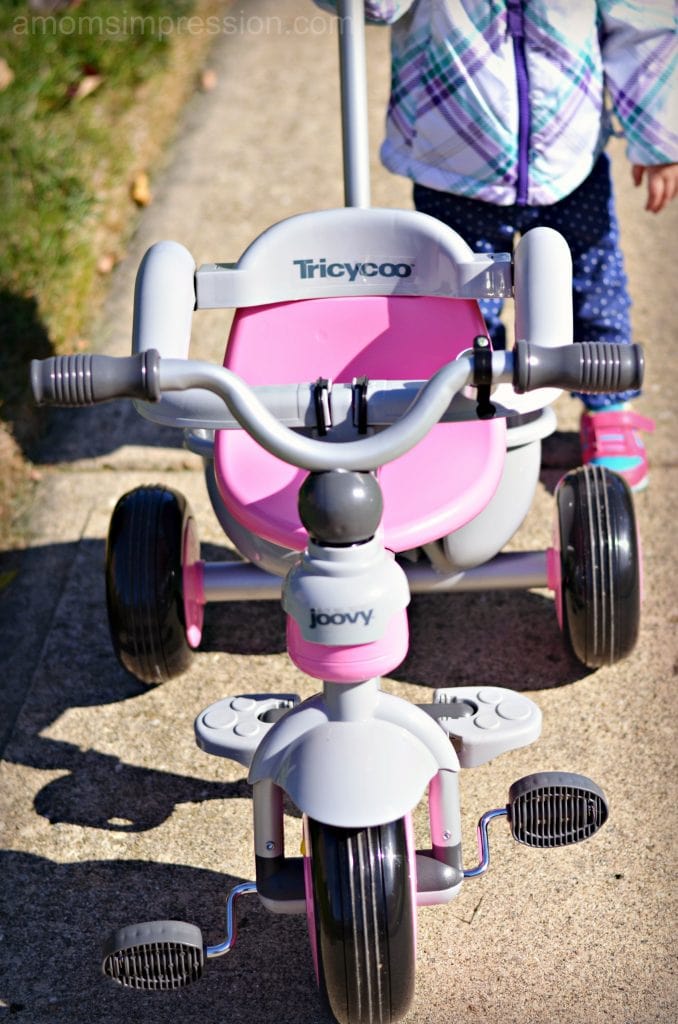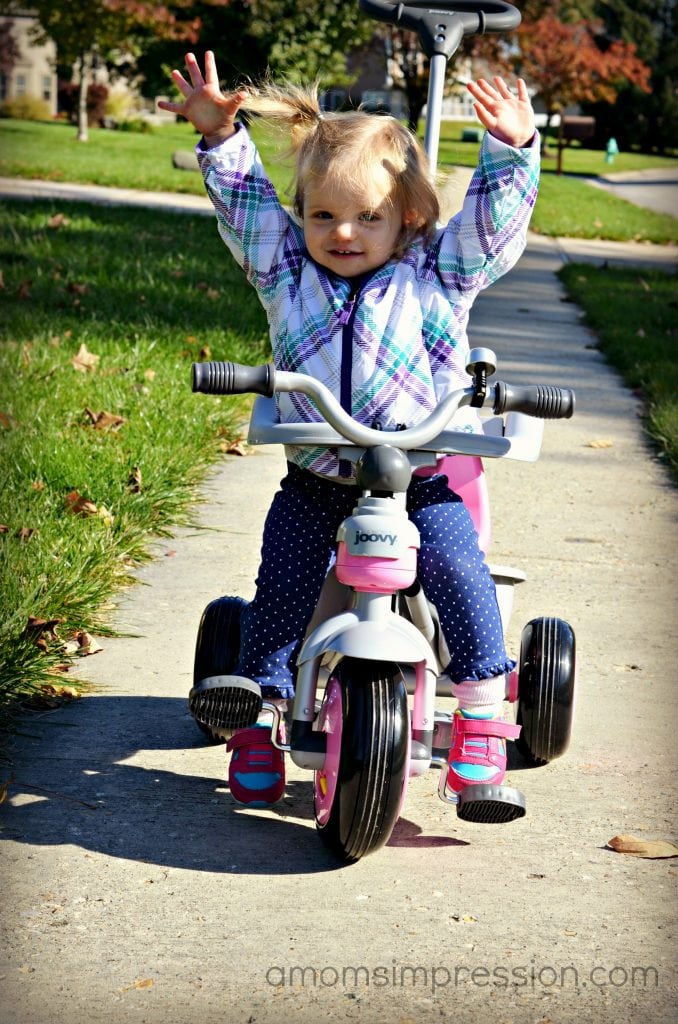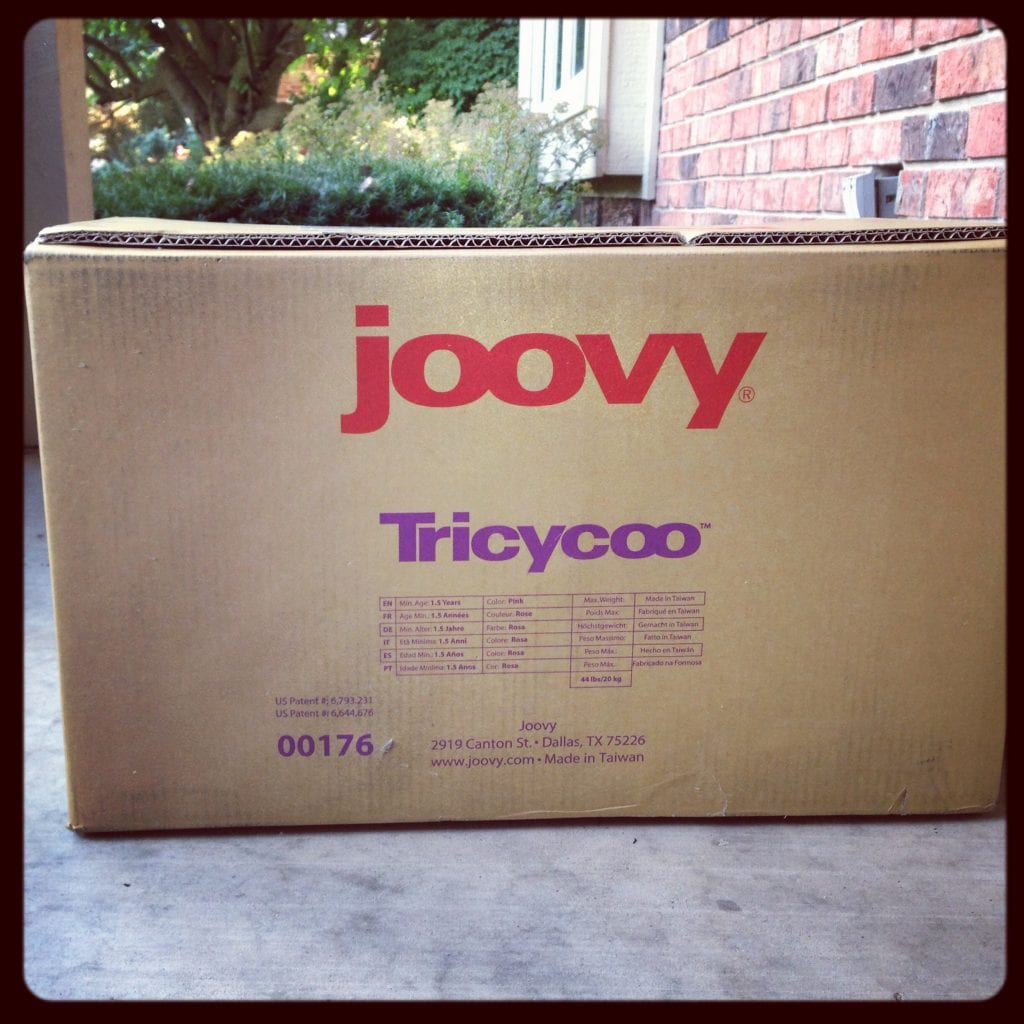 Putting the Tricycoo together was not too hard.  I admit I was a little intimidated with all the parts that came out of the box, but I was able to put it together myself with only one error that my husband had to go and fix!  I think thats pretty good!  I am not sure why I didn't take pictures of the assembly process, I guess I was so excited to get the trike put together that it just slipped my mind.  I found an excellent tutorial of the assembly process at Cherry Blossom Love if you want to see all the steps.  Start to finish, it took me about a half an hour, the use of a screwdriver and the tool that came with it to put it together.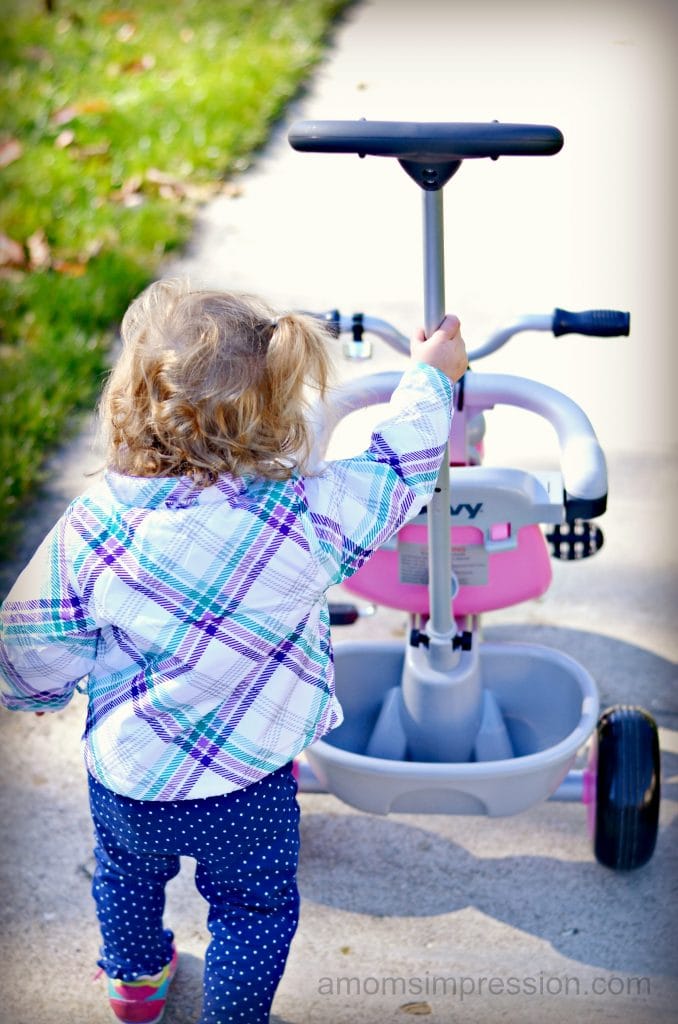 Some of my favorite features include the large basket in the rear of the trike (you can see that in the picture above)  When we take walks around the neighborhood, I enjoy pushing Caroline for a bit in her Tricycoo.  Having the basket is fantastic for my purse or my cell phone.  I know that in a little bit she will start putting her stuffed animals and dolls in there to take for a ride.    I love the parent handle.  To me, that is what sets this trike apart from other trikes.  The handle has amazing steering ability and almost anyone can use it, including both of my children.
My most favorite thing about the Joovy Tricycoo is that my daughter absolutely loves it.  My heart just skips a beat when I pull it out and I get this response: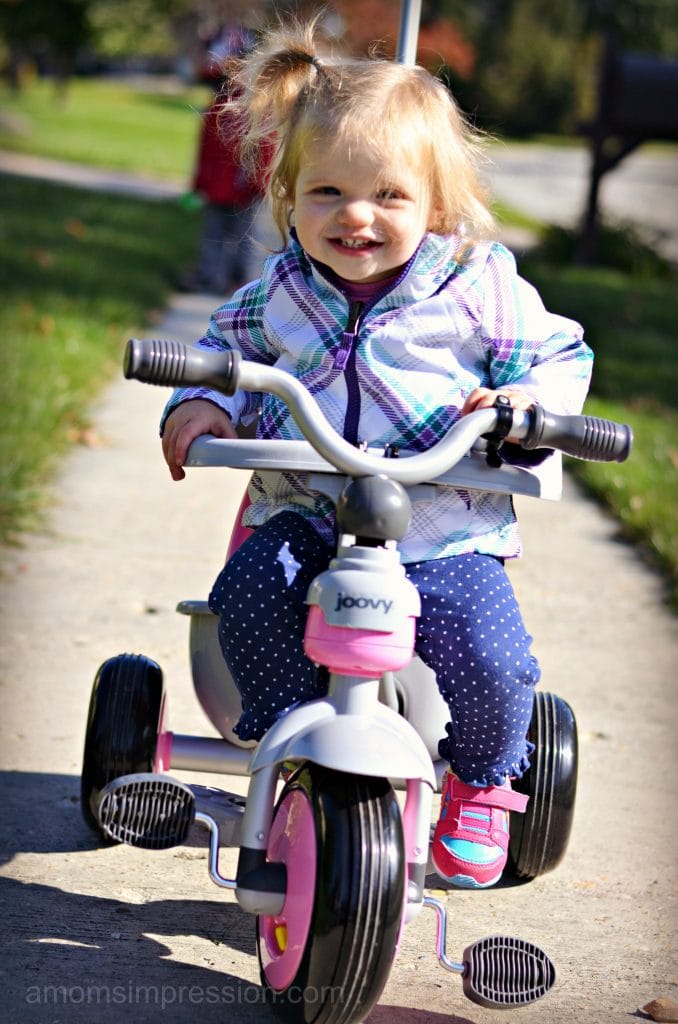 You can get this amazing tricycle that will grow with your child from Joovy.com. For the reasonable price of $129 this tricycle will be one of your child's favorite toys for a long time.  It is the perfect present  for any child ages 18 months to 44 pounds.  The Tricycoo comes in four different colors including black, green, orange and pink.
Joovy has been one of my family's favorite companies to work with.  Check out our review of the Zoom and the Caboose Tandem Double Stroller.