As we all know, babies are expensive.  The first time around we made sure that the products we bought for our firstborn would work for any additional children we might decide to have to help defray costs.  Our stroller is a grey/blue that works for boys and girls.  Our car seats are black and are gender neutral, and our diaper bag is brown and would work again for either a boy or a girl.  We really have everything we need for this new baby.  That is until I set my eyes on this: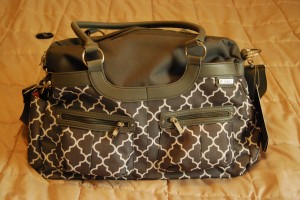 It captured my heart when I opened it and saw this…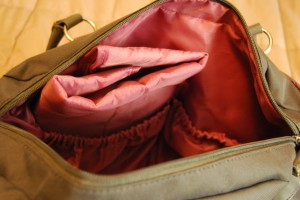 … the little bit of pink/purple sealed the deal.  I wanted this bag.  The problem?  I already have a diaper bag that is in good shape and would work fine.  I decided (after talking to my husband) that this one time I could splurge and buy the bag so I ordered it online and about a month later it came!  I absolutely adore it (if you couldn't tell). The Satchel diaper bag comes in several different patterns that any mom would love.  My husband also said that it wasn't too girlie for him to carry around if he needed to as well!
JJ Cole Collections has been making stylish baby products for parents for over 14 years.  We love the stylish look of JJ Cole and have several of their products including the Diaper & Wipes Caddy and the Hamper in brown.  These products look great in our nursery and work well with our gender neutral theme that we have going on since our kids are sharing a room for the time being.
I have also fallen in love with JJ Cole Collections Broadway Stroller, but then again there is the whole "we don't need another stroller we already have a nice one," thing to worry about. (Hey, he gave in on the diaper bag so there is still hope out there right?)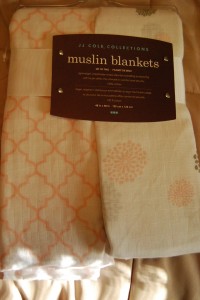 Recently, JJ Cole Collections sent me a set of Muslin Blankets in Primrose to welcome our new baby girl next month.  I remember finding muslin blankets towards the end of TJ's swaddling days.  Muslin blankets are wonderful because they become softer after every wash and they are lightweight and breathable.  I was a little skeptical at first, but its true!  I couldn't believe how soft the blankets get after being repeatedly washed.  These JJ Cole muslin blankets are fantastic because they are very large.  At 48 in x 48 in, you can still swaddle larger babies and older babies.  I know we tried to swaddle TJ until he was about a year old.  He loved it, but finding swaddle blankets that large is very difficult.  I love these blankets because you can use them for more than just swaddling.  They can be a receiving blanket, a blanket you can throw on the floor for baby to lay on, or a blanket to cover your infant seat when baby is sleeping.  Check out how large these are: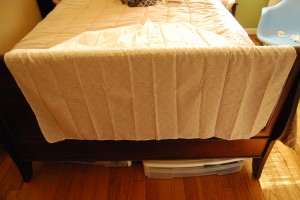 I love the pink design.  They also have a blue design that would work great for boys or if the mommy your buying for is keeping the gender a secret.  You can purchase the Muslin Blanket set at stores nationwide as well as on JJ Cole Collection's website for $21.95 for a set of two.
Want to win a set for yourself?
Win It
One (1) lucky reader will win their choice of Primrose or Jacks Muslin Blanket set from JJ Cole Collections!

a Rafflecopter giveawa
This giveaway will end at midnight on  May 11.  
Open to US residents only.  Good Luck!
A huge thank you to JJ Cole Collections who provided the Muslin Blanket set featured in this post.  This review is my honest opinion and is not influenced by any other source.