As many of you know, and others can guess from my tagline, I love shoes!  I am more of a practical person when it comes to shoes, but once I find a brand I love, I stick with them.  This is the case when it comes to Jambu.  I have done a couple of reviews of their shoes in the past and I was very excited when they asked if I wanted to do another one for the Spring 2012 line that is currently out on their website.
Jambu is an environmentally friendly shoe company that packs in a lot of style.  They make their shoes out of recycled rubber. Jambu footwear has many different styles of shoes to choose from.  From "bare feet" designs to a stylish dressy shoe, Jambu has a little of everything.  They even offer a vegan line of shoes where the entire line is 100% animal friendly. These styles also all come with an eco-friendly rubber outsole and a memory foam footbed. The vegan styles come in womens wedges, flats, mary janes, and sandals.  I have a pair of their All Terrra designs that I reviewed last fall that I absolutely love.  I also have a pair of sneakers that I wear all the time!  I still get complement whenever I wear them.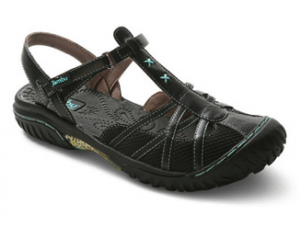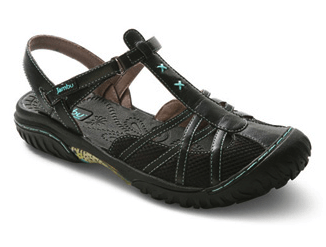 This time I wanted to try out their "bare feet" designs so I got a pair of Dune Mesh in black for the summer!  I would show you a picture of them on my feet, but seeing as how I am 38 weeks pregnant and the weather was about 90 degrees over the past few days, I am so swollen that all shoes look terrible on me.  You are going to have to take my word for it that these shoes are adorable and fit nicely with socks or without socks.  They are perfect for taking a stroll on the beach or for doing a lot of walking.  In addition to the black you can also find the Dune Mesh in Taupe and Brown.  I think these look great with some shorts as well as with jeans.  Here are some more from their Spring 2012 Lineup that I love: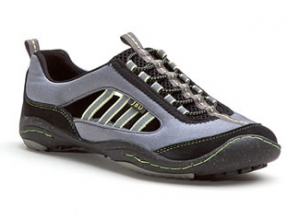 I love these Bare Feet shoes from Jambu.  You can feel the breeze but still be covered up when you wear these!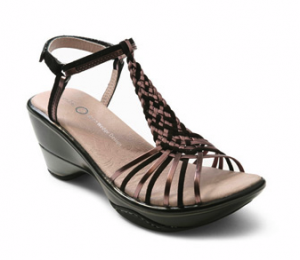 These sporty Wedge shoes are very stylish as well as comfortable.  I know a lot of moms who will appreciate this one!
Jambu also has a kids line.  Check out these "Kitty" shoes for little girls: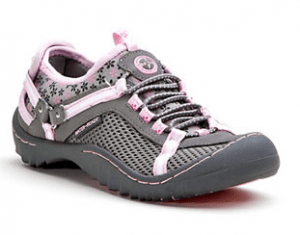 I would love to have these for my little girl in a couple of years!
There is nothing better than finding an adorable pair of shoes that is also eco-friendly.  Jambu has many different styles to choose from.  Be sure to check them out at Jambu.com!
This product review was made possible by Jambu.  I was not compensated for this review other than a product sample.  All opinions are 100% mine.