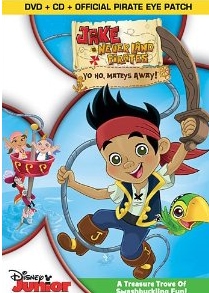 We are huge fans of Disney Jr. in our household.  TJ will watch a half an hour of programing in the morning while I am getting ready for work.  His favorites are Mickey Mouse Clubhouse, The Little Einsteins and Jake and the Never Land Pirates.  I think we have seen all the episodes that Jake has been in since it began this past February.  We were so very excited to hear that there is a special new episode airing on Disney Junior December 2.
Jake and the Never Land Pirates is a children's program on Disney Jr.  The series stars the voices of Colin Ford (TV's "Supernatural") as Jake, Madison Pettis (TV's "Cory in the House") as Izzy, Jonathan Morgan Heit ("Bedtime Stories") as Cubby, David Arquette ("Scream 4″) as Skully the lookout parrot, Corey Burton (TV's "Star Wars: The Clone Wars") as Captain Hook, and Jeff Bennet (TV's "Johnny Bravo") as Mr. Smee. The three kids and the parrot go on adventures that are usually sparked by Captain Hook and he takes something that doesn't belong to him.  The crew tries to get the item back by using problem solving skills and teamwork.
The Holiday episode begins with the crew waking up to find that Peter Pan has left them some presents and a Winter Treasure Day tree to celebrate.  Captain Hook invites them to go on a winter treasure hunt.  As you can imagine, the episode is full of teamwork and problem solving with all the characters we have grown to love.  Here is a short clip to enjoy:
The episode premieres FRIDAY, DECEMBER 2 (8:30-9:00 a.m., ET/PT) on Disney Channel, so be sure to set your DVR!
Want some more good news?  Disney Jr. will be airing 24 hours a day on a Disney Channel in early 2012.  I am so very excited about this announcement because we could use some good programing throughout the day for our toddlers.
This product review was made possible by Disney and  Team Mom.  I was not compensated for this review other than a product sample provided by the company or PR firm. All opinions are 100% mine.