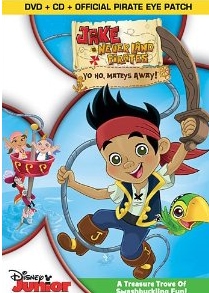 Pirates are back in a big way.  It seems like where ever you look there are pirates around.   We have found some adorable shirts at Target and other places that we shop that have cute pirate slogans on them.  The whole reason my son loves pirates is because of Jake.  Jake and the Never Land Pirates is a children's program on Disney Jr.  The series stars the voices of Colin Ford (TV's "Supernatural") as Jake, Madison Pettis (TV's "Cory in the House") as Izzy, Jonathan Morgan Heit ("Bedtime Stories") as Cubby, David Arquette ("Scream 4") as Skully the lookout parrot, Corey Burton (TV's "Star Wars: The Clone Wars") as Captain Hook, and Jeff Bennet (TV's "Johnny Bravo") as Mr. Smee. The three kids and the parrot go on adventures that are usually sparked by Captain Hook and he takes something that doesn't belong to him.  The crew tries to get the item back by using problem solving skills and teamwork.
On September 27, The Walt Disney Studios will be releasing Jake and the Never Land Pirates: Yo Ho, Mateys Away!, a DVD packed full with seven episodes from the series and two incredible bonus features including Yo Ho, You Want To Be A Pirate?, where Jake teaches viewers how to talk like a pirate, and Pirate Party With Pirate-oke, a collection of music videos performed by The Never Land Pirate Band that allow viewers to enjoy with or without the sing-along/karaoke-like feature. 
 
Retailing for the suggested price of $19.99 in the U.S. and $24.99 in Canada, the Jake and the Never Land Pirates: Yo Ho, Mateys Away! DVD also comes packaged with a bonus 7-track CD sampler and a pirate eye patch.
TJ loves having Jake available at any time of the day for his viewing enjoyment.  He loves to sing along with the songs and enjoys watching Sharkey and Bones sing their pirate songs. Here is a short clip from one of the episodes:

Buy It
You can purchase Jake and the Never Land Pirates DVD with a 7 song music sampler at retail stores nationwide!
This product review was made possible by Disney and  Click Communications.  I was not compensated for this review other than a product sample provided by the company or PR firm. All opinions are 100% mine.