I am still in shock that my little man turned two last weekend!  It seems like just yesterday that we were looking through a book of Baby Names trying to figure out what we were going to name him! Of course I had to pick the perfect theme for my little guy and he loves nothing more (except for his daddy) than Mickey Mouse!  I wanted to do something else, but I just couldn't when I saw how much he lights up whenever Mickey Mouse comes on.  Parties are supposed to be for the kids, right?  So if I was going to do a character themed party, I was going to do it my way.  No cutesy cartoon character plates and napkins with banners and crate paper streamers, I wanted it to be sophisticated (well as sophisticated as a Mickey Mouse party can be).
As with all the parties that I throw, it begins with the invitations.  I found these adorable Mickey Invites from Announce Your Day Etsy shop and thought that they were perfect.  They set the tone for how this party was going to go!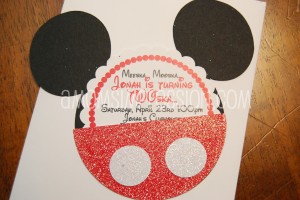 Next, I knew that I had to have some Mickey Mouse ears for the guests to wear at the party.  I looked at some party supply shops and didn't care for the cheap looking ears that I found, so I decided to make them myself.  I found a tutorial that my blogging buddy, TheSuburbanMom, posted and I made my own!  Now, I must admit that originally I was going to make them for everyone attending the party, but when the time came I simply ran out of time and decided just to make them for the kids and my husband and I.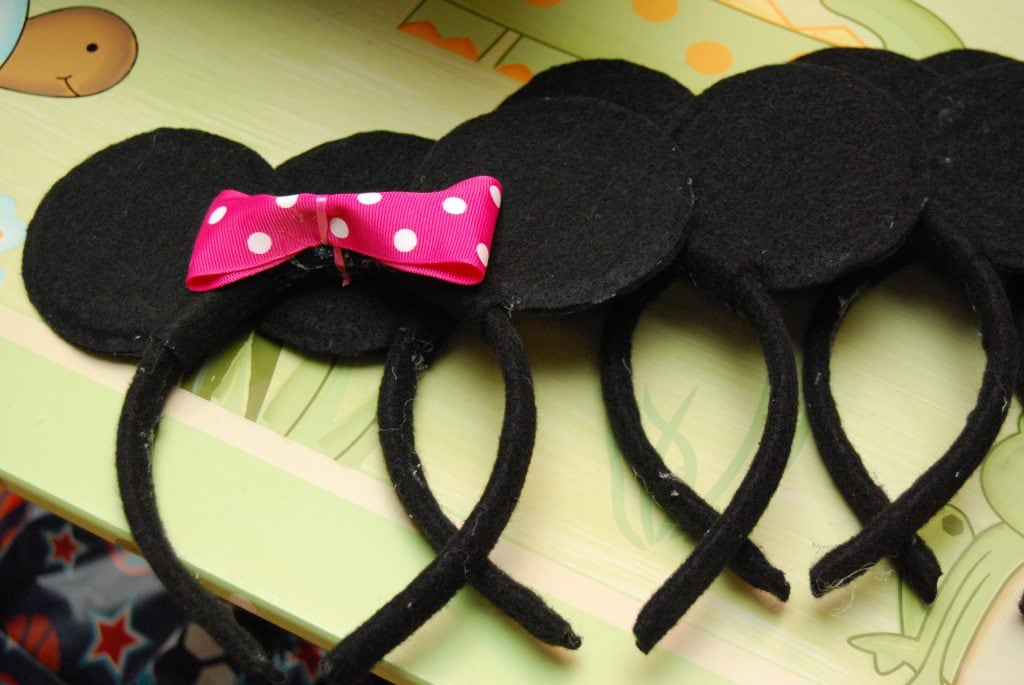 I had a hard time getting TJ to wear them, but he finally did!
Next I had to have the perfect birthday shirt for TJ.  Of course I visited my favorite online marketplace, Etsy, and found this adorable shirt that I customized for TJ!  You can find them at Ella Grace's Closet.
What would a party be without the food and the cake?  I spent way too much time on the cake.  It didn't turn out exactly the way that I wanted it to, but after a lot of swearing frustration, I finally let it go and decided that it looked good enough!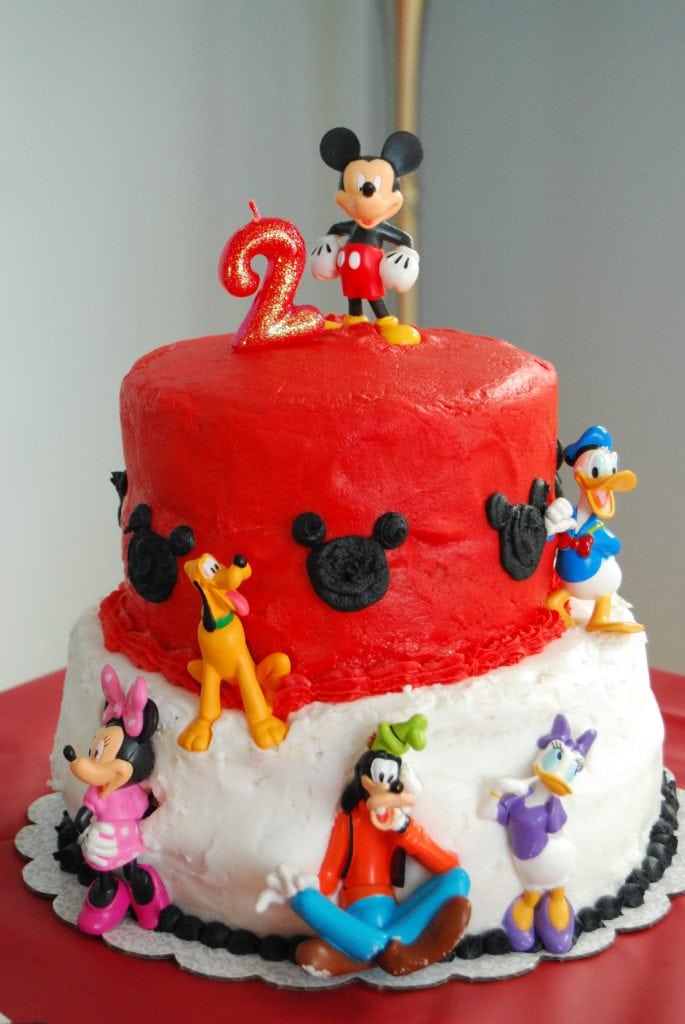 I bought the characters from The Disney Store.  They all came together in a set and I was very thankful that they were there to cover some of my mistakes!  I also made TJ his own little smash cake.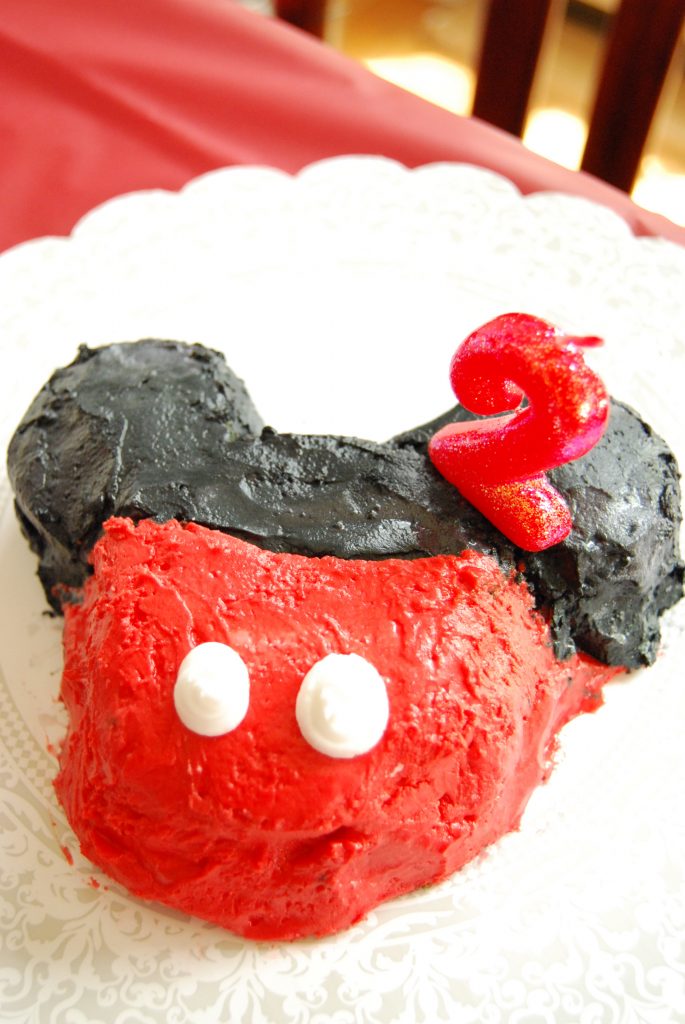 I used a cookie cutter to cut out the Mickey Mouse head, something that I learned that I will never do again.  It was next to impossible to ice this cake.  Next time I will use fondant!  I was so happy that TJ actually ate this cake.  Last year he didn't even touch his cake!
Here is the table without the food on it.  We ended up having sandwiches.  I cut out Mickey Mouse shapes in the bread for the little ones.  I also found some Mickey Mouse Macaroni and Cheese online and made it for the kids.  My niece loved it! I found some adorable Mickey hand plates at Target that were perfect for the cake cutting!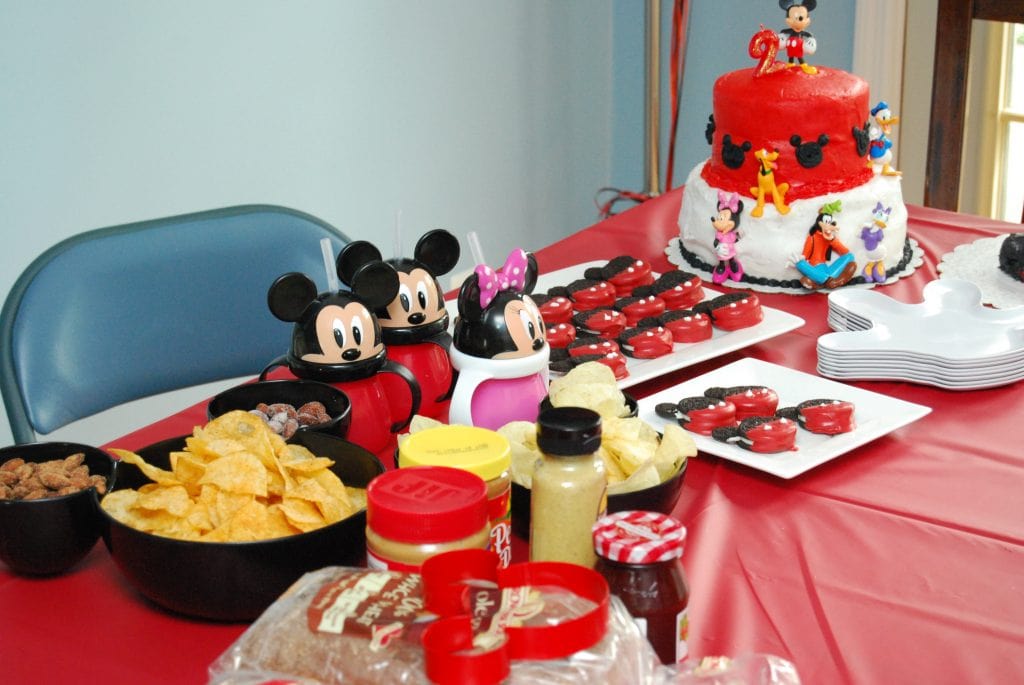 TJ's birthday is always around Easter (this year it was actually on Easter) so there are some adorable Easter baskets available that are perfect for decoration.  I found this Mickey Mouse basket that doubled as TJ's Easter Basket and put the plastic forks, spoons, knives, and napkins in it!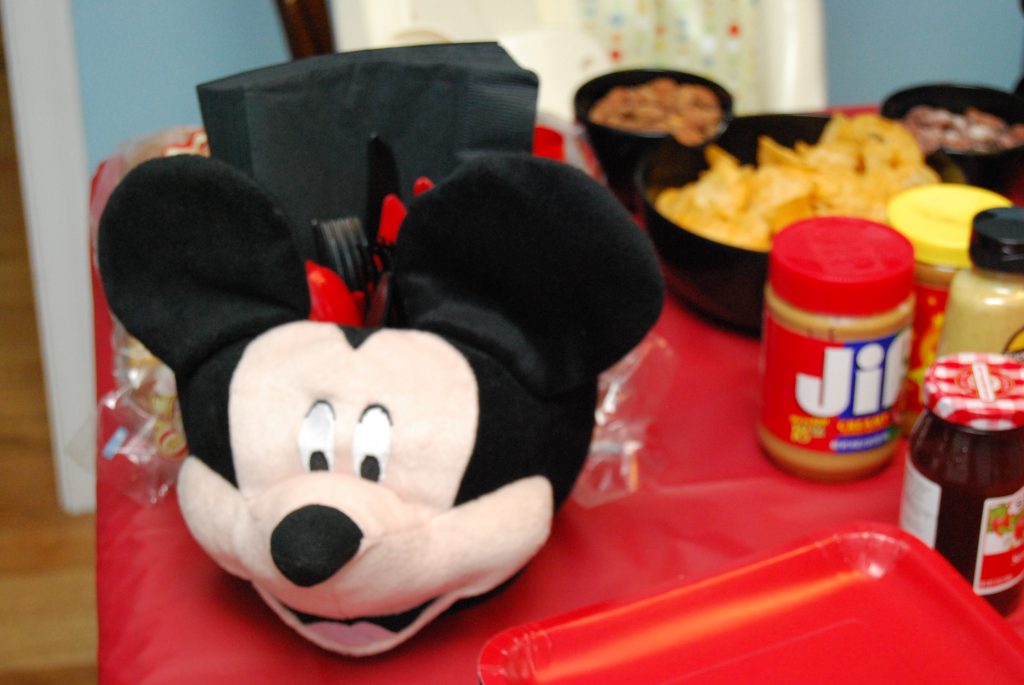 I created some adorable Mickey cookies to go along with the cake.  These were simple to make.  I just melted some red chocolate, dipped a double stuffed Oreo into it, attached some mini-oreos for ears and then added the "buttons".  They were yummy and a big hit at the party!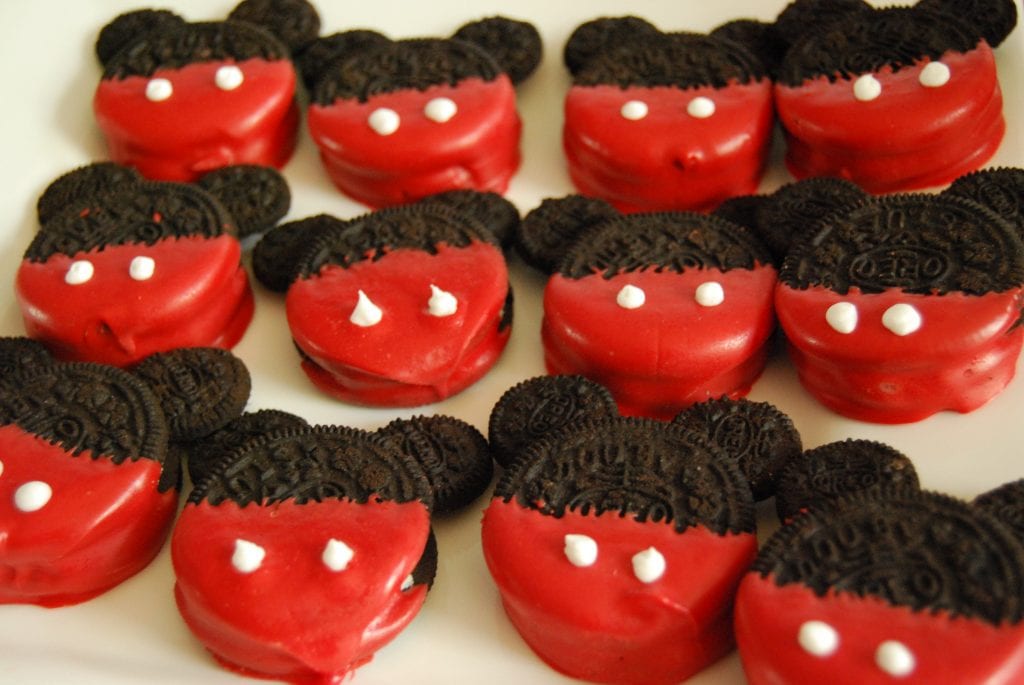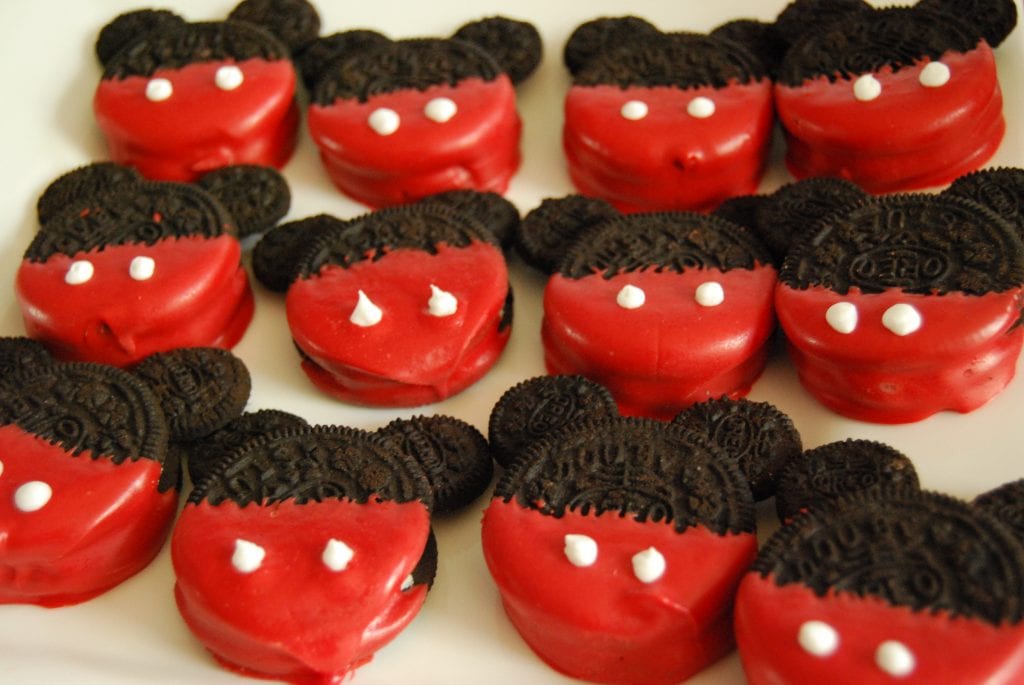 We had to have balloons, and I caved and bought a character balloon, but isn't it cute?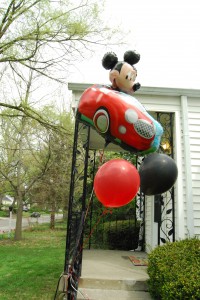 Here are some pictures from the big day!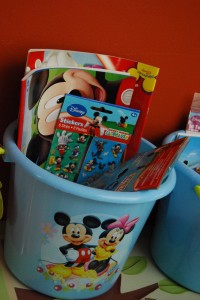 The Gift Bags!
Well… I still can't believe he is two!  I loved creating his party for him.  I am off to start planing for next year.  I am thinking pirates…